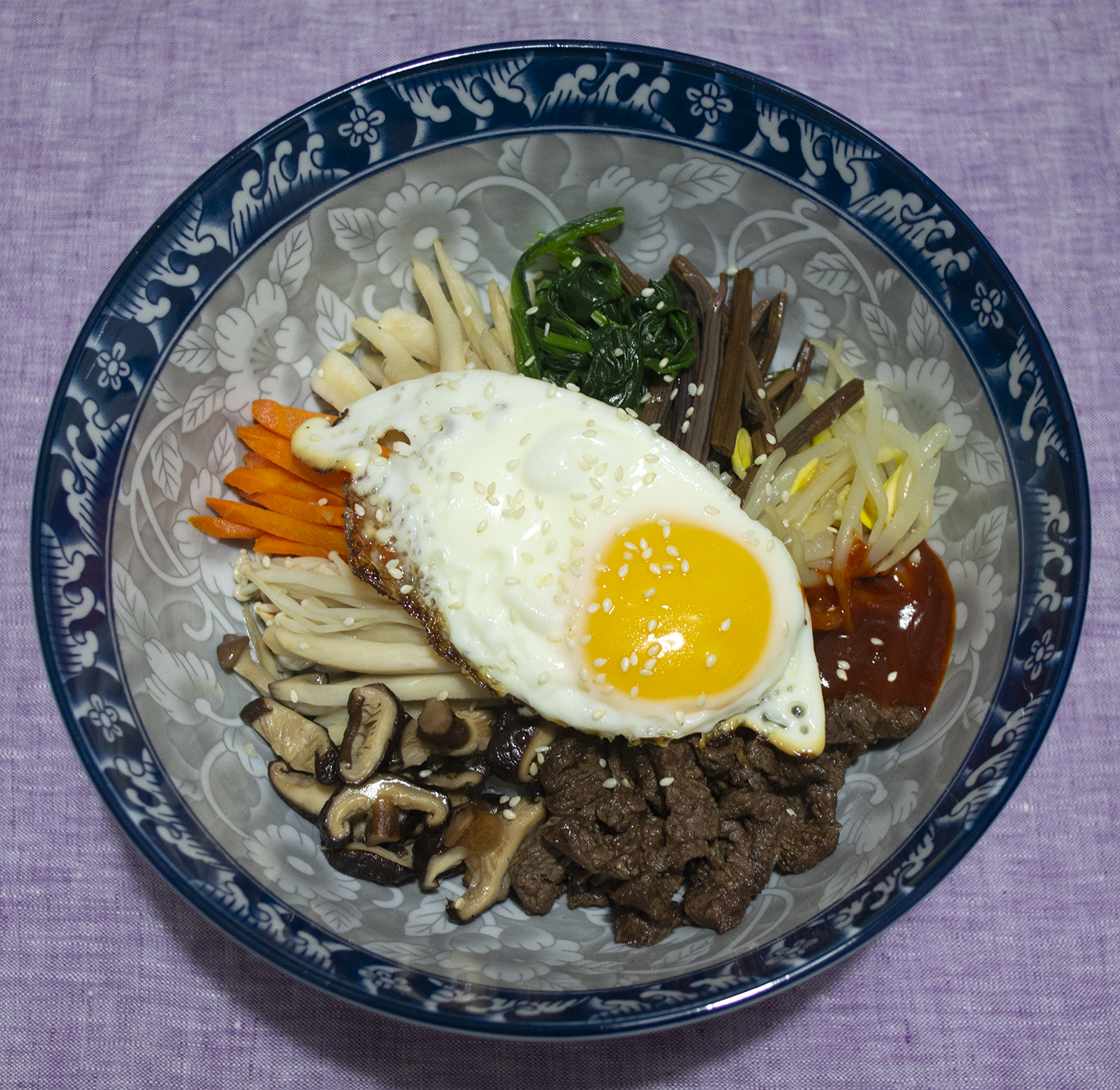 Jump to Recipe for Bibimbap (비빔밥) - Seasoned Vegetable and Beef Rice Bowl
I grew up eating Bibimbap at home. My mom made a bunch of side dishes and we assembled our rice bowls in whatever way we wanted. I always added more mushrooms to mine, less pepper sauce, and plenty of sesame oil to mix it together. What made this fun was the fact that I could choose what I wanted in my bowl. For years, while I was vegetarian, my mom made sure we had a large variety of vegetables to choose from, and had fried eggs for extra protein.
What I started to notice was a pattern: she always cooked fernbrake (고사리 – gosari), soybean sprouts (콩나물 – kongnamul), and spinach (시금치나물 – sigeumchinamul) for the bibimbap (비빔밥). It was like those three were the necessary pieces to the dish. Over the course of a couple decades, she began adding more mushrooms to the mix (which made me sooo happy), and would occasionally add in a radish slaw (무생채 – musaengchae).
I decided to use carrots instead of the radish side dish this time, and it still worked out well! The great thing about eating bibimbap at home is that we have the choice to add whatever vegetables and proteins we want into the bowl. The concept of bibimbap comes from having leftover side dishes after a previous meal. An easy way to compile a one-bowl meal that's healthy and nutritious is to combine small amounts of those leftovers into something new! Even though our version is a more evenly portioned recipe for four people, you are welcome to make more of one vegetable and substitute out others if you wish. Make it yours. Ours is just one of many ways of making it!
Recipe for
Bibimbap (비빔밥) - Seasoned Vegetable and Beef Rice Bowl
Ingredients
200g (about 1 cup) Spinach, blanched and excess water removed
70g (1 cup) Soybean Sprouts, cooked
90g (about 1 cup) Bellflower Root, hydrated**
100g (about 1 cup) Fernbrake, cooked**
80g (about ⅔-cup) Carrot, cut to matchsticks
100g (1½ cups, 3½oz) Enoki
100g (a little more than 1 cup) King Oyster Mushrooms, sliced
6-8 dried Shiitake, hydrated and sliced
300g (2 cups, 10½oz) Beef, diced
4 large Eggs
Kosher Salt, to lightly season
Vegetable Oil, to sauté
100g (5T) Red Pepper Paste (Gochujang)
30-45g (2-3T) Water
480-640g (3-4 cups) White Rice, cooked
27-40g (about 2-3T) Sesame Oil
Sesame Seeds, to finish
Procedure
Making the components:
Take the blanched spinach and season with a pinch of salt, and a small amount of sesame oil (about 1t). Follow the same steps for the bean sprouts. Mix each thoroughly and set them aside.

Sauté each of the vegetables separately on low-medium flame with a drizzle of vegetable oil and a pinch of salt: bellflower root, fernbrake, carrot, and all mushrooms, each cooking for 3-5 minutes, or until tender.

Cook up the diced beef, about 5-8 minutes, and place into a bowl. Set it aside.

Fry the eggs sunny-side up or over easy.

Mix together the pepper paste with water to desired thickness. The consistency of the sauce should be loose enough to mix into the rice easily.
Assembling your rice bowl:
Take four large bowls and scoop about ¾-cup of hot rice into each one. Portion out all of the cooked ingredients equally into the four serving bowls.

Take as little or as much of the pepper sauce as desired, a generous stream of sesame oil, a dash of sesame seeds, and happily mix your rice bowl. Enjoy it with a side of kimchi!
*Bunny Wisdom*
A 30- to 45-second blanch is all you need for the spinach. Any longer, and I find the texture ends up being too soft. Rinse in cold water or put the spinach in an ice bath immediately after cooking, then squeeze out the excess water. Carefully loosen the leaves and season.
Soybean sprouts are a bit delicate, in that it takes just about 3 minutes from boiling/simmering before the sprouts begin to get too soft. My mom told me the best way to cook sprouts is to bring a cold, covered, pot of water with sprouts to a simmer, then set a timer for 3 minutes. Drain and season.
**Dehydrated bellflower root (도라지 - doraji) is easily found in your Korean grocery store. Hydrating and removing the bitterness from the roots takes a few hours: the initial hydration should only take about 20-30 minutes, but that depends on how dehydrated your roots are to begin with. After initial hydration, I drain the water and massage the roots with some salt. This helps to extract the natural bitterness in the root. After rubbing with salt, I rinse and then fill the bowl with water to soak the roots for another 30 minutes. I continue to change the water every 30 minutes until most of the bitterness is out. Yes, you can do a taste test (without cooking) to see if the roots are still bitter.
**You can find fernbrake/bracken fern/royal fern at your local Korean grocery store. It is sold in a sealed bag, already cooked and soaked in water. If you're lucky and can source dried fernbrake, boil for 10-15 minutes and then soak 6-8 hours, or overnight.
Shiitake can be fresh or dried, but I like using the dried ones for their stronger flavor. It only takes a few hours for the mushrooms to hydrate.
Pile on as much or as little as you want for each vegetable. I go for anywhere between 2-4 tablespoons of each.
The pepper sauce is something that my husband loves, so I try and make a generous amount. If you find that your sauce is too runny or too thick, adjust with a little more paste or water.