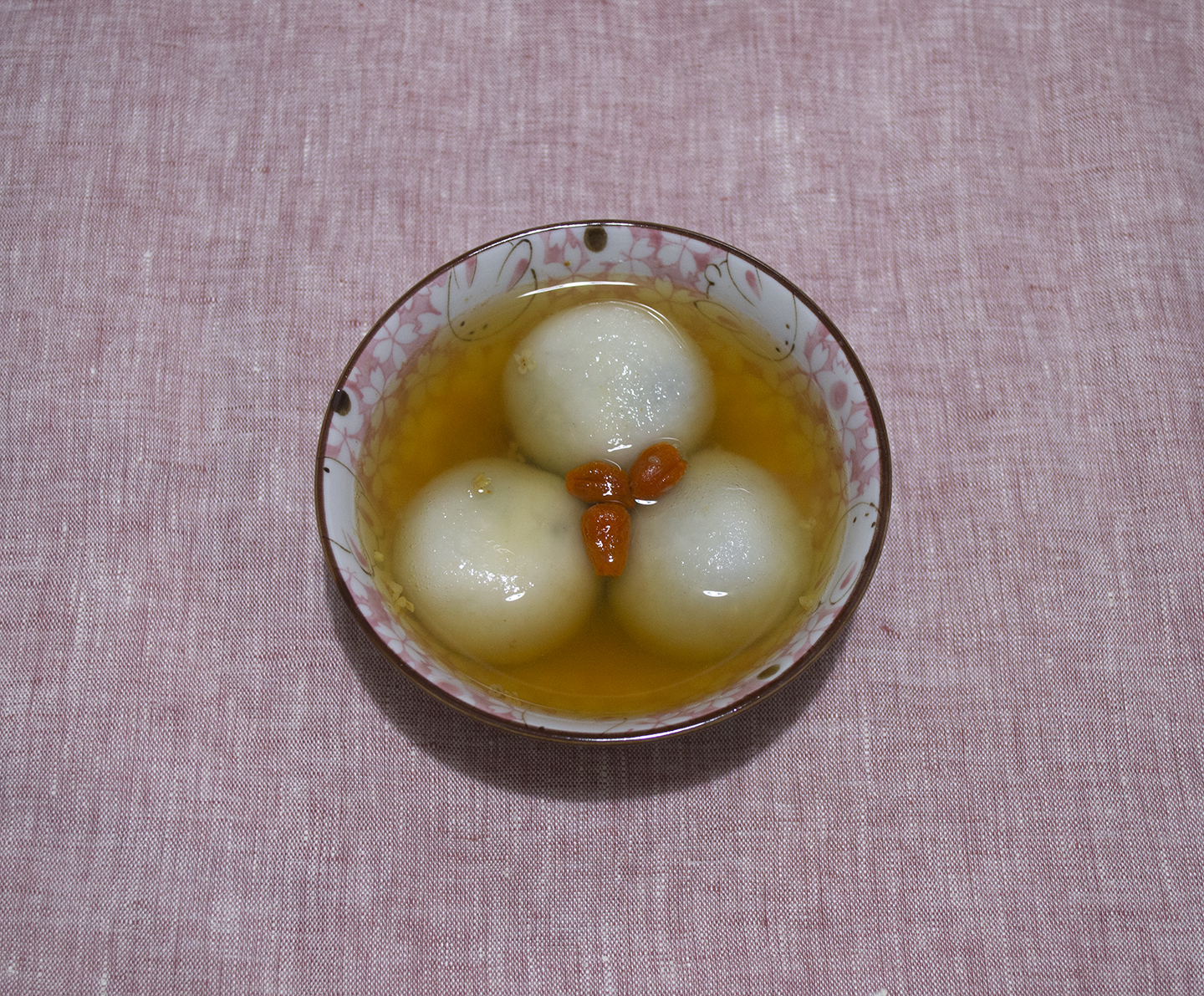 Jump to Recipe for Hēi Zhīma Tāngyuán (黑芝麻湯圓) - Black Sesame Rice Balls in Ginger and Osmanthus Syrup
Over the course of almost two decades of knowing my husband, we would always buy tāngyuán from our local Asian markets. It's something we had great joy in eating during Winter Solstice and Lunar New Year, and this year, we decided to make our own!
Tāngyuán, a "soup ball", is a glutinous rice ball that is often served in a ginger syrup. There are savory versions, and unfilled ones too; however, we like eating the sweet ones here at Everybunny Headquarters.
Even though you can savor them during family gatherings, Winter Solstice, Lunar New Year, and Lantern Festival, it's so simple to make that my husband and I set out to create our own recipe. We want to be able to have it all throughout the year, and share this sweet delight with all of you.
Recipe for
Hēi Zhīma Tāngyuán (黑芝麻湯圓) - Black Sesame Rice Balls in Ginger and Osmanthus Syrup
Time:
Preparation:
Cooking:
Waiting:
Ingredients
Rice Ball Dough:
500g (about 3 cups plus scant 3T) Long Grain Glutinous Rice Flour
150g (½-cup, plus 2T; 5¼oz) Boiling Water
245g (1 cup, plus 1t; about 8½oz) Room Temperature Water
One Recipe of:
To Finish:
40g (about ¼-cup) Long Grain Glutinous Rice Flour, for dusting
Ginger and Osmanthus Syrup, for 3 people:
600ml (2½ cups) Water
45g (about ¼-cup) Brown Slab Sugar
18g (1T) fresh Ginger, finely grated
8g (1T) dried Goji Berries
1½g (½T) dried Osmanthus Flowers
Procedure
In a large bowl, measure out the rice flour, then pour in the boiling water. Mix thoroughly with a wooden spatula. Let it rest for 5-10 minutes for the rice flour to hydrate.

Add the rest of the water and mix until well combined. Knead the dough until it is smooth. Cover the bowl and let the dough rest for 5 minutes.

Measure out the rice ball dough to 17g pieces, and the filling to 10g balls.

Flatten the dough into a disc, then place the filling in the center. Wrap the dough around the filling and pinch the dough together to seal. Give the tāngyuán a gentle roll to keep them round, a quick toss in some rice flour, and set them on a plate.

Boil a pot of water, carefully place the desired amount of rice balls into the pot, and cook until they begin to float, about 5 minutes. Continue to cook for an additional 1-2 minutes.

While bringing the pot of water to a boil, gather the syrup ingredients in a small saucepan. Heat up the syrup until it simmers, then turn off the flame.

Plate the cooked tāngyuán into a serving bowl, and ladle the syrup over the rice balls. Enjoy eating them surrounded by family and friends.
Place the rest of the finished tāngyuán onto a small sheet pan or plate to partially freeze for 30 minutes, then store in a zip-top bag or sealed container for later consumption.
*Bunny Wisdom*
The Chinese and Thai brands of rice flour are usually long grain, while the Japanese brands are often short grain. The short grain rice flour will create a stickier texture, which isn't what we're looking for in this recipe.
It is possible that the dough may not come together. You might notice a few dry patches. Add about a tablespoon of water, one teaspoon at a time, to see if the mixture comes together better. All the flour should be hydrated and incorporated into the dough.
Keeping the dough covered with some cling wrap will prevent drying, especially during the measuring and shaping.
It's easier to roll the sesame filling into balls when they have been refrigerated, or slightly frozen. I measure out my paste ahead of time to make the wrapping process faster. Keep the measured filling on a few plates and place into the refrigerator until ready to use.
Making the edge of the dough thinner allows for more even distribution of rice ball dough, especially at the overlapping part (the seam).
A dusting of rice flour helps prevent the balls sticking to the plate and each other.
This recipe should make roughly 50 rice balls, but the syrup mixture is measured for only 3 people. Adjust the syrup recipe up or down to make sure everyone gets to sip on some lovely fragrant soup.
Goji berries are optional, but they're nice to have in the syrup. The flavors of the osmanthus, berries, and ginger together are really delicious.
Osmanthus flowers are in the form of loose tea. It's available in your local Asian supermarket or tea shop.
Even if you can't source the goji berries and the osmanthus flowers, combining ginger, sugar, and water can also be a simplified way of enjoying these sesame and peanut tāngyuán.