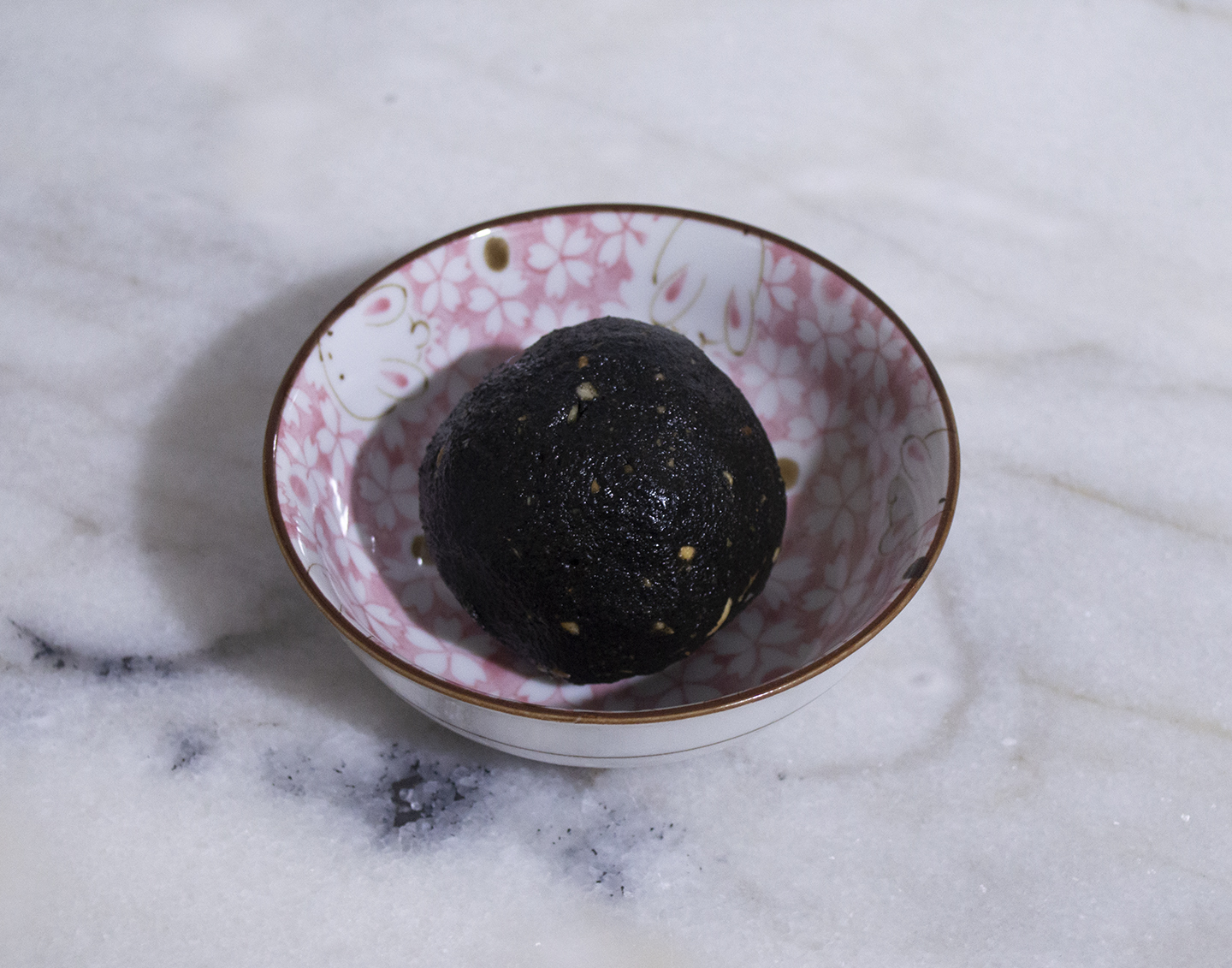 Jump to Recipe for Hēi Zhīma Huāshēng Xiàn (黑芝麻花生馅) - Black Sesame Peanut Filling for Confections
With Lunar New Year celebrations around the corner, we decided to make some sesame peanut filling to fill rice balls! It's one of the classic flavors that we find in making tāngyuán and other Asian sweets. It's earthy, rich, and super nutty, and it's definitely a comforting dessert addition.
Sesame peanut filling is very simple to make and implement; a quick blitz of the ingredients, and it's pretty much ready to go for filling things like tāngyuán, fried sesame balls, steamed buns, pastries, and sweet pancakes; and swirling into ice creams.
After purchasing many sweet desserts with sesame and peanut, I'm happy that it's so easy to make some of your own snacks at home!
Recipe for
Hēi Zhīma Huāshēng Xiàn (黑芝麻花生馅) - Black Sesame Peanut Filling for Confections
Time:
Preparation:
Cooking:
Waiting:
Ingredients
140g (about 1 cup) Peanuts, raw and shelled
100g (½-cup) Brown Slab Sugar
200g (about 1½ cups) Black Sesame Seeds
120g (1 stick, plus ½T; 8½T) Unsalted Butter, melted
Procedure
In a small pan on a low flame, dry roast the peanuts for 5-8 minutes, until they are a light golden brown. Turn off the flame.

Remove the seed coat (brown papery layer) and discard. Divide the peanuts into two even piles and set aside to cool.

Grind half of the peanuts with the sugar in a food processor until it is coarsely ground. Add the sesame seeds and continue to process the mixture. Slowly add the butter into the canister, scraping down the sides as it is being processed.

Crush the other half of the peanuts with a mortar and pestle or with a rolling pin. In a bowl, mix the sesame peanut filling with the crushed peanuts.

Chill or freeze the sesame peanut filling before using it for confections.
*Bunny Wisdom*
We begin with raw and shelled peanuts because a lot of store-bought roasted peanuts are salted. Also, I often find that the roasted peanuts can stale easily.
Keep the peanuts moving around in the pan to prevent burning.
Place the newly roasted peanuts in a large bowl to help facilitate the peeling of the brown papery layer. It easily crumbles off when the peanuts are rubbed together then passed through a sieve.
Traditional recipes use lard to bring the seed mix together, but we decided to use butter for our recipe.
I used a mortar and pestle to crush the peanuts, but a rolling pin and cutting board work just as well. We don't want it to be crushed so much that it's a powder; we're looking for small pieces.
The sesame peanut filling should look like a paste, with bits of peanut studded all over.
Freezing the sesame peanut filling is extremely helpful when trying to shape them into balls. Once the mixture begins to warm up, it's harder to handle. Even a 30-40 minute trip to the freezer does wonders.