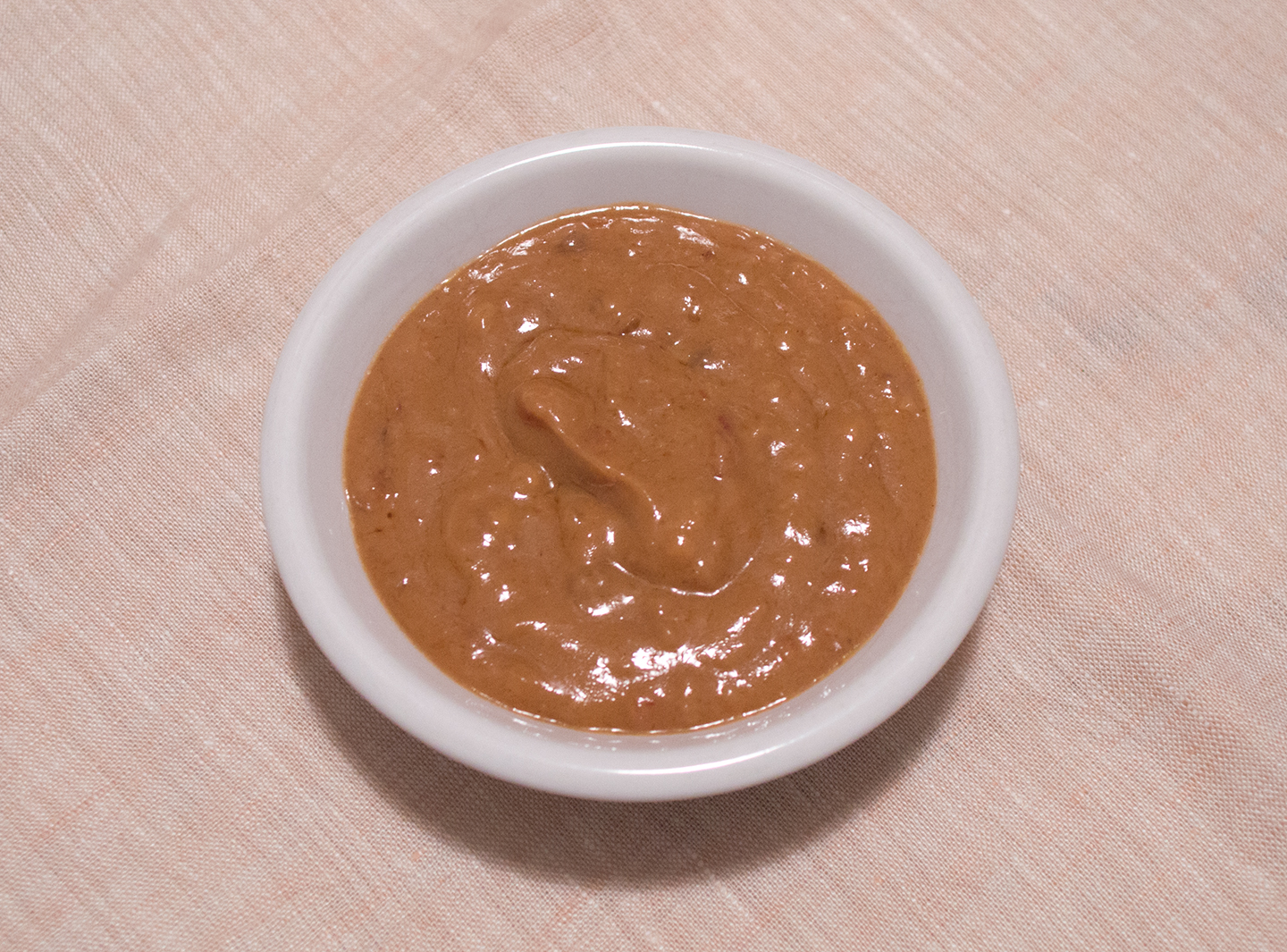 Jump to Recipe for Peanut Sauce
My hubby and I have made this peanut sauce for our salad rolls, but sometimes we have some left over. We don't let it sadly sit in the corner of the refrigerator, where it waits to get thrown out. My hubby likes to use it on grilled meats (satay), or cold noodles (ma jiang mian or dan dan mian, à l'américaine), and I like to use it as a salad dressing.
There are many variations on this recipe, with additions of garlic, ginger, lemongrass, shallots, soy sauce, or various spices. It is also traditionally made with ground roasted peanuts, but is often substituted with peanut butter. You can play with the consistency; make it thinner for noodles, so the sauce can cling; or thicker, to catch onto your grilled chicken. It's delicious in all forms and flavors, and incredibly appetizing with fresh salad rolls!
Ingredients
1 Garlic Clove, minced
5g (1t) Sesame Oil
65g (¼-cup) Peanut Butter
33g (2T) Hoisin Sauce
120ml (½-cup) Water
8g (½T) Sambal Oelek
2g (½t) Granulated Sugar
2g (½t) Fish Sauce
Kosher Salt, to taste
Procedure
In a small saucepan, heat the garlic with the oil on low flame for two minutes, or until the garlic releases aroma.

Add the peanut butter and hoisin, and pour half of the water. Stir carefully until combined.
Put the sambal, sugar, and fish sauce into the peanut sauce, and continue to mix. Slowly stream in water until it reaches the correct consistency.

Turn off the flame, taste-test to see if it needs a dash of salt, and pour into a container.

Serve with salads, noodles, or salad rolls.
*Bunny Wisdom*
The garlic doesn't have to brown. We're just getting rid of the harshness of raw garlic.
I like to use crunchy peanut butter, but that's completely up to you.
Sambal Oelek is an amazing condiment that adds spice to a variety of dishes. I use it for fried rice, stir-fried noodles, crispy spring rolls, and savory pancakes.
I take caution when adding a large amount of water to any recipe; the finished consistency should be like ketchup.
Peanut sauce keeps for about 1 week in the refrigerator.
**Here are some of the ingredients I use for this recipe. Please, feel free to browse and ask questions on anything you see listed below.**