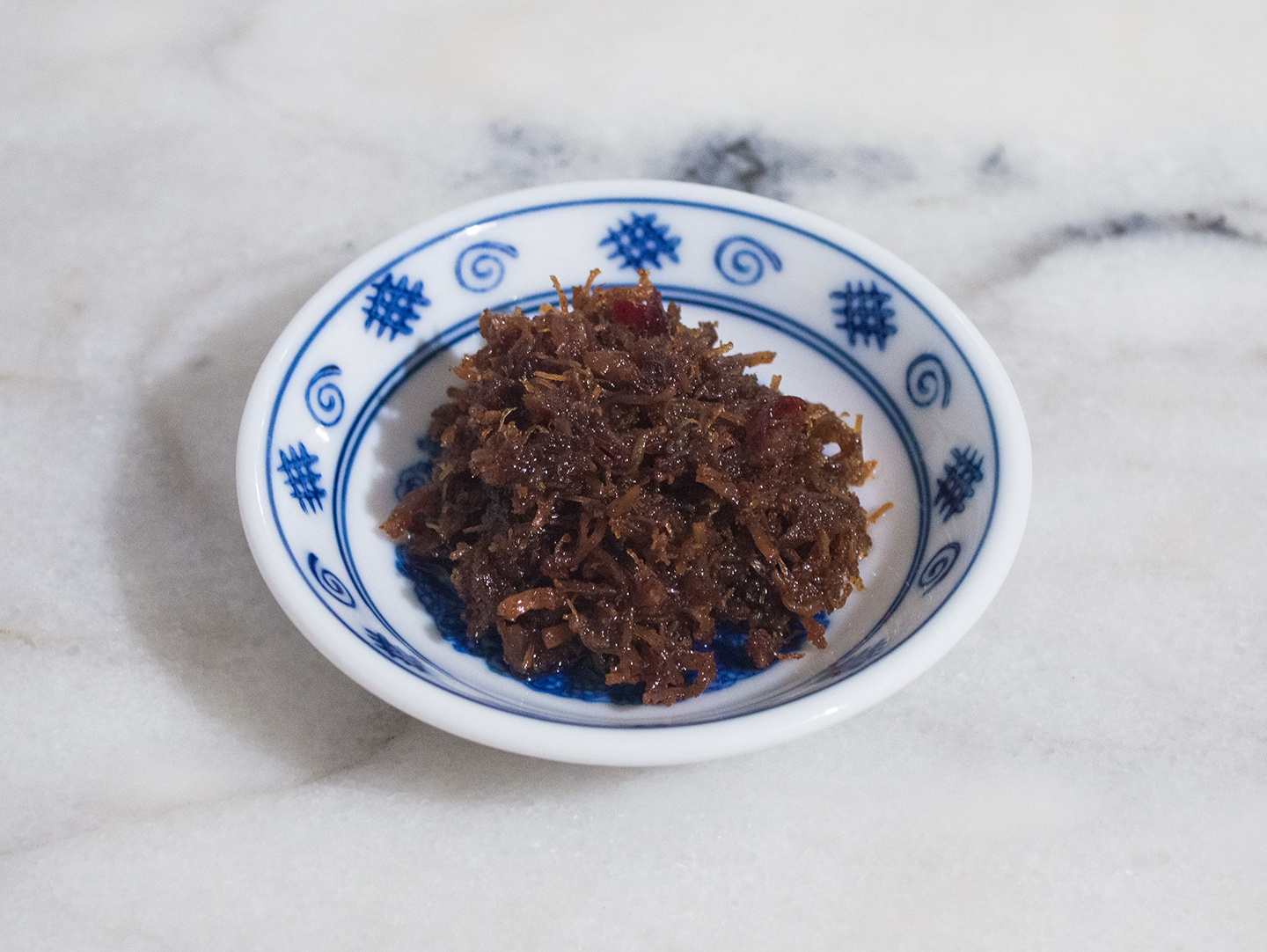 Jump to Recipe for XO Jiang (XO酱) - XO Sauce
Kitty and I went to one of the markets in Chinatown and found packs of instant noodles with XO Sauce. They seemed interesting enough to buy, so we bought a couple of them to try. We went home and whipped up two bowls for dinner, and were pretty surprised at how good it tasted; however, it just didn't have enough seafood in the sauce mixture. That's when we knew we would have to try making our own batch of XO sauce!
The following weekend, we went to the grocery store again and picked up some dried scallops, shrimp, and ham! So eager to begin, we immediately soaked our dried goods that evening, and proceeded to wait for the next day. After all of the chopping, frying, and re-frying of ingredients, my hubby finished cooking the sauce and gave me a bit to try. Of course, it tasted delicious, better than the packaged stuff we ate before. Even though we knew we had to wait for a few days for the mixture to cure, it was still very yummy; we knew that after waiting, it would be even better!
Three days passed. I hovered over the jar as he popped it open. He gave me the first bite (So thoughtful!) and it was so amazing that we knew we had to share it with all of you! We tried savoring it, keeping it around as long as we could so we could enjoy it longer. Of course, we miserably failed at this, so much that I even forgot to take a proper photo of our sauce! Knowing how excellent it turned out, we had to make this again, not just because I spaced out and didn't snap a photo, but also because we wanted to add an elusive ingredient to our new batch. We finally found our dried shrimp roe to make this condiment just *wow* us, and turn this into a spectacular sauce!
Here is our new and improved XO Sauce recipe for you to enjoy!
Recipe for
XO Sauce (XO酱)
Yield:
About ¾-Liter (about ¾-quart)
Time:
Preparation:
Cooking:
Waiting:
Ingredients
130g (1 cup) large Dried Scallops
70g (about ⅔-cup) small Dried Shrimp
70g (about ¼-cup) Jinhua Ham (金华火腿 )
3g (6) dried Red Chili Peppers, or to taste
60g (¼-cup) Shaoxing Wine (绍兴酒)
30g (2T) Brandy
54g (3T) Oyster Sauce
18g (1T) Fish Sauce
19g (1½T) Granulated Sugar
300ml (10oz) Vegetable Oil
100g (½-cup, plus 2T) Shallots, finely chopped
50g (¼-cup, plus 2T) Garlic, minced
30g (about ¼-cup) Shrimp Roe Powder, optional
2½g (1t) White Pepper, ground
Procedure
In separate containers, hydrate the scallops, shrimp, and ham for 6-8 hours, or overnight.

After they have hydrated, shred the scallops and chop the shrimp and ham. Put each protein into separate bowls. Set aside the soaking water.

Slice the chilis in half and de-seed them. Chop the peppers and add them to a small saucepan.

Pour the soaking liquids, wine, brandy, sauces, and sugar into the saucepan, and boil the mixture down until about 250ml (about 1 cup). Set it aside.

In a large skillet or pot, pour in the oil and set it to a medium flame. Fry the scallop, shrimp, and ham, separately, until crispy, dry, and lightly browned, about 8-10 minutes each. Combine all three and fry together once more until the mixture turns foamy, about 5-8 minutes. Remove all of the protein.

Fry the chopped shallots in the oil on medium-low flame, about 5-7 minutes. When starting to brown, lower the flame and add the fried scallop, shrimp, ham, minced garlic, and shrimp roe. Fry for 3-5 minutes, continuously stirring to prevent burning.

Add the liquid mixture and cook to desired consistency.

Lastly, sprinkle in the ground pepper, and cook for 1-2 minutes. Turn off the flame and stir the XO sauce until it stops sizzling.

Contain the sauce in a sanitized jar, cover, and put it in a cool, dark place for 3-5 days.

Enjoy your lovely sauce with noodles, stir-fried vegetables, or with some rice!
*Bunny Wisdom*
All of the ingredients can be found at your local Chinese grocery store. If you can't source the ham, substitute with country ham or Virginia ham.
Soaking the scallops and shrimp overnight allows for optimum hydration.
To make sure that the scallops, shrimp, and ham are well hydrated, you can also steam them for 10-15 minutes after they have been hydrated for 6-8 hours. This helps in the shredding and chopping of each protein. Just make sure you save that water from the steam and use it in your reduction. This is actually the original method, though we realized that at the end of our recipe, it all comes together and everything marries well.
We fry each protein separately because their frying times are different. Once all three are crispy and lightly browned, they're ready to be cooked together.
We keep the soaking water because there is a lot of flavor that would otherwise be thrown away. We understand that the reducing process makes this recipe longer, but it's totally worth it!
Adjust your spice level by taking some chilis out, if you are wanting a sauce with less heat. The amount listed above gives the XO sauce a good amount of kick, without overwhelming it.
After adding the garlic and shrimp roe, fry until the garlic begins to get some color, but not browned.
Our desired consistency is when all of the bits are evenly suspended in the liquid (try and cook out as much of the water as possible), and it begins to turn a shade darker. This should take anywhere from 5-10 minutes, depending on the strength of your flame and how much moisture you want in your XO sauce.
After placing all of the sauce into the container, push down the contents so there aren't any large air pockets and there's even distribution of solids and liquids.
We couldn't help ourselves and wait for five days, so we cracked the jar open after three and ate it with noodles!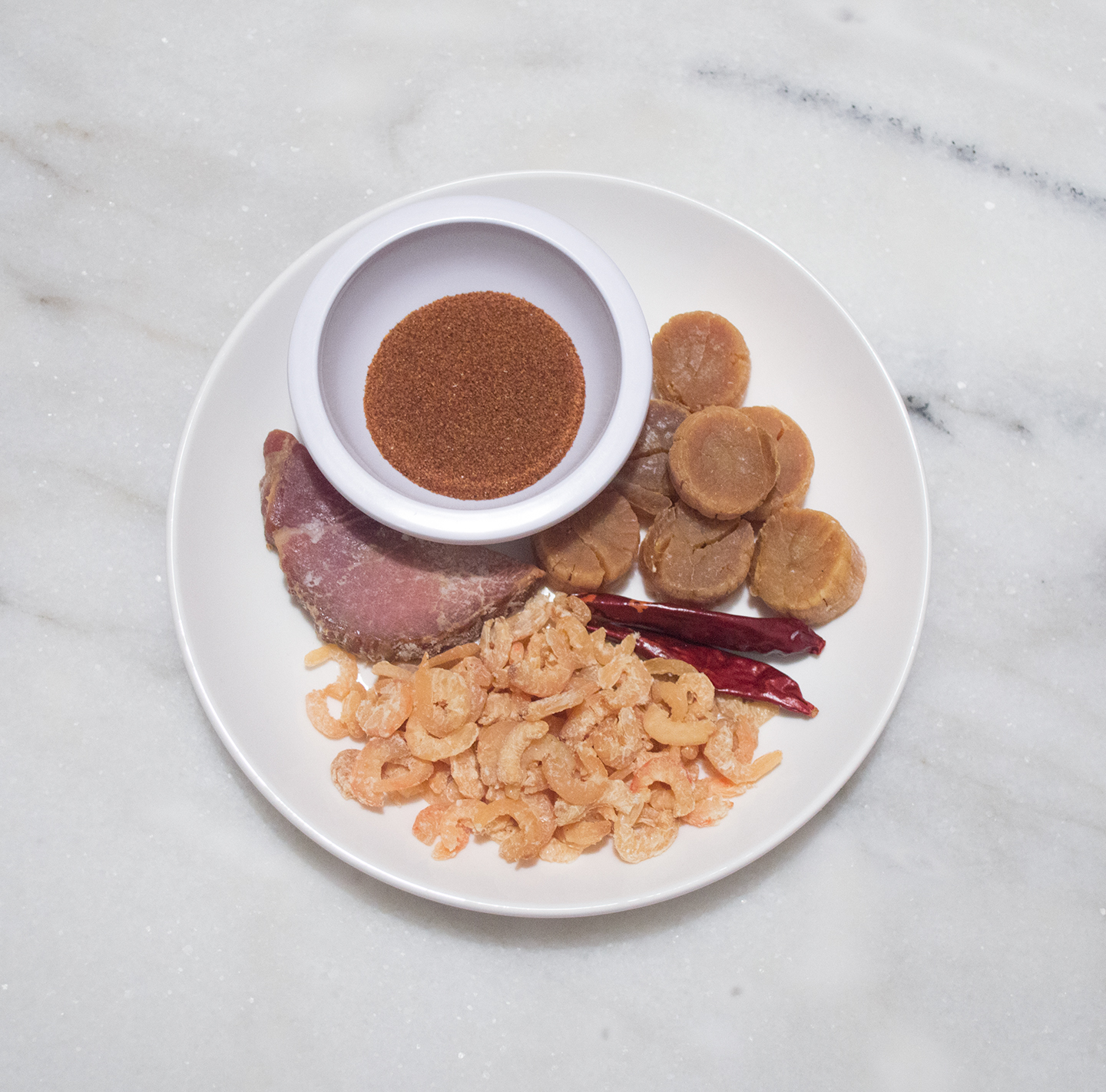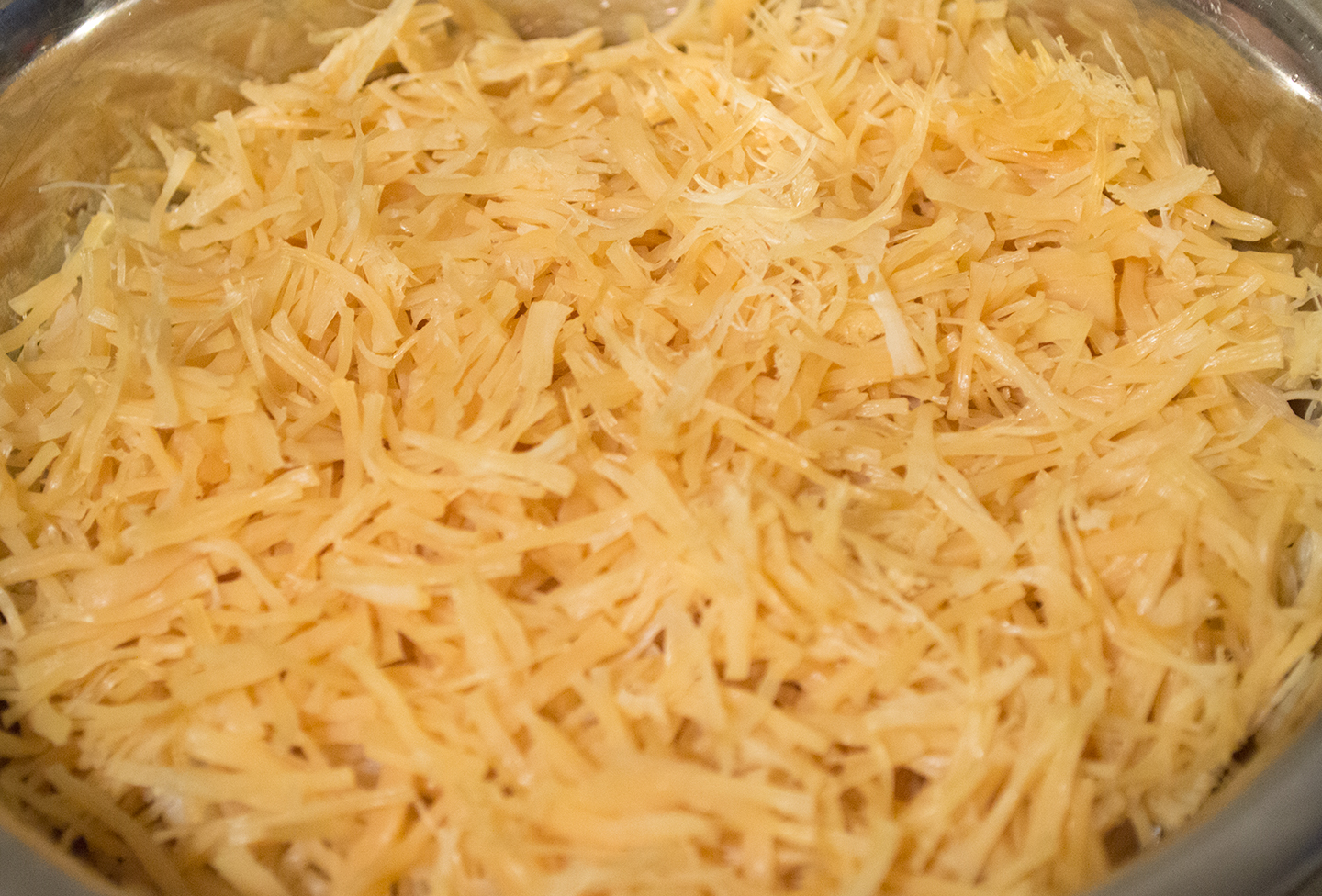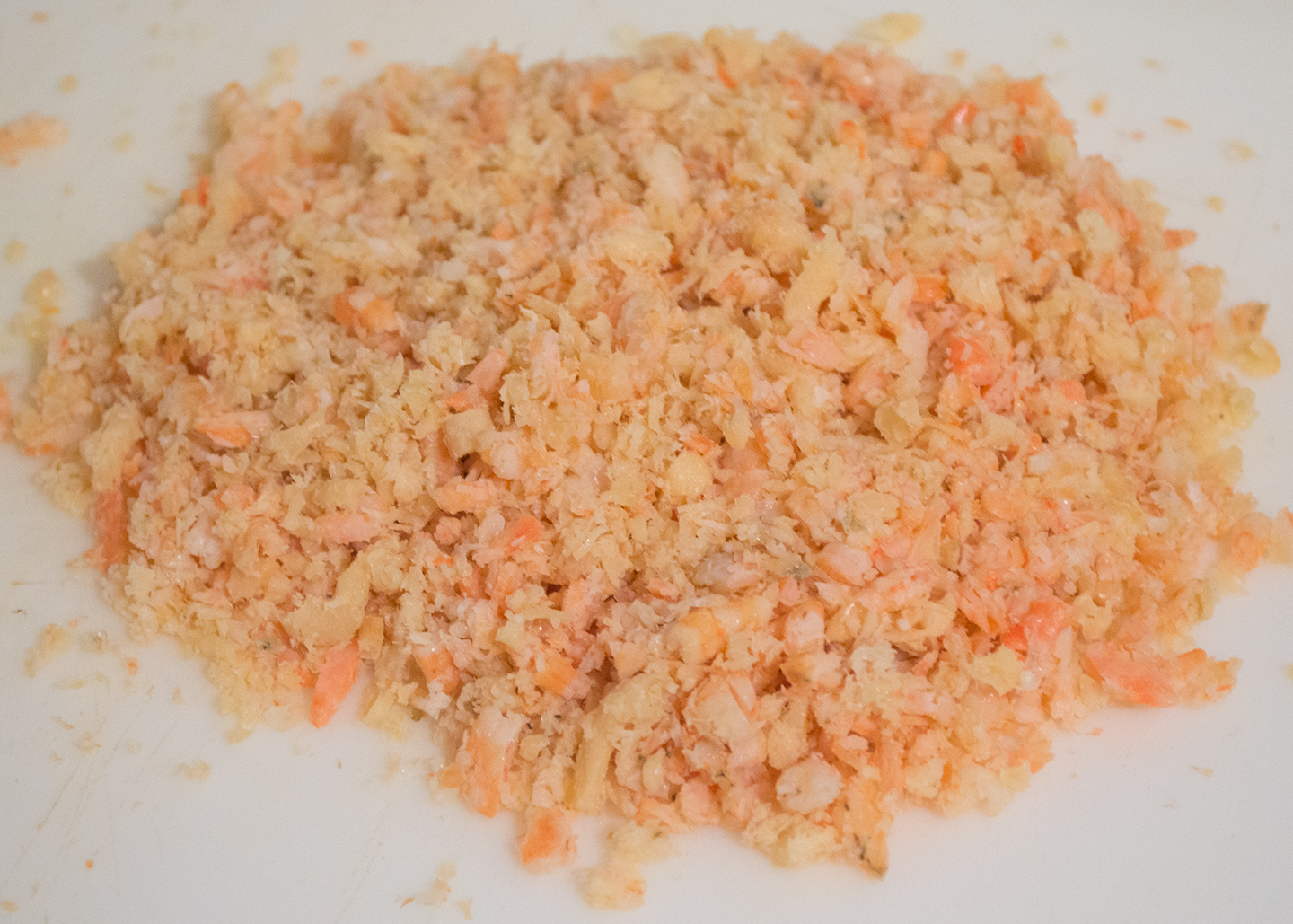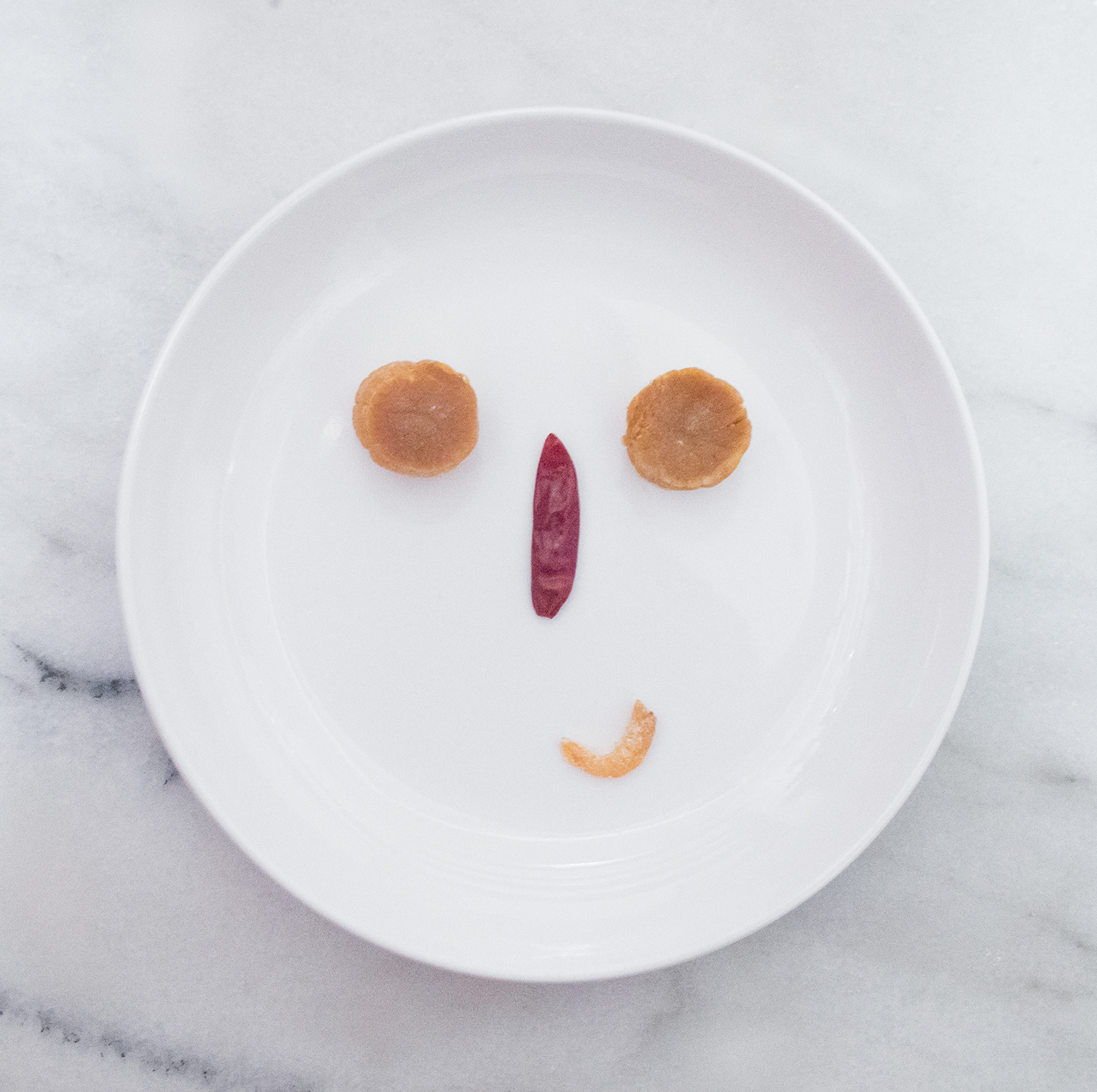 **Here are some of the ingredients I use for this recipe. Please, feel free to browse and ask questions on anything you see listed below.**