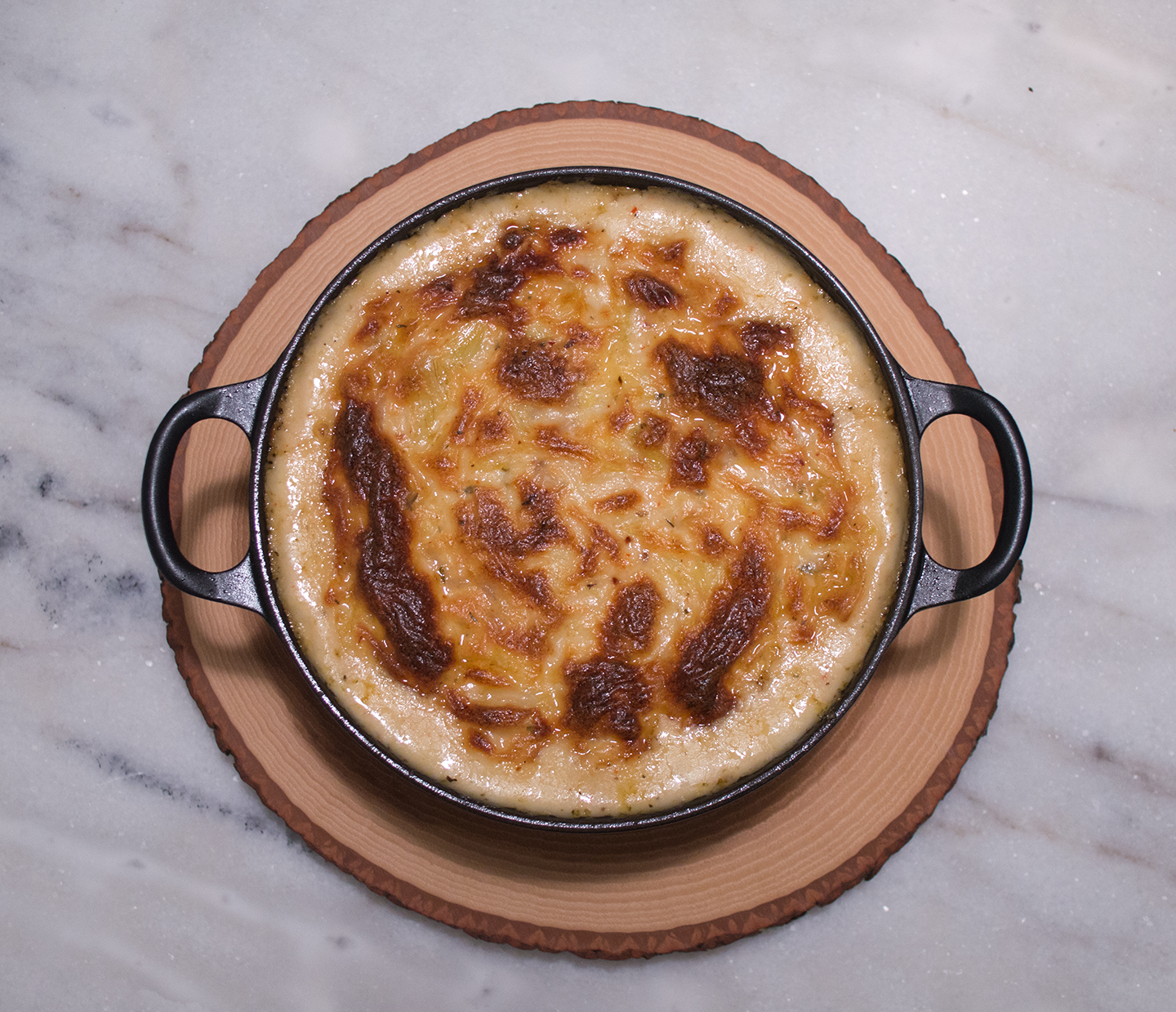 Jump to Recipe for Cheesy Artichoke Dip
The first time I ate artichoke dip was when I was a freshman in University. At our campus coffee shop, they also prepared small plates, perfect for a quick lunch. I would sip on a soy chai, enjoy a soup in a bread bowl when I was feeling really hungry, or grab a spinach or artichoke dip when I had only an hour between classes. You could almost say that Kitty and I met over a bowl of artichoke dip!
The month before we started dating, James and I would occasionally run into each other at the coffee shop, with one of us always eating artichoke dip. We didn't think too much about making it ourselves, since it was so convenient to just order and eat. We would often say how much we loved eating it, but only recently decided to make it at home.
We loaded this recipe up with garlic, and made it creamier so that it would stay on our sliced bread instead of slipping around and sliding off. We're really excited to share this with you, and we hope that you'll enjoy this during these cold evenings watching Netflix.
Recipe for
Cheesy Artichoke Dip
Ingredients
480g (2 cups) Whole Milk
1 Bay Leaf
2 sprigs of Thyme
¼-½g (½-1t) dried Marjoram
18 roasted Garlic Cloves, or to taste
¼g (⅛t) ground Cayenne
¼g (⅛t) ground Mace
150g (about 2 large) Shallots
350g (about 3 cups, shredded) Monterey Jack Cheese
40g (about ⅓-cup) All-Purpose Flour
40g (about 3T) Unsalted Butter
765g (27oz) frozen Artichoke Hearts, thawed
4g (2t) Lemon Zest
45g (3T) Lemon Juice
2g (¾t) Red Chili Flakes
Procedure
Bring the milk, bay leaf, thyme, marjoram, and garlic to a boil in a saucepan. Turn off the flame, throw in the cayenne and mace, and set aside, covered.

Peel, remove the roots, and bisect the shallots from stem to root, and slice them into half moons about ⅛-inch thick. Sweat them in a small pan with a nub of butter, about 5 minutes. Turn off the flame.

Grate the cheese. Remove the bay leaf and strip the thyme off the stems. In a large pan on a low flame, begin making a white roux with the flour and butter. Slowly ladle in the milk while continuously whisking the roux. Turn off the flame and add the grated cheese. Stir until the cheese has melted. Add the shallots to the pan.

Preheat the oven to 350°F (177°C).

Cut the artichoke hearts in half or quarters, depending on size. Mix together the artichokes, zest, juice, and chili flakes.

Incorporate the artichokes into the cheese sauce, then place all of the artichoke dip into a casserole.

Bake for 30 minutes, then bring the temperature up to 425°F (218ºC) for an additional 15-20 minutes, or until the top is browned and bubbly.

Serve immediately with sliced and toasted sourdough bread.