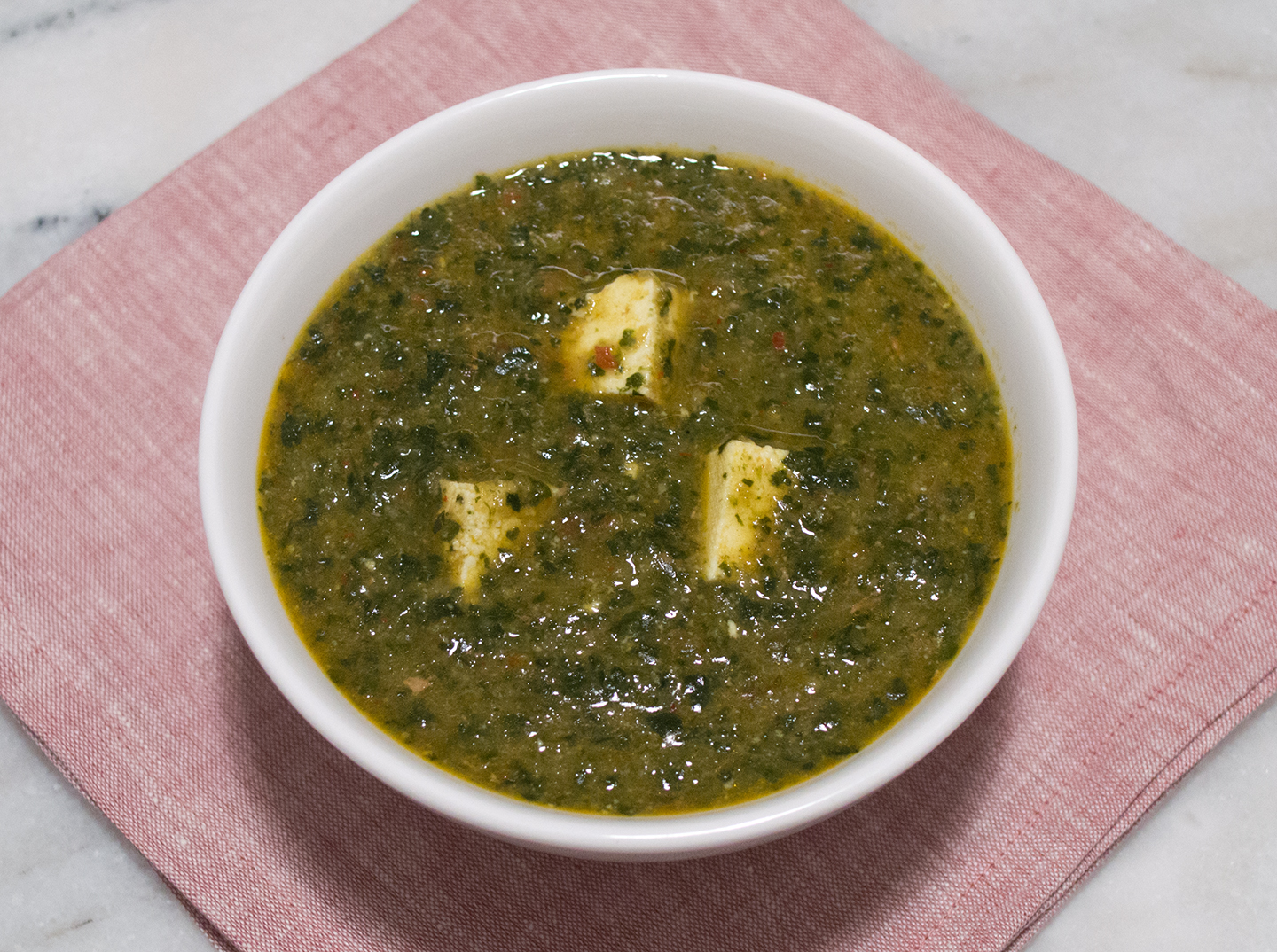 Jump to Recipe for Palak Paneer - Indian Spinach Dish with Fresh Cheese
That's right! I decided to post a vegetarian version of our spinach dish, Palak Paneer, today! It's been a family favorite for years, and we always get excited to have some when we go to our local Indian restaurant.
I was a vegetarian for almost ten years, and I still find myself wanting to eat only vegetables at every meal. It seems to be a default for me, always wanting to have fresh fruits and vegetables in my everyday diet. Whenever I'm feeling sluggish or under the weather, I search for something like saag, because it's definitely considered a comfort food for me.
Here's one of my sister's favorite things to eat, and this dish is dedicated to her. Now we can make it at home, sis!
Recipe for
Palak Paneer - Indian Spinach Dish with Fresh Cheese
Yield:
About 2 Liters of Palak Paneer
Ingredients
Fresh Cheese:
Spinach Base:
500g (about 1lb) Spinach
10g (about 1½T) Corn Flour
10g (about 2T) Chickpea Flour
140g (a large) Onion
35g (12) Garlic Cloves
4g (2t) Ginger
4 Green Chilies
70g (5T) Unsalted Butter
2g (1t) Cumin Seeds
1½g (½t) Turmeric Powder
2 large Bay Leaves
2g (1t) Chili Pepper Flakes
2 medium Tomatoes, chopped
2g (1t) Garam Masala
60g (¼-cup) Plain Yogurt
5g (1¼t) Kosher Salt
Cilantro, to finish
Procedure
Follow the instructions provided for making paneer.
Take out a large pot for the palak paneer.

Wash and drain the spinach. Discard any wilted leaves. Blanch the spinach in a small pot, with about 1 liter of water. Fish out the spinach and blend with the corn and chickpea flours. Place all of the spinach mix into the large pot. Keep the spinach water.

In a food processor, chop the onion, garlic, ginger, and chilies, until the mixture turns into a chunky purée. On low to medium flame, melt the butter in a pan, sautée the cumin seeds for 1 minute, then add the ground aromatics. Continue on low flame until the mixture begins to turn golden brown, about 20-30 minutes. Turn off the flame and add the turmeric. Mix well. Pour into the large pot.

Throw in the bay leaves, chili flakes, chopped tomatoes, and salt. Give the contents a good stir.

Pour in the spinach water, just until the contents are covered. Close the pot and simmer for 20-30 minutes, or until the spinach has softened.

Turn off the flame, add the garam masala and yogurt, and mix well.
Place your desired amount of palak paneer into each serving bowl, then add your pieces of paneer into each bowl.
Serve with chopped cilantro and enjoy with some rice, roti, or naan.
*Bunny Wisdom*
A liter of water isn't enough to blanch all of the spinach at once. In fact, I kept the amount of water to a minimum because I wanted to add the spinach water into the pot (boiled spinach water = flavor). Too much boiling water would have resulted in a thin saag, so I went through the trouble of blanching and scooping the spinach out in a couple batches.
Corn flour is not corn starch, nor is it cornmeal. It's corn that's more finely ground than cornmeal. Internationally, corn flour is often what the US calls corn starch. Corn flour can be easily sourced at any South Asian grocery store, or even your neighborhood supermarket.
Please don't hesitate to adjust the amount of chilies. We just enjoy our dishes with a kick!
Make sure when you are toasting and browning the cumin, onion, garlic, ginger, and chilies, the mixture doesn't burn. Keep moving the ingredients in the pan.
We use plain whole milk yogurt in this recipe, though any plain yogurt will do.
Remember to make the cheese ahead of time to insure plenty of moisture has been squeezed out.