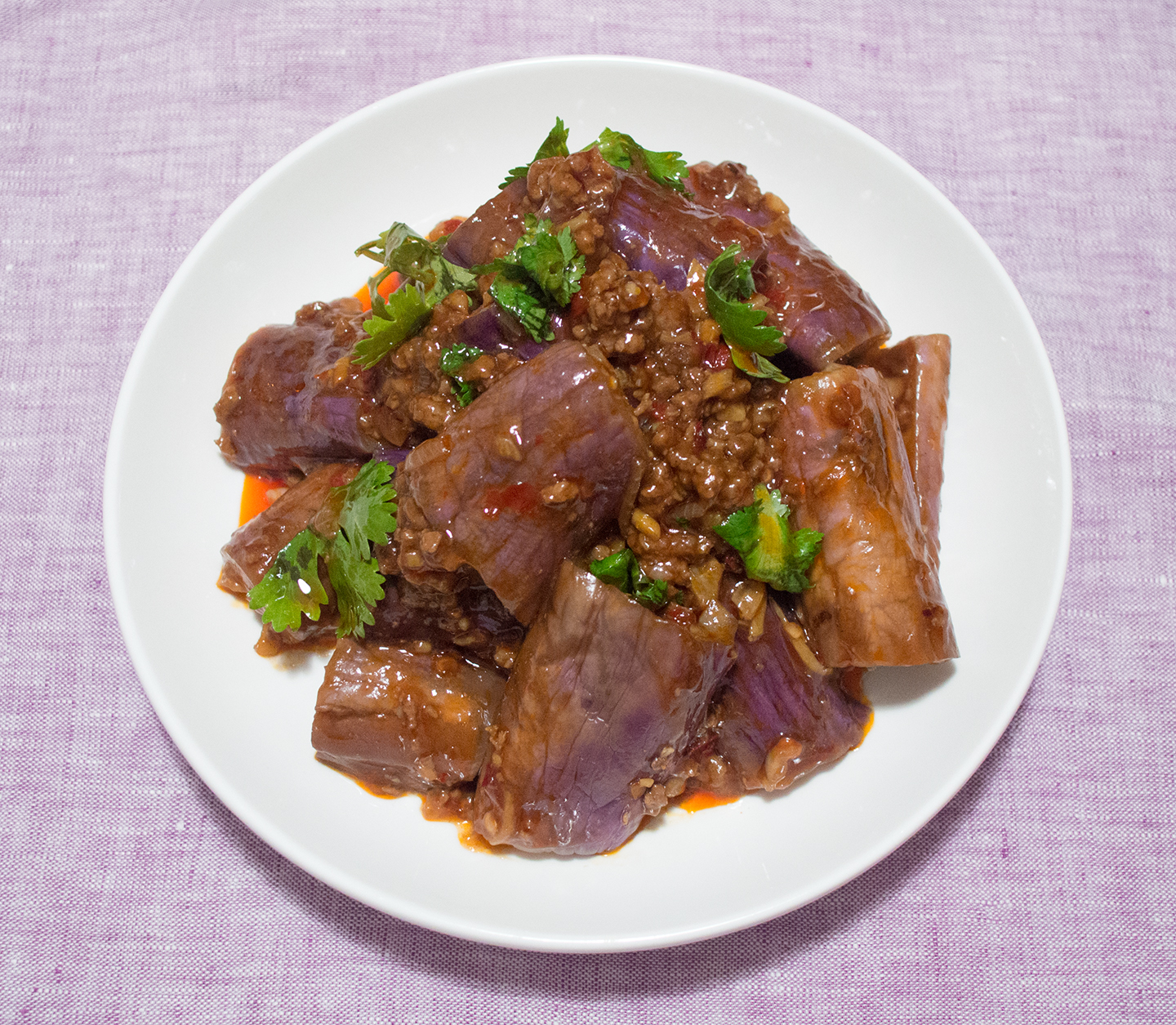 Jump to Recipe for Hóngshāo Qiézi (紅燒茄子) - Red-Cooked Eggplant
This is a recipe that was haunting me for years.
Many years ago, we took a family trip to Glacier National Park. One evening, after spending the entire day at the Park, we were driving around to find dinner. We pulled in next to a Chinese restaurant in Bozeman, not really sure what to expect; however, we were pleasantly surprised when we ordered a bunch of dishes, including a plate of red-cooked eggplant. After voraciously filling our tummies with food, we couldn't stop raving about the cooked eggplant. To this day, I dream about that eggplant dish!
We left that restaurant wondering how we could recreate it, but never jumped onto a computer or opened a cookbook to do further research. It was understood by everyone that we probably would never be able to eat that delicious eggplant again.
This past year, I bought dozens of eggplants to experiment. You see, James had an idea of what I was incessantly craving. He helped me do a search query on various eggplant dishes, typing it out in Chinese for me. That opened up an entire world of recipes that I previously couldn't even access. It made me excited again, knowing that I can finally recreate that cooked eggplant we thought was hopelessly gone forever.
Thanks to Kitty, and putting up with lots and lots of eggplant for dinner, we would like to share with you our version of red-cooked eggplant!
Recipe for
Hóngshāo Qiézi (紅燒茄子) - Red-Cooked Eggplant
Yield:
About 800g of Cooked Eggplant
Ingredients
4 small Asian Eggplant: roughly 20-25cm long, 5-6cm diameter
35g (¼-cup) Dried Shrimp
115-230g (¼-½lb) minced Beef, Chicken, or Pork
2 Asian Shallots, chopped
6g (1T) Ginger, minced
12g (4 cloves) Garlic, minced
1 medium Scallion, chopped
36g (2T) Píxiàn dòubànjiàng (郫县豆瓣酱)
22g (1½T) Shaoxing Wine (绍兴酒)
15g (1T) Chinese Black Vinegar (镇江香醋 - Zhenjiang Vinegar)
12g (1T) Granulated Sugar
3g (1t) Kosher Salt
16g (2T) Corn Starch
30g (2T) Water
Cilantro
Procedure
Wash and cut along the length of the eggplant (stem to bottom) into four equal pieces, then cut them into edible-size portions. Place the eggplant in a vinegar-water solution for 5 minutes.

While the eggplant is soaking, hydrate the shrimp in some hot water for 20-30 minutes. Once it is hydrated, drain, but keep the shrimp water. Set aside.

Remove the eggplant from the vinegar water, and boil for 3-5 minutes in a large pot. Keep the pieces submerged while cooking. Scoop out and immediately place into an ice bath.

Coarsely chop the shrimp and the bean paste (dòubànjiàng).

In a large pan or wok, begin cooking the meat with some vegetable oil until almost fully cooked, then add the shrimp. Mix well.

Throw in the shallots and sautée for 2 minutes. Toss in the ginger and cook for another 1-2 minutes. Put the garlic in and sautée for a minute.

Add the scallion and bean paste. Stir the contents until combined.

Pour in the wine, vinegar, sugar, and salt. Give everything a thorough mix.

Make your cornstarch slurry and stream into the pan. Quickly bring the ingredients together; the sauce will thicken. Use 4-8oz of the shrimp water if the sauce consistency is too thick.

Drain the cooked eggplant and mix into the sauce, gently. Turn off the flame.

Scoop out the cooked eggplant onto a shallow serving bowl or plate, garnish with some chopped cilantro, and enjoy it over some steamed rice!
*Bunny Wisdom*
You can source all ingredients at your local Asian market, especially if they carry a large selection of Chinese ingredients.
The dried shrimp may be extra dry; take note that it may take more than 20 minutes for them to fully hydrate. If the shrimp seem too dry to use in this short time, hydrate for an hour, or even overnight in the fridge.
Asian shallots are about half the size of western shallots.
Píxiàn dòubànjiàng is a spicy bean paste that's primarily used in Sichuan and other regional cuisine. Check out the *Bunny Wisdom* section of my Mapo Tofu recipe for more information.
Use cold water for the cornstarch slurry, and mix well before using, as it can get thick and gooey when the starch settles.
You can completely omit the cornstarch slurry if you want a loose sauce. I like adding some starch to have the sauce coat the eggplant.
The eggplant doesn't need to be cut the way I've illustrated, as long as it's cut into edible-size pieces and roughly the same size so they all cook at the same time.
The vinegar solution is a 1:1 of water and regular vinegar. I use this method to help the eggplant keep its vibrant purple color, and prevent the whites from browning too much. If this isn't important to you, you can skip this step; just be warned that the purple will turn brown (this is cosmetic. It doesn't affect flavor).
Another way of cooking: the original way (pan-frying/deep-frying) also helps retain its purple color due to the eggplant being fully immersed in oil. The oxidization makes the skin turn brown. If you decide to fry the eggplant, they will only need to cook for a short time (just until softened, about 3 minutes). Remove the pieces from the oil and cover the eggplant for a few minutes before tossing them into the sauce.
If cooking the way I've illustrated: use a metal colander or sieve to keep the eggplant from floating. Exposure to air in the cooking process can brown the skin.
I place them into an ice bath for the same reason. The eggplant will continue to cook from the inside, and will brown further if left on a plate instead of an ice bath.
Keep the contents moving to prevent burning, especially when cooking the aromatics.
The addition of the wine and vinegar should help deglaze the caramelized parts of the pan.
I find that I *do* need to add some shrimp water to help loosen the sauce. We're looking for a gravy-like consistency.