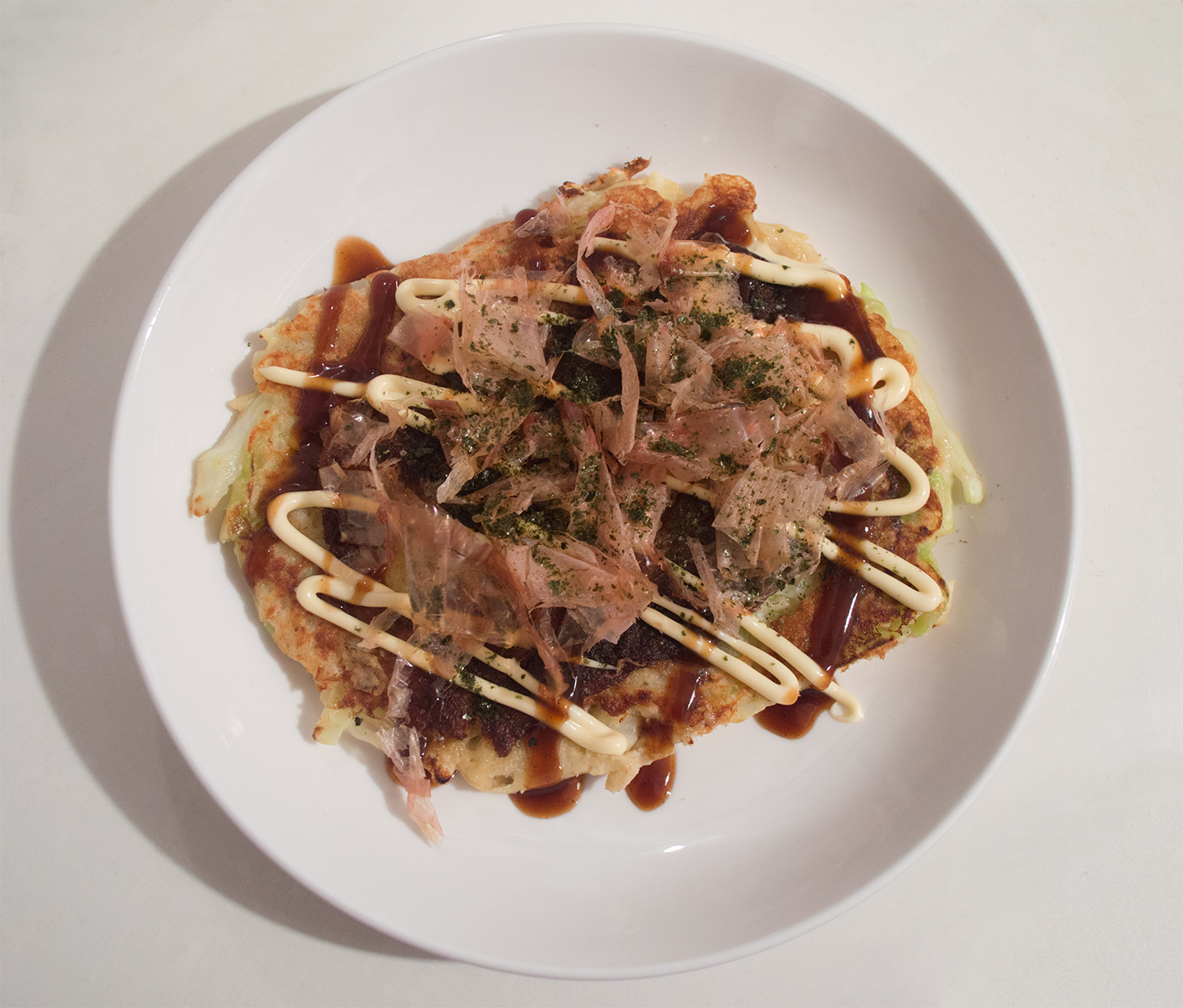 Jump to Recipe for Okonomiyaki (お好み焼き) - Japanese Savory Pancake
Okonomiyaki (お好み焼き) is a savory Japanese pancake, mainly consisting of cabbage and nagaimo, also called Chinese yam. After many years of tinkering with our Okonomiyaki recipe, Kitty created this as our set method in making these delicious Japanese pancakes!
It's often made with pork, and it's really good with thinly sliced pork belly or tenderloin; however, my hubby loves his beef, and so we've adapted it to using thinly sliced rib eye or eye of round. The pancake is amazing when it's freshly made! It's piping hot, crunchy, umami, and filled with a healthy amount of vegetables.
Recipe for
Okonomiyaki (お好み焼き) - Japanese Savory Pancake
Time:
Preparation:
Cooking:
Waiting:
Ingredients
Pancake Batter:
500g Cabbage, shredded
500g Nagaimo
1 large Scallion
6 large Eggs
30g (2T) Kewpie Mayonnaise
15g (1T) Soy Sauce
15g (1½t) HonDashi Powder
125g (about 1 cup) All-Purpose Flour
35g (about ¼ cup) Cornstarch
Protein:
225-340g (about ½-¾lb) Thinly sliced Beef, Pork, or Seafood Medley
Other Essentials:
Vegetable or other Cooking Oil
Kewpie Mayonnaise
Fruit and Vegetable Sauce
Bonito Flakes
Powdered Dried Seaweed
Procedure
Place the shredded cabbage in a large bowl.

Peel the nagaimo and rinse the tuber. Grind the nagaimo in a food processor until homogenized. Pour into the large bowl.

Chop the scallion and add to the other vegetables.

Put the eggs, mayonnaise, soy sauce, and dashi powder into the bowl. Mix well.

Lastly, mix the flour and cornstarch in with the vegetables. Let the batter sit for 30 minutes in the refrigerator.

On a medium flame, take a large fry pan with some vegetable oil, and ladle the pancake mix into, roughly, a 6-inch diameter circle, about a half-inch in height. Lay some of the protein on top of the pancake. When browned, flip over, and cook on the other side, and until both sides are crispy, about 5-8 minutes.

Once cooked, serve with mayonnaise, fruit and vegetable sauce, bonito flakes, and seaweed; watch the bonito dance as you enjoy your hot pancake!
*Bunny Wisdom*
I actually picked up a 1.2kg size of nagaimo (長芋 - *long yam*) and a 6-inch diameter cabbage, and cut each in half. I peeled and sliced the yam, and froze half of it for another meal. The other half of the cabbage was used in another recipe. If you can't find a small yam and cabbage, and plan to make okonomiyaki again (maybe the following week?), then this is the perfect way to portion each meal. Otherwise, feel free to pick up a small yam and small cabbage just for this recipe.
Nagaimo is a Chinese yam that was introduced into Japan and Korea many centuries ago. It's one of the few yams/potatoes that can be eaten raw, though one has to be careful with the skin of these tubers. They contain oxalate crystals, which can irritate the skin; I wear a pair of disposable gloves when peeling the yam.
If this is the first time you've come across nagaimo, don't be alarmed when you're pouring the ground yam into the bowl; it is quite mucilaginous (most plants are, but this one even more so), and very edible!
Kewpie mayo is delicious! My hubby and I enjoy eating it more than regular mayonnaise for its thicker texture, and its savoriness. You can find this in most Asian grocery stores, and sometimes in your local supermarket.
Dashi is a base for many Japanese foods, and we often use HonDashi/Dashi Powder to expedite the food-making process. We also use the powder to add flavor without adding extra liquid to a recipe. It's available in most Asian grocers.
Letting the batter sit allows the flour to hydrate and the cabbage to wilt.
I used sliced eye of round for this recipe, though you can also use beef rib eye or tenderloin. The same goes for pork. A seafood mix is just another way to make this pancake heartier.
The cabbage and yam amounts are just a guideline. If it's slightly over or underweight, the pancakes will still turn out well.
We made this batch for dinner (for 4 people, 2 pancakes each). I understand that it's often eaten as a snack, though, it's equally wonderful as a dinner! If you plan to make this as a snack, I suggest halving the recipe.
If you have batter left over, you can keep it in the refrigerator for 1-2 days.
The condiments are all available in Asian grocers. I often use Bulldog brand Fruit and Vegetable Sauce. Bonito flakes are shaved katsuobushi (鰹節, かつおぶし), which also makes great broth/dashi. Powdered seaweed is a great flavor booster, and great on okonomiyaki.
**Here are some of the ingredients I use for this recipe. Please, feel free to browse and ask questions on anything you see listed below.**