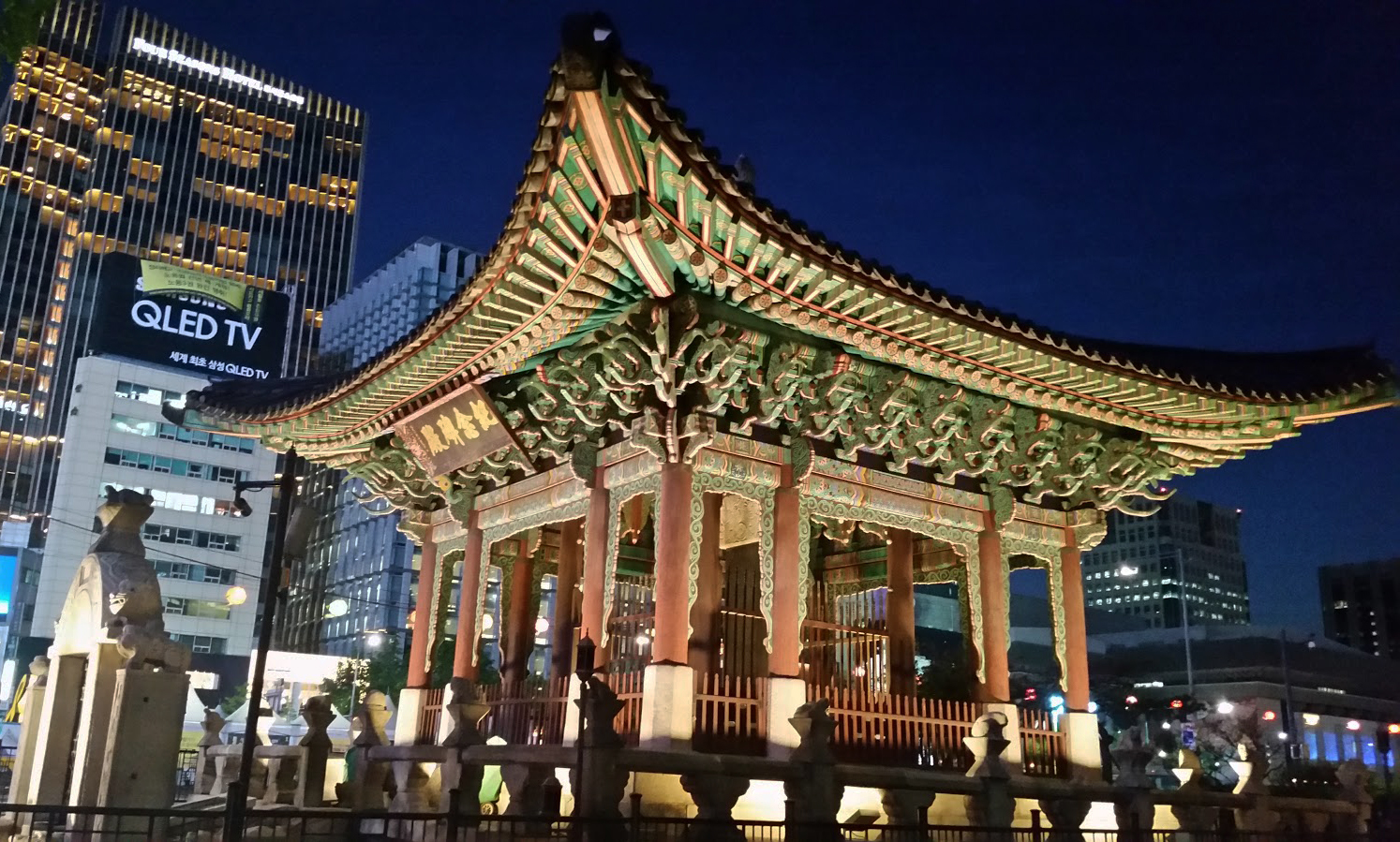 Our Korea trip continues on! We went to the must-see area of Dongdaemun, so the following morning, we set out to see Namdaemun, the market around the Southern gate.
If you guys are tuning in now on our trip to Korea, check out what we did on our first week there on Ganghwa Island!
Namdaemun Market (남대문 시장 – Great Southern Gate Market) is known for kitchenwares, housewares, arts and crafts, souvenirs, electronics, clothing, and food. This entire area is known to be open around the clock, with plenty of places to shop, and stores often filled with hard-to-find items. My mom wanted to buy some food storage containers and dried leafy vegetables, so we went to the market with that in mind.
While we were there, we bought some souvenirs for my mom's friends, and ate some more hotteok! What's unique about this pancake place is that they specialize in savory stuffed pancakes. My cousin decided to join us on this day, and knew exactly where to take us for this tasty treat!
**Again, I want to share that I didn't take my DSLR along, thinking that I would be okay with taking photos with my smart phone. The photos turned out alright, for the most part; however, they're not of the best quality, so I apologize if they're out of focus or blurry. And major credit to my sister, for taking a bunch of these photos! Plus, I've intentionally blurred people's faces.**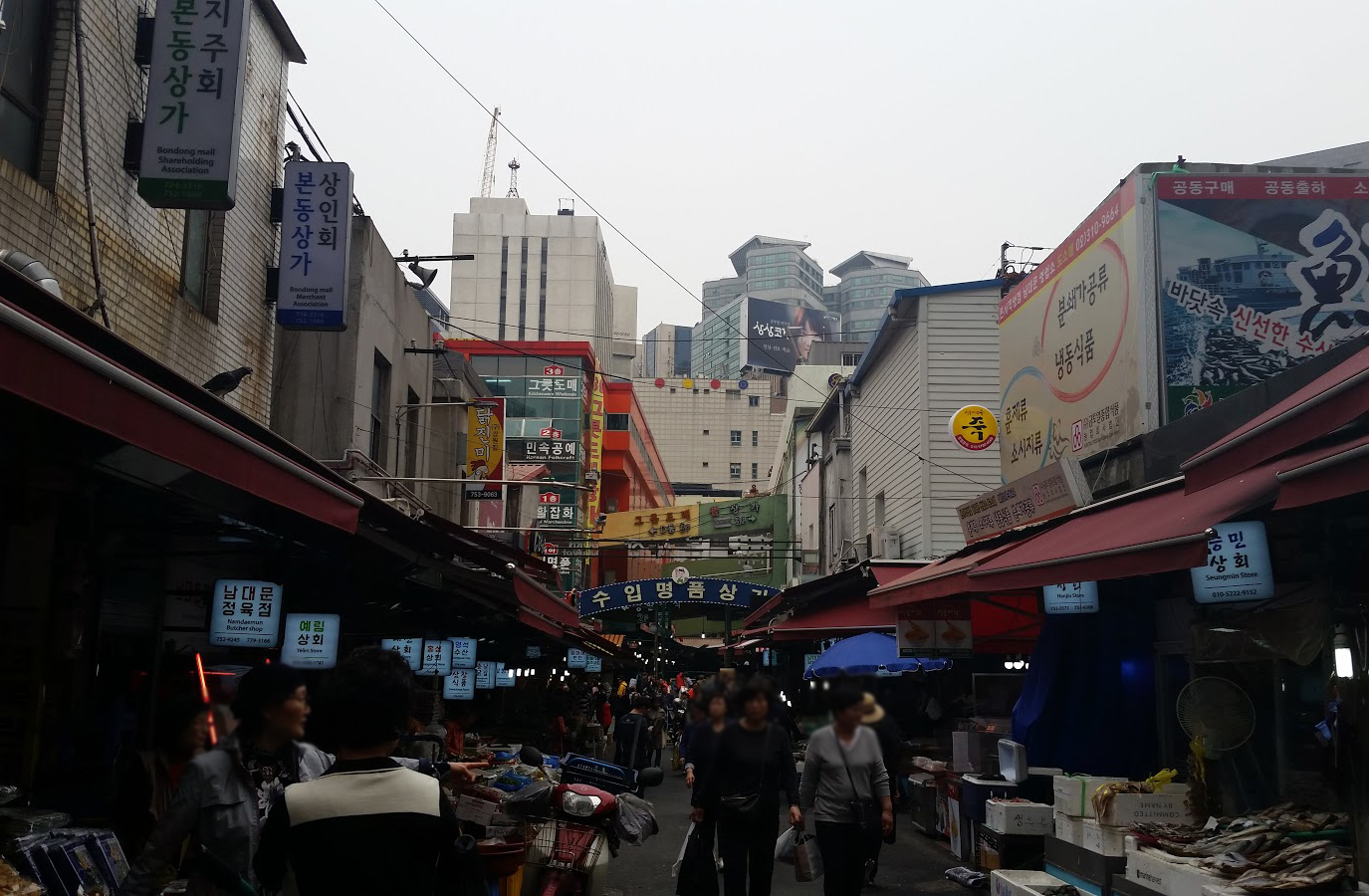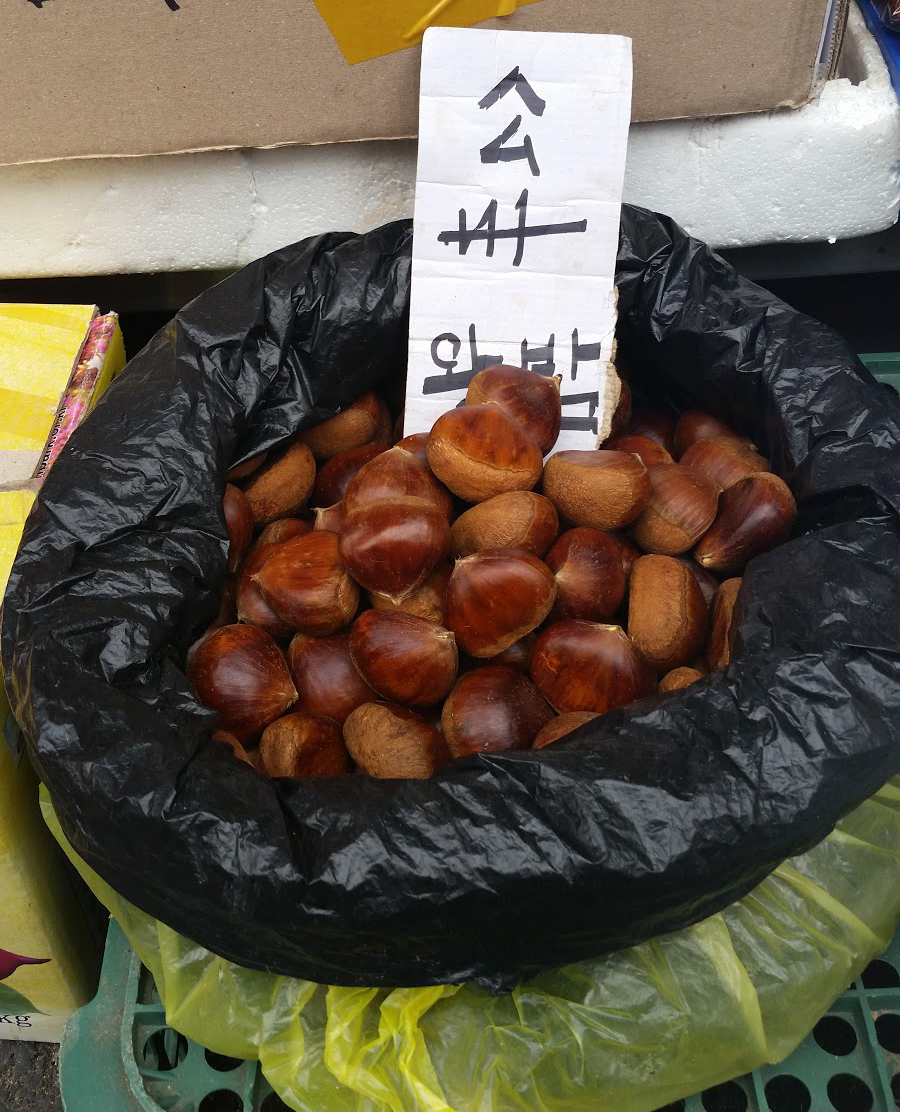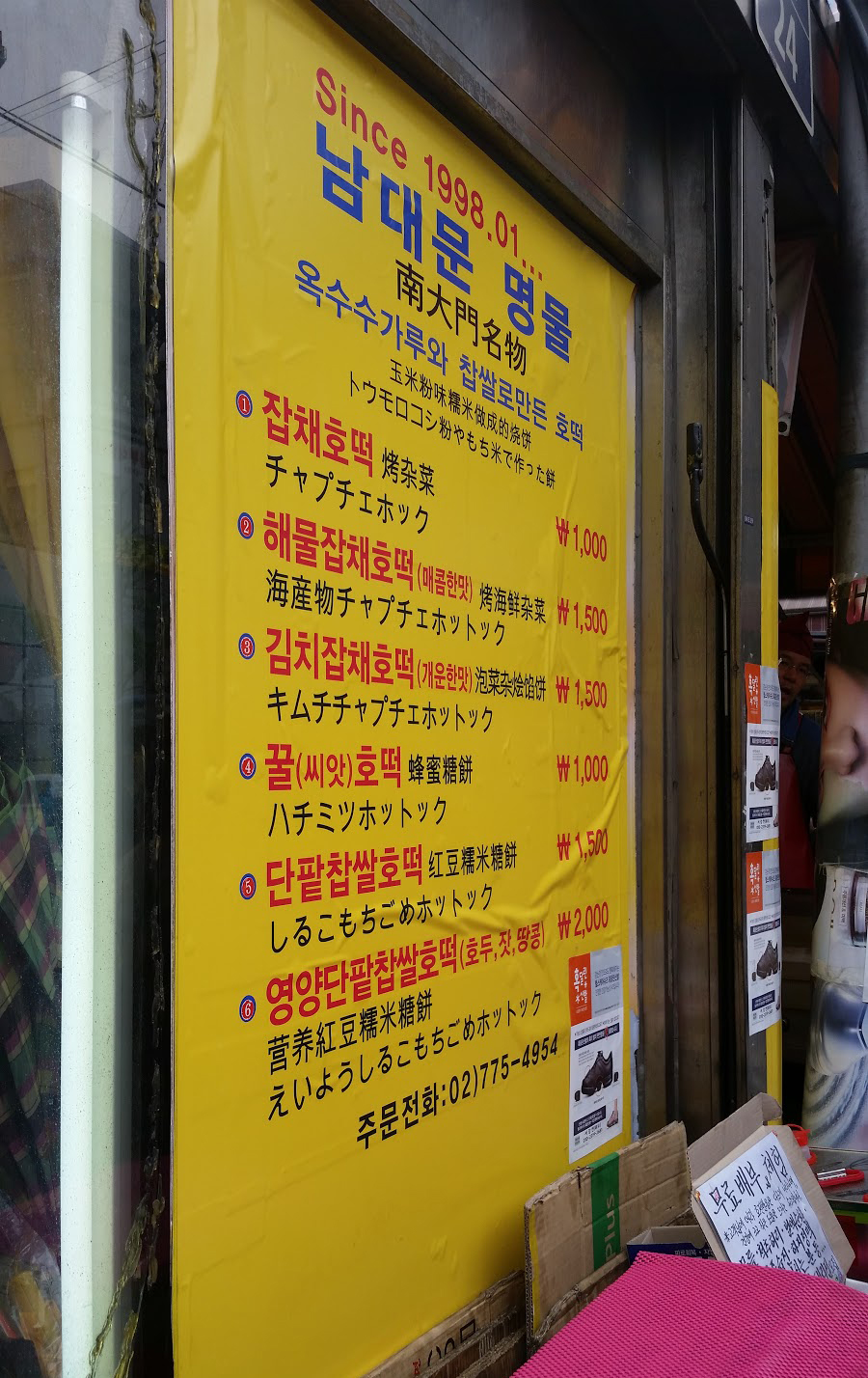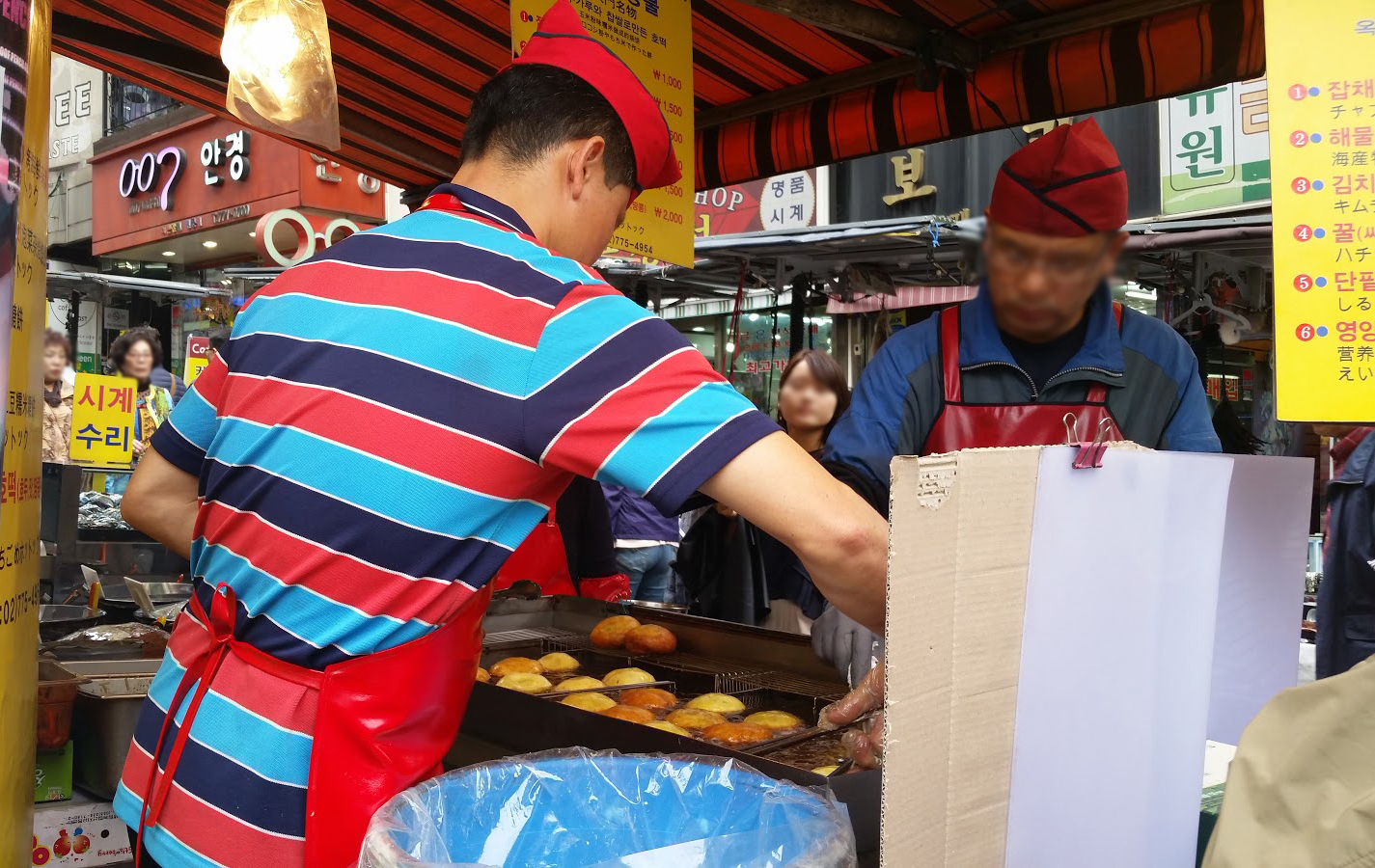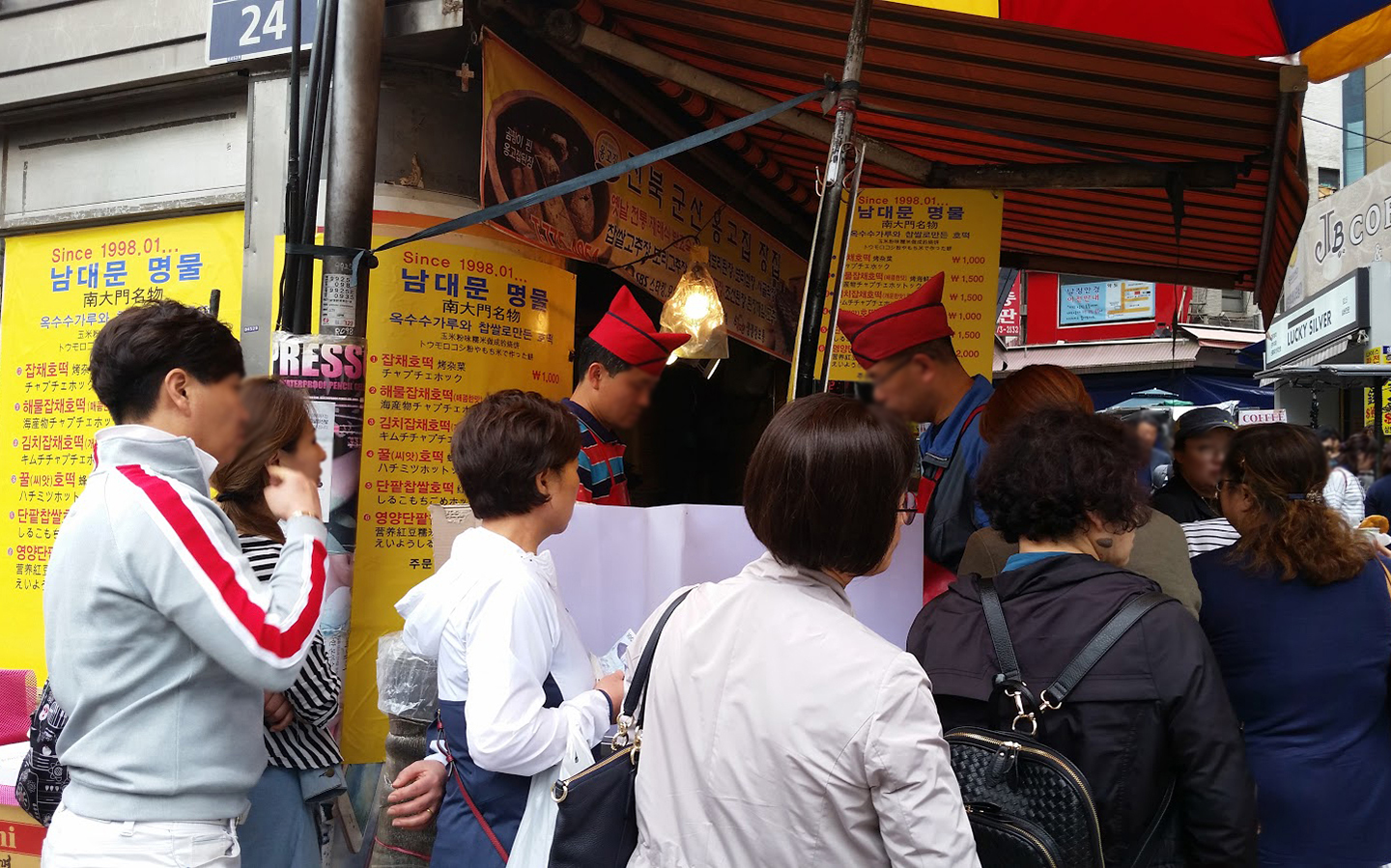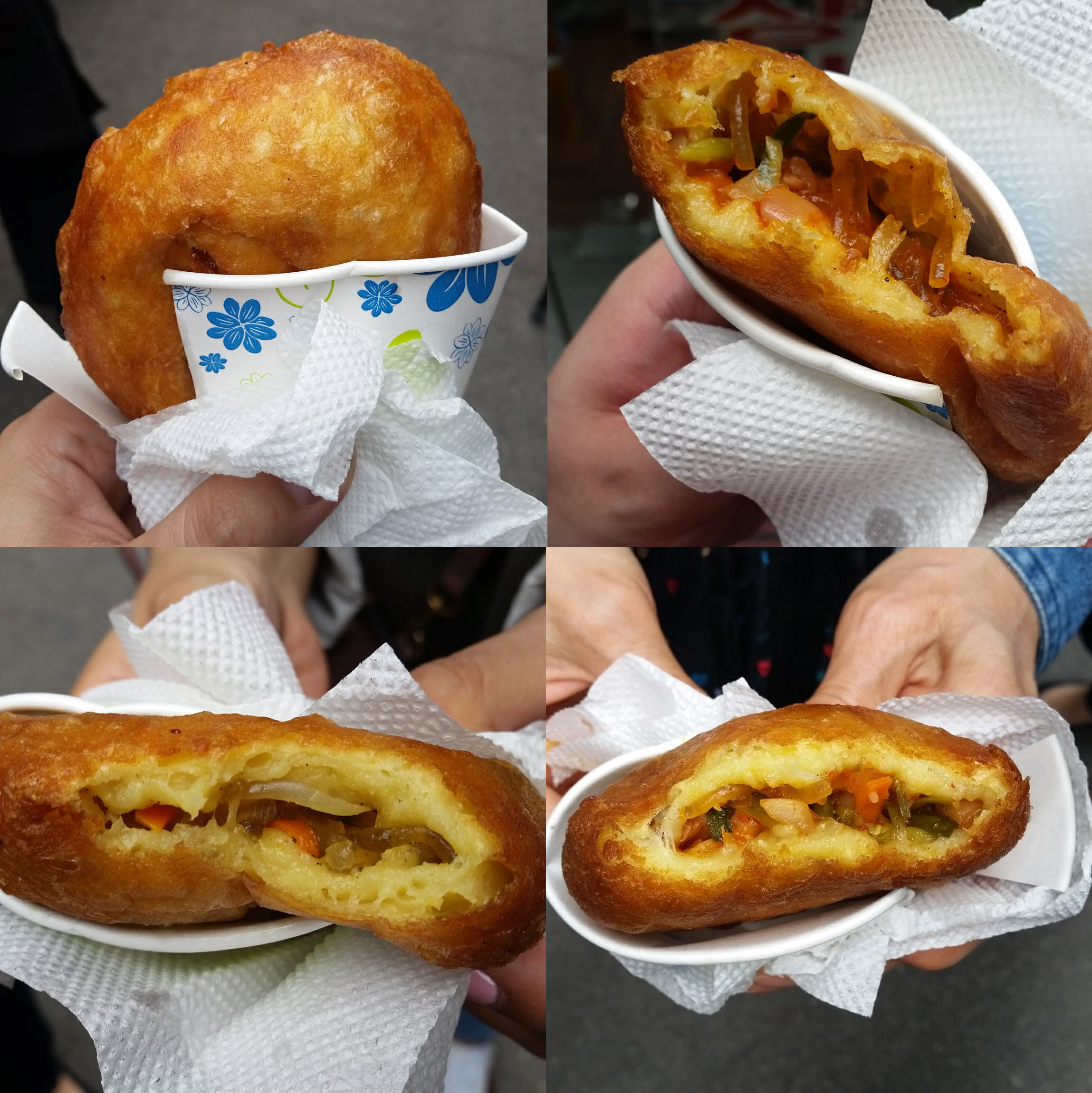 They were piping hot and *so* appetizing! The seafood japchae was slightly spicy, which made James quite happy; however, this was only a light snack. We made our way back into the market area (the pancake stall was located off a busy street, possibly on the outer edge of the market), enjoying our pancakes, passing a bunch of food stalls (some delicious looking jokbal along the street, and other savory delights), and picking up some of my mom's items from her list. We then slowly walked to Myeongdong (명동), a shopping and touristy area.
Before walking along the narrow streets of Myeongdong, we dropped into a restaurant to eat a proper lunch. We all ordered bibimbap!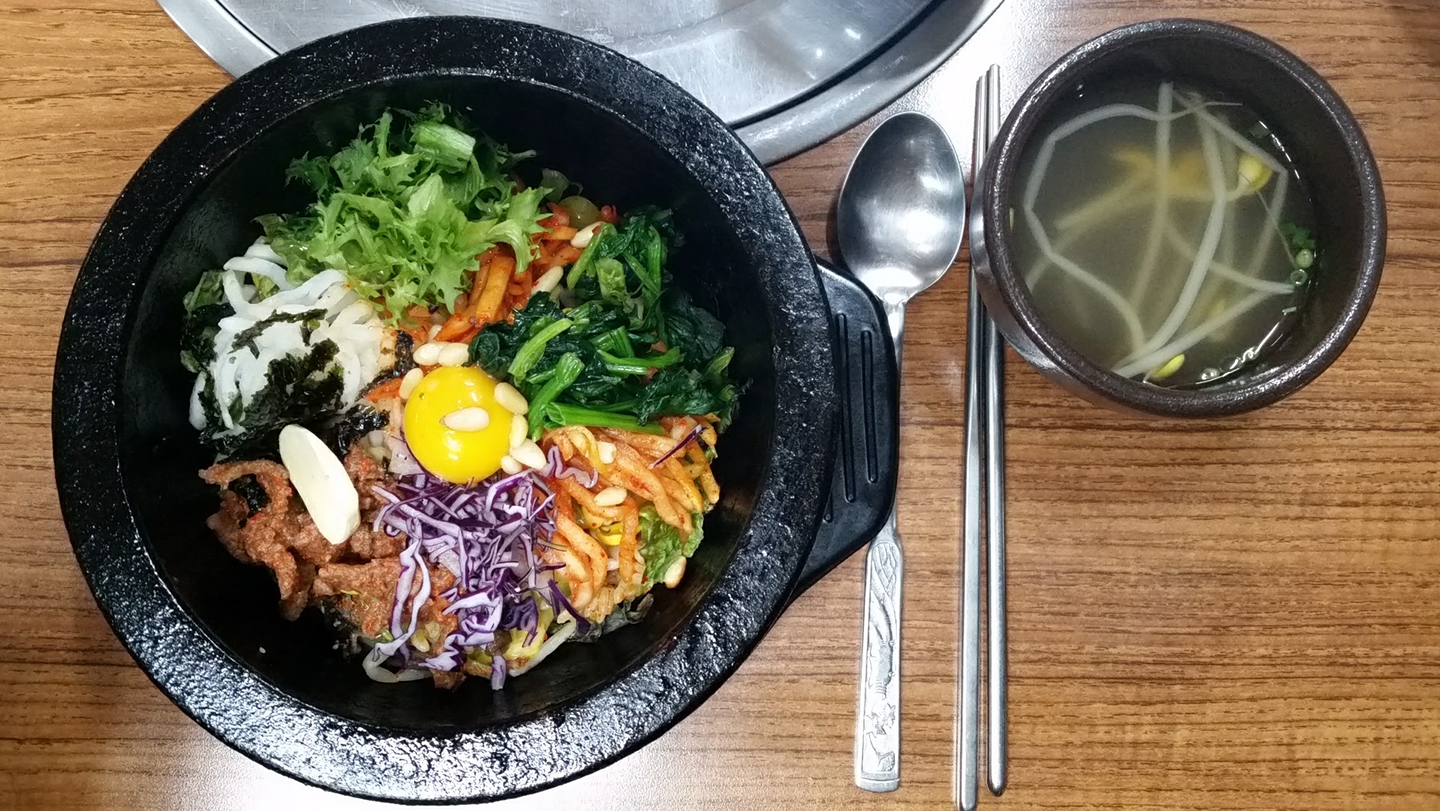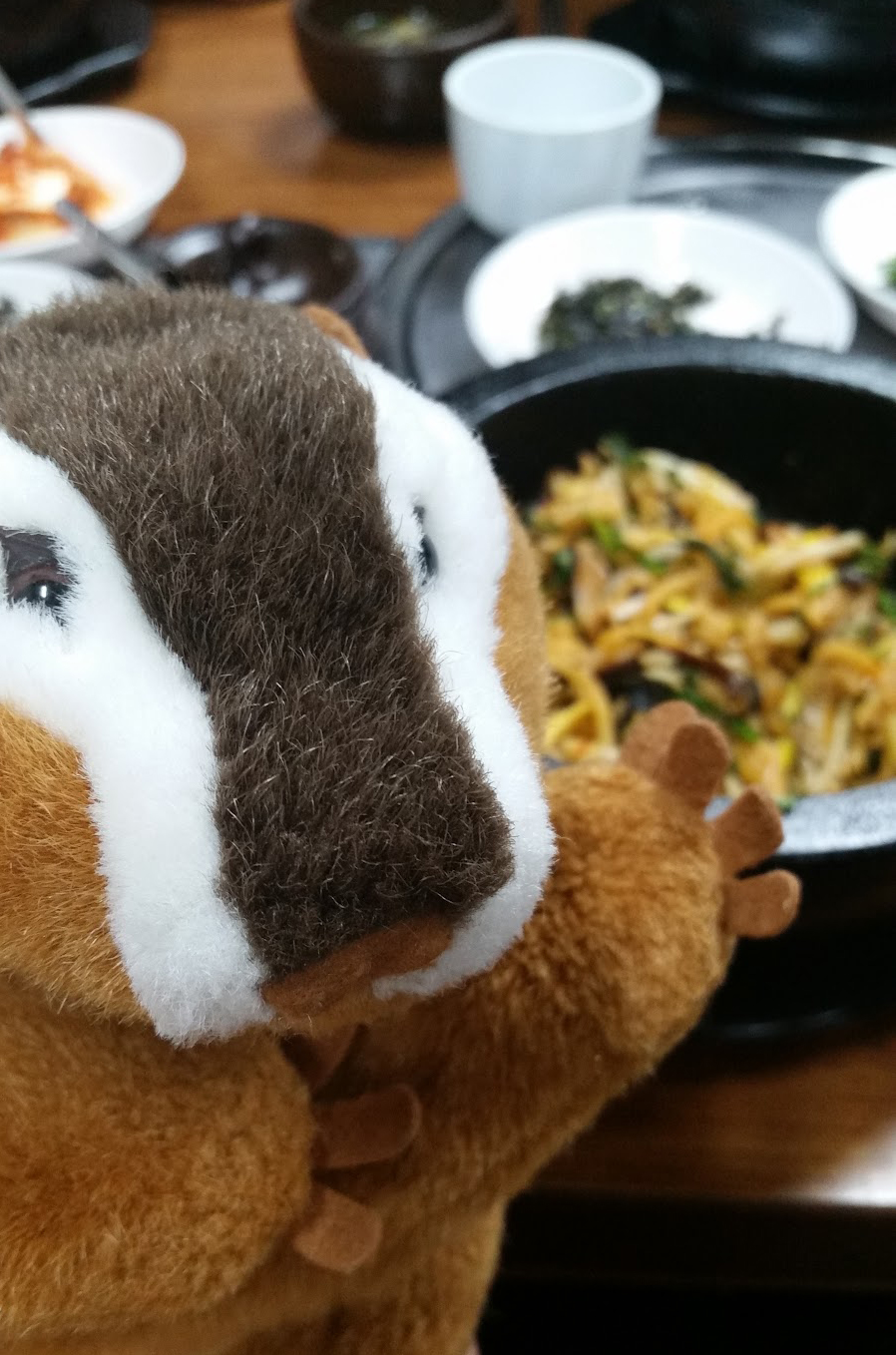 We finished our lunch and decided to walk around the shopping district. We came upon some dog and cat cafés, lots of clothing stores, and a store called Artbox. We were in that store for over an hour, looking at cute character stationery, plushies, home goods, souvenirs, toys, and accessories. We also walked into the Line Store, another character-related shop that's all about the characters from the phone app. I bought a Hello Kitty phone cover while walking around the many shops, and a pink bunny plushie at Artbox.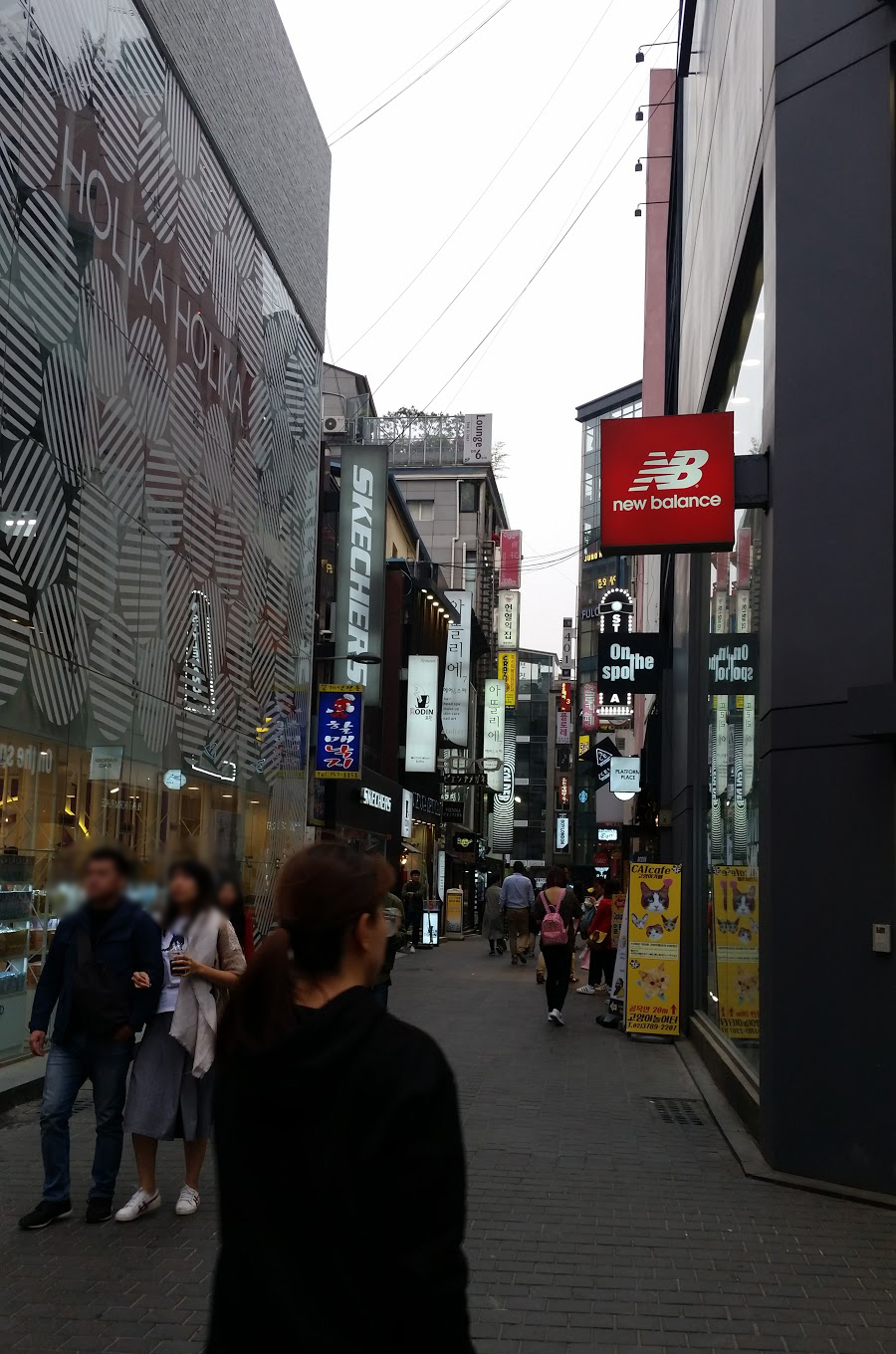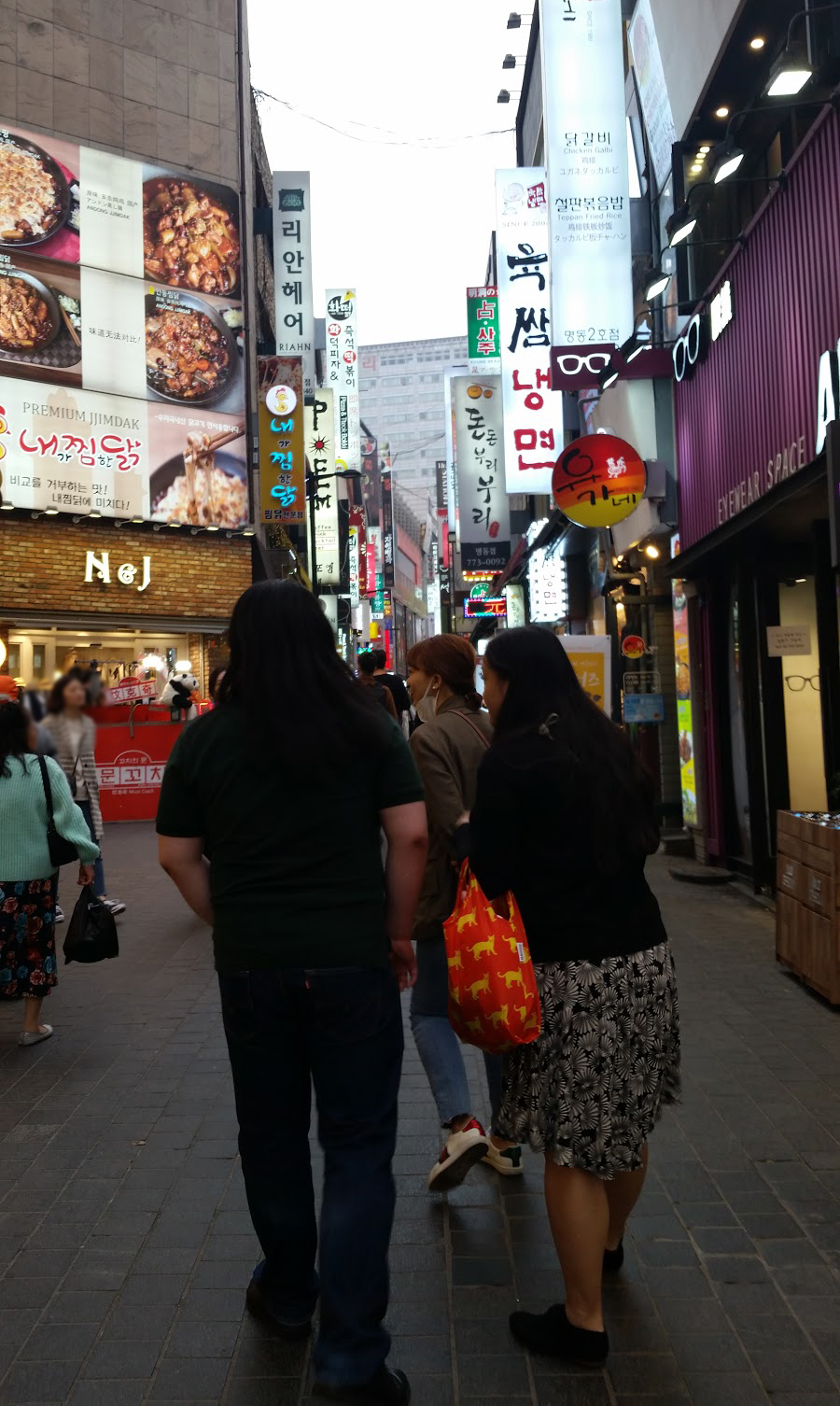 As we walked along the streets, we found a bunch of food vendors selling a variety of snacks. We found these boonguh bbang (붕어빵) (Yes! More fish-shaped bread!), but these were made using croissant dough! We just had to stop and try one of these!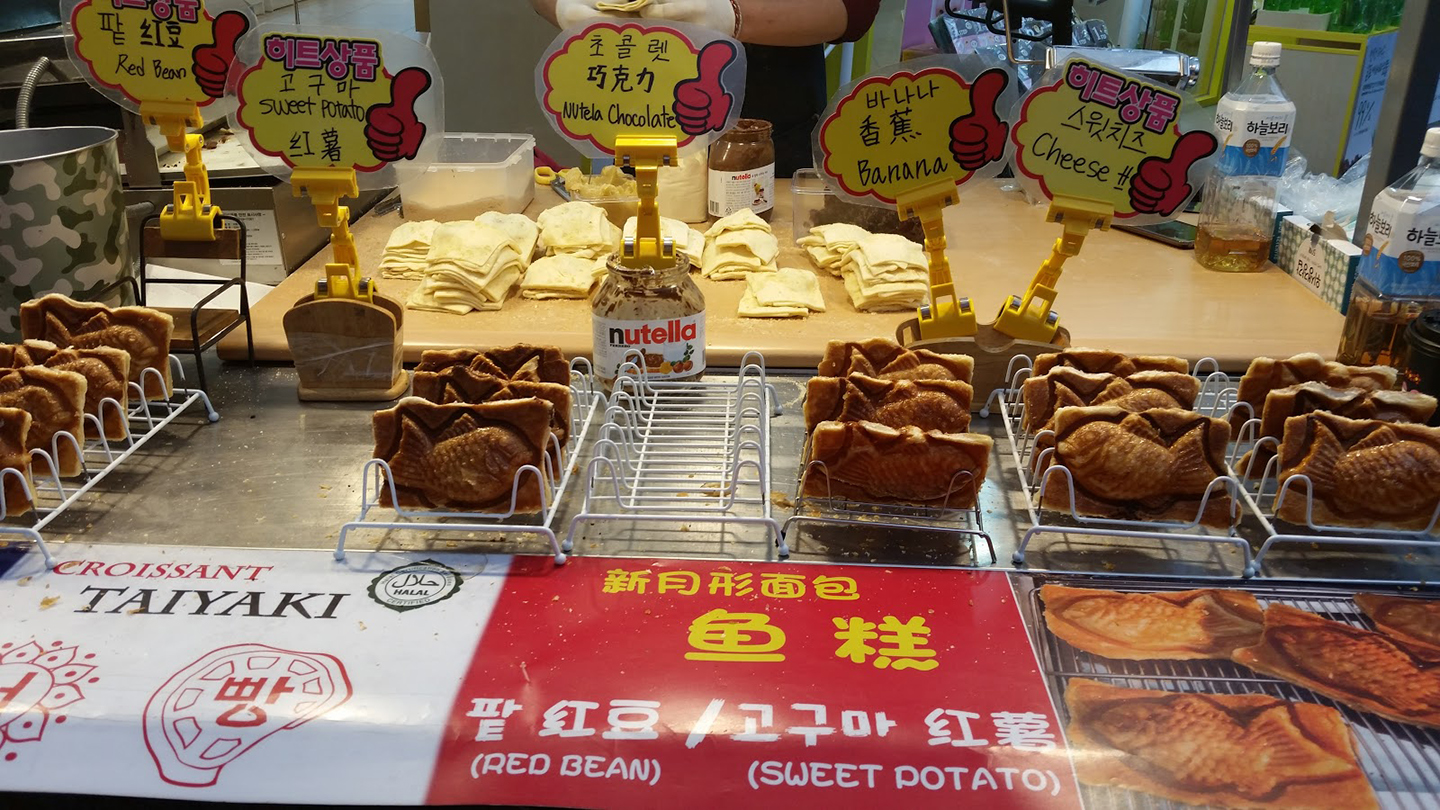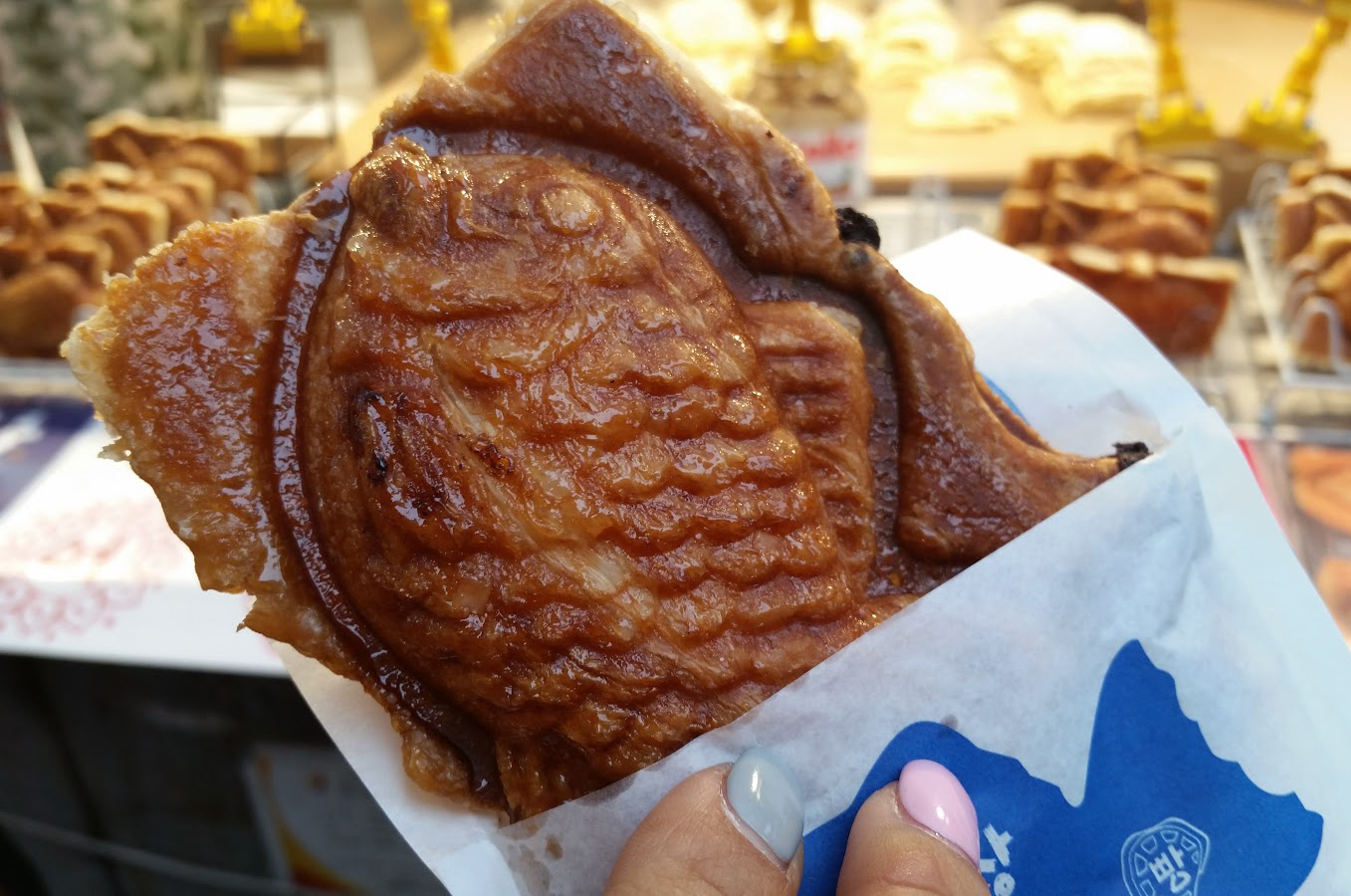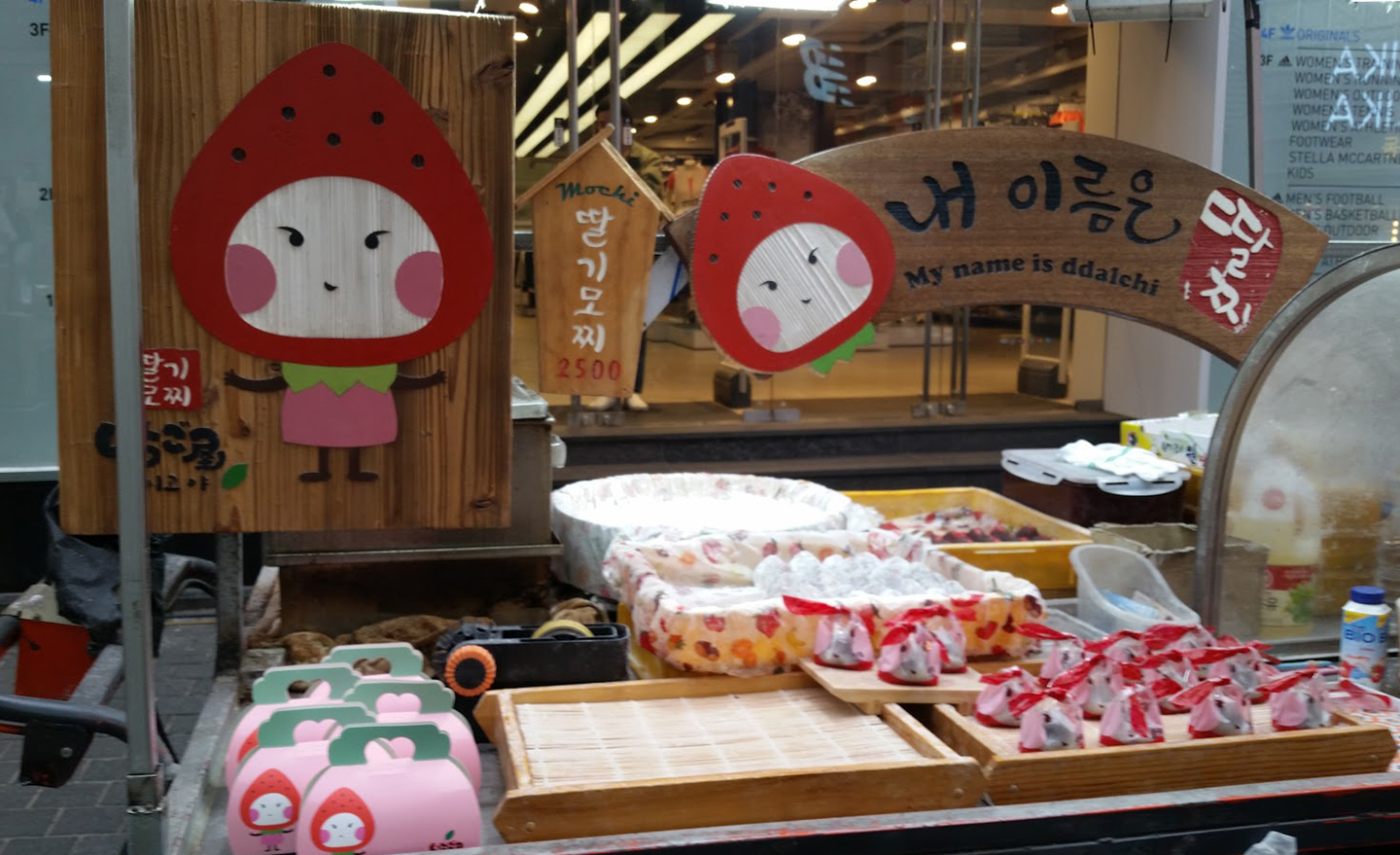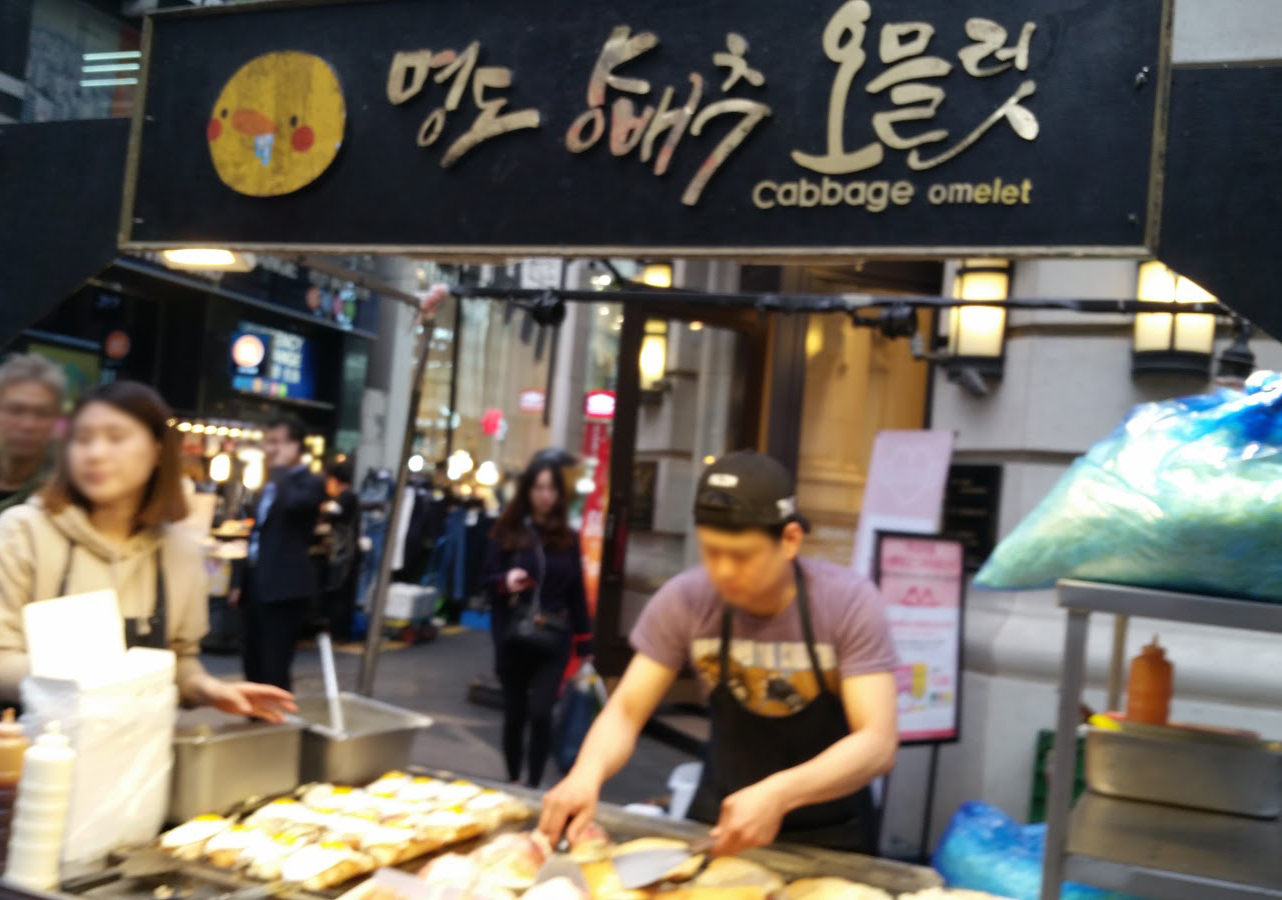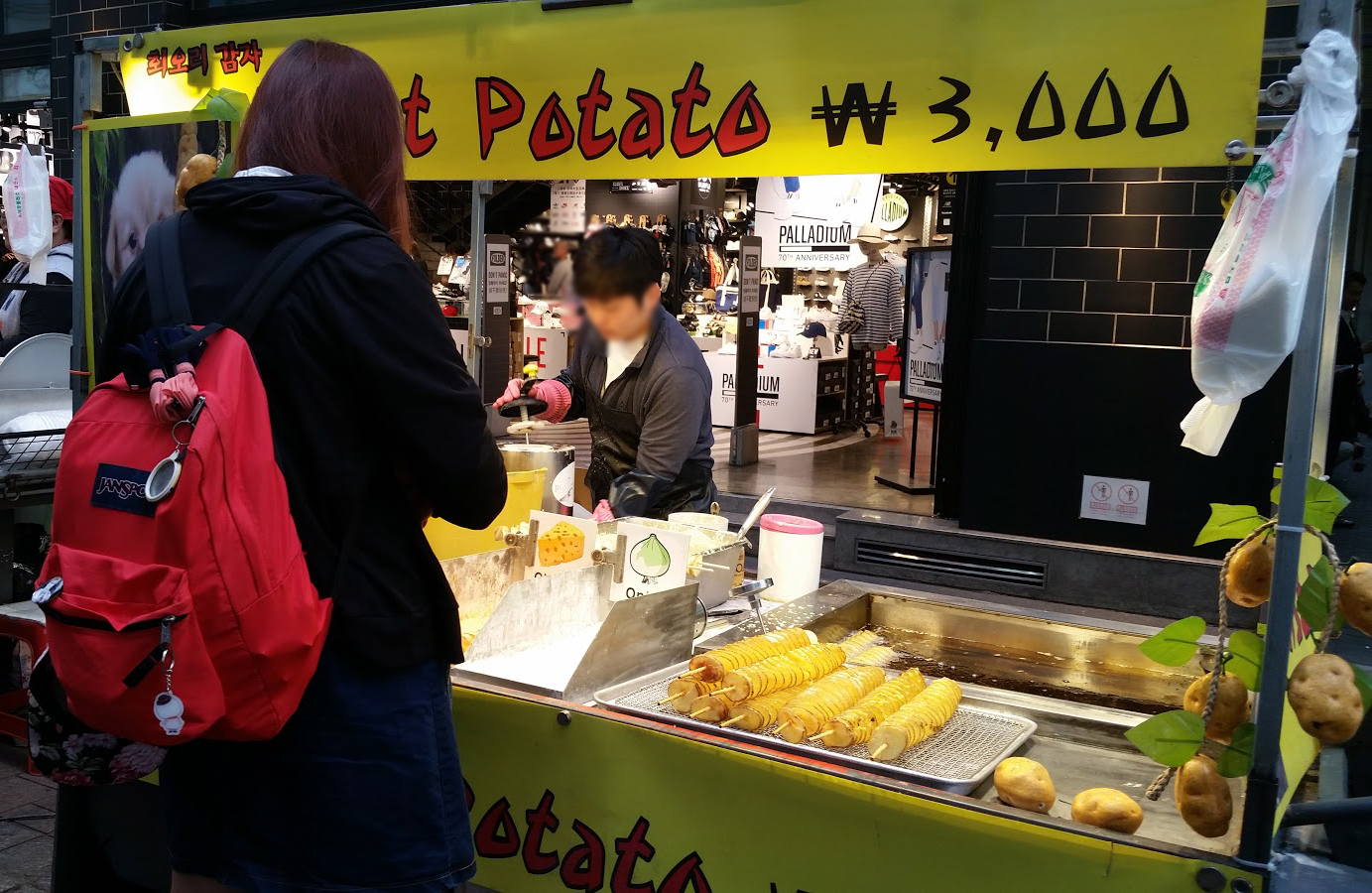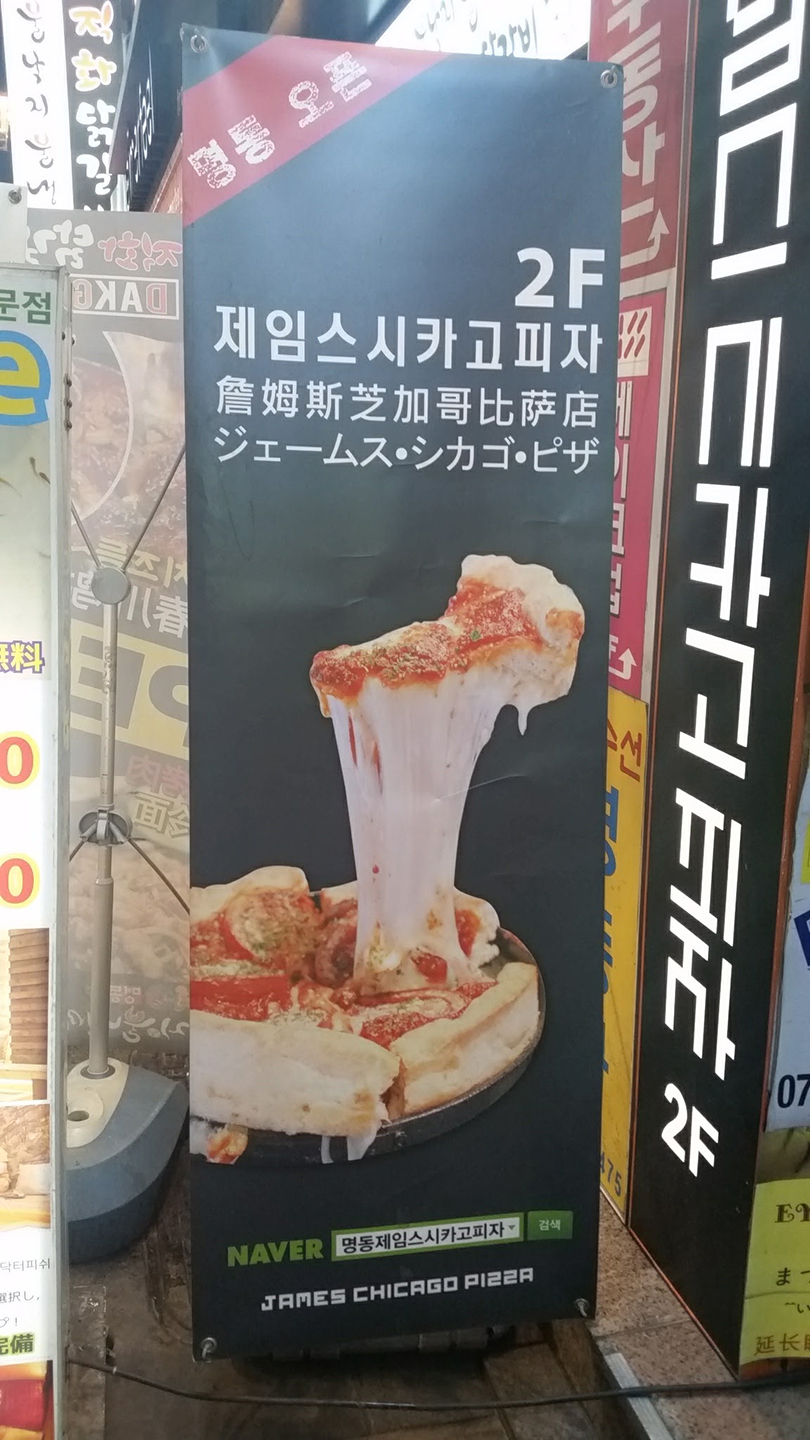 At the end of our day, with our feet a little tired, we found a Hello Kitty Café in Myeongdong. We couldn't believe we ran into one, so we *had* to go and sit with Hello Kitty!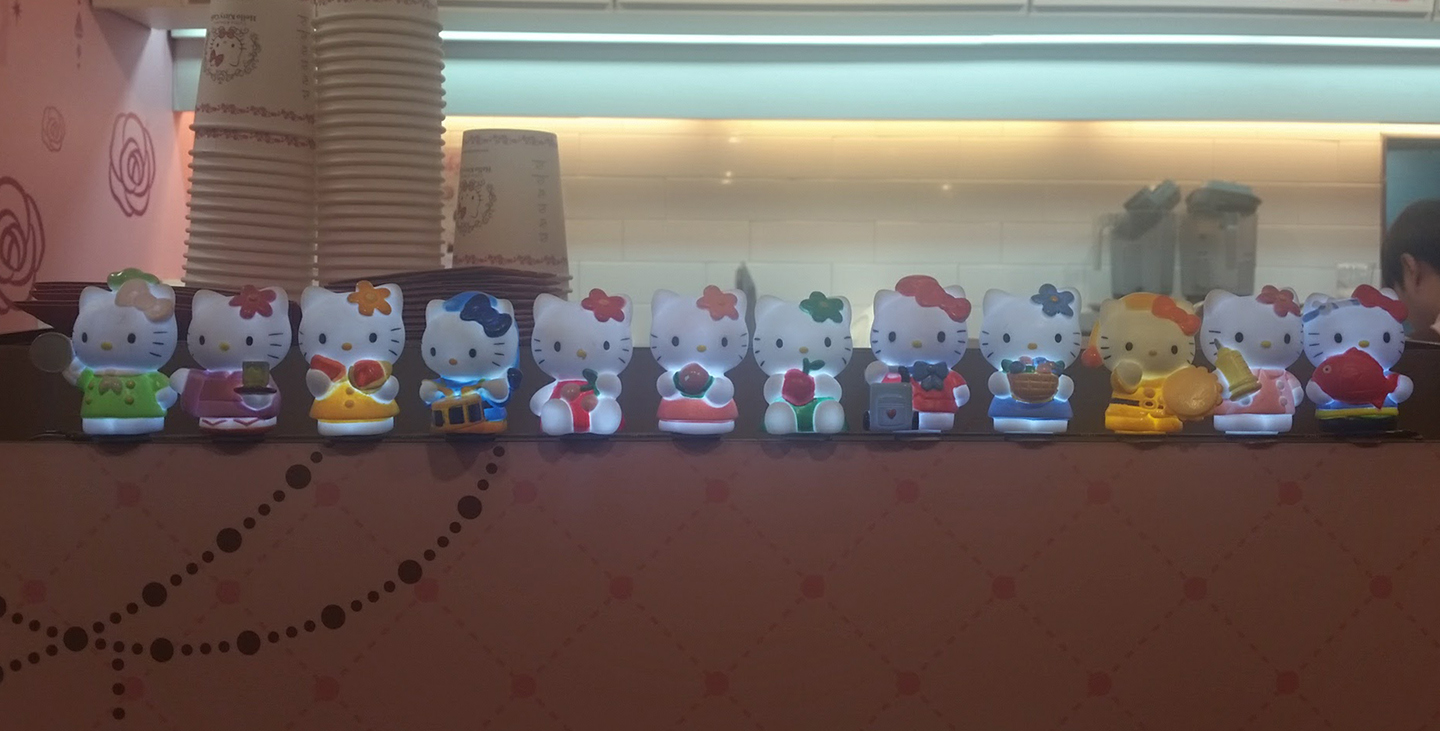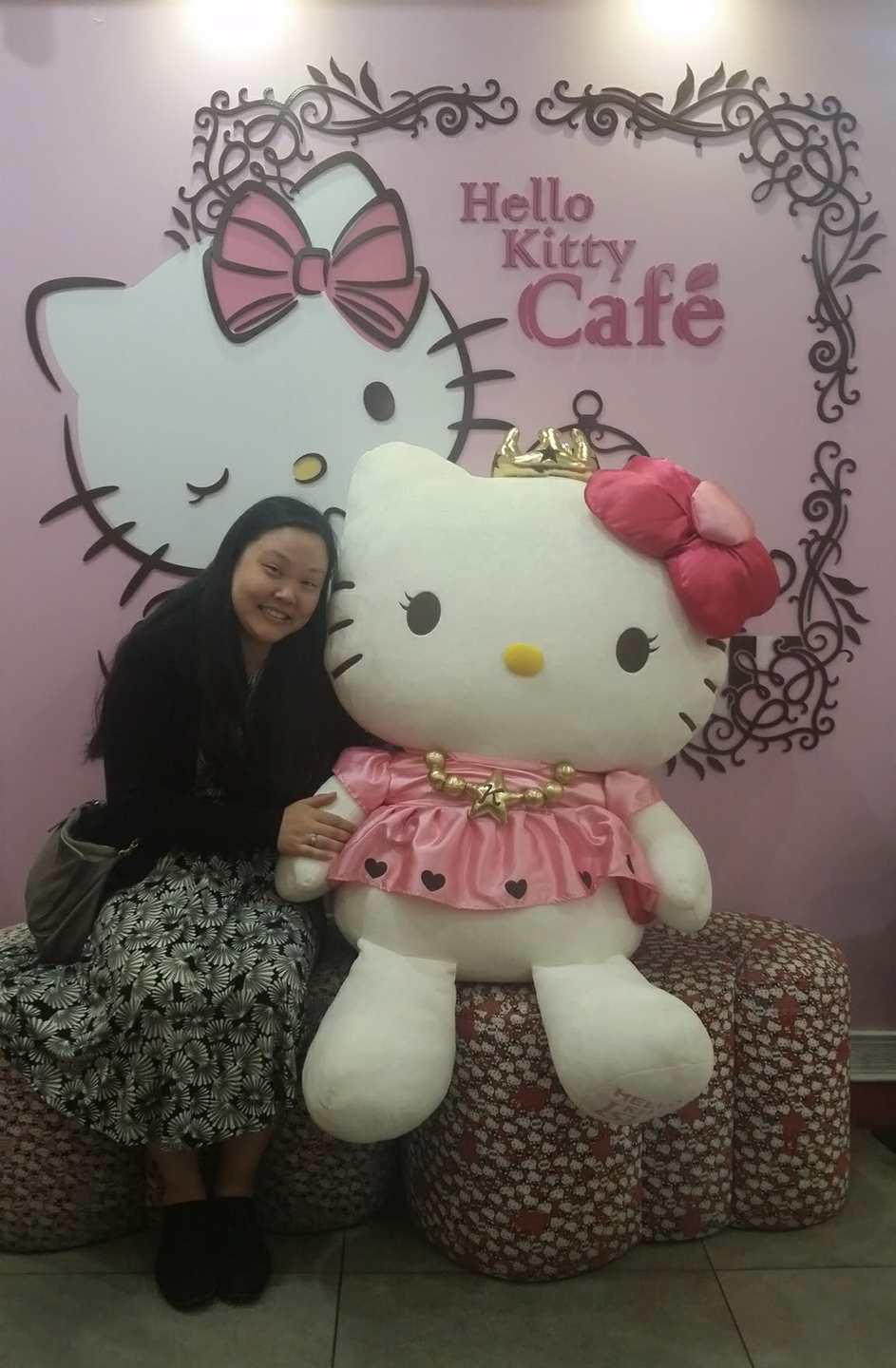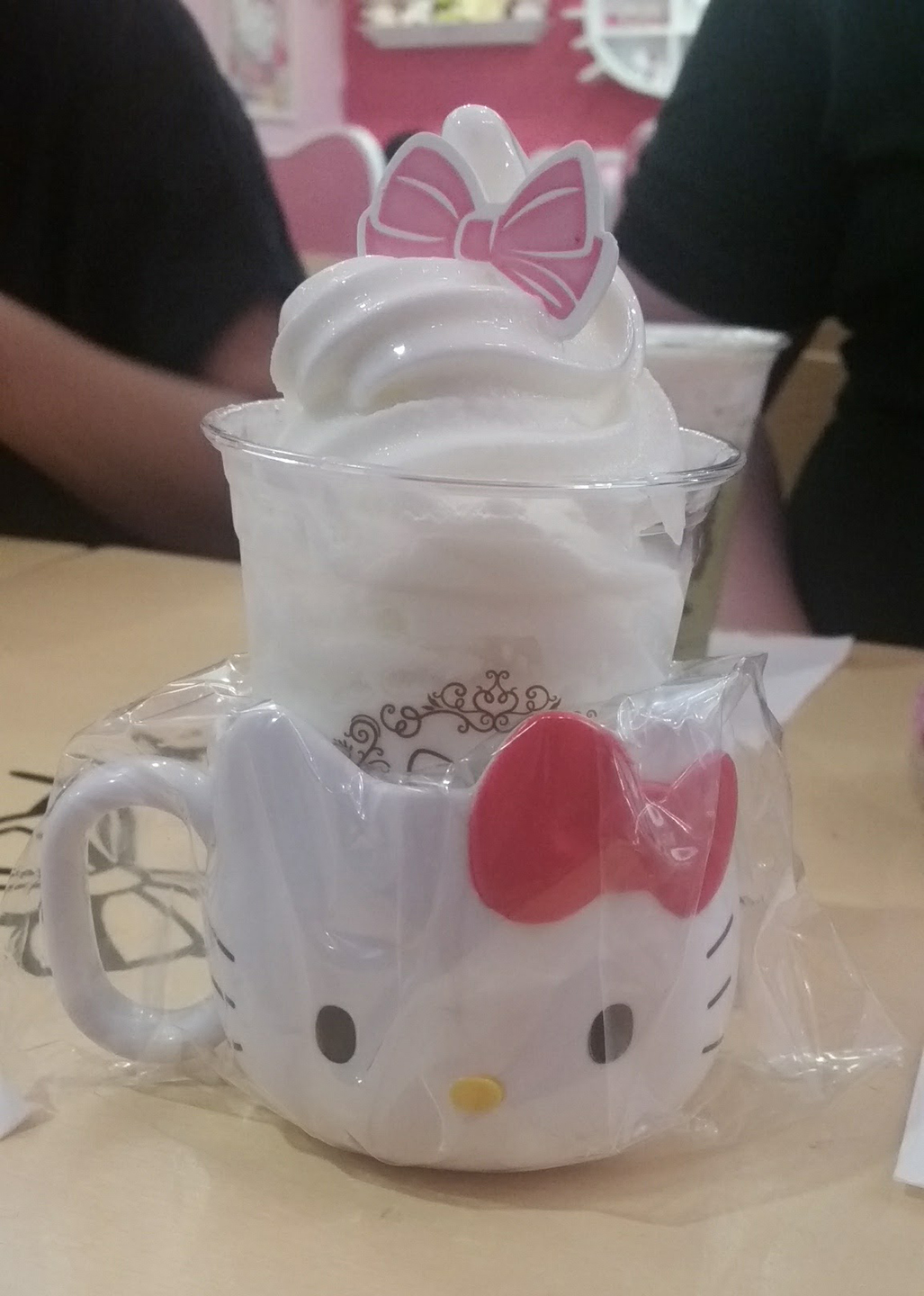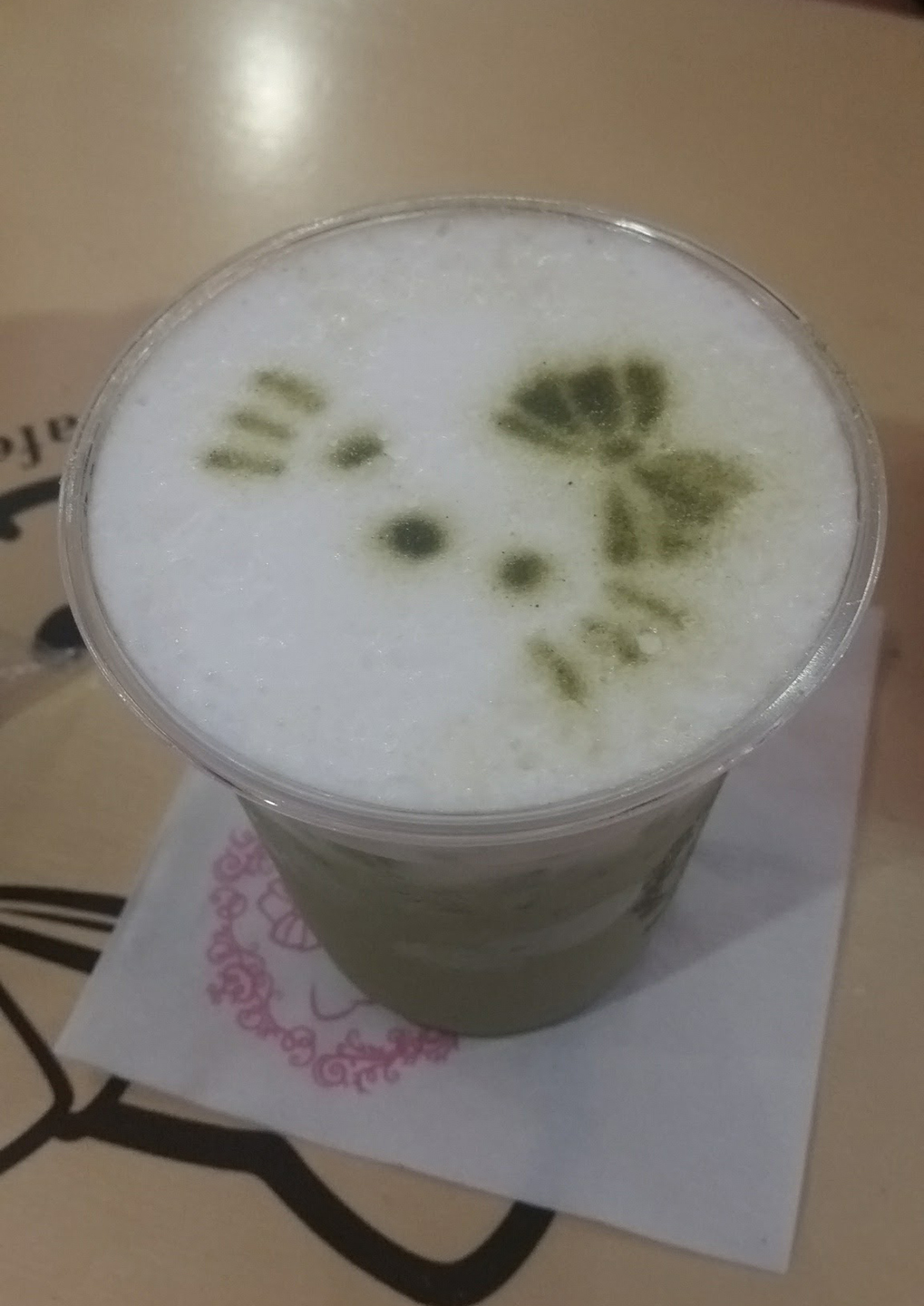 We had the space to ourselves, so we relaxed and savored our treats. After resting our legs, we ventured home to recuperate and continue onto our next adventure: Tongin Market, Gyeongbokgung, Bukchon Hanok Village, and Kyobo Bookstore by Gwanghwamun.
Stay tuned for our next installment!