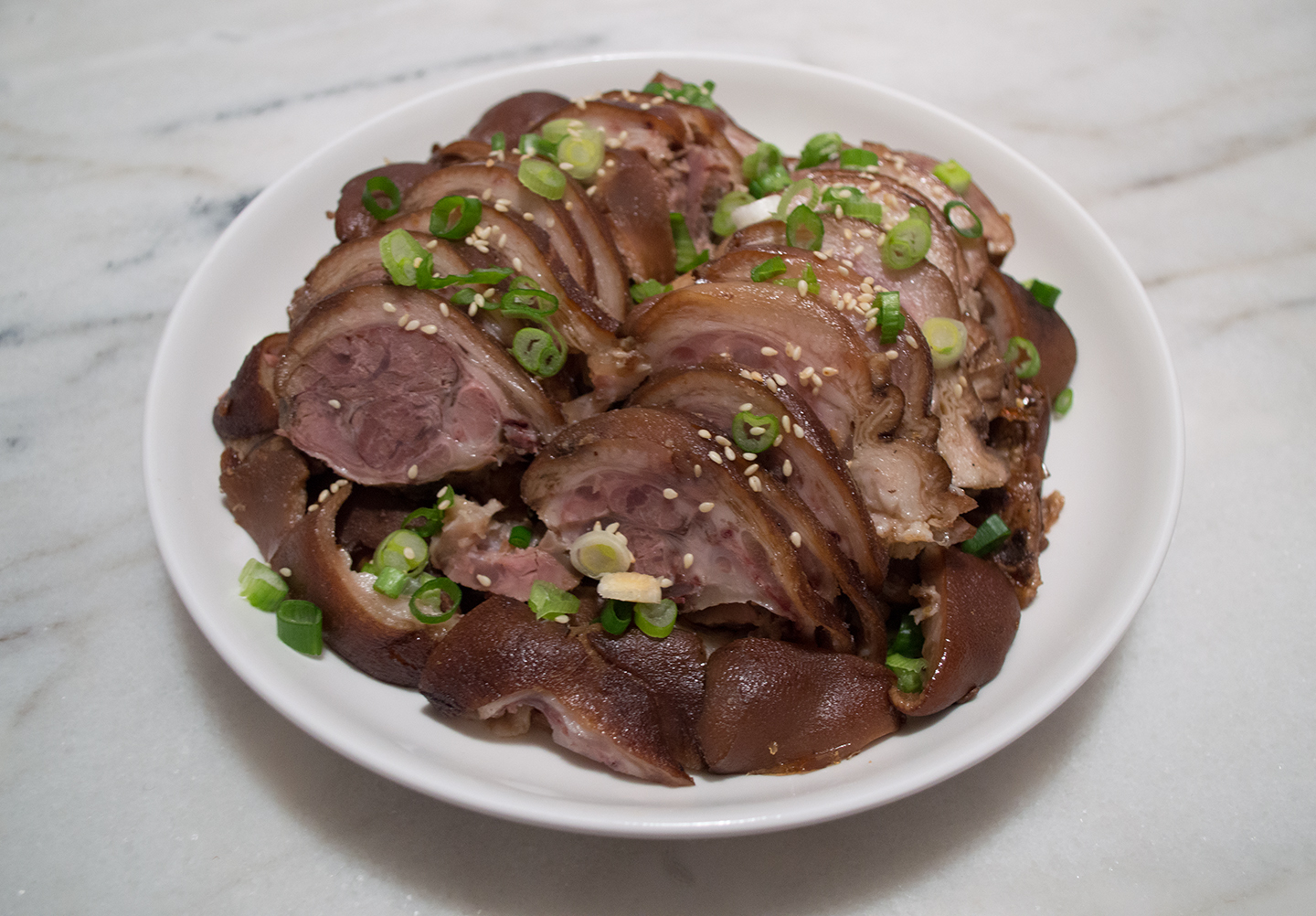 Jump to Recipe for Jokbal (족발) - Braised Pork Trotters
Jokbal (족발) is a braised pork dish that many Koreans love to eat. Most people go out to a restaurant to eat jokbal (족 – feet), but I always wondered how I could make this at home. I asked my mom, and then I set out to do some research. After digging around on the internet and looking through some cookbooks, I felt good about the ingredients I chose for this recipe, and decided to give it a go!
While making this during an entire afternoon, I thought about my dad and how much he enjoyed eating this meal at home. My mom would occasionally ask him if he would like *something other than just rice and side dishes*, and he would offer this response:
"Jokbal sounds good…" with a huge smile.
That smile is what pushed me to make jokbal at home. I wanted to make something around his birthday, and enjoy eating what he loved to eat.
This recipe is for you, dad. I think you would be proud of this dish!
Recipe for
Jokbal (족발) - Braised Pork Trotters
Time:
Preparation:
Cooking:
Waiting:
Ingredients
Cooking the Pork:
2 Pork Hocks
40g (6T and 2t) Ginger
250g (about 2½ cups) Daikon Radish
1 (90g, or 1 cup) Leek
½ (75g, or ½-cup) large Onion
½ (100g, or about 1 cup) Fuji Apple
½ (2T) Garlic bulb
10g (about 2 sticks) Cinnamon Stick
5g (3-6 pieces) dried Licorice
6 dried Chilies
5g (3 pieces) Sand Ginger
2 Bay Leaves
2 Star Anise
1L (about 1 quart) Soy Sauce
3g (1t) Black Peppercorn
100g (about 5T) Maltose
90ml (3oz) Soju
45g (1½T) Fermented Soybean Paste, Doenjang
8g (1T) ground Coffee
The Dinner Table:
2 heads of Green Leaf Lettuce
Dozen Garlic Cloves
2-4 Jalapeños
Sliced Kimchi
Bottles of Soju, optional
Procedure
Wash the hocks in cold water, and place them into a large pot. Fill the pot with water until the meat is covered, and bring it to a boil. Keep it at a rolling boil for 3 minutes. Turn off the flame, pour out the water, rinse the hocks, and refill the pot with 3-4 liters of fresh water. Bring it back to the range and boil.

While the pork is coming back to a boil, wash and peel the daikon, and clean the ginger, leek, onion, apple, and garlic. Take the cinnamon, licorice, chilies, sand ginger, bay leaves, and star anise, and wrap them in a cheesecloth with twine, or a tea bag. Add all of the ingredients into the pot, bring the pot to a boil, and lower the flame to a steady simmer for 3 hours, or until the meat is tender.

Fish out the meat and put them onto a cutting board to cool. While the meat is cooling, have the shrimp sauce and ssamjang prepared; wash the lettuce; thinly slice the garlic and jalapeños; take out some kimchi; and have some cold bottles of soju ready to go. After about 45 minutes, thinly slice the meat, place it onto a tray or large plate, and enjoy with friends and family!
*Bunny Wisdom*
I like to give the pork a quick initial boil, to just cook away the blood and liquids remaining in the pork.
It's best to do all of the prep work while the pork is coming to a boil. It will take some time to have the entire pot come to a boil, since there is a lot of water and meat that needs to go up in temperature. There is ample time to clean the vegetables and make your spice pouch.
By adding all of these vegetables, fruit, and spices, they impart a good balance of flavors; the radish, leek, and onion help tone down the extra meaty notes, while the apple gives the entire pot some natural sugars. The herbs and spices also help with the overall flavor, keeping the meat from being too *barnyard-like* and lessening the fatty-greasy quality that can be off-putting for some people. The meat should harmonize with the spicy garlic and jalapeños, and the zing from the kimchi.
You are welcome to place all of the larger vegetables and fruit into a cheesecloth pouch, to make it easier to remove the bulk contents. Otherwise, strain the braising liquid through a sieve and save the liquid for future jokbal. I put the strained liquid into the freezer, and thaw it out in a pot when I need to use it again.
The hocks will feel a bit soft when pulling out of the braising liquid, so be careful when handling the meat.
It may take a little longer for the hocks to cool before you can cut thin slices. Ideally, you will want the meat to come to room temperature before slicing. If you have a good, sharp knife that can cut the meat, you'll be able to slice the hocks while they are still slightly warm.
This meal is often taken as anju (안주), which basically means *food taken with alcohol*. Jokbal is great for groups, and excellent when paired with alcohol, like soju.
**New Method**:
Make it "au torchon" by removing all of the bones after cooking. Carefully reform the hock in a layer of cheesecloth and wrap it tightly, in a cylindrical shape. Tie ends with some kitchen twine, then place the hocks into the braising liquid. Poach the jokbal for 30 minutes, then remove them from the pot. Refrigerate for 2-3 hours (or more, if it still feels warm and soft) to set the meat in its shape. Slice and serve as instructed above. This method should impart some more flavor. It should also distribute the meat, fat, and skin better, as it can be quite rich and unctuous. Plus, it has nicer presentation!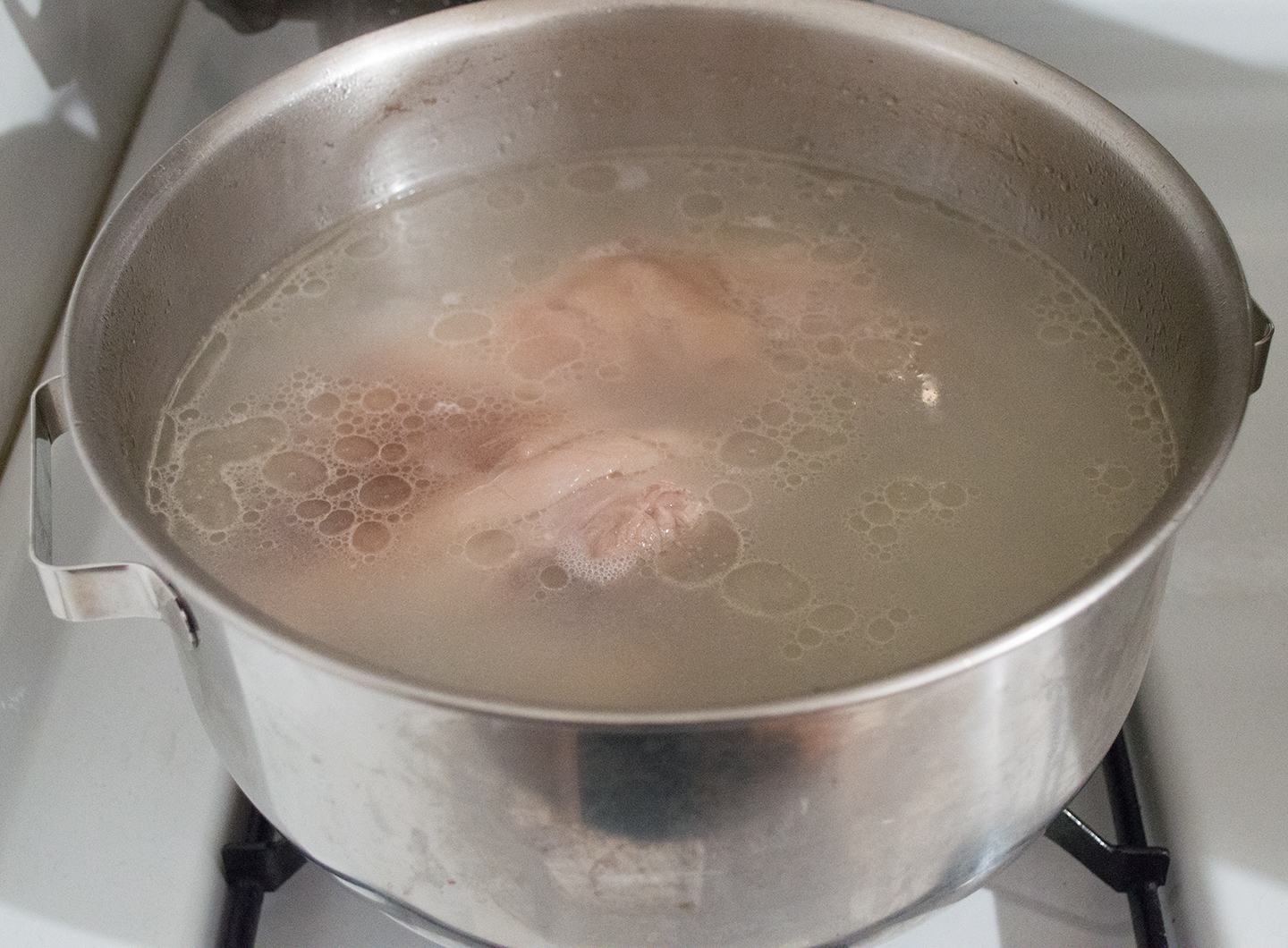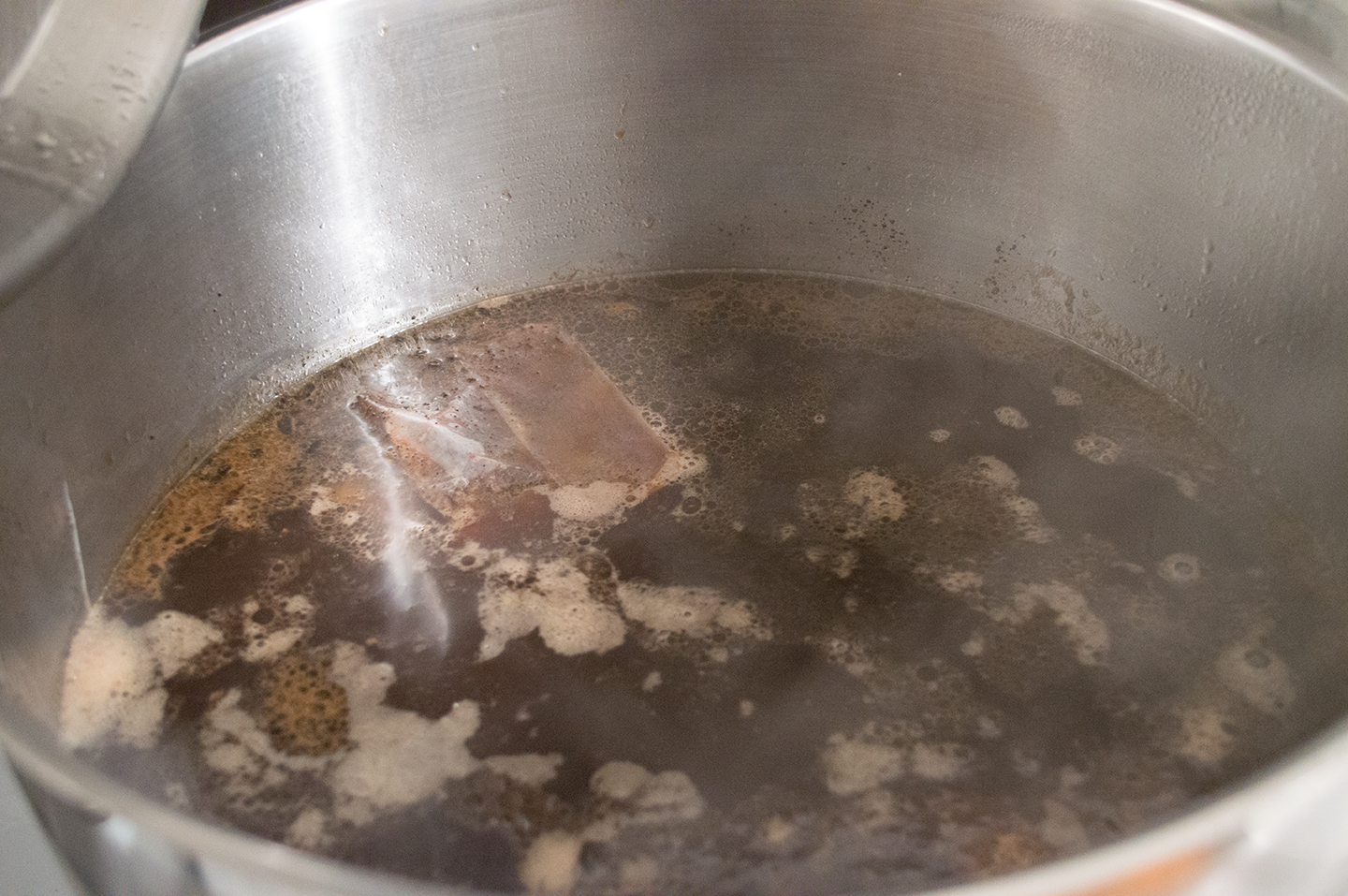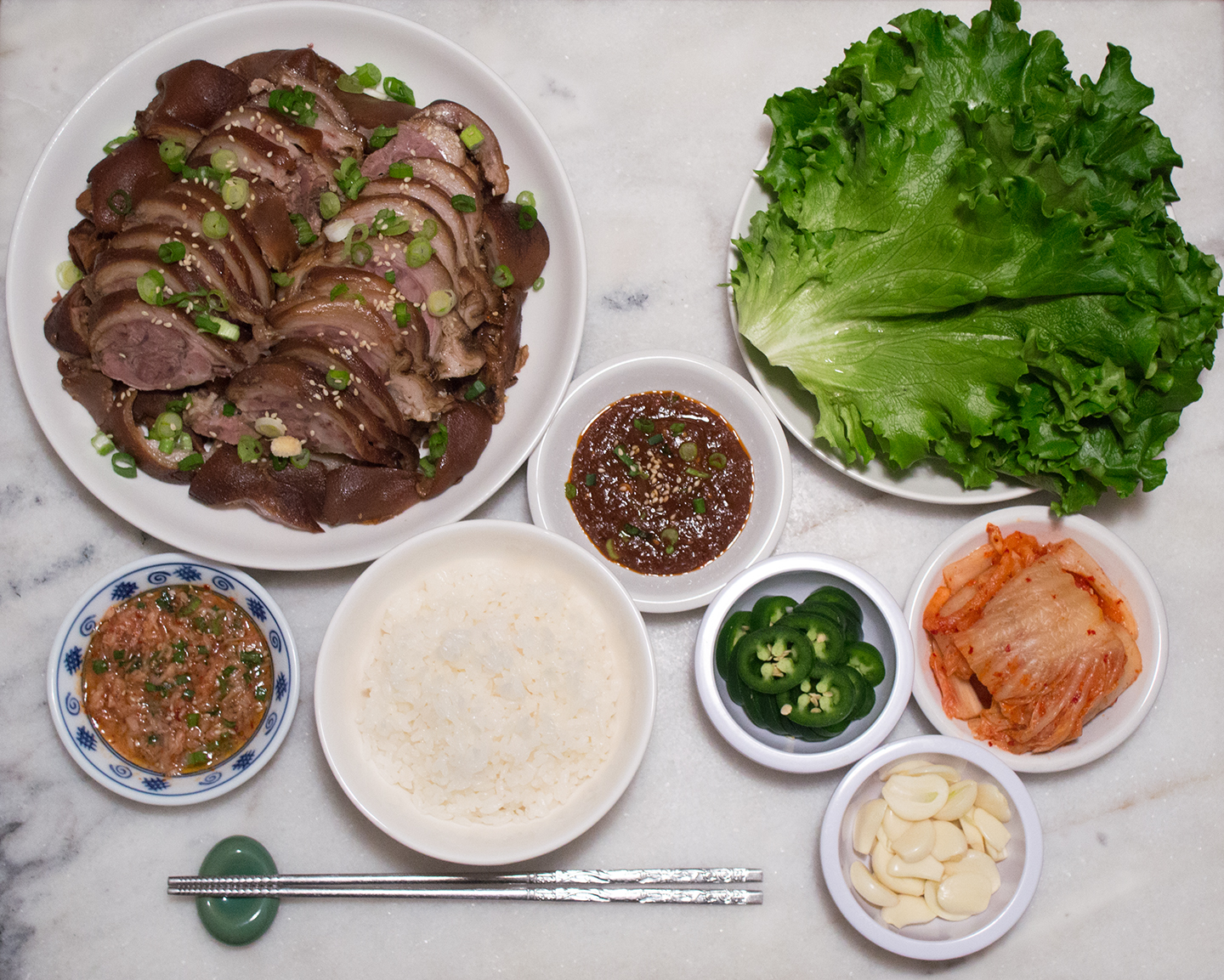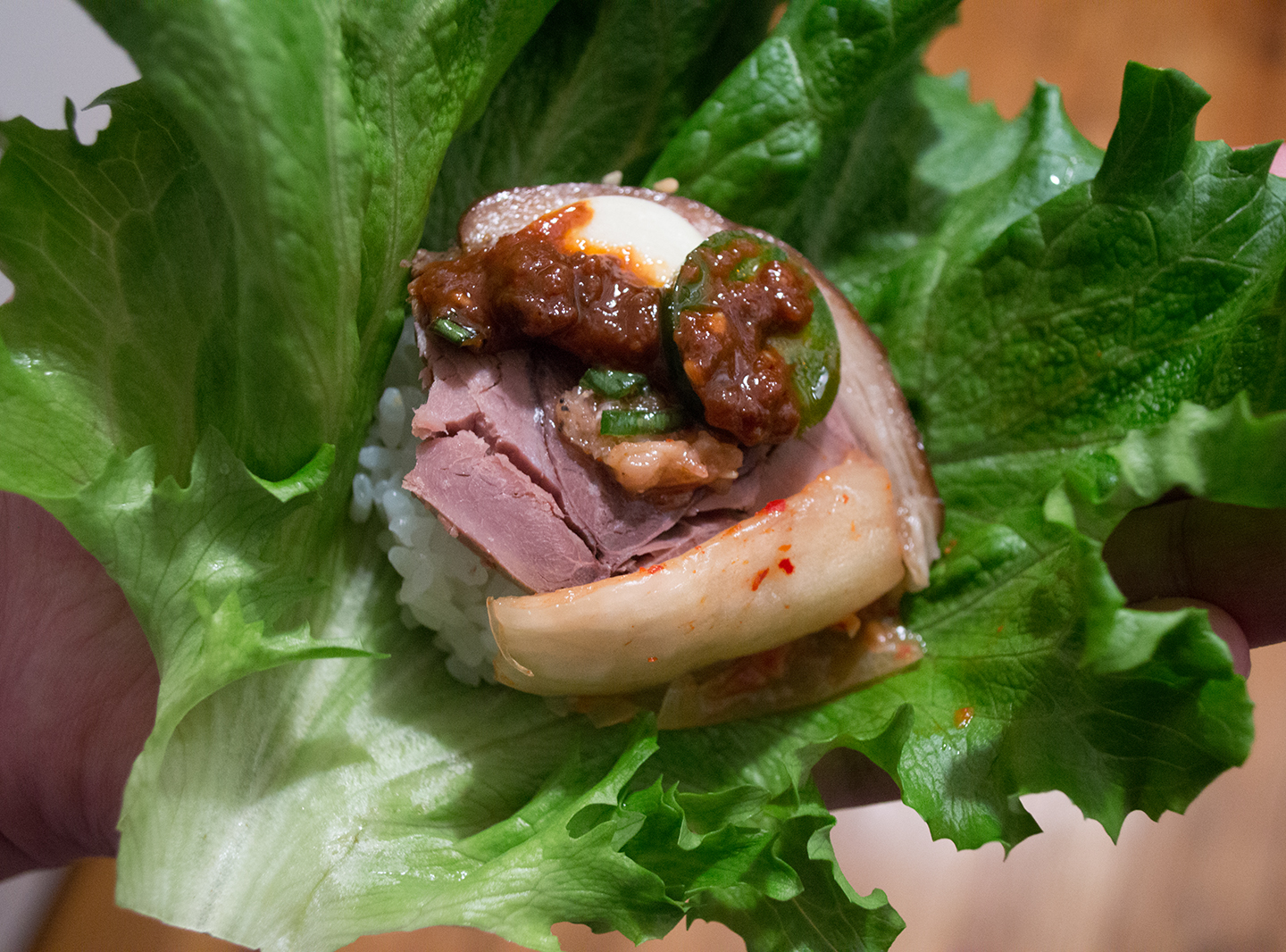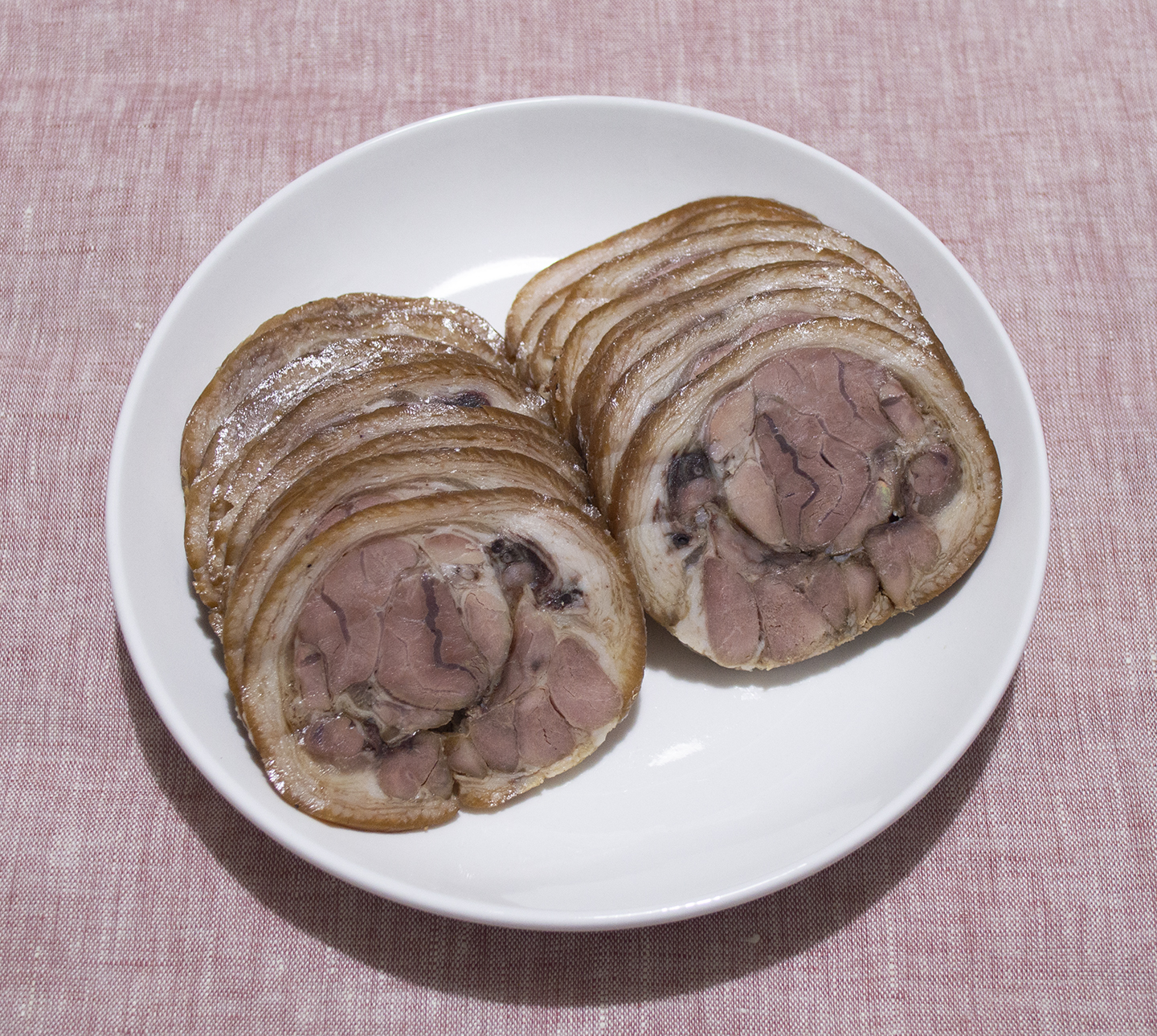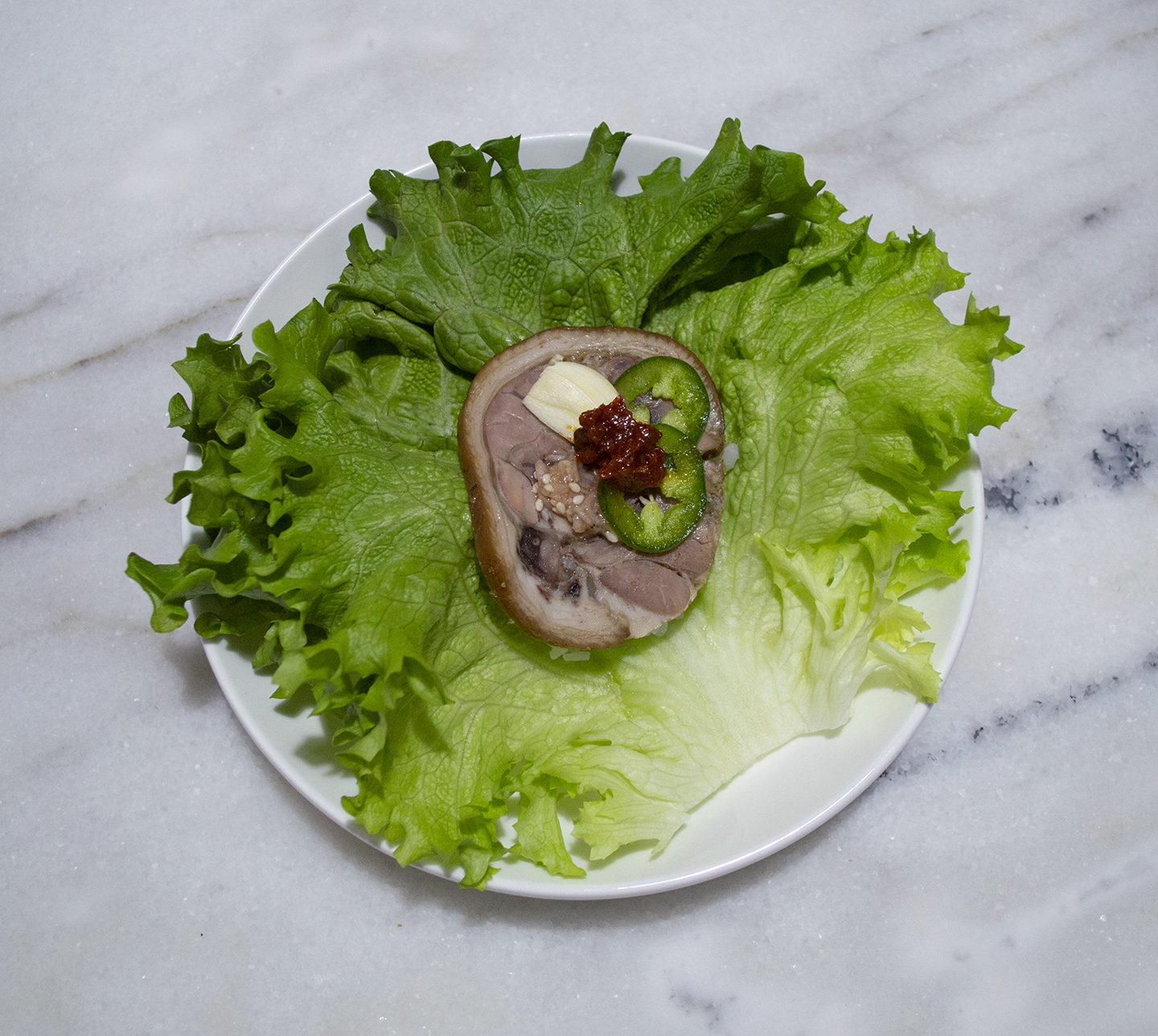 **Here are some of the ingredients I use for this recipe. Please, feel free to browse and ask questions on anything you see listed below.**