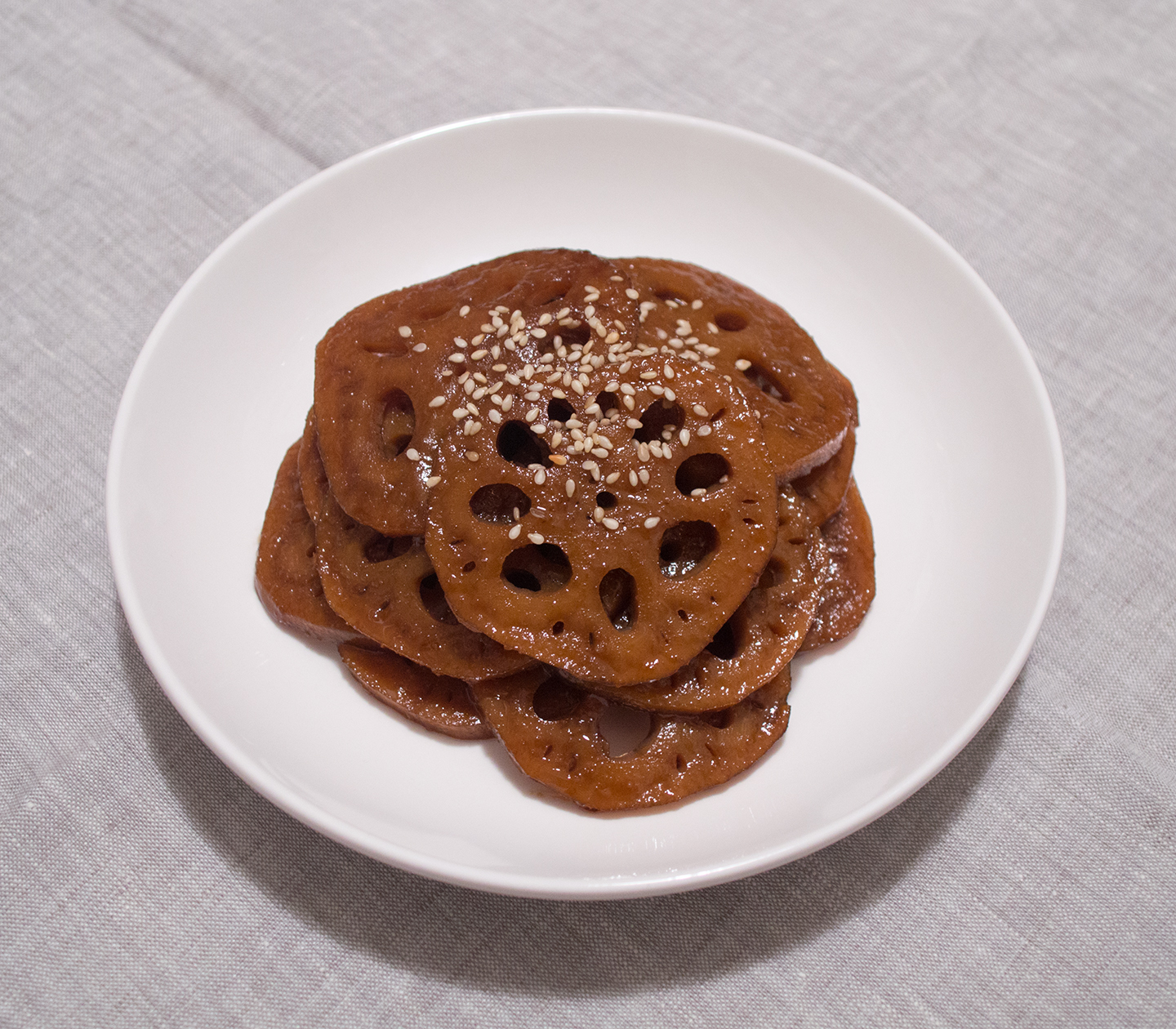 Jump to Recipe for Yeongeun Jorim (연근조림) - Braised Lotus Root
Growing up, my mom never made lotus root for us at home. If she did, I don't remember. It's not really her fault. I think it's because the convenience of cooking other vegetables was more appealing to her. We ate a lot of greens, sprouts, soups, and stews, and the requisite kimchi. We felt like we weren't missing out at all. As a little kid, I didn't know what a lotus root looked like, so I never searched for it on our grocery trips. In fact, I hadn't seen what one looked like until I was in middle school, looking through a book of botanical illustrations. They looked strange to me, all bulbous and holey. How can something like this be edible?
Once I knew what the root looked like, I saw it everywhere! They were in small containers as ready-to-eat banchan (반찬 – side dishes), pouches sitting in vinegar solution, and stacks of them in the produce section. For years, I continued to wonder what was so great about them.
It was around high school when I was eating Korean food at a restaurant, and out came some sliced lotus root on a little plate. By then, my fear of these muddy rhizomes turned into curiosity. After eating a slice, I loved the sweetness and crunch that I couldn't pretend to hate it any longer!
This dish is simple to make, and retains its characteristic crunchy texture that make it a delight to eat!
Recipe for
Yeongeun Jorim (연근조림) - Braised Lotus Root
Yield:
1 Sliced and Braised Lotus Root
Ingredients
1 lotus root, about 6 inches long
480ml (2 cups) Water
1 4-inch square of Dashima
70g (¼-cup) Soy Sauce
16g (1T) Sake
8g (½T) Rice Vinegar
80g (¼-cup) Maltose
25g (2T) Granulated Sugar
3g (1t) Garlic, minced
25g (2T) Sesame Oil
Sesame seeds, to finish
Procedure
Wash and peel the lotus root. Slice to ¼-inch thickness, place into a pot, and fill with water just until covered. Add a tablespoon of vinegar and bring the pot to a boil. Continue boiling for 2-3 minutes.

Turn off the flame, drain, and rinse the lotus root slices. Set aside. Rinse the pot.

Bring together the water, dashima, soy sauce, sake, rice vinegar, maltose, sugar, and minced garlic to the pot. Turn on the flame to high, and once the mixture begins to simmer, remove the dashima and add the sliced root. Lower the flame to medium.

Braise the lotus root for 30-40 minutes, stirring occasionally to prevent burning.

Fish out the lotus root, and reduce the liquid until it becomes syrupy. Turn off the flame, add the sesame oil and root, and coat all sides.

Sprinkle some sesame seeds and serve with other banchan and rice!
*Bunny Wisdom*
The lotus root can have some discoloration, so be sure to remove any soft or brown spots before slicing.
Dashima (다시마), aka Kombu (昆布), is a kind of kelp. I use the dried kind here. The white coating you find on this seaweed is normal. Don't remove it, because that is what gives the liquid its flavor. Just give the kelp a quick rinse under cold water before using.
It's important to remove the kelp before the liquid mixture comes to a boil. If it's left in the pot for too long, the liquid can turn bitter.
This can be kept in the refrigerator for up to a week. It's just as delicious cold as it is warm.
**Here are some of the ingredients I use for this recipe. Please, feel free to browse and ask questions on anything you see listed below.**