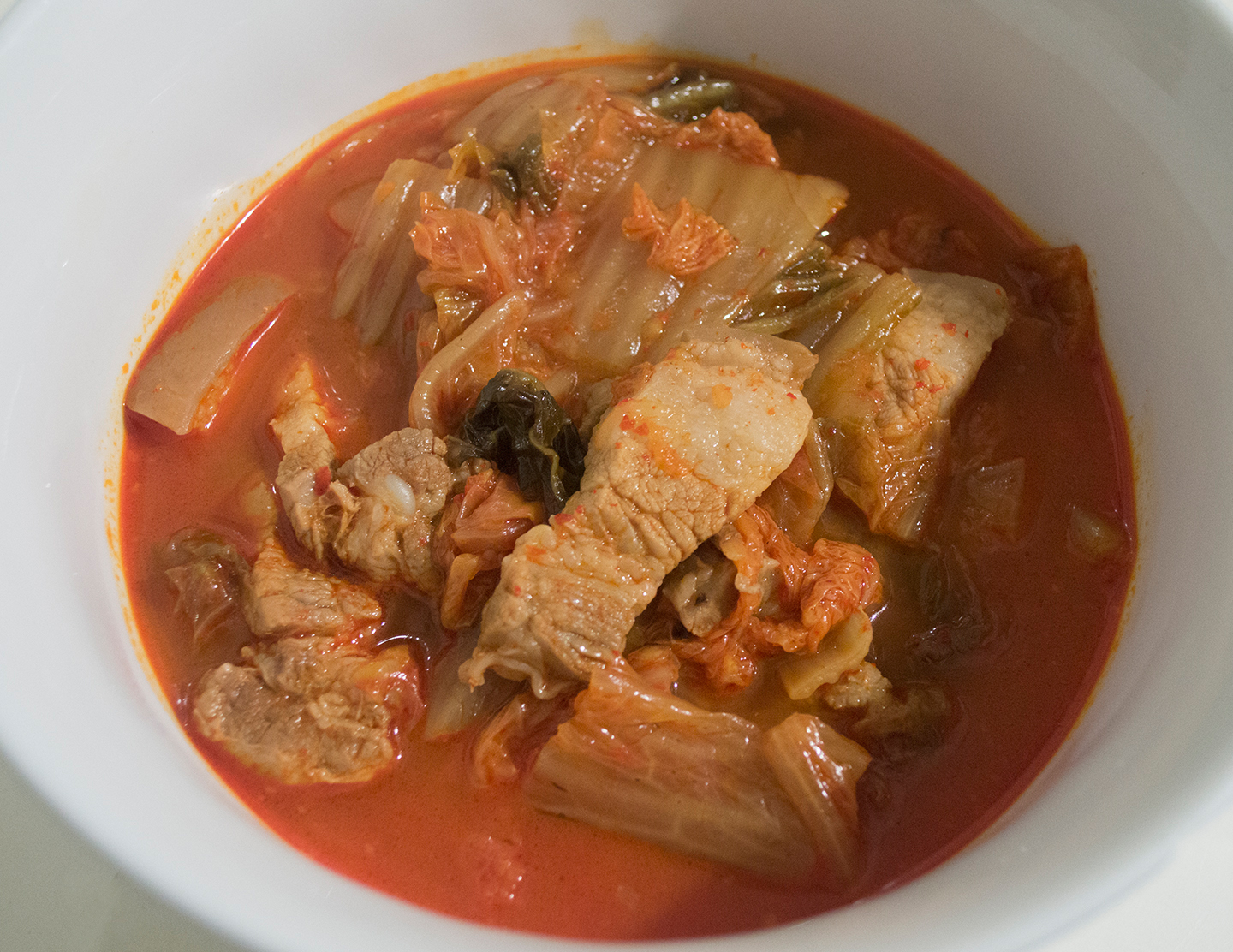 Jump to Recipe for Kimchi Jjigae (김치 찌개) - Kimchi Stew
Kimchi Stew (김치 찌개 – kimchi jjigae) is an easy way to make a weekday meal. When there isn't much time and you still want to have a good sit-down dinner, this is the ticket! Many Korean households serve every meal with a soup or stew, and my mom isn't an exception. She made sure we had a jjigae or guk, and a variety of banchan to share.
Recipe for
Kimchi Jjigae (김치 찌개) - Kimchi Stew
Ingredients
450g (1½-2 cups) Cabbage Kimchi
7g (½T) Sesame Oil
240ml (about 1 cup) Water
450g (about 1lb) Pork Belly
Procedure
On a cutting board, run a knife through the larger pieces of kimchi. Put all of the cabbage into a medium pot. If you have any reserved kimchi liquid, don't be afraid to add that to the pot as well.
Add the sesame oil and half of the water, or just until the kimchi is covered.
On a low to medium flame cook the kimchi, uncovered, for about 10 minutes, stirring occasionally.

While the cabbage is cooking, cut the pork belly into edible-size pieces. Throw in the pork and stir. Add the remaining amount of water, or just until the cabbage and meat are covered. Add more water if necessary.

Cover with a lid. Simmer and stir occasionally, cooking the kimchi jjigae until the cabbage becomes translucent, about 20-25 minutes.

Turn off the heat, ladle into a large serving bowl, and enjoy with rice and side dishes.
*Bunny Wisdom*
This dish can easily be served family style, which is enough for about 4-6 people. It can also be divided into two and paired with a steamy bowl of rice to make a meal.
If you don't have kimchi at home, find some at your local Asian grocery store, or specialty supermarket.
The more kimchi liquid you add, the spicier the stew. Use as much or as little as you like.
Drizzle a little more sesame oil right before serving!
The amount of water will depend on the amount of kimchi liquid that has been added at the beginning. Just keep in mind that the water should be added just until covered.
The stew can be simmered longer to enhance flavors. I cook my stew for another 10-15 minutes so that the meat gets a chance to become tender.
You are welcome to add any cut of pork, although pork belly is delicious with kimchi! Add firm tofu or soybean sprouts instead to make this vegetarian.
Cabbage kimchi is ideal, but you can also make this with radish kimchi.
Nutrition
Facts
4 servings per recipe
Serving size
1 portion (286g)
Amount per serving
Calories
% Daily Value*
Monounsaturated Fat 28.6g

Total Carbohydrate

8.6g

3.1%
* 
The % Daily Value (DV) tells you how much a nutrient in a serving of food contributes to a daily diet. 2,000 calories a day is used for general nutrition advice.
My hubby and I eat this at least twice a month, especially when the kimchi is beginning to get too funky and fermented. It's almost better when the cabbage is tangy because the complex flavors have developed within the kimchi. It's a great mix of savory, sour, and spicy!
**Here are some of the ingredients I use for this recipe. Please, feel free to browse and ask questions on anything you see listed below.**