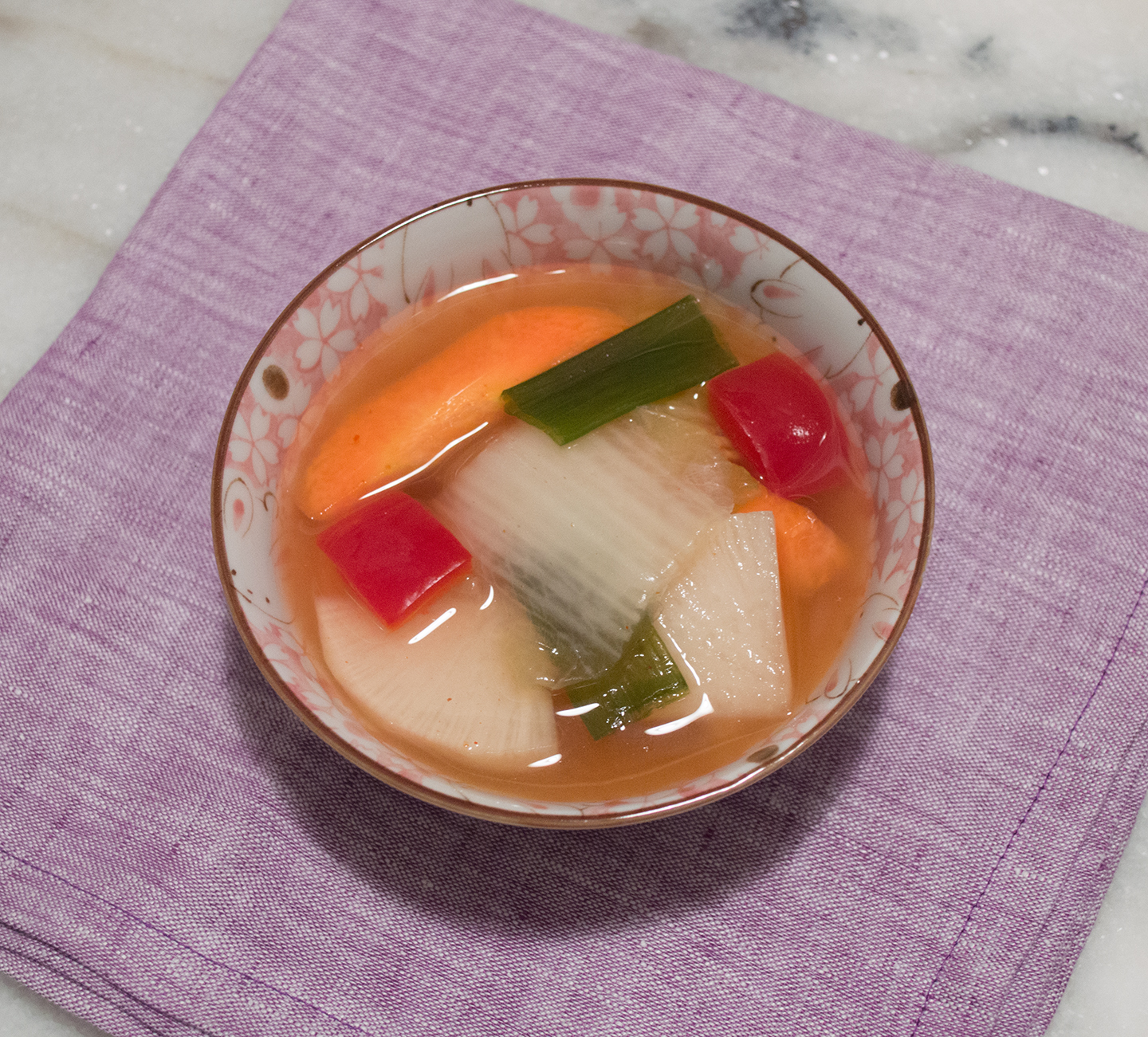 Jump to Recipe for Nabak Kimchi (나박 김치) - Mixed Vegetable Water Kimchi
Nabak Kimchi comes from the phrase "nabak nabak", which is to "make something flat". I grew up calling this side dish water kimchi, because it was the only water kimchi I knew (apart from dongchimi, which I had already known the name for, and wouldn't get confused)! It was only later that I discovered this dish actually had a proper name. Feeling foolish, I also discovered my beloved "instant kimchi" had a proper name as well! It was from this point on that I wanted to really know how to make nabak kimchi.
My mom would make it so quickly, and I couldn't figure out what went into it. All she kept saying was that it was a simple dish to make, and that Dad really liked it. As a little kid, the only knowledge you have of something tasting delicious is the smiles you see on your parents' faces. I took their word (smiles) for it, tried it, and loved it too!
I recently walked through the ingredients list with my mom, to make sure I had been making it correctly. It truly is one of the easiest banchan to make, and perfect for this time of year!
Recipe for
Nabak Kimchi (나박 김치) - Mixed Vegetable Water Kimchi
Ingredients
200g Korean Radish
1 medium Carrot
30g (2T) Coarse Sea Salt, plus more if necessary
1-2 baby Napa Cabbage
¼-½ Red Bell Pepper
3 large Scallions
6g (1T) Ginger
4 Garlic Cloves
1L (34oz) Water
6g (1T) Red Pepper Flakes
70-80g (3T) Rice Paste, optional
½ Asian Pear
Procedure
Rinse and peel the radish and carrot. Slice the radish into thin squares or rectangles, about ¼-inch thick. Slice the carrot into half moons. Toss the sliced root vegetables with the salt and place it all into a 2 liter container. Set aside for an hour.

While the container is sitting, prep the other vegetables: wash the cabbage and bell pepper. Slice the cabbage into squares and pepper into small strips or rectangles. Remove wilted parts of the scallions and cut off the roots. Rinse, then slice into 2-inch lengths. Peel the ginger and garlic, and slice both into ¼-inch thickness.

After an hour has past, add the cabbage, pepper, scallions, ginger, and garlic. Fill the container with water, leaving about an inch of space from the top.

Throw in the pepper flakes and rice paste, and give the mixture a stir. Seal the container and set it in a cool area on the kitchen counter.

The following day, add the Asian pear to the water kimchi. Place the container into the refrigerator, and serve it chilled.
*Bunny Wisdom*
Optimal serving time is a few days after making the water kimchi. The flavors have come together better, and the sweetness from the carrot, bell pepper, and pear has been drawn out into the liquid.
All vegetables should be sliced into edible size pieces. We suggest that they be sliced pretty uniformly, as it sits and gets a little happy for a few days before serving.
If you can't source baby napa cabbage, take some leaves from a whole cabbage to use for the recipe, and make whole cabbage kimchi or simple cabbage kimchi with the rest of it.
It's possible that you may require more than 1 liter of water, and you may also require more salt for the kimchi. Taste a bit of the liquid to see if the liquid is briny. Adjust accordingly: more water if it's salty, more salt if it's bland. Just make sure you have given yourself about an inch of space from the top, to allow the pear to submerge without overflowing.
Portions for this recipe are a bit ambiguous because it is made to how you like it. If you enjoy more radish versus cabbage, or you choose to omit bell pepper, that's completely up to you. James doesn't like bell pepper all that much, but I still wanted to put some into the recipe. So we made a compromise and I put a quarter of a pepper into the container.
Making rice paste is simple. For this recipe, we're only using about 3T of paste, so I stole some from the regular kimchi I was making. If you find yourself wanting some paste for the recipe, but you don't have some lying around, take about 1T of sweet rice flour (mochiko) and mix with ¼-cup of cold water. Cook it over low flame, stirring continuously, until the mixture becomes translucent. For more details on making rice paste, check out the simple cabbage kimchi recipe.
After the container sits for a couple of days in the refrigerator, give the water kimchi a good stir before serving, especially if the rice paste was added to the mix.
**Here are some of the ingredients I use for this recipe. Please, feel free to browse and ask questions on what you see listed below.**