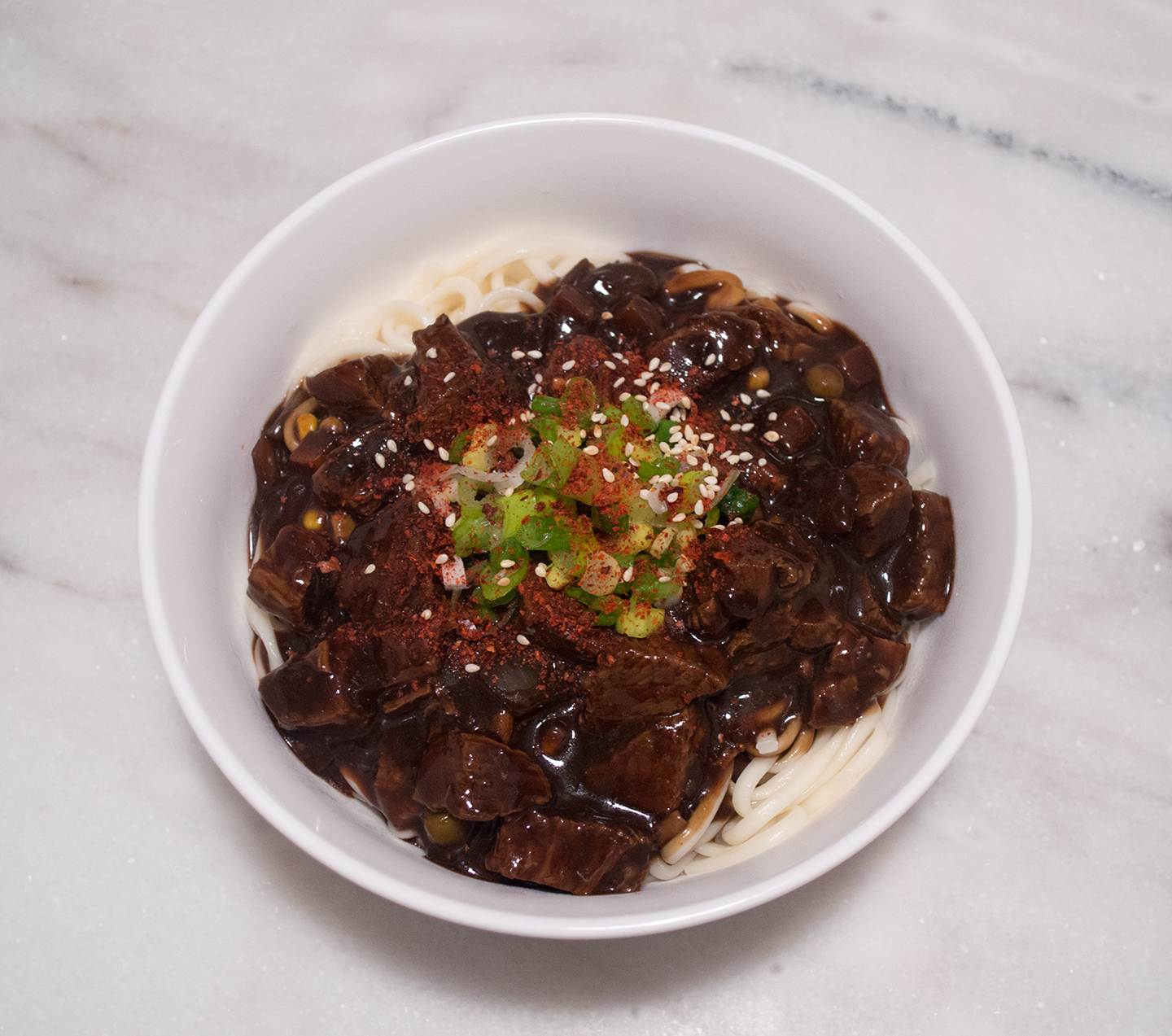 Jump to Recipe for Jajangmyeon (자장면) - Noodles with Black Bean Sauce
Jajangmyeon (자장면), also called jjajangmyeon (짜장면) from the word zhájiàng (炸酱 – "fried sauce"), is a Korean-Chinese noodle dish that is dear to my childhood. We often enjoyed a bowl of these noodles at the local restaurant, with plenty of sliced vinegared onions and pickled radish (danmuji – 단무지). Our servers would always give us a plate of kimchi with our meal too, knowing how it's nice to have a spicy side dish with something so savory.
First noticed in Incheon Chinatown, this dish made its way through modifications throughout its history, making it uniquely Korean by the time it was served at Gonghwachun (공화춘), and other Korean-Chinese restaurants in Korea. They began using tiánmiànjiàng (甜面酱), a sweet bean sauce (It isn't really sweet, but savory; bean isn't its primary ingredient. It's actually wheat flour.), which morphed into the different jajangmyeon sauces that we see today. It's made with Korean chunjang (춘장) and pork or seafood, but James enjoys beef, so I switched proteins.
As a kid, my mom didn't make jajangmyeon regularly; it was a treat for us when she did. Restaurant versions have a more bountiful amount of chopped onions in their sauce, and my dad didn't like eating it that way. She would add a bunch of mixed vegetables instead, and that is how I make my sauce today!
I love how versatile the sauce can be! You can change up the proteins (beef, pork, seafood); use it cubed, chopped, or ground; have a sauce that's either wet (like our recipe) or dry (sans broth and starch slurry); have it with a variety of vegetables, or the original chopped onions; and choose from a bunch of different toppings (cucumber, egg, sesame seeds, red pepper flakes, etc.)! The most important ingredients are your noodles and your Korean chunjang.
Recipe for
Jajangmyeon (자장면) - Noodles with Black Bean Sauce
Ingredients
680g (1½lbs) Beef Chuck
1L (about 1 quart) Water
85g (5T) Chunjang/Jajang Paste
10g (about 3t) Garlic, minced
110g (1 medium) Onion, diced
125g (1 cup) Mixed Vegetables, diced: carrots, corn, peas, zucchini
32-40g (4-5T) Corn Starch
60-75g (4-5T) Water
200-300g (2-3 serving bundles) Dry Udon Noodles
15g (1 medium) Scallion, chopped
1 Kirby Cucumber, julienned, optional
2 hard-boiled Eggs, optional
Sesame seeds, optional
Red Pepper Flakes, optional
Procedure
Slice the chuck into cubes and place into a pot. Fill the pot with water and bring it to a boil. Continue boiling for 5 minutes, or until the meat has been cooked through, then pour out the water. Clean the pot out of any curdled blood, put the meat back in, and fill the pot with roughly 1 quart (1L) of fresh water.

Bring the pot back to a boil, then simmer for 15-20 minutes. While the pot is simmering, prep your vegetables and make your slurry with corn starch and water.

Incorporate the jajang paste into the broth, then add the minced garlic and diced onion. Simmer for 5 minutes, then add the diced mixed vegetables. Bring the pot back to a simmer, and continue cooking for 5-10 minutes, or until the vegetables are beginning to get tender.

Re-incorporate the starch with the water, pour the entire mixture into the pot, and mix the contents well. The sauce should thicken up within 30-60 seconds. Turn off the flame and set aside.

Boil your noodles according to manufacturer's instructions, drain, and divide into bowls. Scoop about 1½ cups of sauce into each bowl, then top the noodles with chopped scallions, and other condiments/garnishes of your choosing, such as cucumber, egg, sesame seeds, or pepper flakes.

Serve with your choice of sliced raw onions or takuan/danmuji and a spoon of chunjang paste.
*Bunny Wisdom*
Cut the beef into ½-1-inch cubes. Conversely, you can cut the meat into big pieces, do the initial boil, and slice into smaller pieces when making the broth.
I do an initial boil to get rid of blood and liquids from the meat. Then I bring a fresh pot of water to a boil. If you want extra flavor, use a quart of no-sodium beef broth to make your sauce. Yes, I'm creating a quick broth by simmering the meat for 15-20 minutes; however, it's doesn't hurt to have some extra flavor.
Use pork or a seafood medley if you don't want to use beef.
Korean chunjang is also called jajang in the Korean grocery store. You will find that it has been "pre-fried" (볶음자장), which means it's been cooked and jarred. If your jar has not been pre-fried, place some paste in a pan with a splash of oil, and heat over low flame for a few minutes, stirring continuously. Most grocery stores carry the fried versions now, for convenience.
The mixed vegetables can be an assortment, or just one kind. It's up to you what veggies you want in your sauce.
Use shiitake to substitute for meat. Use dried or fresh. If you are using dried shiitake, hydrate for at least 6 hours, and use the mushroom water as the broth.
A corn starch slurry thickens the sauce up so that it coats the noodles thoroughly. When I mix equal parts starch with cold water, it looks like milk. After having it sit for a little bit, the starch settles. Make sure you give it a good stir right before you pour it into the sauce.
Remember to stir occasionally to prevent burning, especially after the corn starch slurry has been added.
I cook the noodles a touch less because the hot sauce is poured on top.
You are welcome to use fresh jajang noodles. They come in a pack of 4, each portion weighing in at 250g. If you can only find the dried noodles, use 1-1½ bundles per person. I've used 3 bundles to make this dish for two people.
Many toppings can be added to jajangmyeon; the most basic sauce is a mixture of onions with the chunjang, and the addition of noodles. Cucumbers are common, but not always necessary. Eggs can be hard-boiled and halved, or fried over easy. We added a bunch of fresh chopped scallions, sesame seeds, and red pepper flakes to make it a little spicy. Have fun with your dish!
It's nice to have a set up of sliced raw onions with the chunjang as a dipping sauce, to break up the monotony of chewy noodles. A sweet variety is ideal, with a splash of vinegar to give it the extra boost. Danmuji is vinegary, so it isn't necessary to add vinegar to your sliced pickled radish.
Takuan, which is the Japanese version of Danmuji, is a yellow or white icicle radish that has been brined and pickled. It's sweet, sour, crunchy, and perfect for this dish.
There is left over sauce after making this dish. It's good for four to five people. I made this dish for James and I to enjoy over two days. The indicated amount of noodle in the recipe is for two servings. Double the noodles (400-600g dry noodle) if you would like to serve four to five people.
Any left over sauce can be refrigerated and enjoyed over rice, rice cakes, or more noodles, if that's what you enjoy.
**Here are some of the ingredients I use for this recipe. Please, feel free to browse and ask questions on what you see listed below.**