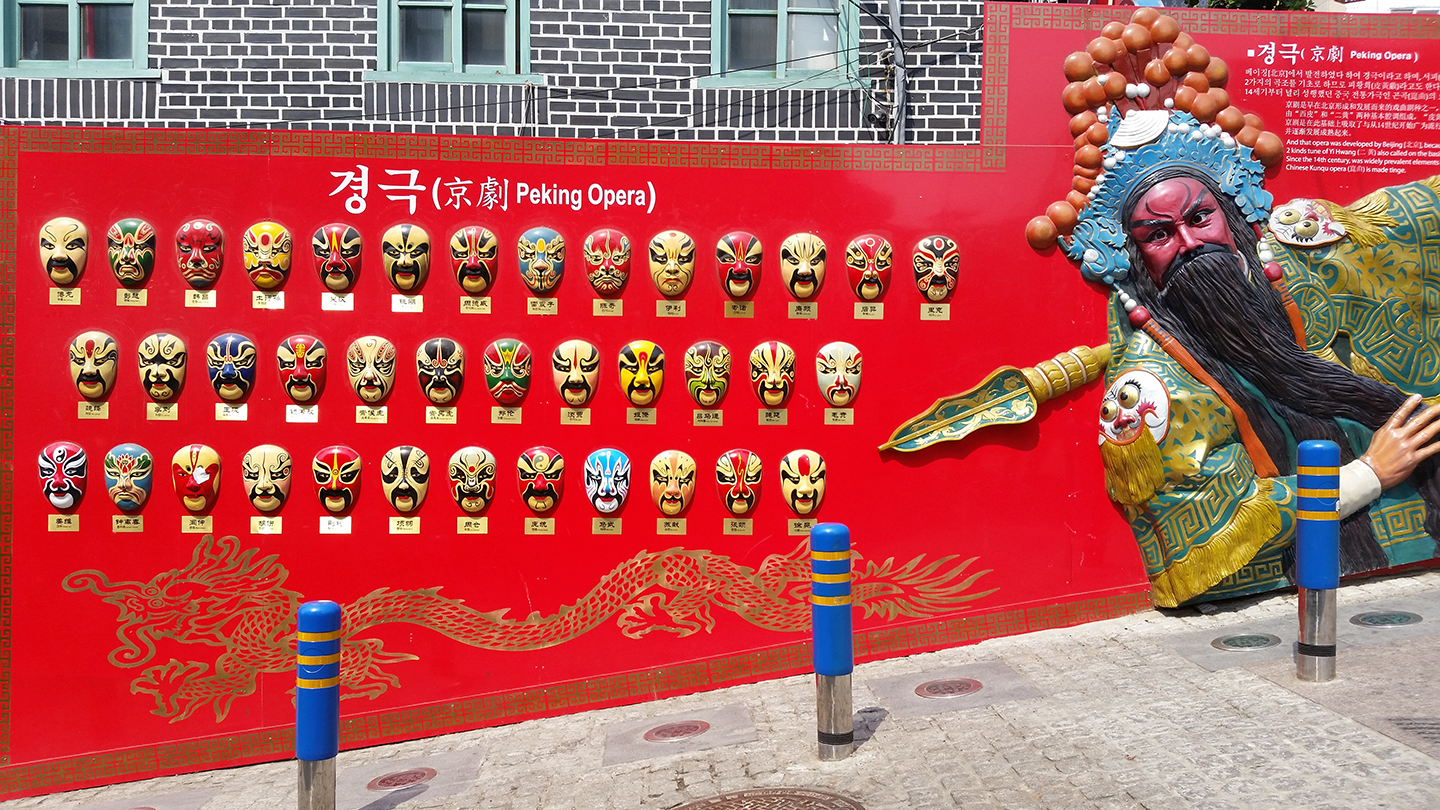 We're continuing our Korea series, coming into the final stretch of our trip! We have eaten a lot of really good meals on this adventure, and plenty of street snacks. Our last few days were busy, eating pastries around Hongdae; visiting the city of Paju, going on a tour there, and then spending the rest of the day with family; checking out the Incheon Chinatown and eating at the famous Chinese restaurant; and exploring, very briefly, the area of Gangnam. If you're joining us now, you'll see that Bunny and Kitty have been all over Seoul and the outer metropolitan areas. You're welcome to come up to speed by checking out our previous posts on our food adventures in Korea!
Part 1 | Part 2 | Part 3 | Part 4 | Part 5
Our first stop takes you to Hongdae (홍대), an abbreviation for Hongik Daehakgyo [Hongik University (홍익대학교)], a university neighborhood that caters to its lively social scene of college-aged kids, with small eateries, accessory stores, trendy clothing shops, and unique small artist vendors. This neighborhood is also very well-known for their indie music and street art scene. We went to a popular bakery along a main street in the area, and picked up a few things to munch on. My cousin had an appointment in the area, so the rest of us wandered into the spicy rice cake joint she and I ate at several years before. Back then, it was still just a food cart, but they made a lot of tummies happy. This only continued to make people flock to the cart; it got so popular that they opened a brick-and-mortar! After having a savory snack, we slowly walked over to the Thanks Nature Sheep Café and met my cousin there. We shared a banana waffle, drank lattes, and walked around the area until it started getting dark. It's definitely a fun area to visit, and we'd do it again the next time we're there!
**Again, I want to share that I didn't take my DSLR along, thinking that I would be okay with taking photos with my smart phone. The photos turned out alright, for the most part; however, they're not of the best quality, so I apologize if they're out of focus or blurry. And major credit to my sister, for taking a bunch of these photos! Plus, I've intentionally blurred people's faces.**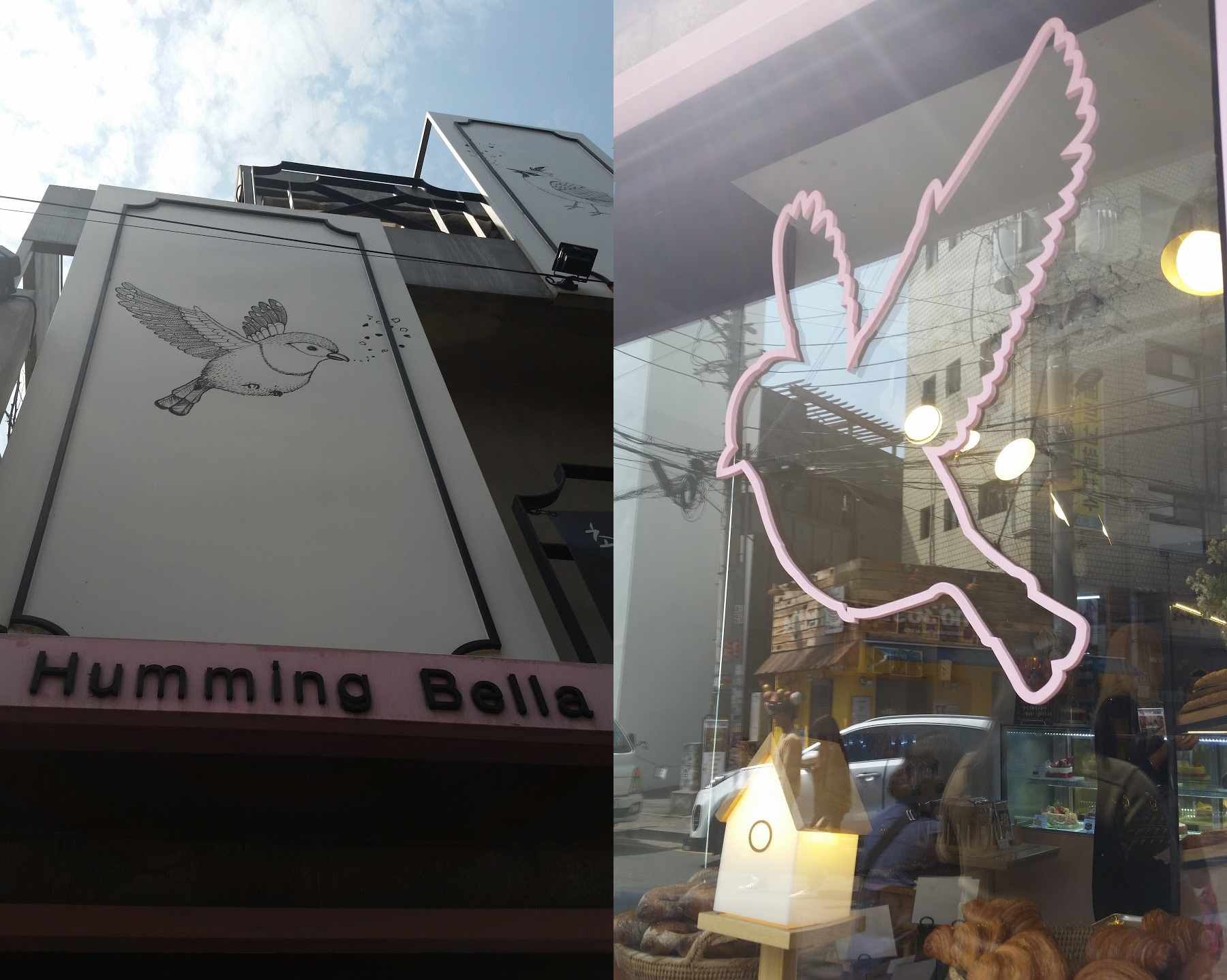 We went to Humming Bella and picked out a few goodies to eat!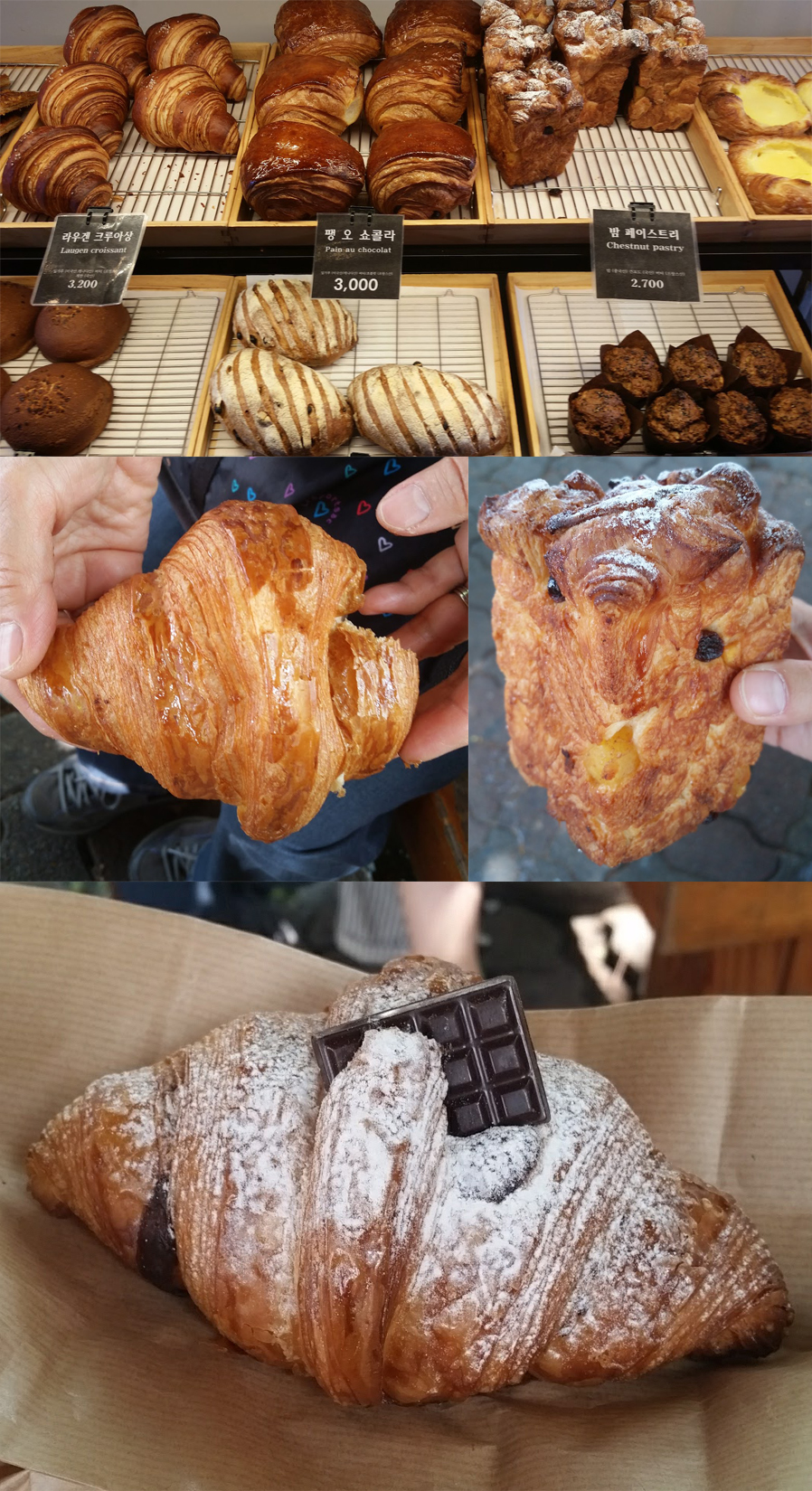 Inside the shop, we didn't know what to get, but I remembered that James always reminds me to get the regular items, because they are the easiest to distinguish between good or bad quality; however, just looking at them, I knew they were going to be delicious! My mom got a bit eager to eat the croissant, so she took a little bite before I could get a nice photo! The lamination in the Chestnut Pastry was amazing! And the chocolate croissant was generously filled with cream.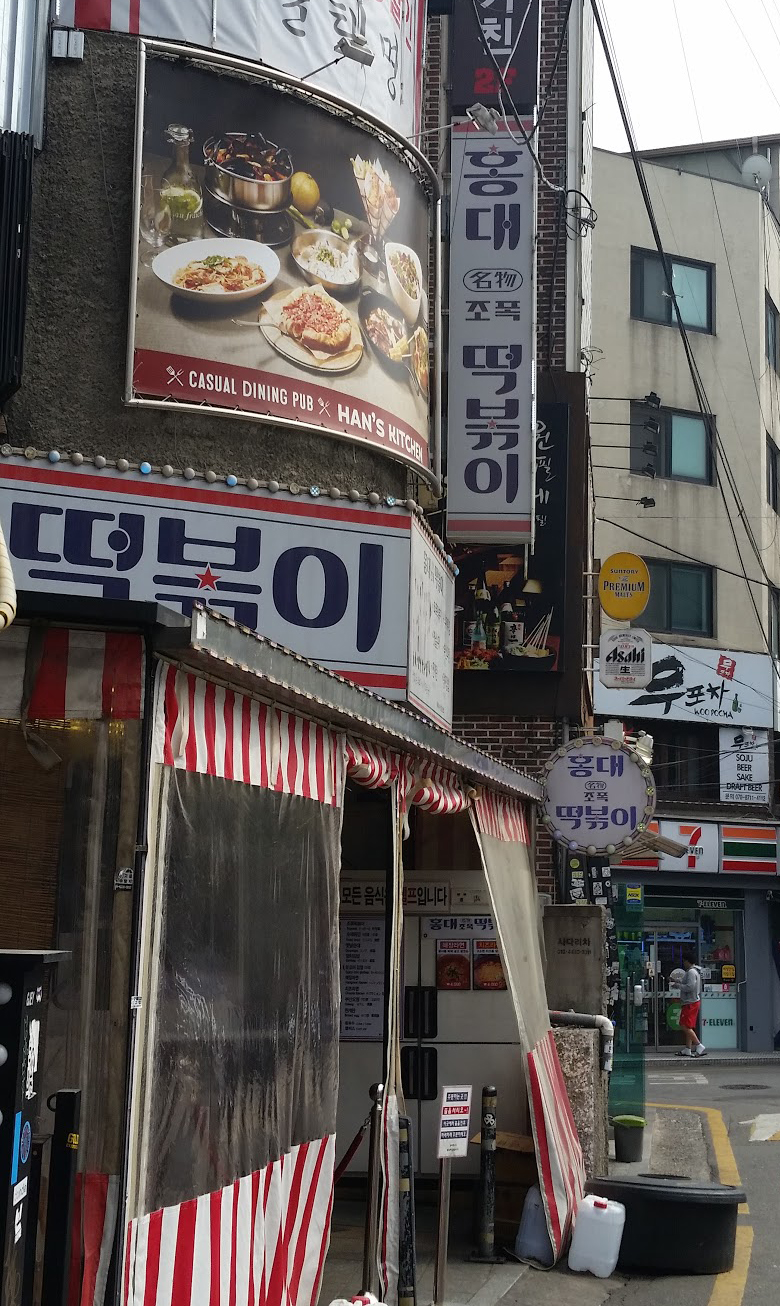 Here is the Tteokbokki place!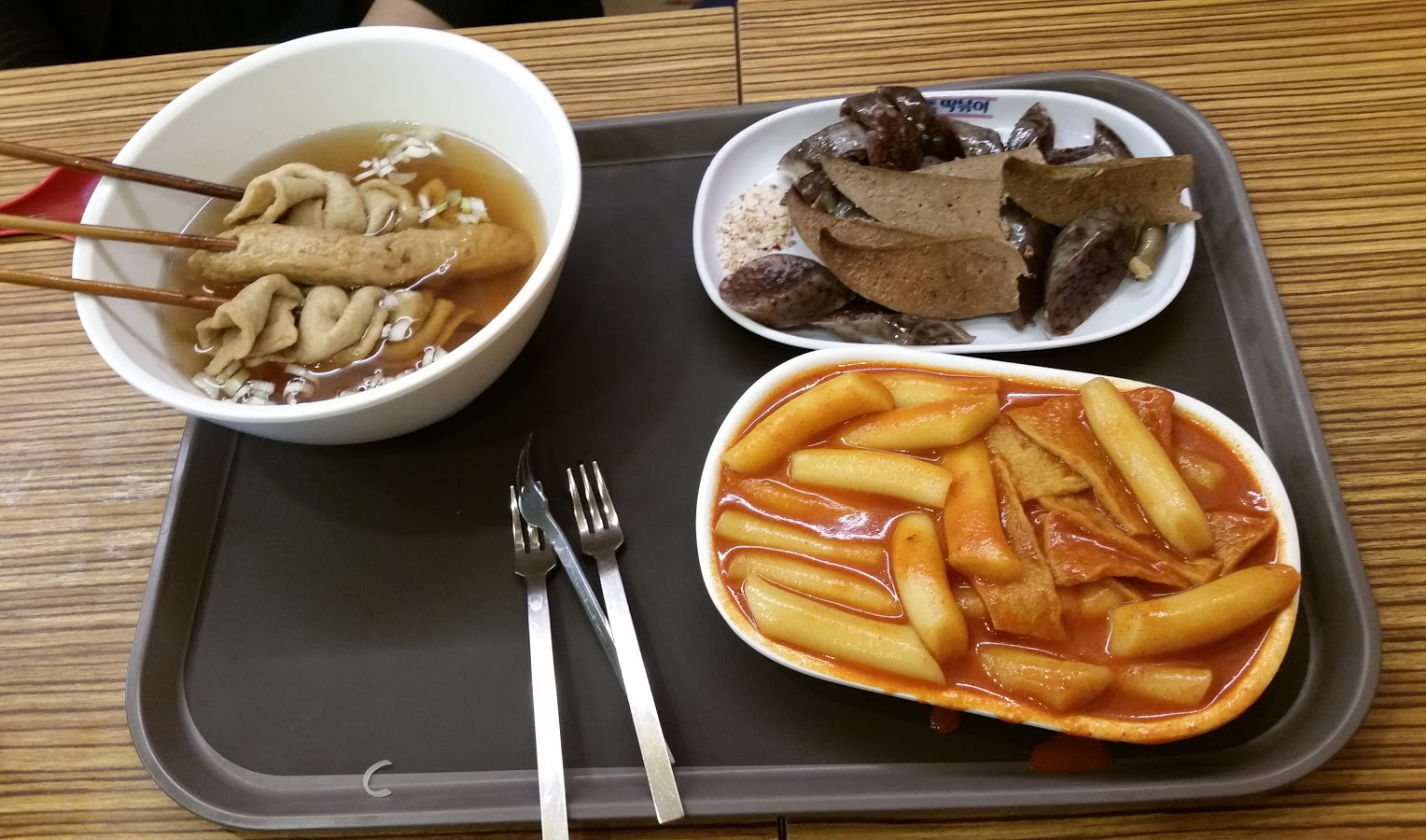 We ordered the Tteokbokki (spicy rice cake), Sundae (blood sausage), and Eomuk (fish cake). We wanted to have a little bit of each!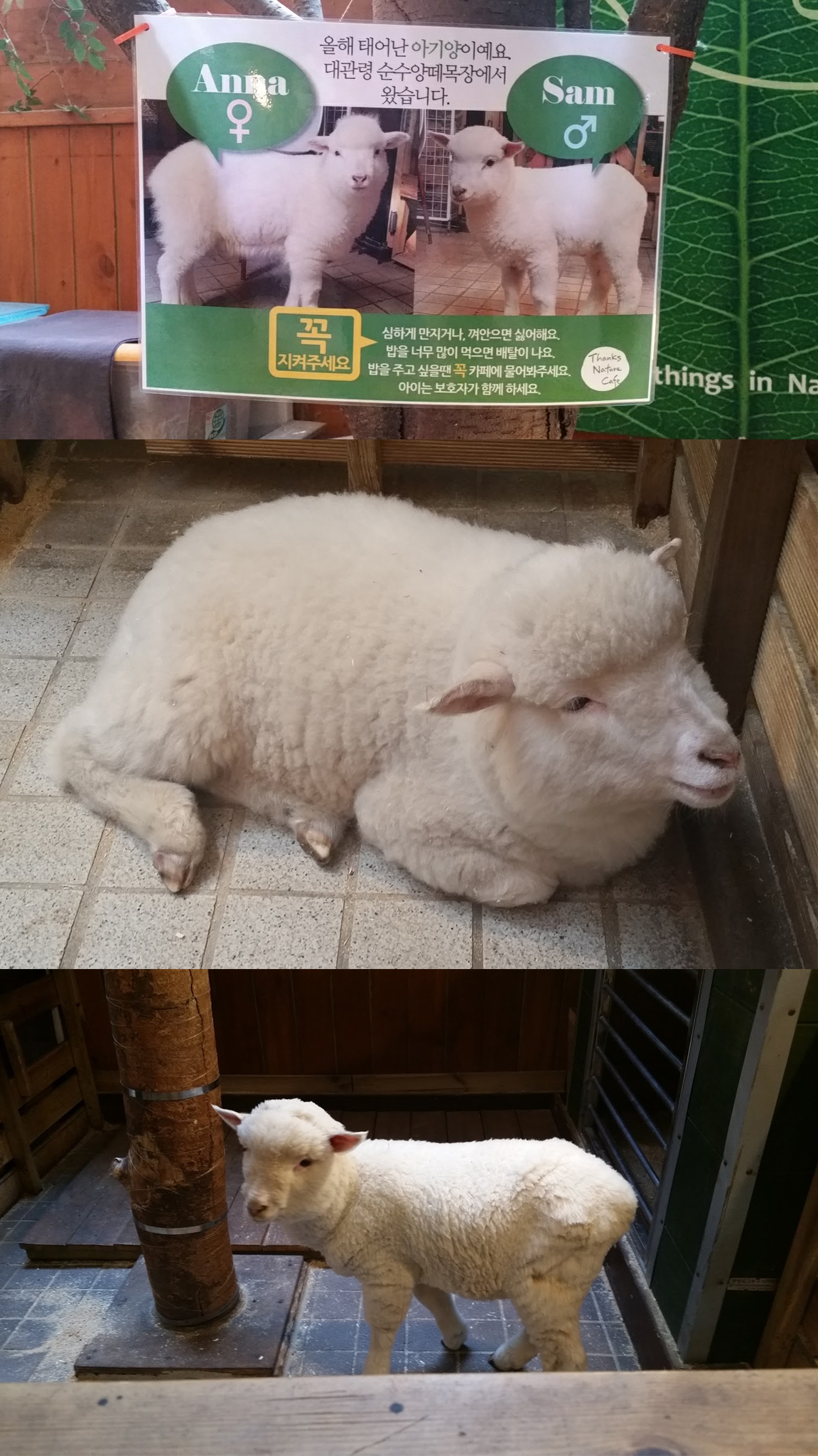 This is the adorable Sheep Café! We got to meet Anna and Sam, pet them, take some photos, and talk with the café owner. Anna is the one sitting, Sam is the one standing. Their owner is so good to them!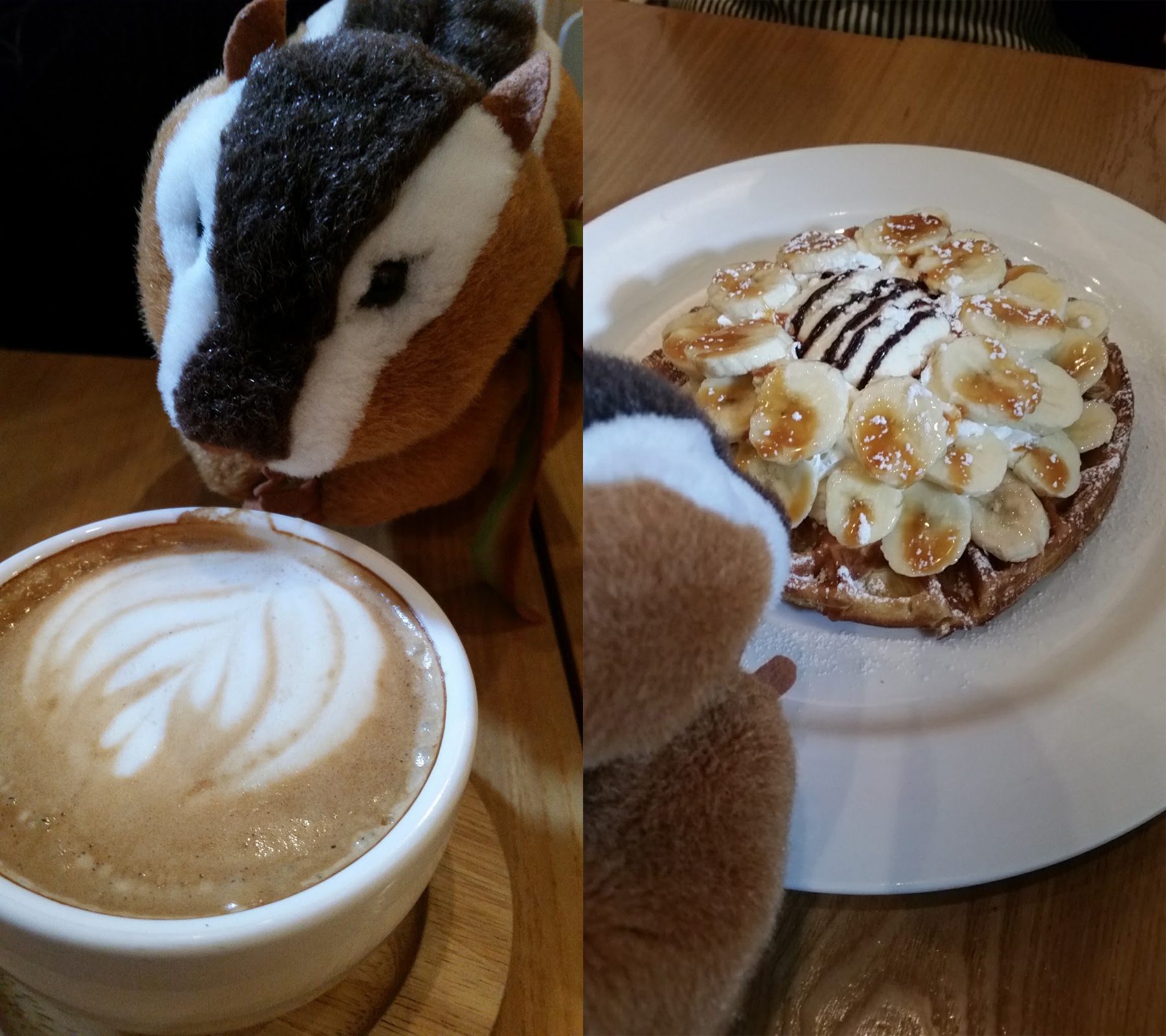 Here's my chipmunk friend, Brigitte, enjoying a latte and a banana waffle!
We (my cousin, James, and I) also got our ears pierced on this outing. That was something we were thinking about doing this entire trip, but weren't sure if we would get the chance. I'm happy that we did! It was an all-around fun day.
The following morning, we got up really early to take the train up to Paju (파주). One of my aunts lives up there, and she helps promote tourism of the city by being a guide. She was busy tending to some other matters, but she had one of her friends guide us through an all-day tour around Paju City (파주시). She picked us up from the train station, along with many others, to begin the tour.
We visited their Book City (파주출판도시), which is a huge grouping of buildings that house publishing and printing companies. These firms produce a large volume of books for the Korean market. There are plenty of places to sit and read and enjoy the artistic space. Our next stop on the tour was Provence (프로방스 마을), a themed village that has an art studio, clothing stores, bakeries, and restaurants in the area. We grabbed lunch here, and took a walk around the stores. Right before we left this quaint grouping of shops, we saw a café. James and I grabbed some delicious coffees to drink, and we couldn't help but admire the curated space the coffee shop owner created. It was very warm and inviting!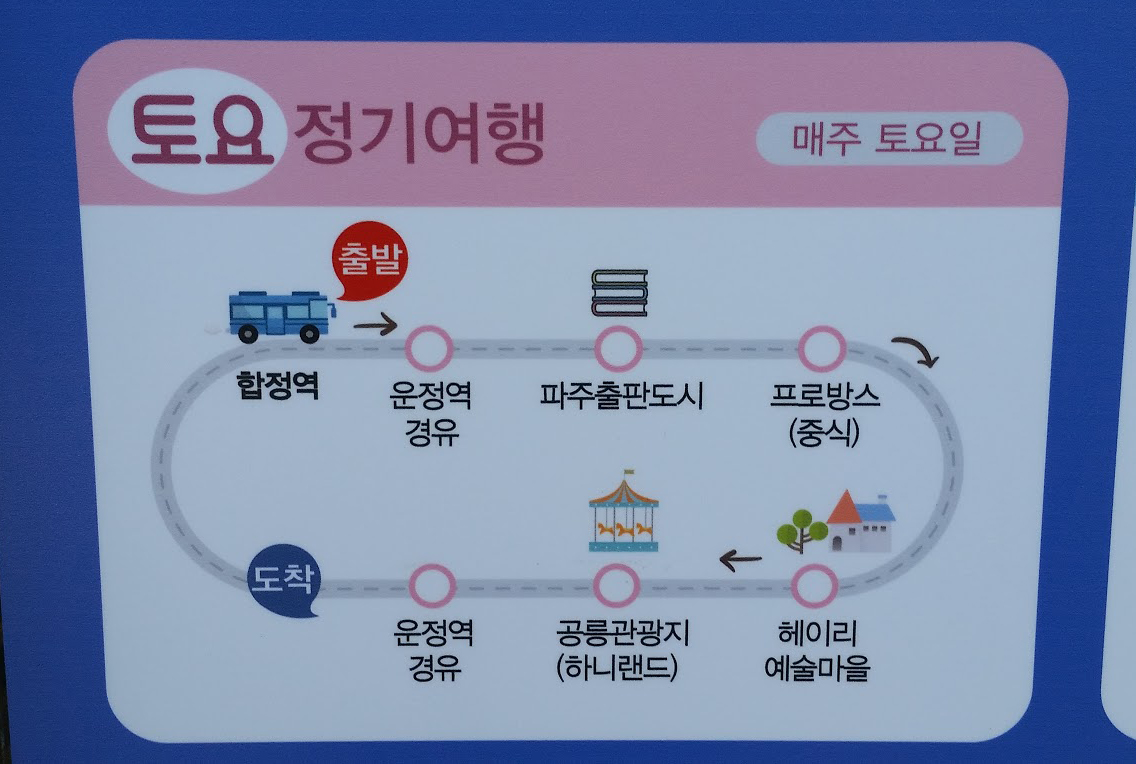 We went on a Saturday, so I only took a photo of our plan for the day. There is a tour every day of the week!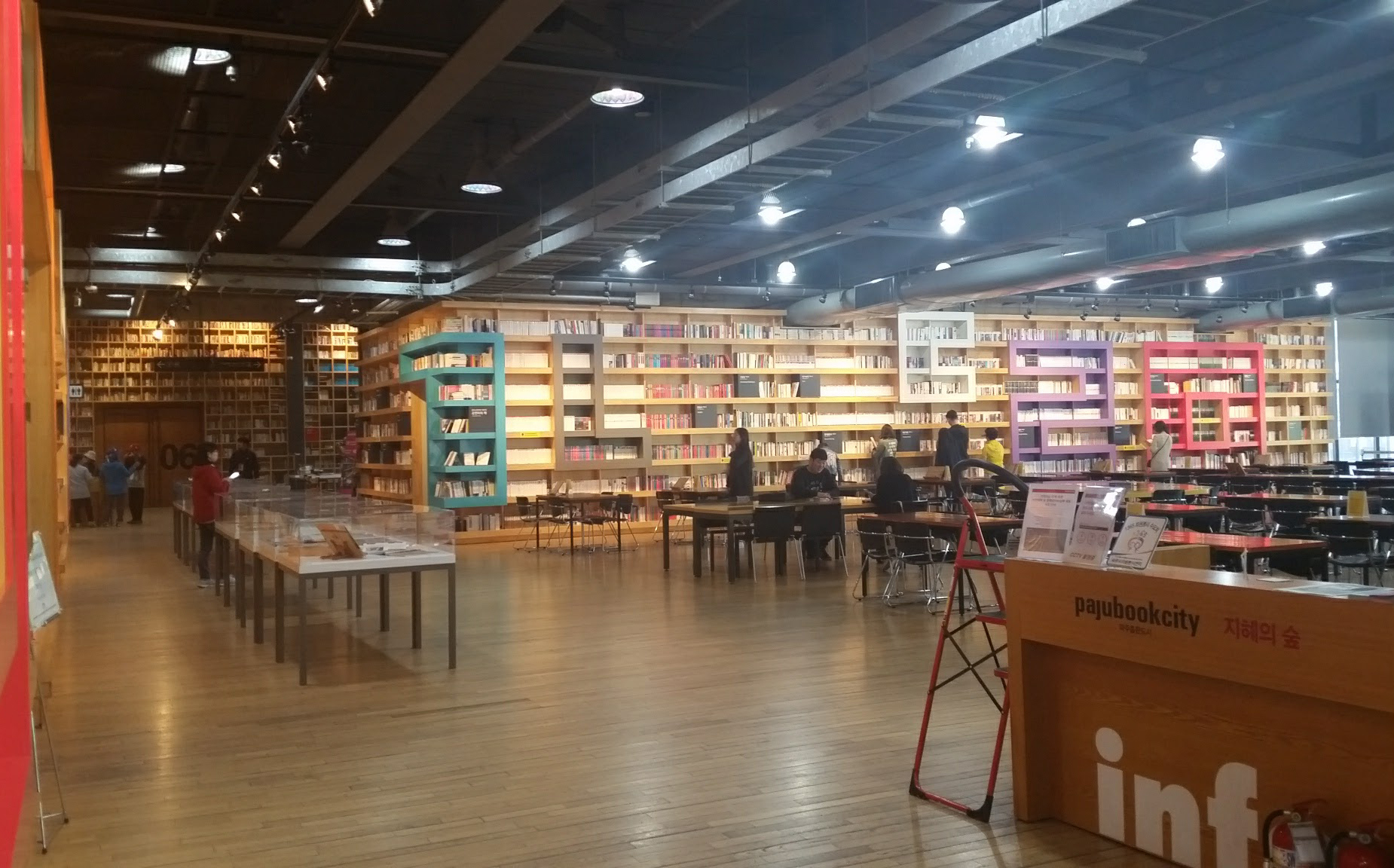 This is inside one of the buildings in Book City. There were artworks displayed in cases, and a book shop around the corner.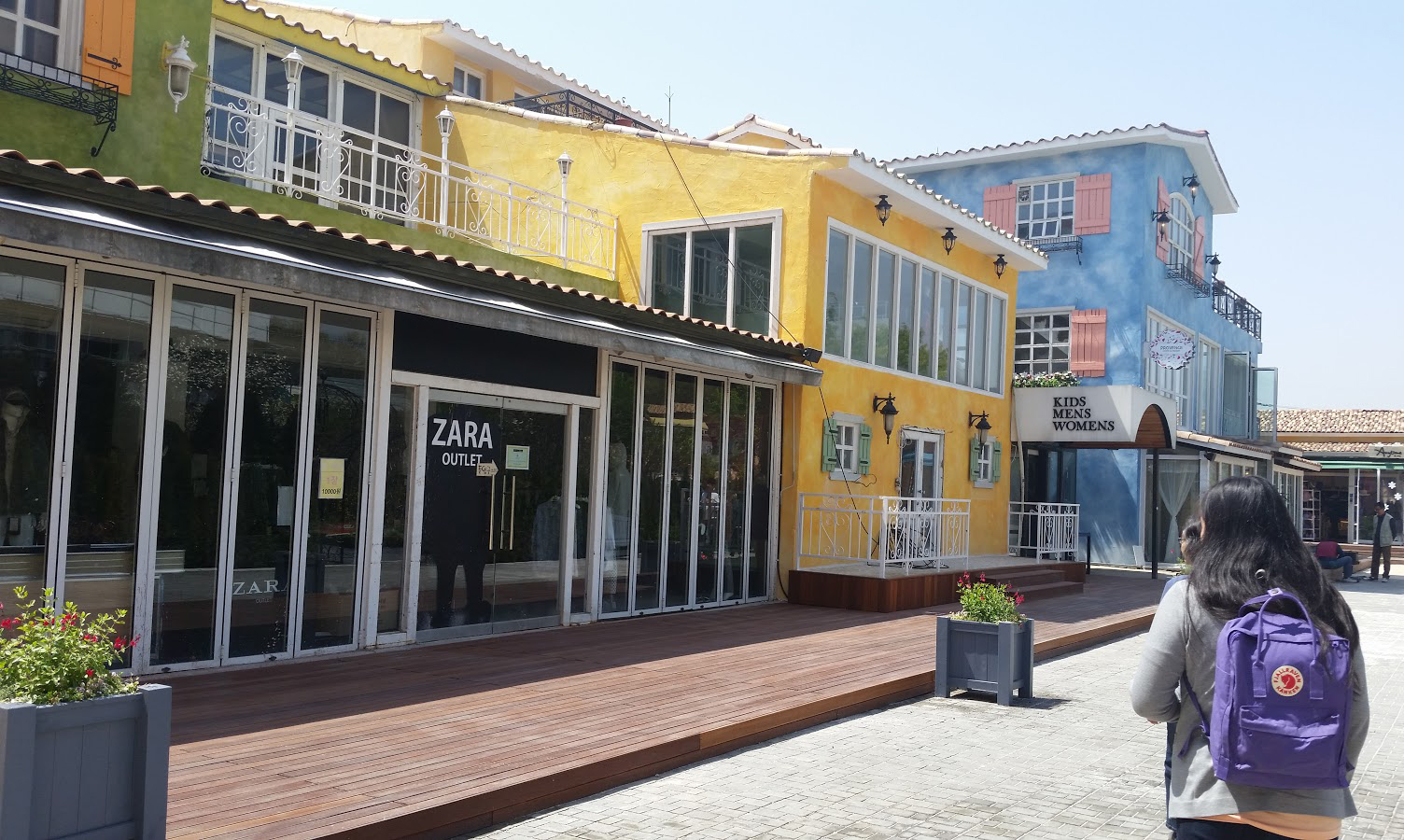 This is Provence, and that's me with my Fjällräven backpack!

We bought a bunch of sweet pastries and savory breads from this bakery to have for lunch! We sat outside and enjoyed the warm weather. These were some of the cakes that were inside the cold display case.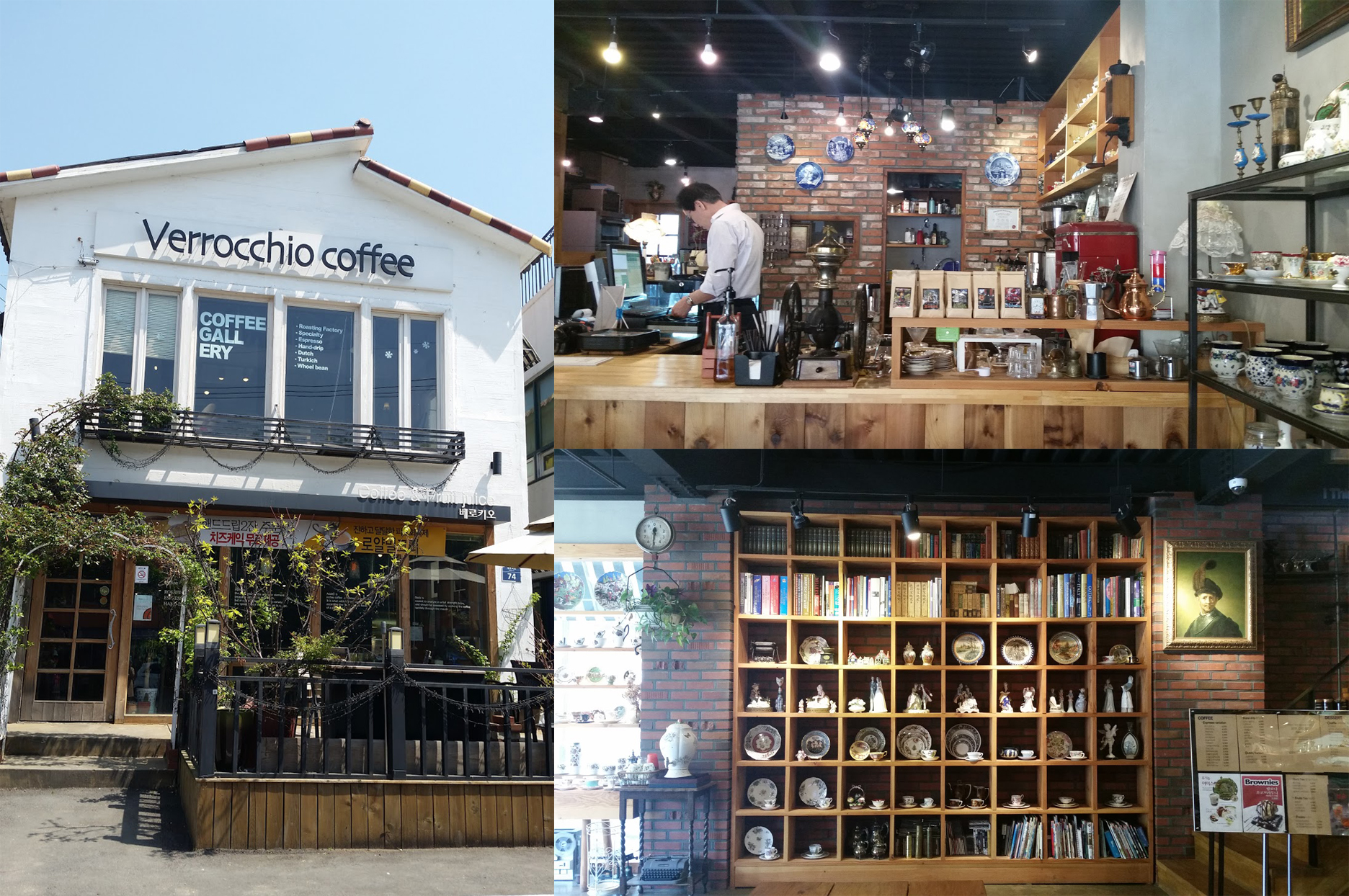 The coffee from this shop was really well made. While the owner was making our coffees, we browsed through his cups and saucers he had displayed in the space.
After our lunch break, we rode the tour bus to Heyri Art Village (헤이리 예술마을), a vast artist complex, housing many shops, book stores, art galleries, museums, work spaces, and performance halls. We walked only a small part of the area, but we got the chance to browse through books, smile at all of the handmade items that were being sold, and then refresh ourselves with ice-cream cones because it was getting very warm.
Our last stop on the tour was a children's amusement park, which allowed the kids to run around happy, and parents to rest their feet. I quickly noticed a fenced area, crowded with little hands. They seemed excited to feed some animals, and upon closer inspection, we found some adorable baby bunnies! I wanted to bring them all home!
The tour came to an end, and we were all brought back to the start of the route. My aunt's friend suggested that if we had some time left on our trip, we should take another tour of Paju, because each day there is a new tour, with visits to new locations. We all agreed that next time we would come back and take a different tour, to have a vastly unique and cultural experience.
At the station, all of us piled into a taxi and rode over to my aunt's place. Through winding countryside roads, and beautiful scenery, we arrived just in time for a large family barbecue party! There were lots of different marinated meats on the grill, lettuce wraps, a dozen side dishes, and soju going all around. Finally, the end of our party became exponentially nostalgic by making sugar candies. Back when our parents were kids, they ate a bunch of these sweets from street stalls, called seoltang bbopgi / dalgona (설탕뽑기, 달고나). They're similar to honeycomb candy, but are flattened and stamped with a shape. The object of the game is to break apart the candy without damaging the shape; if one succeeds, you get a free candy to try again! It was a lot of fun, taking us back to our younger days of breaking sugar, all the while teaching us patience!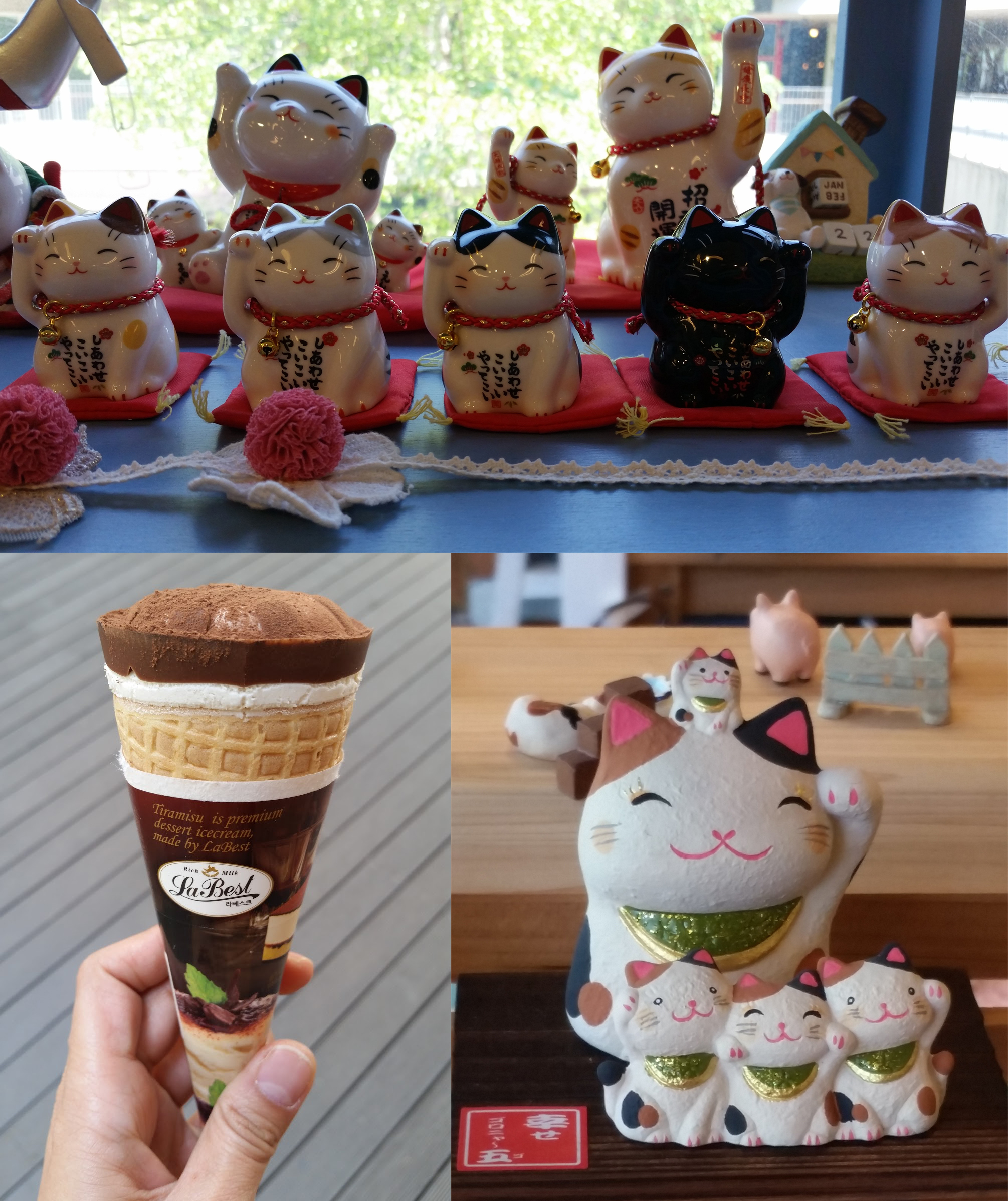 Inside Heyri Village, we went into a shop that had a bunch of stationery, figurines, toys, and all-around cute items, and found some lucky cats! I brought the one on the bottom-right home. And then we had some tiramisu ice-cream cones!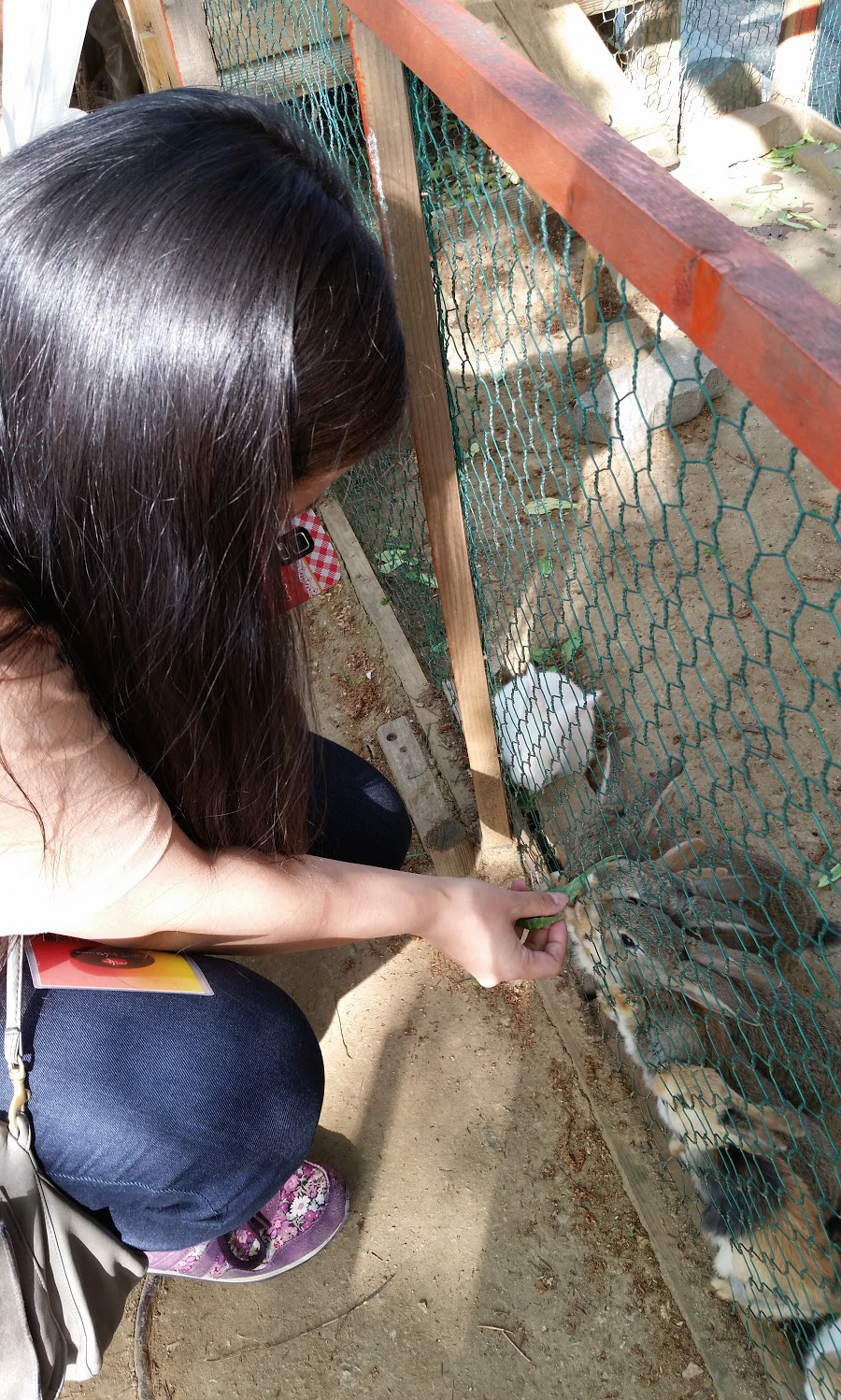 Here I am feeding the little bunnies!!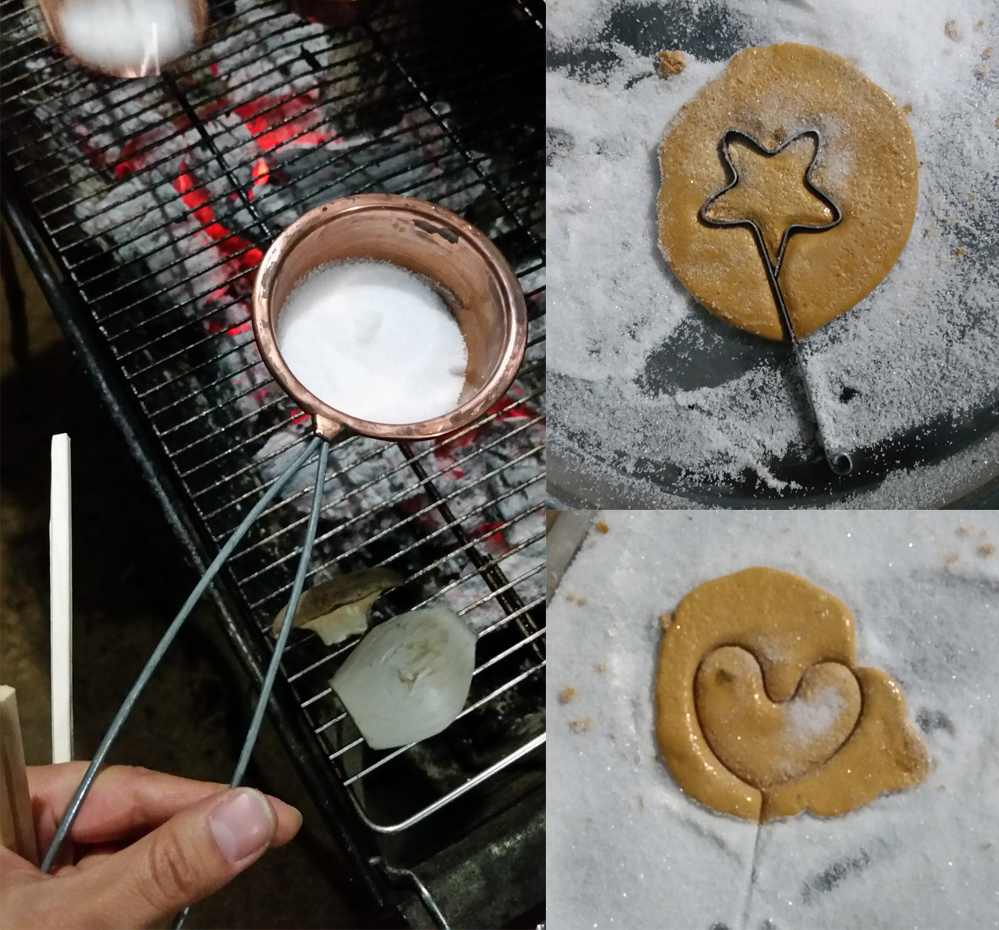 Making sugar candies over the dying flames on the grill.
We got home pretty late, but knew what our plan was going to be the following morning. It was the weekend, and we knew it was going to be super crowded and busy, but we just *had* to visit Incheon Chinatown.
All of the street vendors had their kiosks open wide, so people could watch the food being made while eating their dishes. There were sweets, savories, and drinks, with plenty of long lines of people, waiting for a seat in the best noodle joints in the area. We sipped on sugar cane juice, walked around the Jjajangmyeon Museum, and ate at the famous Gonghwachun.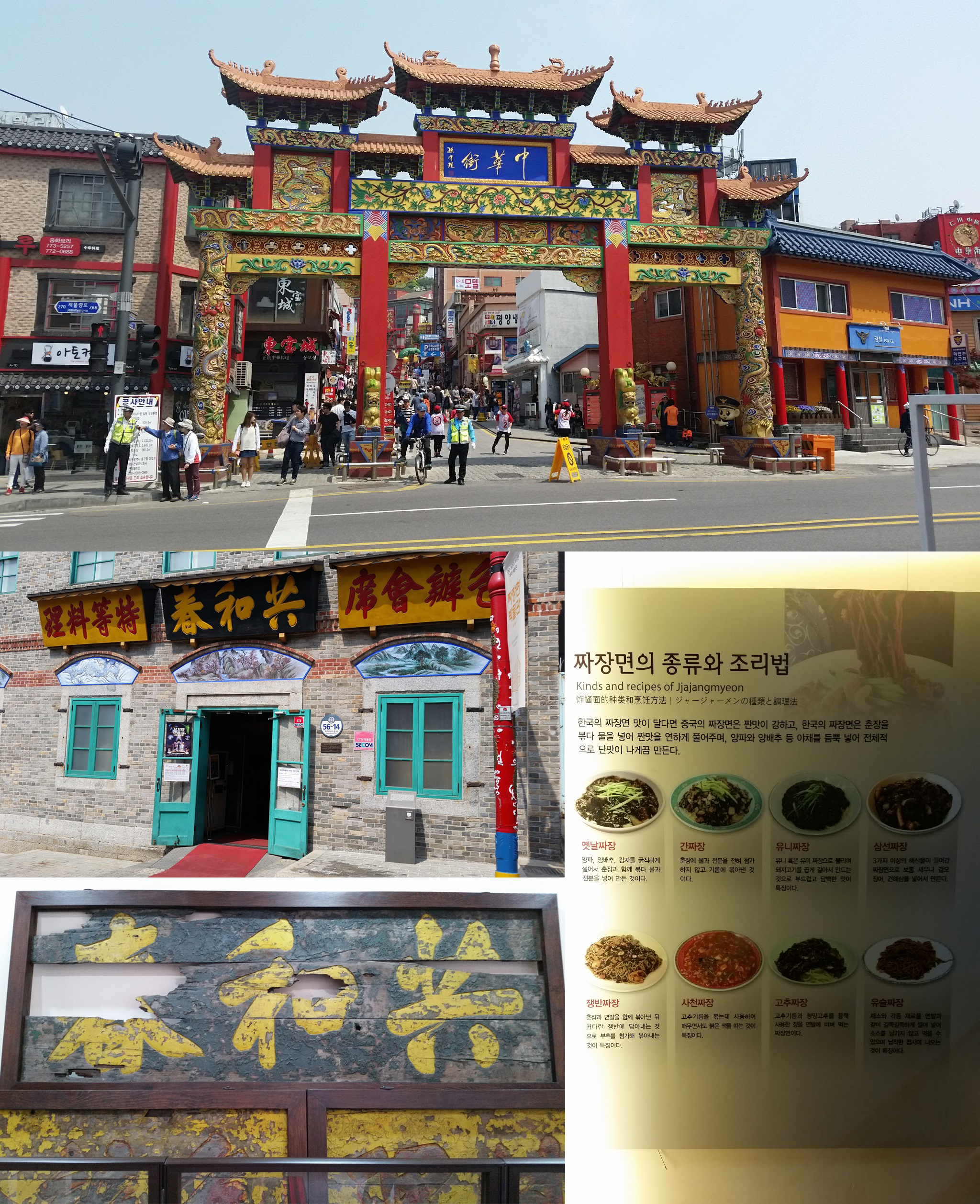 Here is the entrance to Incheon Chinatown. We visited the museum, saw some of the original wooden signs of the old Gonghwachun, learned how to make different kinds of Jjajangmyeon, and saw a wall of instant Jjajangmyeon that was sold over the years.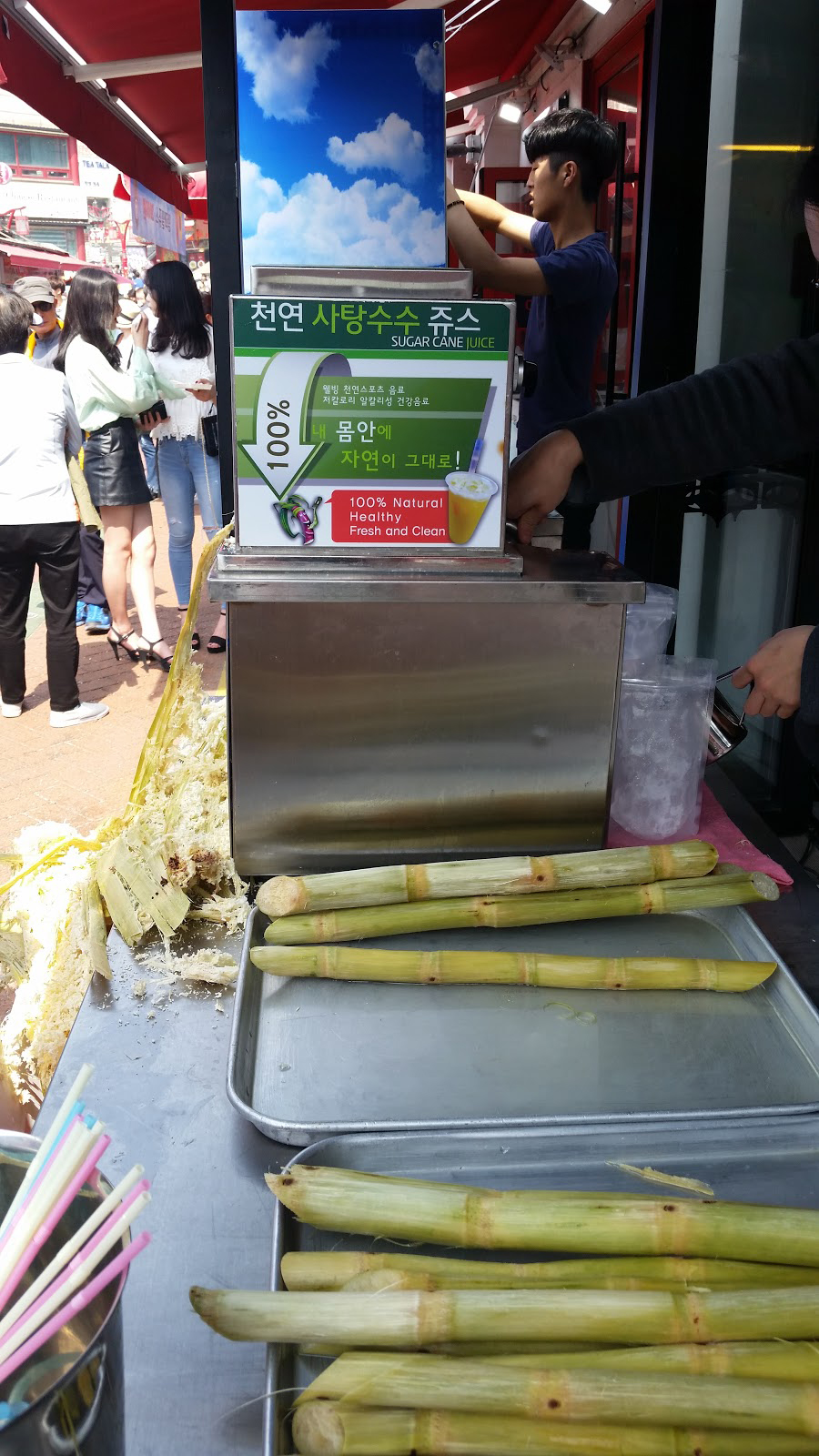 They press the canes to make fresh sugar cane juice. It's absolutely delicious!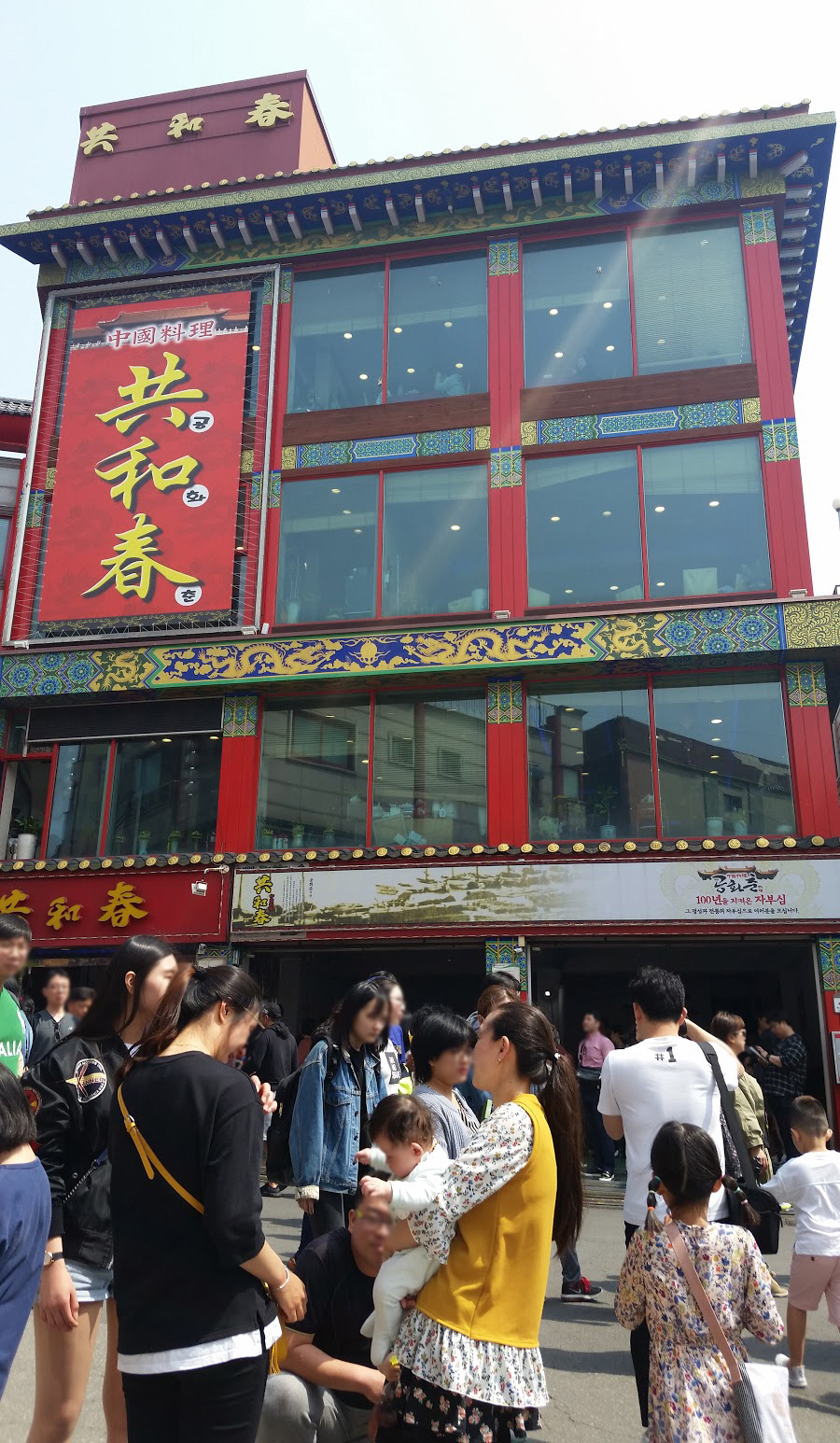 Here's the famous Gonghwachun, still going strong after 100 years.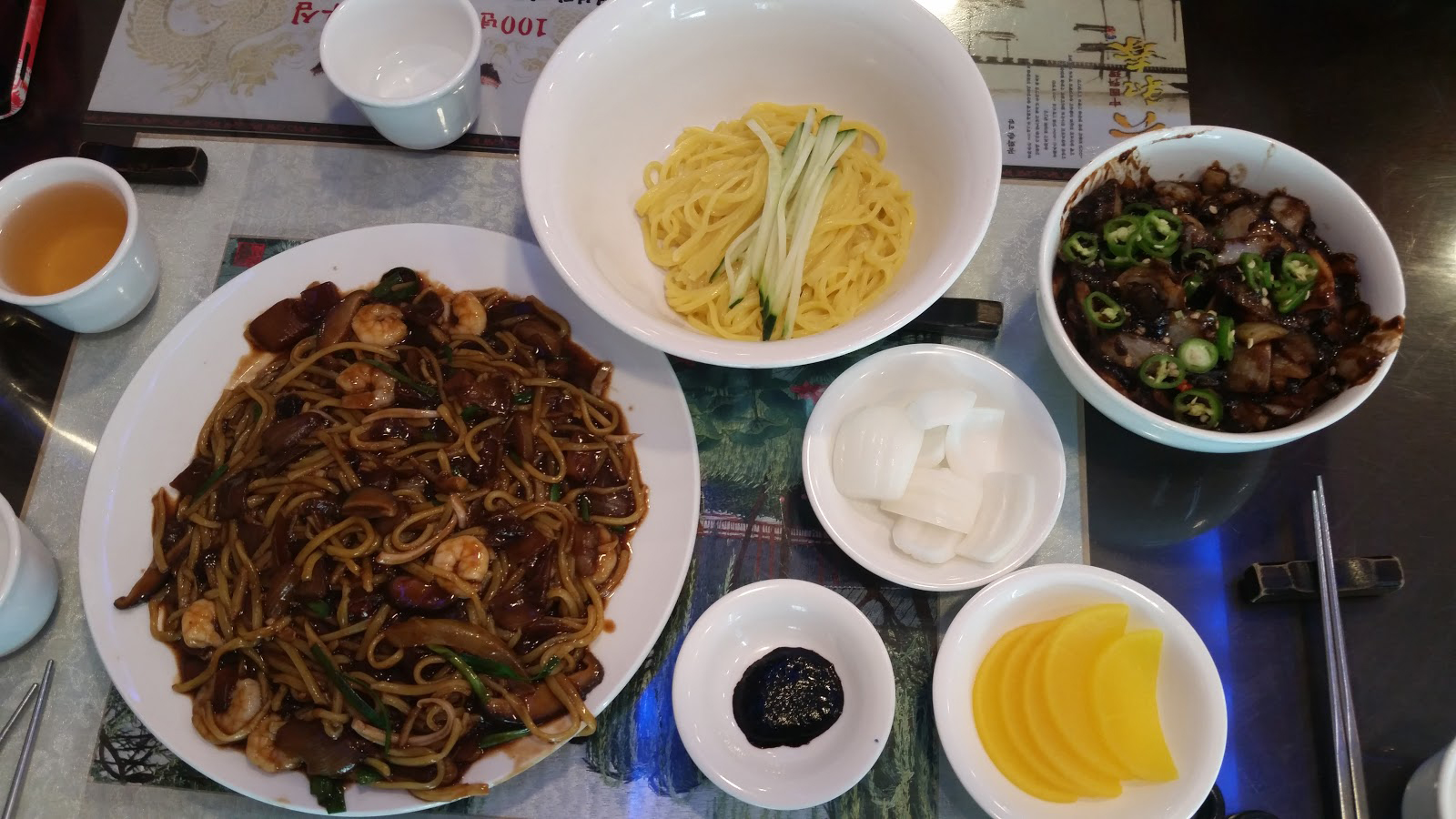 This was our quick lunch: one regular noodle, one platter-style noodle.
We had dinner with my dad's cousin that evening, enjoying a meal at a famous department store. It's definitely a treat to eat gourmet meals at department stores overseas; you don't see much of that here in the States.
Our morning was slow, but once we were out the door, we knew we had a transit journey to make. One of my cousins works at the National Zoo, and he wanted to show us around. In order to get there, we had to transfer rail lines at least four times, just to get to the right subway line. When we arrived, we got a really cool behind-the-scenes look at the animals there.
That evening, we met up with my dad's extended family at an Incheon seafood restaurant that specializes in jeongol (전골). It's a Korean seafood hotpot and is often very spicy. We were there for hours, re-acquainted ourselves with the family, and had a delicious meal. Unfortunately, I didn't take photos, because we got so caught up in the eating! I'll just say that what we had was very good. I wouldn't be surprised if we went back the next time we're there, since we had eaten at this restaurant before, many years ago.
The "kids" (my cousin, sister, James, and I) decided to visit Gangnam the next day, while my mom was out with my dad's cousin. We visited this adorable bakery called Maman Gateau, which specializes in French-style pastries and viennoiserie with a Korean flavor. They have a baking school downstairs, and the café upstairs. Everything looked so yummy, but we were hungry for some real food. Determined to not eat our sweet pastries, we walked over to a sandwich and burger joint, and had lunch with our cream rolls for dessert.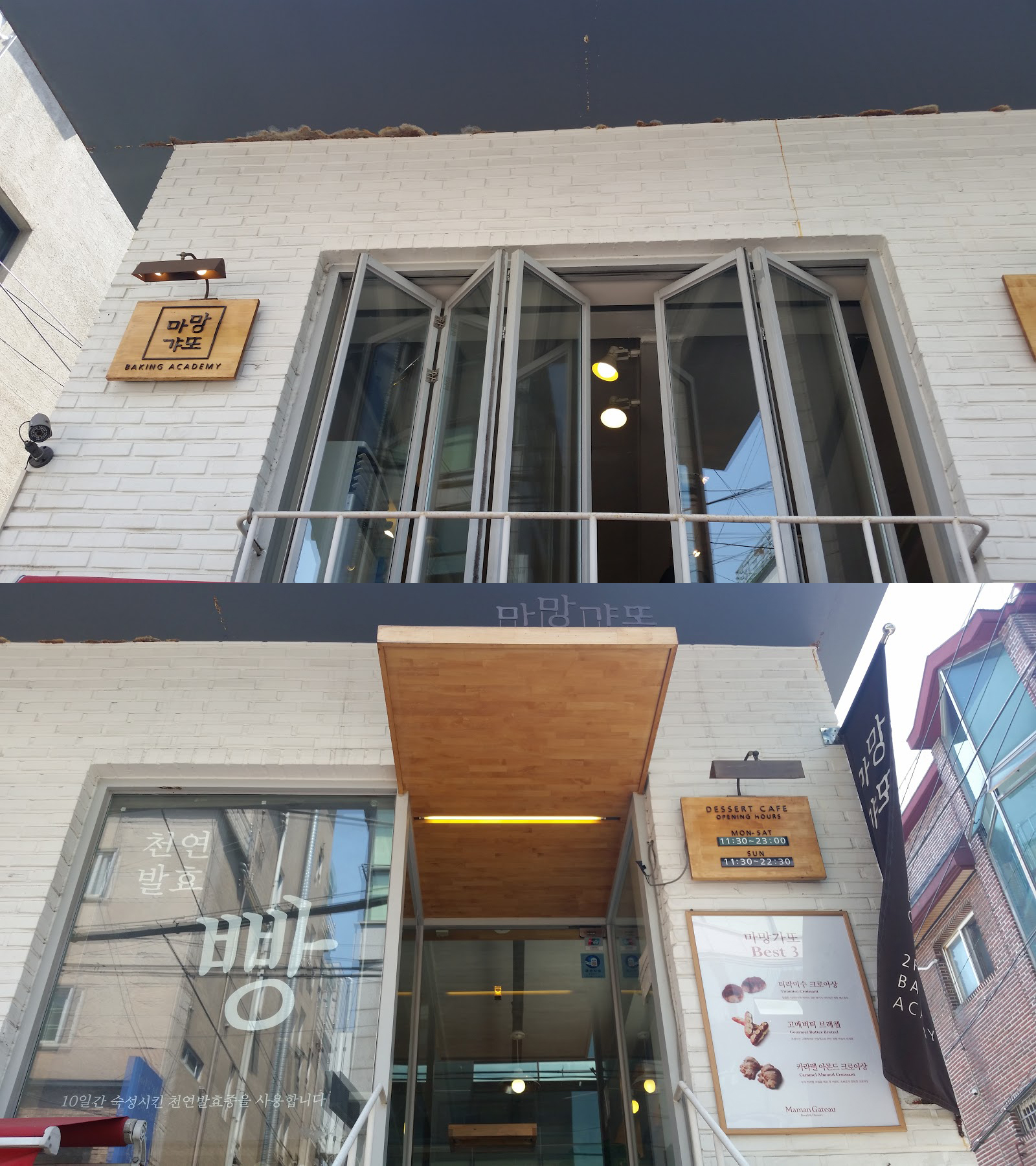 Maman Gateau entrance to the bakery.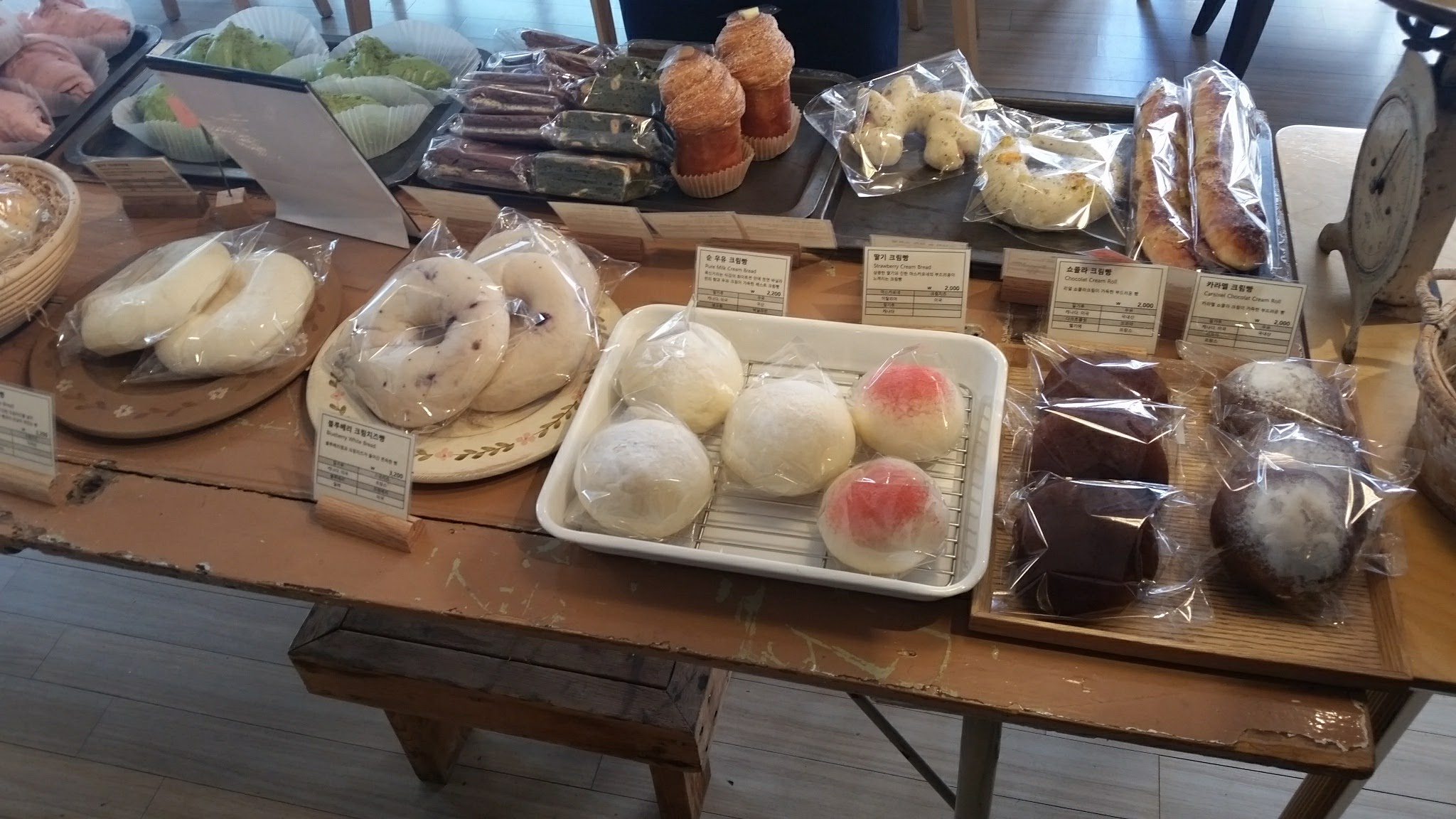 Their spread of baked goods.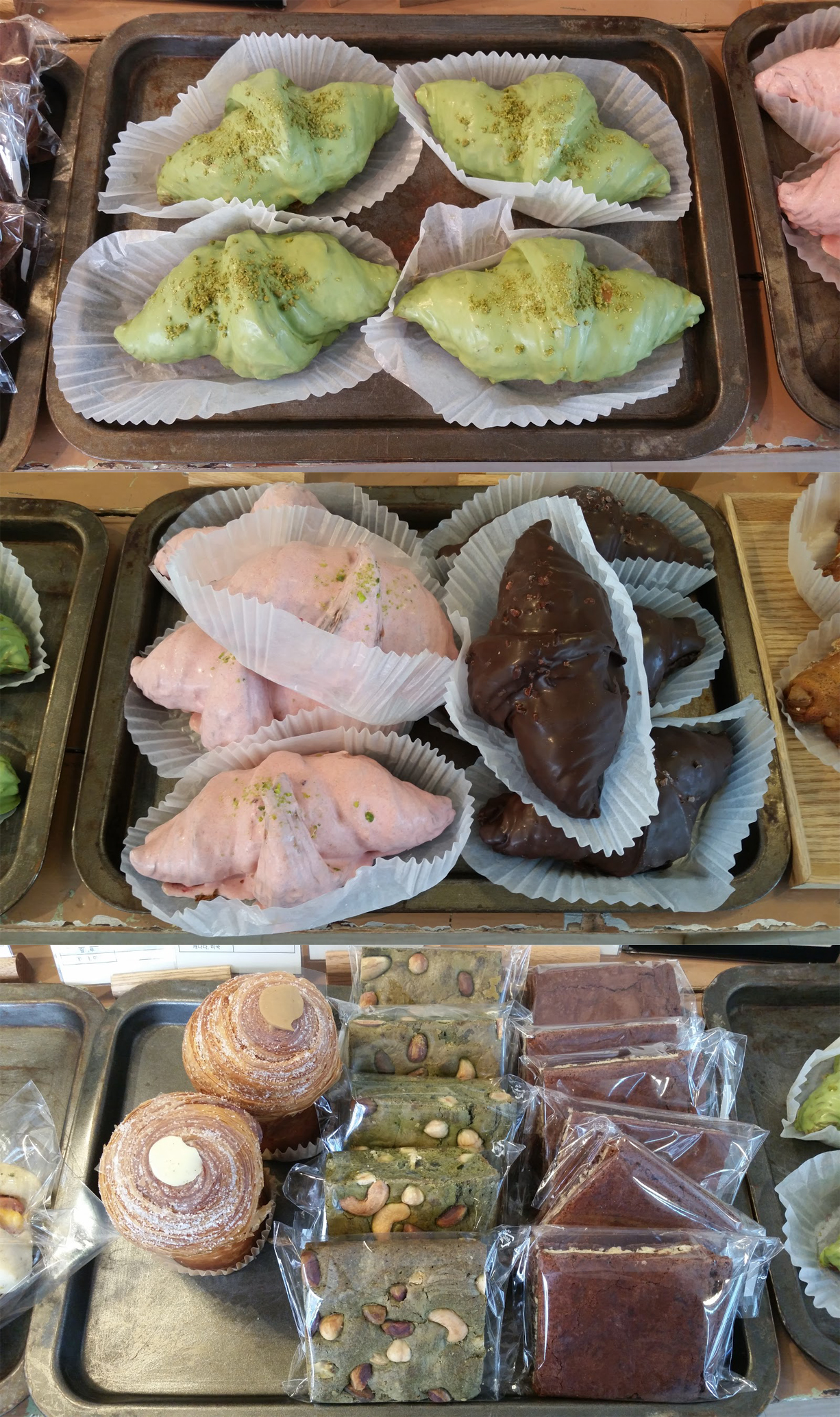 Yummy coated croissants, cruffins, and brownies.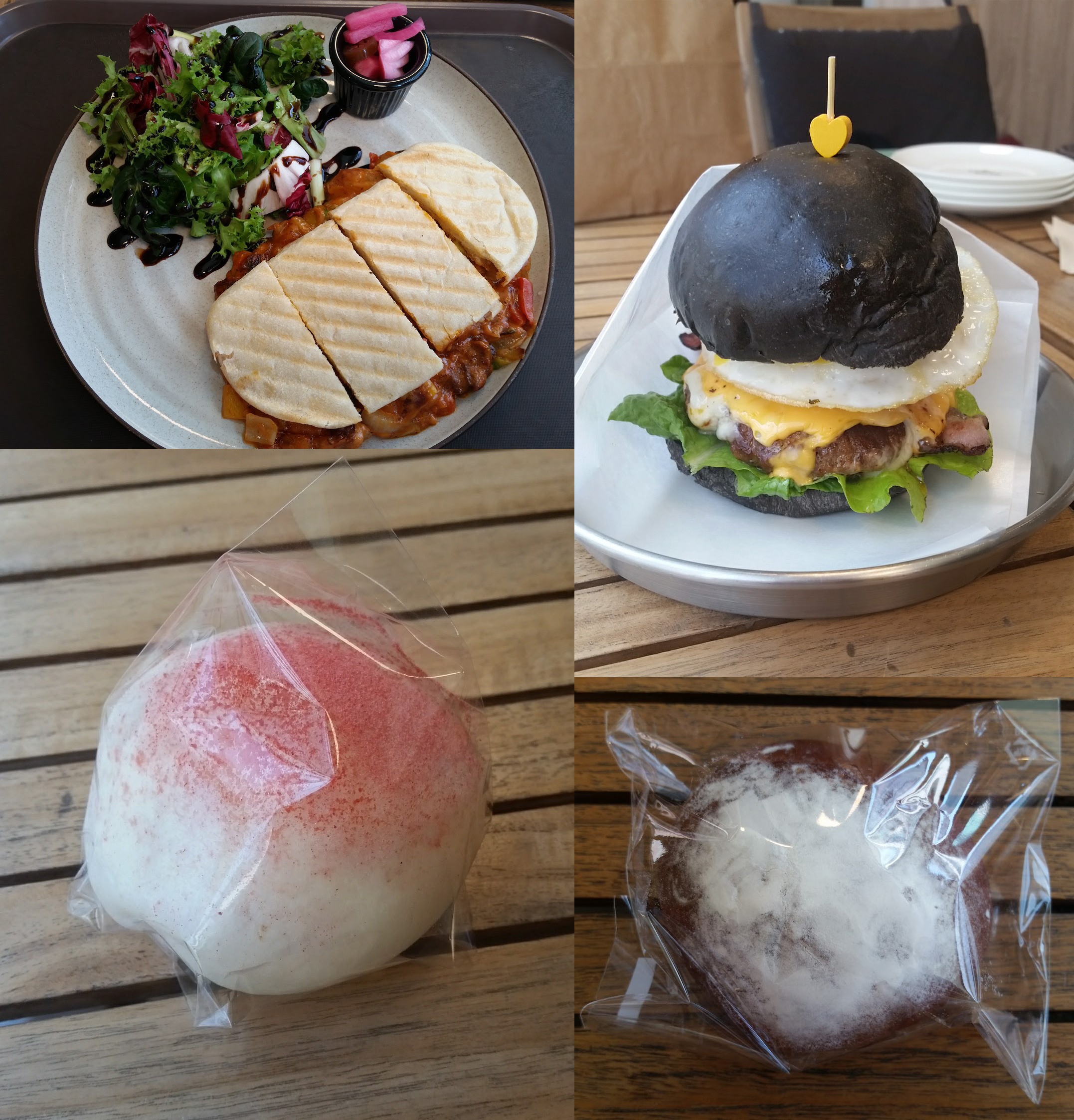 Our lunch: flatbread sandwich, squid ink burger, and two cream rolls (strawberry and chocolate) from Maman Gateau.
The highlight of this part of the trip was getting out of Seoul for a day trip to Paju. We went on a really cool artistic tour, saw family, and had a tasty barbecue. James and I would absolutely visit Hongdae and Paju again, just to take a thorough look at the art scenes in both of these places.
That's pretty much the end of our trip! I may have a quick post about convenience store purchases, random train station eats, and jjimjilbag (찜질방 – sauna/bathhouse) treats, but this is our wrap-up of our trip! Yes, it's taken nearly nine full months to finish the posts, but I didn't want to bombard you guys with a bunch of non-cooking entries. I hope you guys enjoyed this as much as I did writing about it. I truly can't wait to go back!