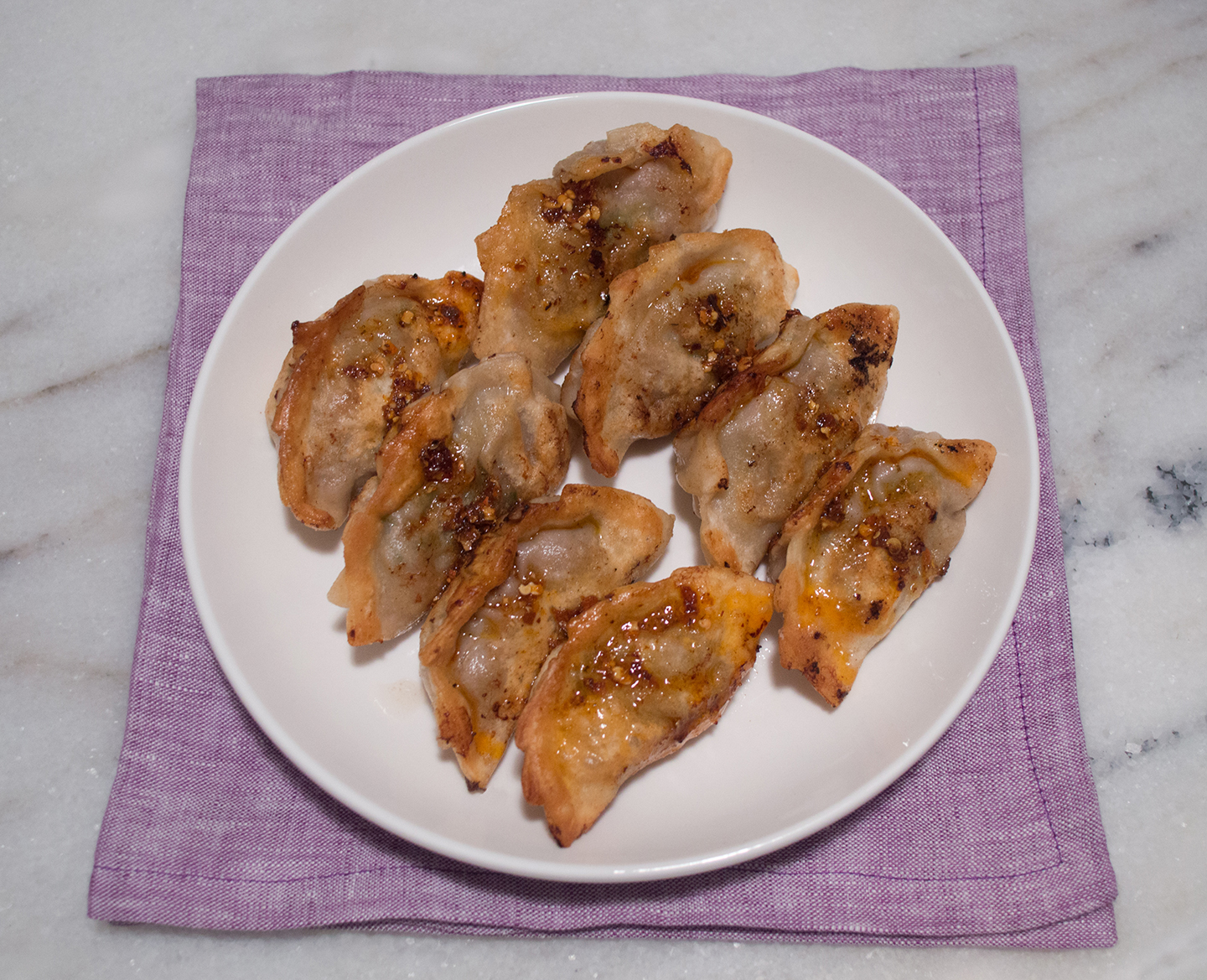 Jump to Recipe for Sogogi Mandu (소고기 만두) - Beef Dumplings
Beef dumplings (소고기 만두 – sogogi mandu) are such a treat! My mom would make a couple hundred of them every year around New Year's. Nowadays, she makes about a hundred and gives some to my grandma. I miss making them with her every December, but she's given me a lot of pointers to help me make my own mandu.
I remember she used to not let me fold the mandu, for fear that they may turn out really ugly. She recommended that I fold them like ravioli because it was easier. I took that as a challenge and I continued to try folding it with pleats. I have to say, I made some really ugly ones when I was younger. As I grew, she gave me newer and more important tasks; at age 6, I started out applying the water around the skins; by age 10, she had me spoon the filling onto the skins; when I got into high school, she actually sat down with me and showed me how to fold. By then, I had seen it prepared and folded over a thousand times, and I quickly caught on. Now I make them once a year around Lunar New Year for my hubby.
Recipe for
Sogogi Mandu (소고기 만두) – Beef Dumplings
Time:
Preparation:
Cooking:
Waiting:
Ingredients
Dumpling:
100g (2 cups) Garlic Chives
3 medium Scallions
350g (½ small head, or 10 large leaves) Napa Cabbage
100g (¾-cup, about half-dollar size bunch) Sweet Potato Cellophane Noodles, dry
200g (about ½-package) Firm Tofu, drained
8g (1T) Garlic, minced
3g (½T) Ginger, minced
8g (2½t) Kosher Salt
1g (½t) Black Pepper, ground
900g (about 2lbs) Ground Beef
1 large Egg
2 packs (about 88 pieces) Dumpling Skins
Some Corn/Potato Starch, for dusting
Right Before Eating:
Dipping Sauce (if eating them fried):
32g (2T) Soy Sauce
8g (½T) Rice Vinegar, or more to taste
Pinch of Sesame Seeds, optional
Procedure
Wash the chives and scallions. Discard the wilted portions. Chop them about ⅛ to ¼-inch thick. Place into a large bowl.

Bring a medium pot of water to a boil. Blanch the cabbage for 1 minute. Using tongs, fish out the cabbage and run the leaves under cold water to stop the cooking. Set aside.

Bring the water back to a boil and cook the noodles for 3-4 minutes. Drain, rinse well with cold water, and drain again. Set aside.

Chop the cabbage and then squeeze and strain the water with a cheesecloth. Add to the bowl.

Squeeze out the liquid from the tofu with the cheesecloth. Add to the bowl.

Run a knife through the noodles so they are in smaller segments. Put into the bowl.

Add the garlic, ginger, salt, and pepper. Roughly mix. Add the beef. Mix about half way, then add the egg. Mix thoroughly.

Fold and seal all of the dumplings (see the photos below) and pop them in the freezer for 30 minutes. Take them back out and package them into zip-top freezer bags for long-term storage.

Take some out to eat whenever you have a craving for dumplings!
*Bunny Wisdom*
Cooking times for the cabbage and noodles are less than the usual duration because these mandu will be cooked again.
I often add mung bean sprouts to this recipe. Take out 100g of cabbage and replace with the sprouts (e.g. 250g cabbage, 100g sprouts). Blanch, drain, cool, chop, and squeeze out the water just like the cabbage.
All of this squeezing and straining is so that the filling isn't wet.
The egg is added as a binder. If there is some fat content in the beef, you won't need the egg.
30 minutes of initial freezing helps set the dumplings.
A light dusting with a starch helps prevent the mandu from sticking together.
Make these into pork mandu by using ground pork instead of beef.
You can eat these dumplings boiled (물만두 - mulmandu), fried (군만두 - gunmandu), steamed (찐만두 - jjinmandu), or in soup with or without rice cakes (만두국 - manduguk, 떡 만두국 - tteok manduguk)!
You are always welcome to eat these dumplings with some chili oil, whether they are boiled, fried, or steamed.
To fry: add oil to cover the bottom of a pan. On medium flame, brown all sides of each mandu until golden. Enjoy with the chili oil and/or dipping sauce. Alternatively, begin frying the bottoms of the dumplings, reduce the heat, add a splash of water, and cover to steam the dumplings. When the bottoms have browned, turn out the mandu onto a plate and eat!
Nutrition
Facts
29 servings per recipe
Serving size
3 dumplings with sauce (88g)
Amount per serving
Calories
% Daily Value*
Total Carbohydrate

19.5g

7.1%
* 
The % Daily Value (DV) tells you how much a nutrient in a serving of food contributes to a daily diet. 2,000 calories a day is used for general nutrition advice.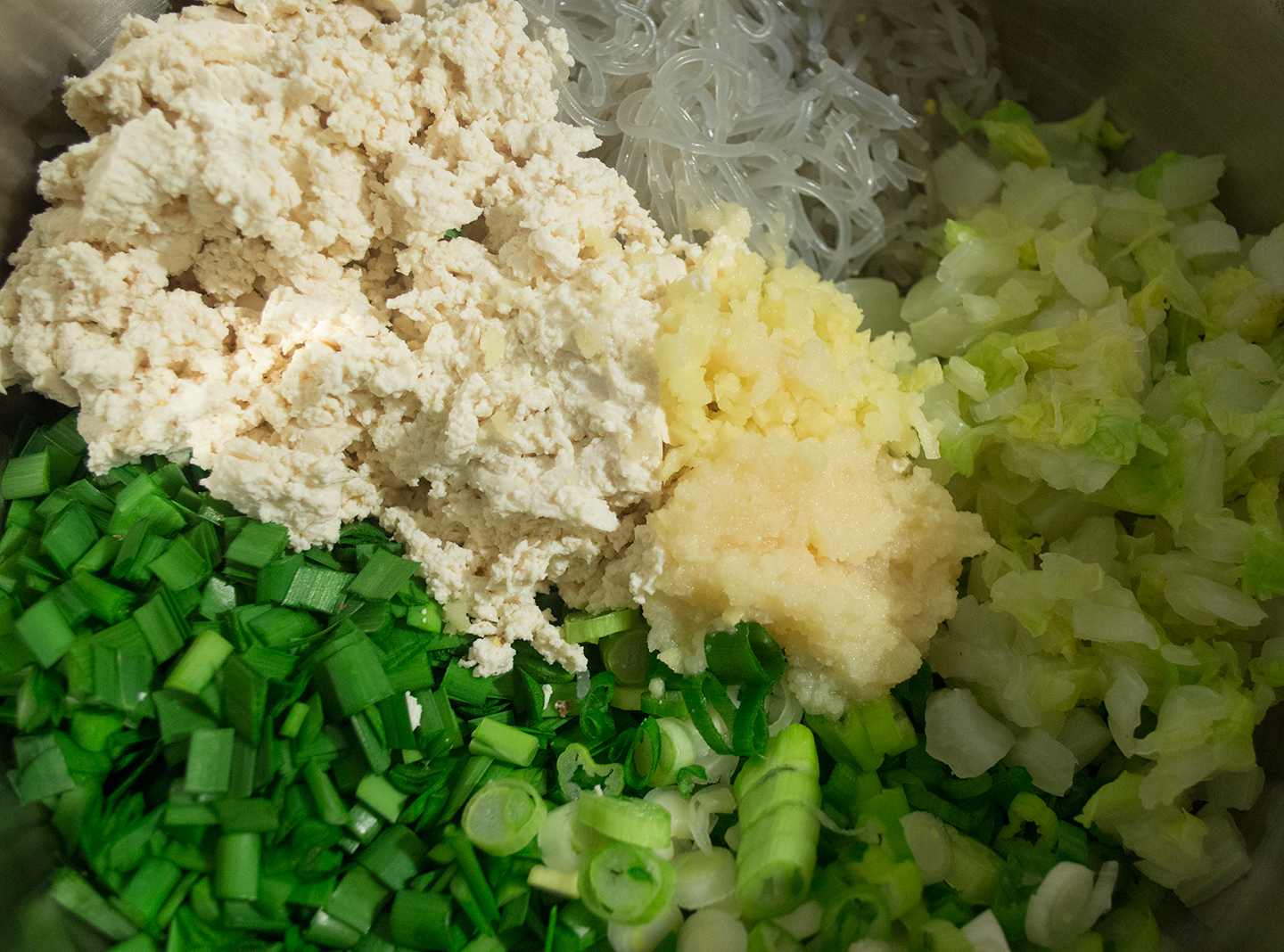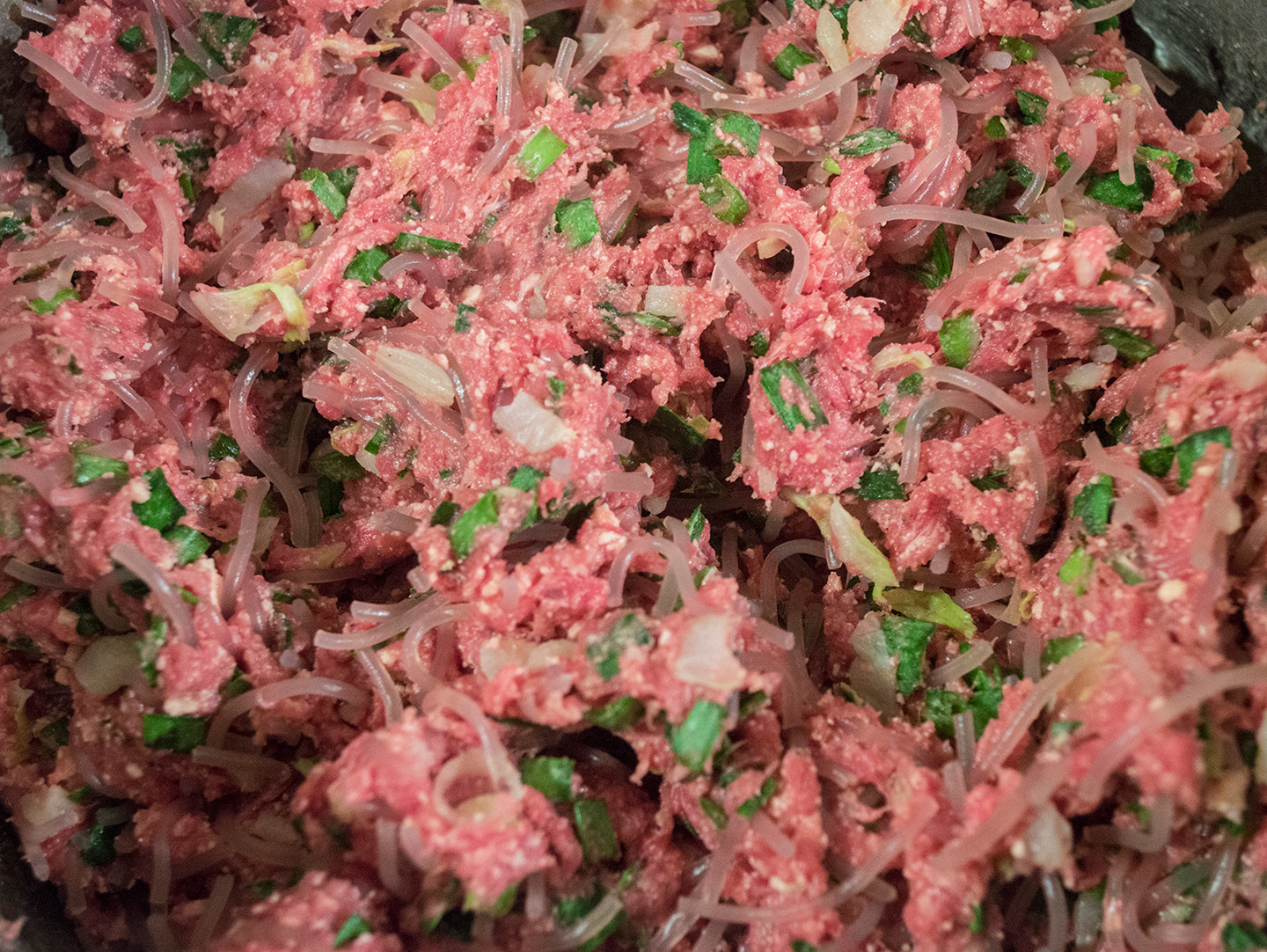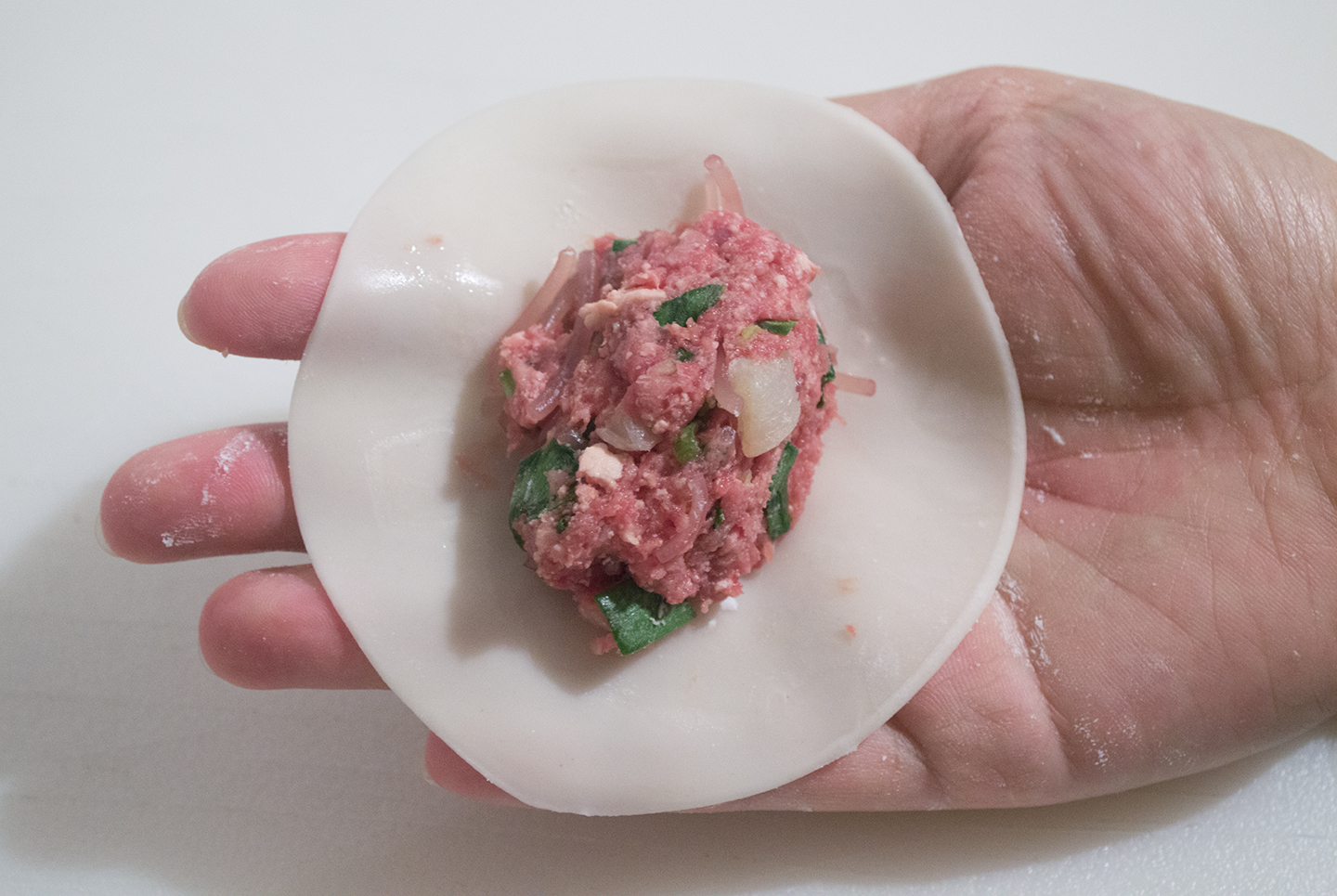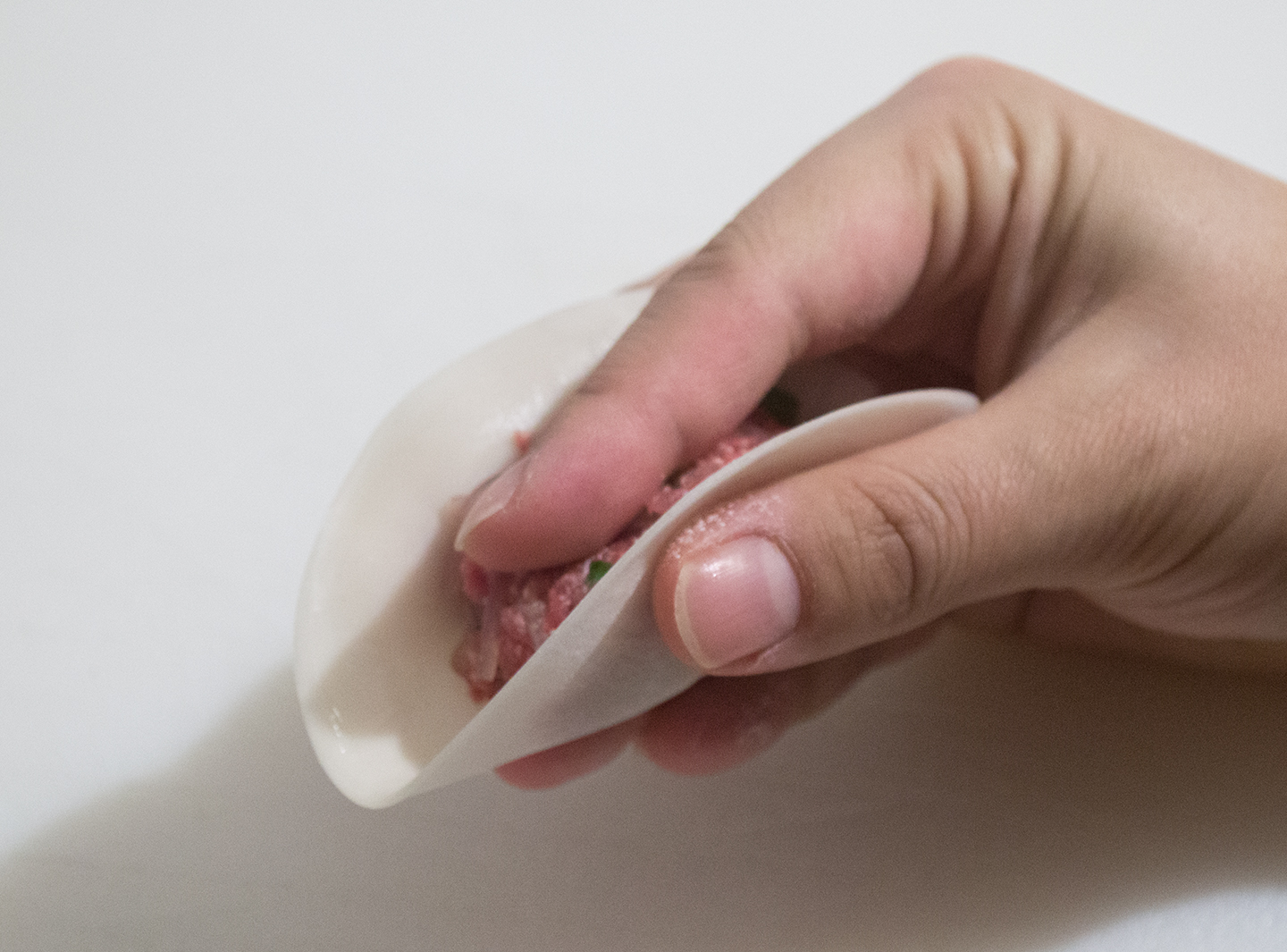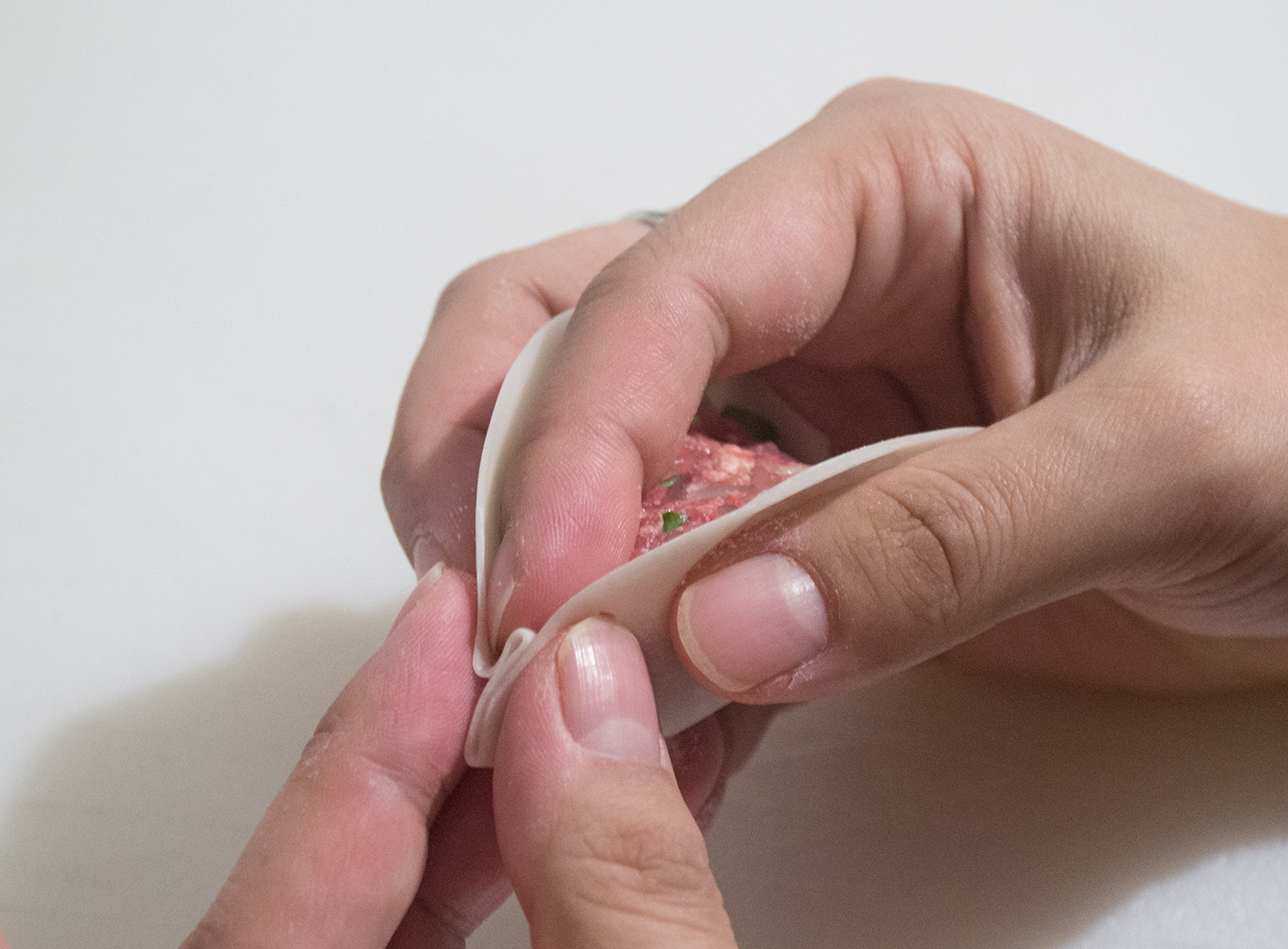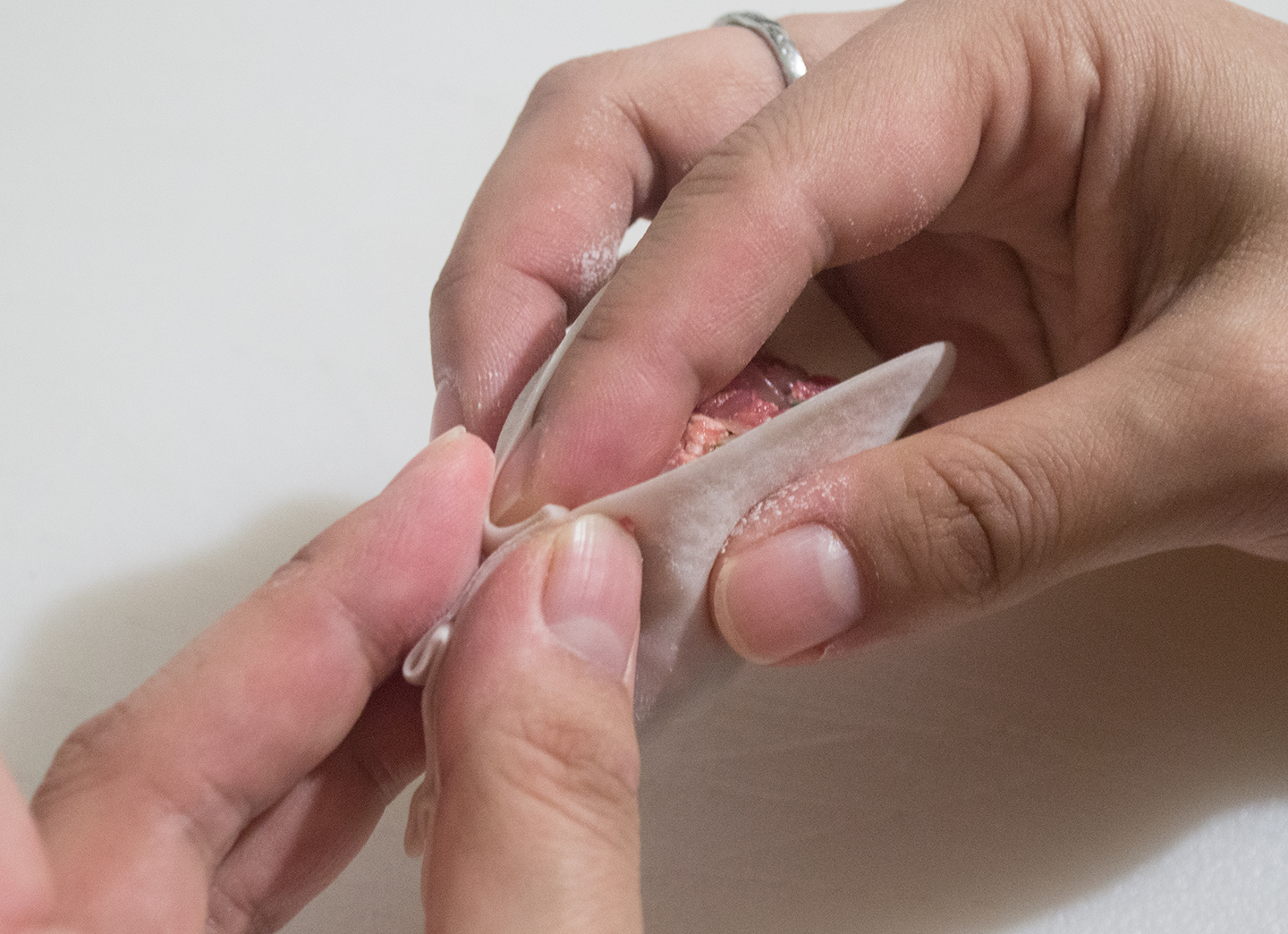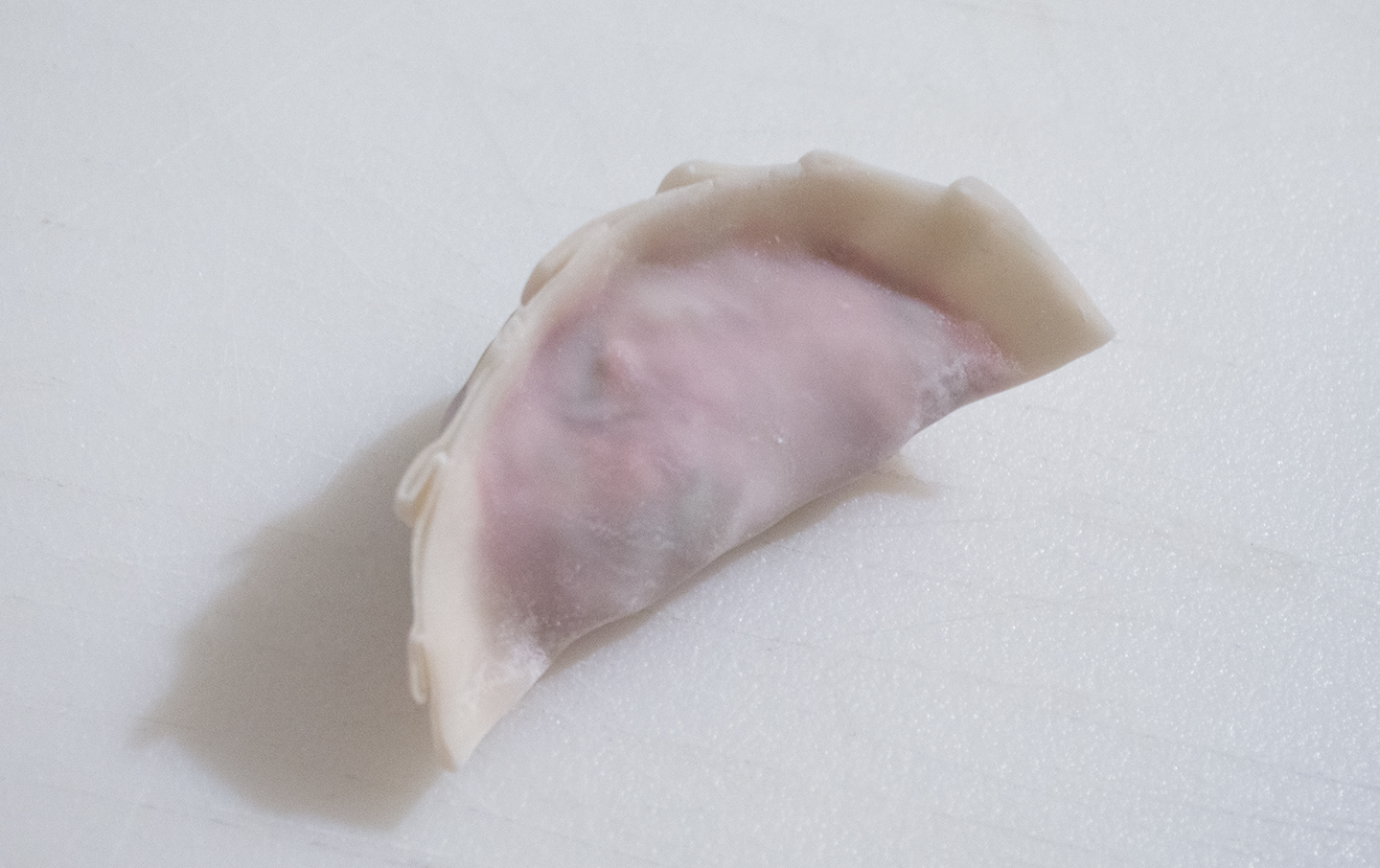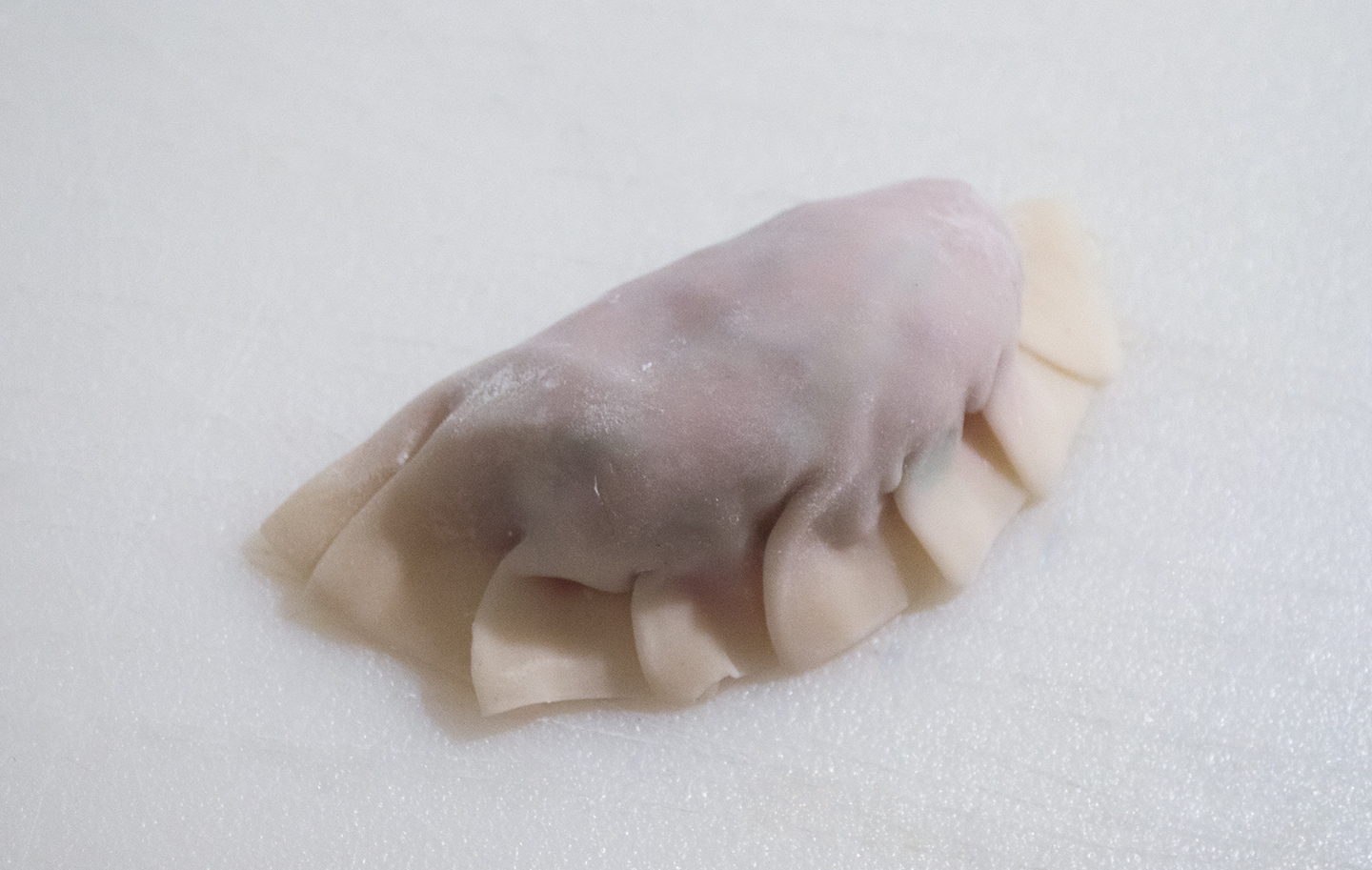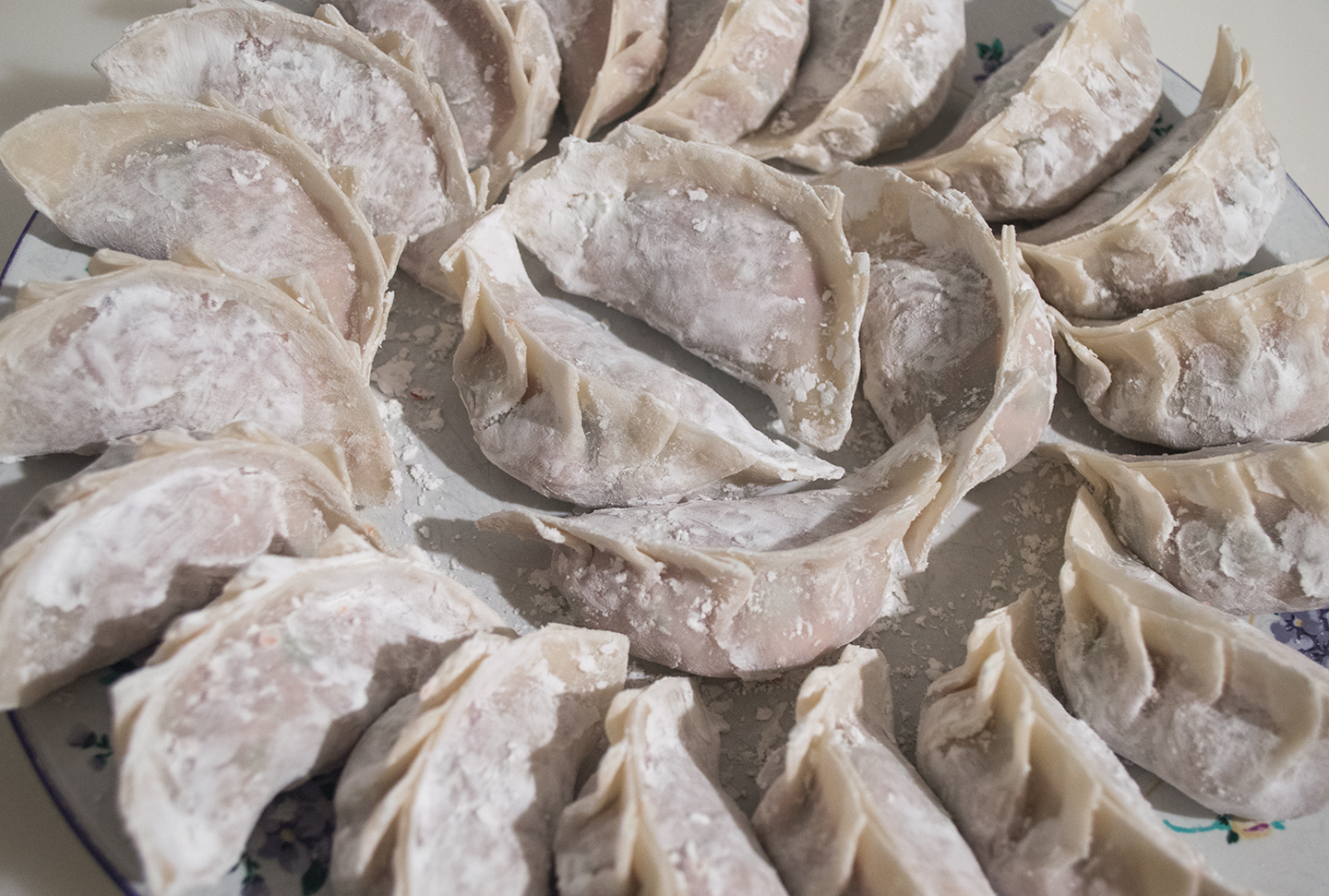 **Here are some of the ingredients I use for this recipe. Please, feel free to browse and ask questions on anything you see listed below.**