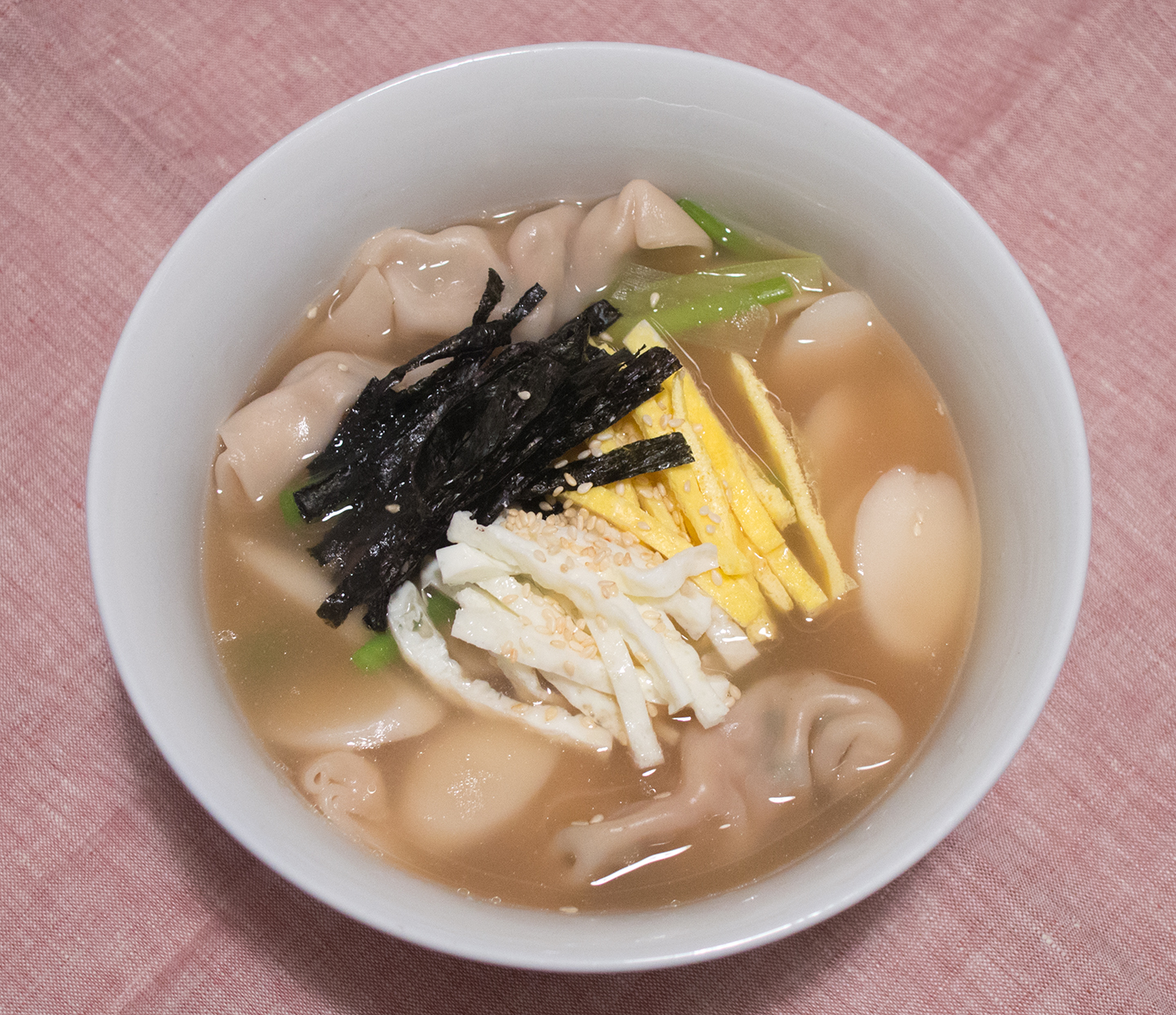 Jump to Recipe for Mandu Guk (만두국) - Dumpling Soup
New York has been under a cold and ugly spell for a while, and that means that I'm breaking open my stash of beef dumplings for dumpling soup! The soup, called Mandu Guk (만두국), is a warm and hearty dish that I look forward to eating each Winter.
As long as my mom and my grandma made dumplings, we would *always* eat dumpling soup at some point during the Winter. Quite often, we would find ourselves eating this a half-dozen times, diminishing our stock of homemade dumplings very quickly. To supplement the soup, we would add rice cakes (떡 – tteok) and make it a meal. It was the absolute *best* when we ate the guk with freshly made dumplings!!
Tteok Guk is traditionally eaten on January 1st (or Lunar New Year) to signify the birth of the new year and becoming a year older. To ring in the festivities, my mom would make us Tteok Mandu Guk for breakfast, for blessings and good fortune in the new year. Sometimes we would find ourselves eating this twice in a day, or on two consecutive days; once at home, and the other at our grandma's home! This is my variation of my mom's recipe, which is the one I've definitely eaten the most.
Recipe for
Mandoo Guk (만두국) - Dumpling Soup
Ingredients
450g (about 2 cups) Beef Broth
3g (1t) Garlic, minced
1 medium Scallion, diagonally cut
75-115g (½-¾-cup) Rice cakes
10 Dumplings, store-bought or homemade
1 large Egg
Black pepper, to taste
Procedure
In a small pot on a high flame, bring the broth and garlic to a boil.

While the pot is coming to a boil, slice the scallion diagonally in 2-inch lengths. Set aside. Crack an egg into a small bowl and give it a quick stir to loosen the whites and yolk. Set it aside.

Once it starts to boil, lower the flame to medium and add the whites of the scallion and rice cakes. Give the pot a quick stir to prevent the rice cakes from sticking to the bottom of the pot. Boil for 5 minutes, stirring occasionally.

Add the dumplings and turn down the flame to bring it to a simmer. Cook for about 5-6 minutes, stirring occasionally.

Pour in the egg and let the soup simmer for 30 seconds before adding the greens of the scallions. Let the soup simmer for another 30 seconds to 1 minute.

Remove from the heat, separate into two bowls, and serve with some freshly ground black pepper. Enjoy it with a side of kimchi.
*Bunny Wisdom*
I like to use low sodium broth, but another option is to take a smaller can of low sodium broth, pour the contents into a pot, top the rest of the amount with water, and add soy sauce to taste. The soy sauce makes this soup into a proper soup base.
You can substitute with chicken broth or make a vegetarian version by boiling shiitake mushrooms with a soy sauce soup base.
I cut my scallions diagonally mostly for presentation, but also to bisect the fatter stalks without losing the structure. You can cut them straight, if you'd like.
A loose whisking of the egg allows it to *bloom* in the broth. Avoid vigorous stirring because this will cloud the dumpling soup and you will not have the characteristic sheets of egg. Another way to use the egg: make a thin egg crepe, slice into strips, and garnish right before eating.
You can omit the rice cakes and put more dumplings; conversely, you can add a lot of rice cakes and just a few dumplings (my favorite way). Consumer's choice!
I bring the flame to a simmer to prevent the dumpling skins from breaking. A rolling boil will do just that, and then you'll be having dough pieces with meatballs instead.
Add some dried shredded seaweed (Gim: the same stuff that is wrapped around sushi, but in shredded form) and a dash of sesame seeds for that yummy toasted flavor!
Nutrition
Facts
2 servings per recipe
Serving size
1 bowl (438g)
Amount per serving
Calories
% Daily Value*
Total Carbohydrate

49.2g

17.9%
* 
The % Daily Value (DV) tells you how much a nutrient in a serving of food contributes to a daily diet. 2,000 calories a day is used for general nutrition advice.
If I'm wanting a quick dinner, I make myself some of this Mandu Guk and eat with a few banchan; it's ready in less than 30 minutes, and does a great job warming you up in this chilly weather.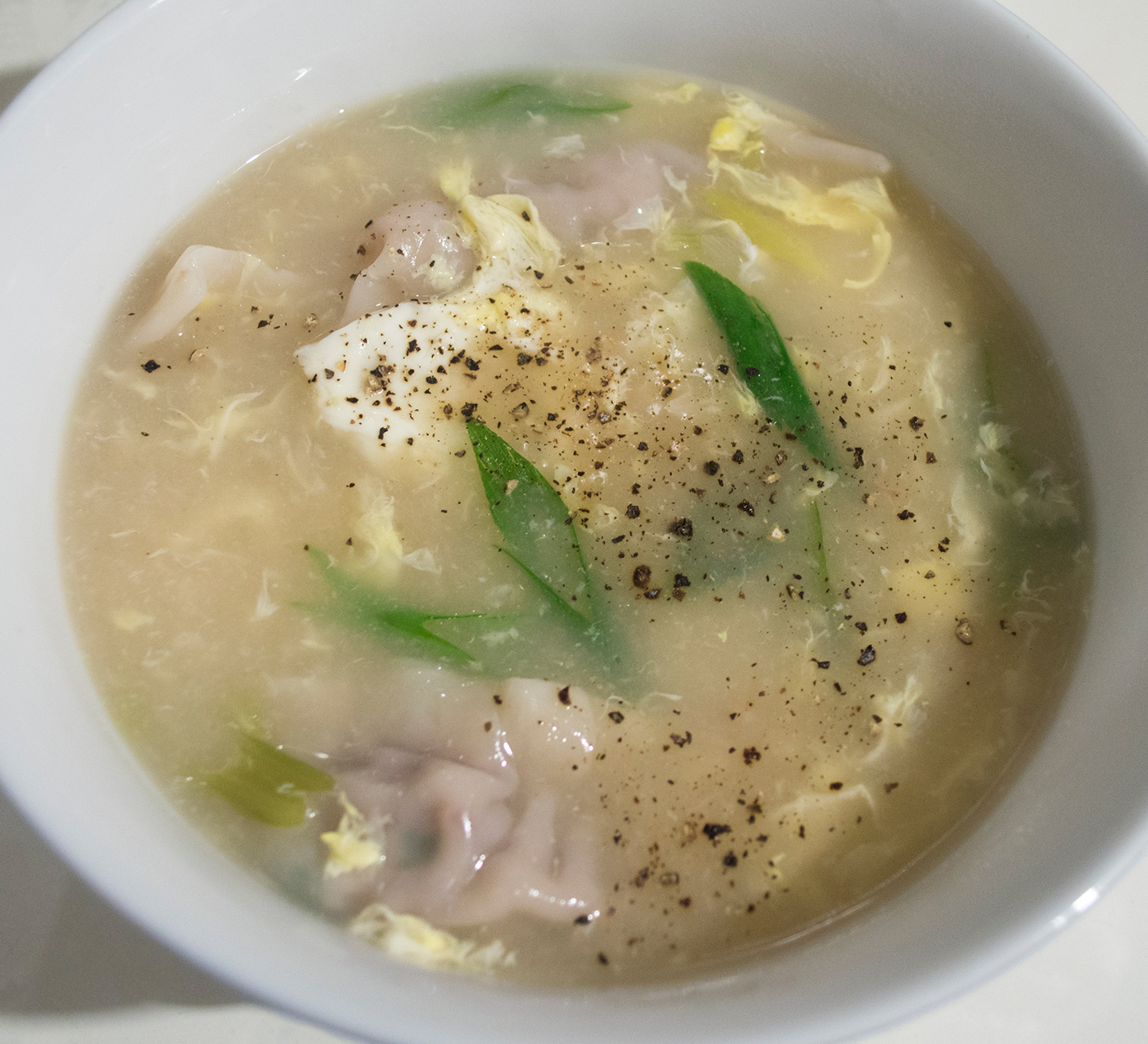 **Here are some of the ingredients I use for this recipe. Please, feel free to browse and ask questions on anything you see listed below.**