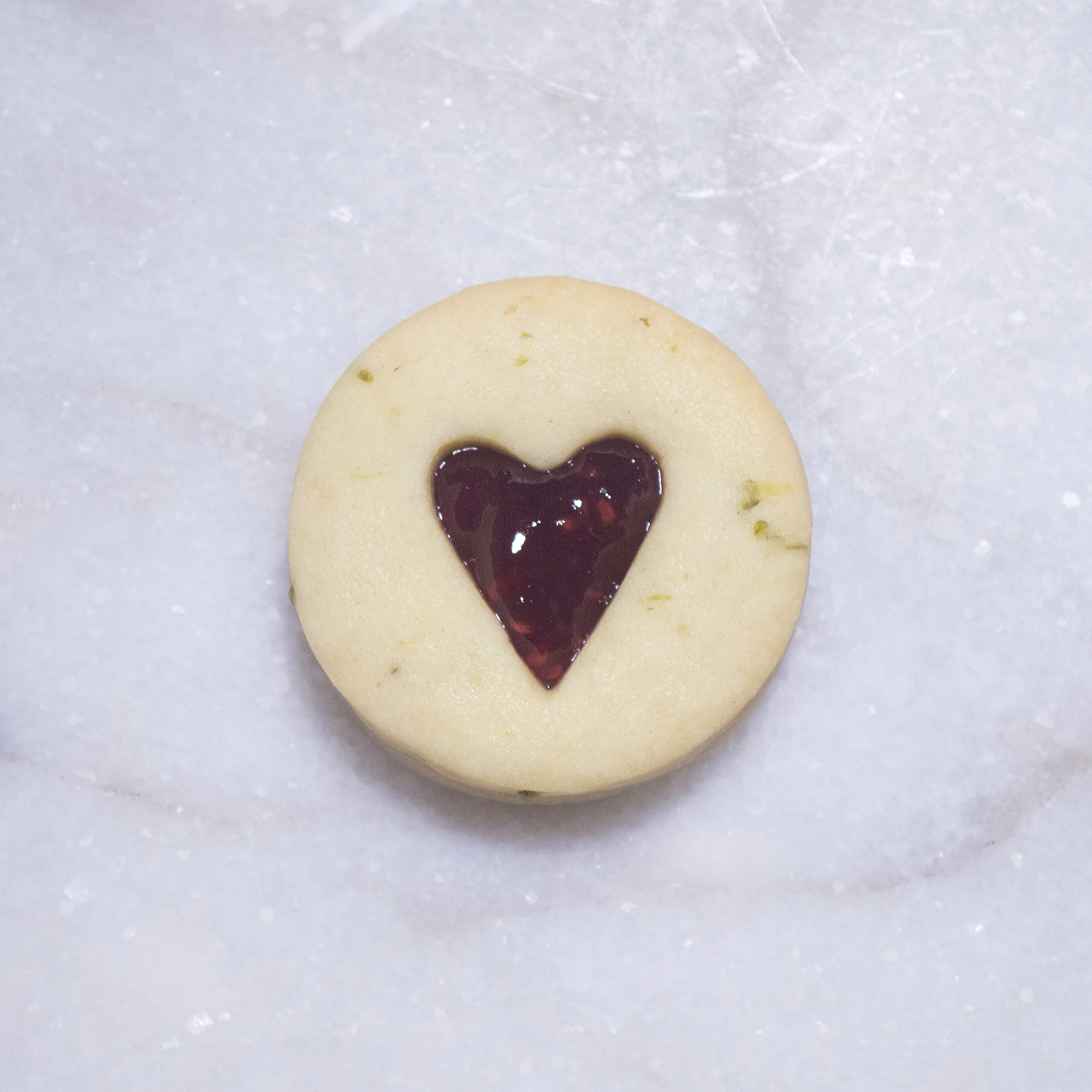 Jump to Recipe for Lime-Raspberry Shortbread Sandwiches
It's Valentine's Day on Sunday and I *had* to make something for my sweet hubby. We had a crazy last week of celebrating our anniversary, his birthday, and Lunar New Year all in one day, and it seemed excessive to go nuts on making a huge spread again. I decided on making some cute biscuits for us instead!
I had this idea in my mind for a couple of months already, but just wasn't sure how to execute it all. I wanted to make biscuit sandwiches, and I had a jar of raspberry jam on the shelf. I didn't want a shaped cookie, but I still wanted it to represent the *Day of Love*; so I kept it simple and gave them a raspberry heart within a round biscuit. Lime was just a natural choice, as it's clean, not overpowering, and a yummy pairing with our berry friends.
Recipe for
Lime-Raspberry Shortbread Sandwiches
Yield:
About 3 Dozen 2-inch Sandwiches
Time:
Preparation:
Cooking:
Waiting:
Ingredients
180g (about 1 stick, plus 5T) Unsalted Butter, room temperature
90g (¾-cup) Confectioners Sugar, unsifted
150g (about 1½ cups) Pastry Flour
150g (about 1½ cups) All-Purpose Flour
3g (½t) Kosher Salt
12g (2T) Lime Zest
170g (6oz, or ½ a jar) Raspberry Jam
Procedure
In a mixer bowl with a paddle attachment, cream the butter and sugar together until light and smooth.

While the butter and sugar are mixing, sift the flours together with the salt in a large bowl.

Stop the mixer, pour the flour into the creamed butter, and mix on low speed until the dough is halfway mixed.

Add the zest and continue mixing on low speed just until the dough comes together. Do not over mix.

Scoop out the dough onto a piece of plastic wrap, cover, and chill in the freezer for 1-2 hours before using.

Once the dough has rested, cut the dough in half, and set one-half in the refrigerator while working on the other. Preheat the oven to 350°F (176°C). Roll the dough out on a lightly floured surface to slightly thicker than ⅛-inch. Using a 2-inch circle cutter, cut circles out and lay them onto cookie sheets lined with parchment about 1-inch apart. Bring any scraps together and freeze. Work on the second half of dough in the same manner, but cut hearts out of the centers of each circle with a small heart cutter. Bring any scraps together and freeze.

Freeze the scraps for at least 30 minutes before rolling and cutting circles to make more cookies.

Bake the whole circles for 10 minutes, and the hearts for 8-9 minutes, or until the shortbread begin to color slightly on the edges.

Cool on a wire rack completely before assembling the shortbread sandwiches.

To assemble, scoop or pipe a flat disc of jam (about 5-7g/1t) on the bottoms of each circle, and sandwich with the heart shortbread. Now, they are ready to eat!
*Bunny Wisdom*
I like using two kinds of flours to give the shortbread a tender feel, but still give them some structure. To make the shortbread more tender, consider using more pastry flour than all-purpose.
If possible, scoop the dough out evenly onto two pieces of plastic wrap, flatten each half into a disc or rectangle, and freeze. By doing these extra steps, you cut down on the time it takes for you to roll the dough flat (which builds gluten, and you don't want that), and for the dough to chill evenly.
You can also chill the dough overnight in the refrigerator, if you're planning on making the shortbread over the course of two days.
Shortbread dough is very forgiving, because you can re-roll your dough. Be sure to chill the dough well, before re-rolling the scraps, to prevent shrinkage.
These sandwiches will keep up to 5 days in an air-tight container.
Nutrition
Facts
36 servings per recipe
Serving size
1 cookie (21g)
Amount per serving
Calories
% Daily Value*
Total Carbohydrate

11.7g

4.3%

Includes 3.9g Added Sugars

7.8%
* 
The % Daily Value (DV) tells you how much a nutrient in a serving of food contributes to a daily diet. 2,000 calories a day is used for general nutrition advice.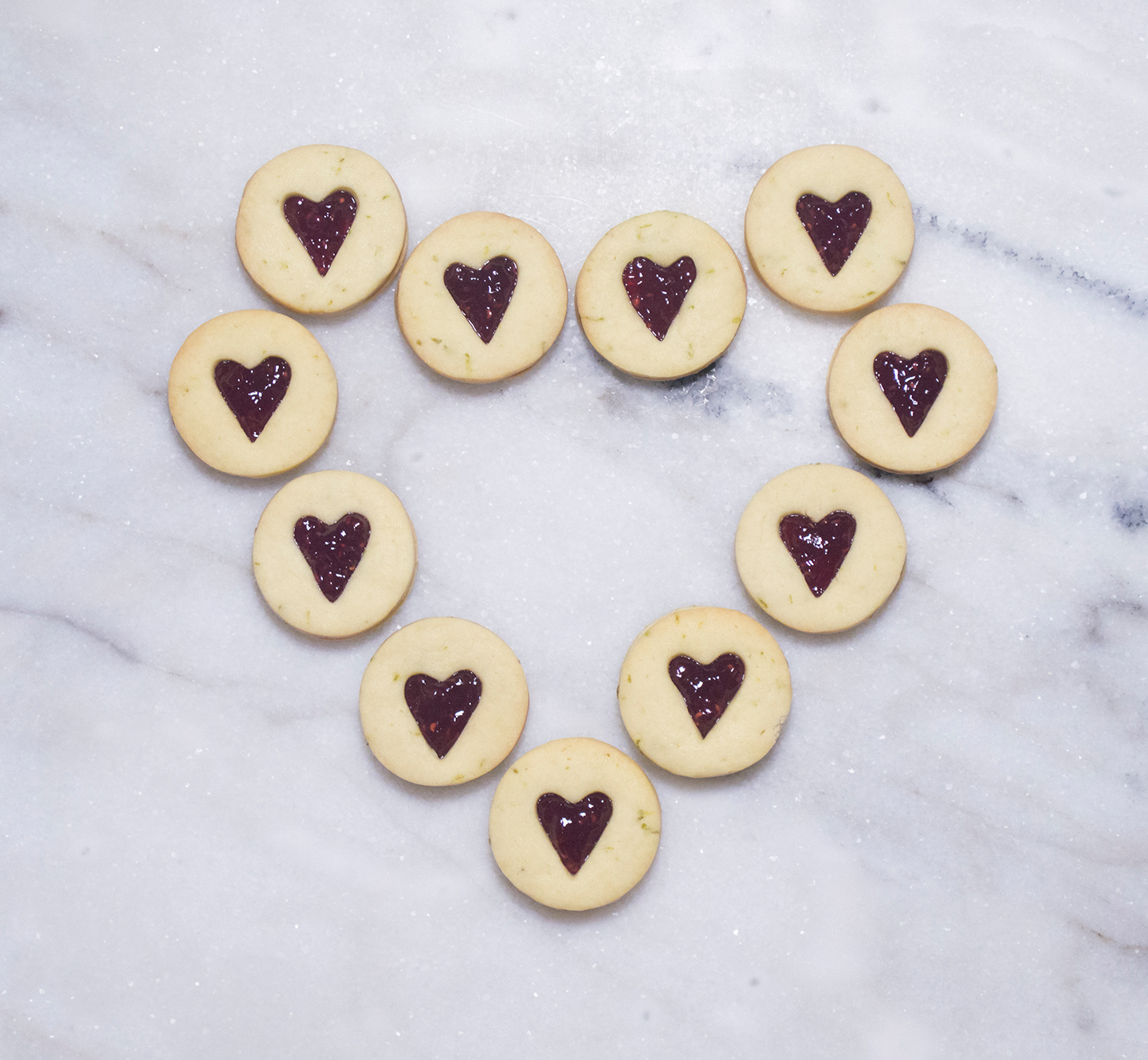 **Here are some of the ingredients I use for this recipe. Please, feel free to browse and ask questions on anything you see listed below.**