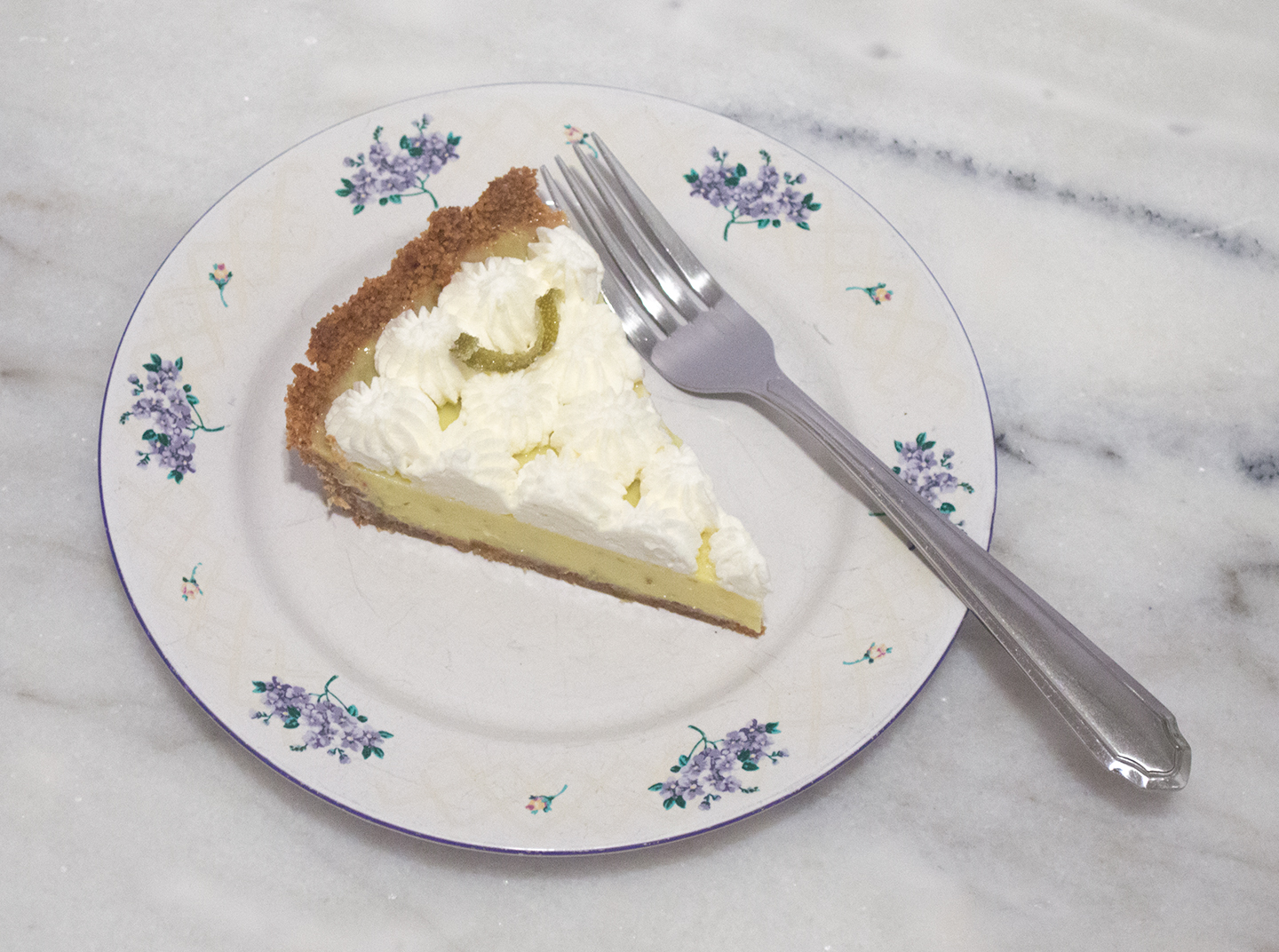 Jump to Recipe for Key Lime Pie
Key lime pie is a classic. You find it all across the country: in diners and bakeries, to refrigerated cases at the grocery store; however, many people don't consider Key lime pie authentic, unless you use the small limes found in Key West. Unfortunately, those limes are quite elusive here in New York. We (mostly) all agree with one ingredient though… you really *should* use condensed milk for this pie.
Condensed milk brings the sweet and creamy texture together, thickening it just enough to hold the filling firm but not heavy. The filling should be supported by a good graham cracker crust that doesn't inhibit the fruity flavors. When there is something this delicious and mouth-puckering, why would you mask it?
Even though Winter has arrived, it has been unseasonably warm here. Regardless of the weather, it's definitely citrus season and I'm joining the zesty bandwagon. I made two of these pies because I had all of the ingredients left over from past baking projects and Christmas dinner. If you've used up all of those egg whites, make this pie to use up your egg yolks!
Recipe for
Key Lime Pie
Time:
Preparation:
Cooking:
Waiting:
Ingredients
Pie Crust:
140g (9 crackers, or one pouch) Graham Crackers
20g (5t) Granulated Sugar
1½g (½t) Kosher Salt
85g (6T) Unsalted Butter
Filling:
400g (1 can) Condensed Milk
5 large Egg Yolks
180g (¾-cup, or about 4-5 Persian/10-12 Key Limes) Lime Juice from Persian or Key Limes
6g (1T) Lime Zest (optional)
Whipped Cream:
240g (1 cup) Heavy Whipping Cream
35g (about 4T) Confectioner's Sugar, unsifted
Procedure
Preheat the oven to 350°F (176°C). In a food processor, crunch up the graham crackers until they turn into crumbs. Add the sugar and salt, and pulse until combined. Remove the contents into a small bowl.

In a small saucepan on low flame (or in the microwave), melt the butter and pour onto the cracker crumbs. Mix until the crumbs are evenly coated.

Press the ground graham crackers into the pie pan, spreading it evenly to make a secure crust.

Bake for 8 minutes. Remove from the oven and cool the pie shell.

Mix together all of the filling ingredients and pour into the cooled pie shell.

Bake for 15 minutes, or until the custard is set. Cool and refrigerate for 3-4 hours.

Right before serving, make whipped cream with heavy cream and confectioner's sugar. Whisk until medium-stiff peaks.

Pipe rosettes onto the top of the pie, or serve the cream on the side.
*Bunny Wisdom*
Try not to make a powder with the graham crackers. Keep the crackers crumbly.
Pre-baking the shell for 8 minutes allows the crust to get some color and keep its shape.
If 5 yolks are too much for you, decrease the yolks to 3 or 4. The more yolks, the creamier and richer the texture.
Be sure to strain the lime juice through a fine-mesh strainer if you're using fresh limes in your recipe.
You will notice that the mix of yolks, juice, and milk will thicken naturally. That's the citrus and the milk. Don't worry, your mix is doing what it's supposed to do.
The short baking time is only to cook the yolks in the filling. Don't over-bake.
Make whipped cream, or, to make it more decadent and billowy, make some French meringue and brown the top with a torch or broiler. To make French meringue: whisk 3 egg whites with 100g (½-cup) of granulated sugar (add a pinch of cream of tartar, if you choose). Gradually add the sugar in as the whites are whisking. Stop mixing when the meringue is stiff and glossy, and the sugar is all incorporated. Spoon, spread, and torch!
Nutrition
Facts
8 servings per recipe
Serving size
1 slice pie (149g)
Amount per serving
Calories
% Daily Value*
Total Carbohydrate

50.9g

18.5%

Includes 32.1g Added Sugars

64.2%
* 
The % Daily Value (DV) tells you how much a nutrient in a serving of food contributes to a daily diet. 2,000 calories a day is used for general nutrition advice.
This pie is delicious with and without whipped cream. If you like treats that are sweet, tart, and refreshing, this pie is for you!