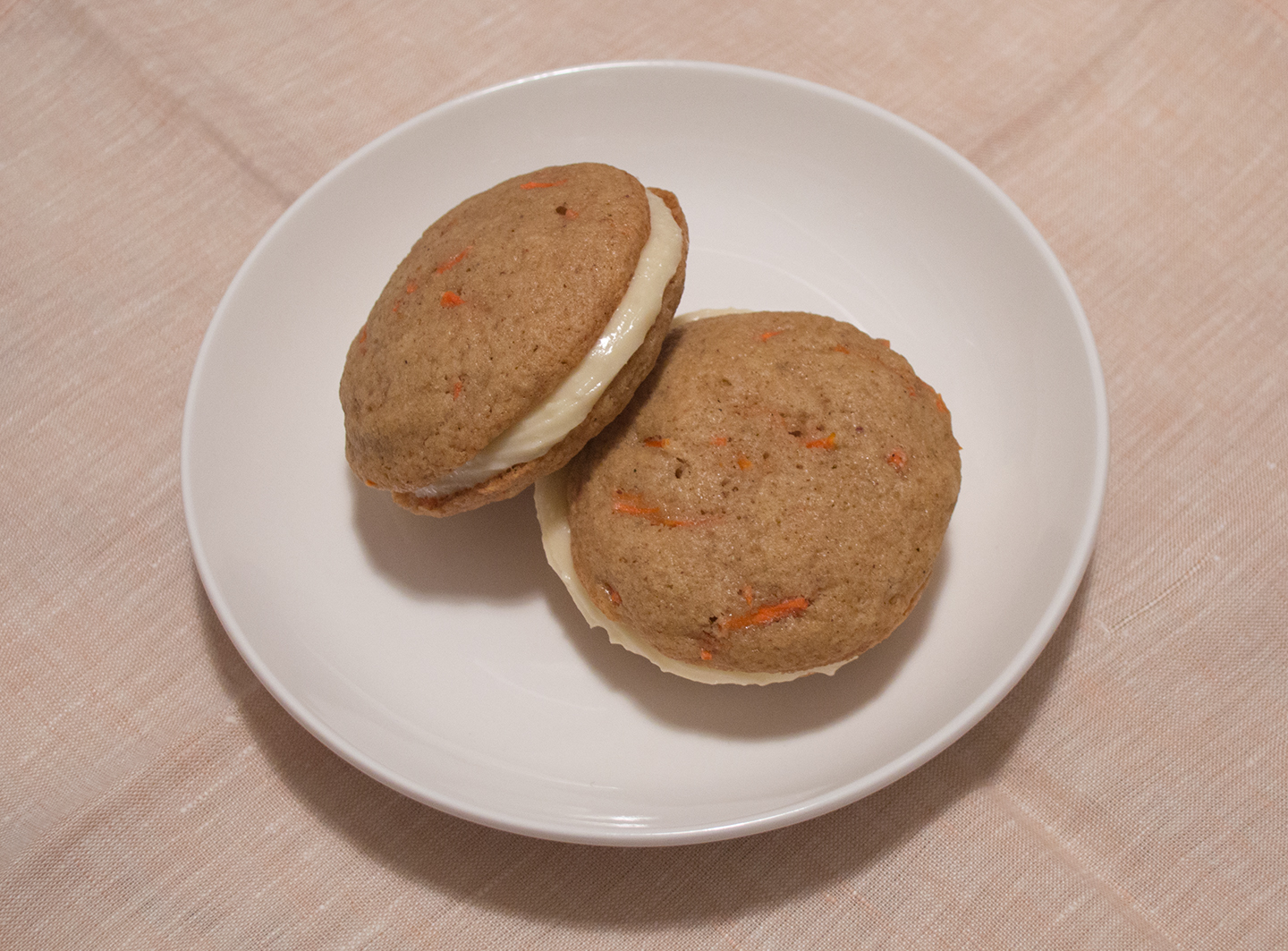 Jump to Recipe for Carrot Cake Whoopie Pies
I've been making large cakes recently, and I felt the need to make some cute little whoopie pies with the same amount of fun and flavor. Easter is just around the corner, and I thought this would be the perfect pick for little hands that may want something sweet after hunting for eggs.
Recipe for
Carrot Cake Whoopie Pies
Time:
Preparation:
Cooking:
Waiting:
Ingredients
Mini Cakes:
250g (2 cups) All-Purpose Flour
63g (½-cup) Pastry Flour
4½g (1t) Baking Powder
4½g (1t) Baking Soda
3g (½t) Kosher Salt
2½g (1t) Ground Cinnamon
1g (½t) Ground Ginger
1g (½t) Ground Nutmeg
110g (1 cup) Carrot, grated
110g (½-cup) Light Brown Sugar, packed
100g (½-cup) Granulated Sugar
227g (1 cup or 2 sticks) Unsalted Butter, room temperature
2 large Eggs, room temperature
122g (½-cup) Whole Milk
6½g (½T) Vanilla Extract
Cream Cheese Frosting:
Procedure
Preheat the oven to 350°F (176°C). Place the racks in the top and bottom thirds of the oven.

In a large bowl, mix all of the dry ingredients together. Set aside.

In a small bowl, shred the carrots using a mandolin slicer. Set aside.

In a stand mixer bowl, add the sugars and butter, and cream on medium-high until pale and fluffy.

Add the eggs in one at a time, making sure each egg is mixed in well before adding the next.

Add the milk and vanilla. Mix well.

Turn off the mixer, add the dry ingredients, and mix on low speed until the mix is halfway incorporated.

Add the grated carrots. Continue mixing on low speed just until the batter comes together. Do not over-mix.

On two cookie sheets set with parchment, pipe dollops about 2 inches in diameter. Space the circles out, about 2 inches apart.

Bake for 15 minutes, two sheets at a time, rotating the sheets halfway through baking.

Repeat to bake the rest of the cakes.

Remove from the oven, place onto wire racks, and cool completely before assembling each whoopie pie.

To assemble: match up each pie half with one that is the same size. Pipe or spoon about 1½-2 tablespoons of frosting onto the flat side of a half, and sandwich with the other. Finish assembling, pack them into an air-tight container, and refrigerate to set the frosting.

Eat and share with your friends and family!
*Bunny Wisdom*
If you don't have a mandolin slicer, cut the carrot into thin matchsticks.
I can usually fit 8 halves onto each parchment (e.g. staggered; first row: 3, second row: 2, third row: 3), making 16 individual halves per bake, so I'll only have to bake twice.
These will spread to about 3 inches in diameter when baked.
If you have lots of leftovers, you can also plastic-wrap each one, put them in a zip-top bag, and freeze. Thaw them out on the counter for 30 minutes to 1 hour before eating.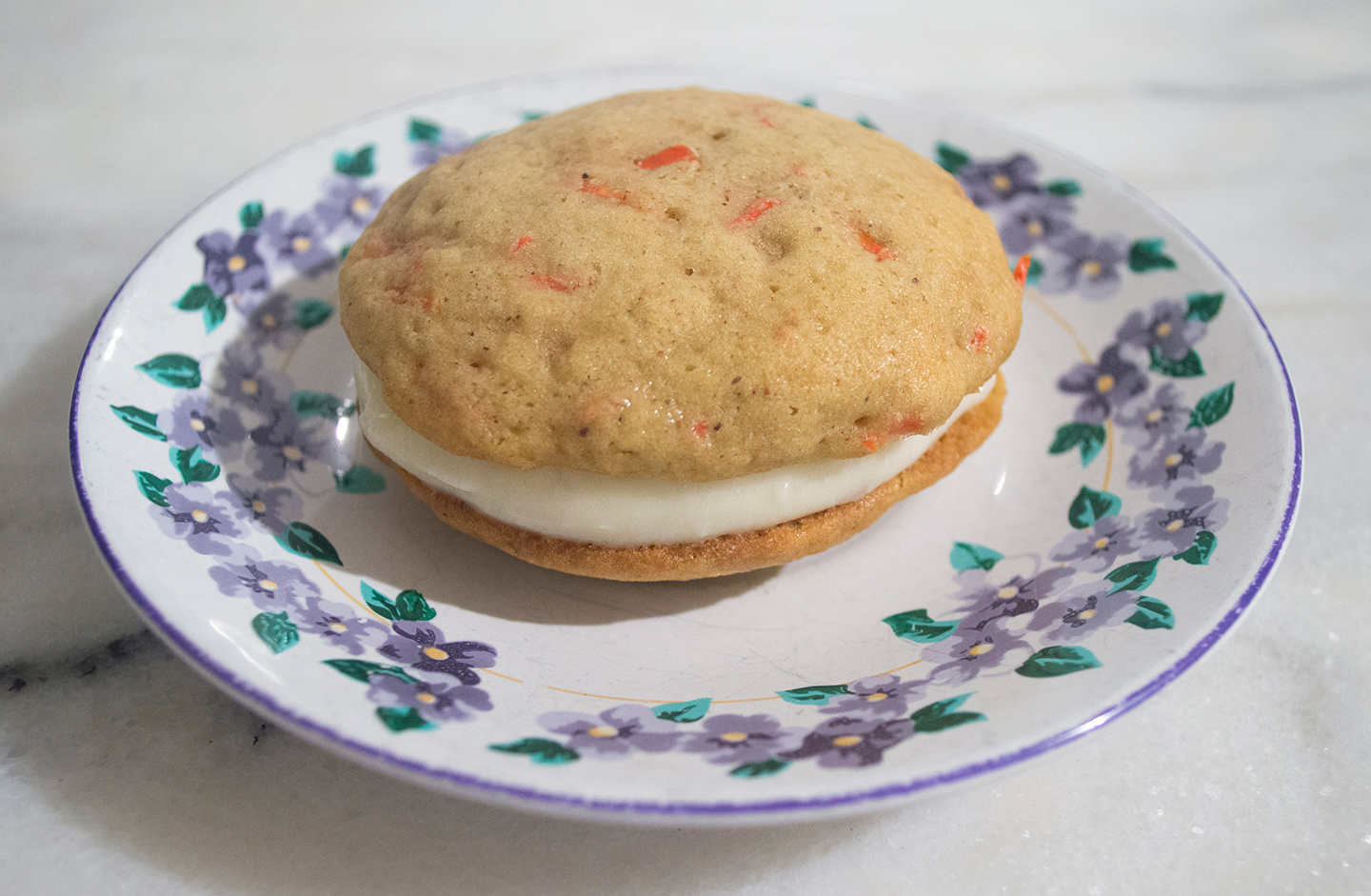 **Here are some of the ingredients I use for this recipe. Please, feel free to browse and ask questions on anything you see listed below.**