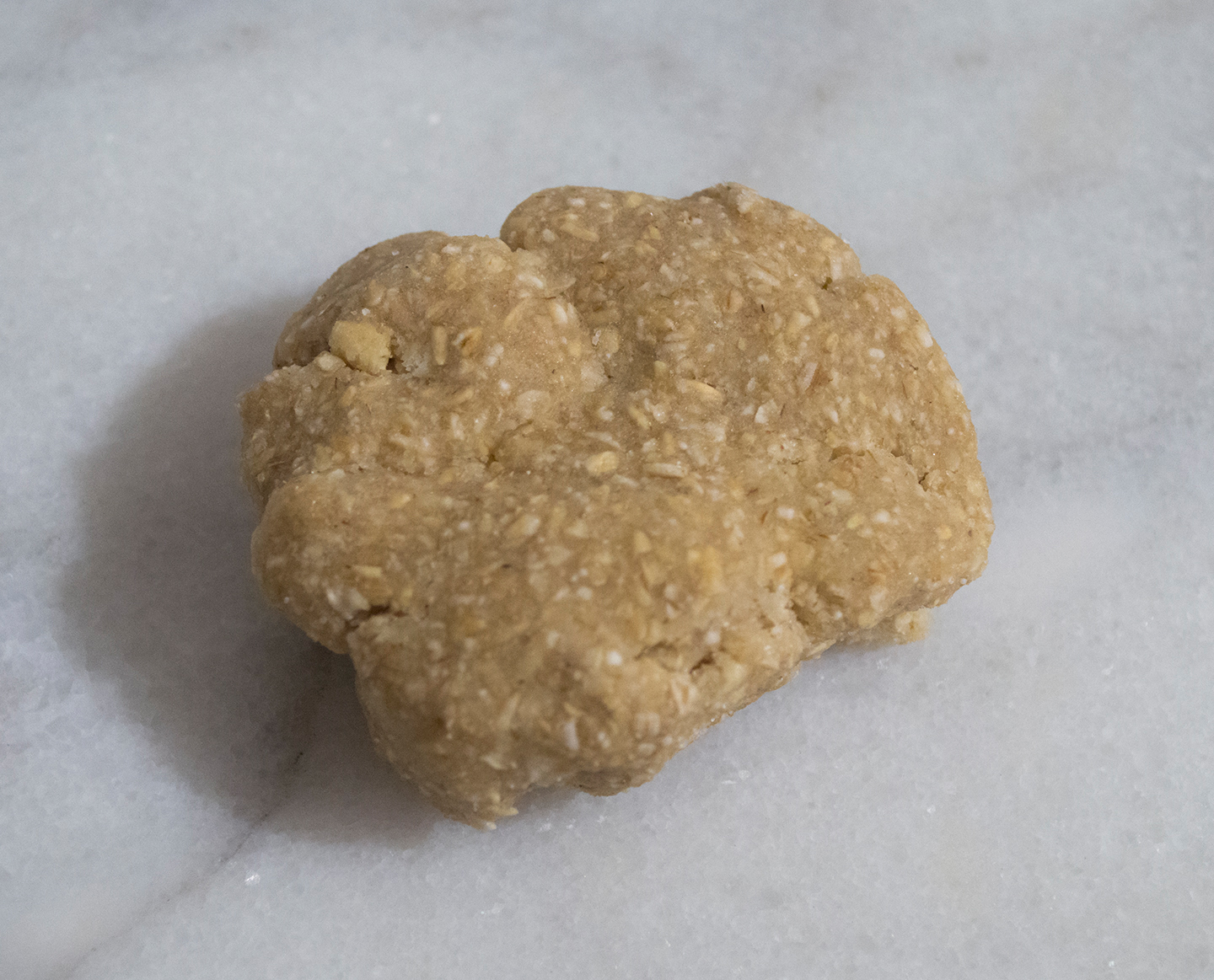 Jump to Recipe for Basic Streusel
Streusel is a staple in our household. I've been using this in all of my pie recipes lately because I don't want to fuss with making a lattice. Plus, this lets me stretch that Pâte Sucrée dough into two pies! I love the crunch and the nuttiness of the almonds and oatmeal. Don't be afraid to use this in a cobbler, crumble, bar, tart, or cake. It's an easy way to make a weekday dessert wholesome and delicious during those cold Winter months.
Recipe for
Basic Streusel
Yield:
Topping for One 9-inch Pie
Ingredients
75g (about ¼-cup plus 1½T) Unsalted Butter, softened
75g (about ¼-cup plus 2T) Granulated Sugar
½g (Pinch or ⅛t) Kosher Salt
75g (about ½-cup and 1t) Almond Flour
75g (about ¾-cup plus 3T) Stone-Ground Oatmeal
Procedure
Cream the butter, sugar, and salt in a stand mixer. Mix until fully incorporated.

Add the almond flour and oatmeal and combine.

Chill in the refrigerator until firm, or up to 2 days.
*Bunny Wisdom*
The proportion of ingredients are equal by weight, so it is easy to scale the recipe up or down. If you're keen on more crumble, bulk up the recipe. If you want the fruit to be more visible underneath the streusel, make less. I find the recipe above the perfect amount for one 9-inch pie.
The butter, sugar, and salt mix should be smooth before adding the other two ingredients.
Rolled oats can be used instead of stone-ground, although the stone-ground gives the streusel a crunchier texture.
The streusel freezes for about 2 months, covered in plastic wrap and placed inside a zip bag.
If frozen, let it thaw on the counter for an hour, or in the refrigerator overnight.
This recipe is gluten-free, if you're using oatmeal that has been specially processed in a gluten-free facility.
Nutrition
Facts
8 servings per recipe
Serving size
1 slice pie (37.5g)
Amount per serving
Calories
% Daily Value*
Total Carbohydrate

17.4g

6.3%

Includes 9.3g Added Sugars

18.6%
* 
The % Daily Value (DV) tells you how much a nutrient in a serving of food contributes to a daily diet. 2,000 calories a day is used for general nutrition advice.
As this is a standard 2:1:1 ratio of flour, sugar, and butter, you are welcome to use wheat flour to make up (in equal weight, e.g. 150g) the almond flour and oatmeal. Some all-purpose flour and ground cinnamon will make this recipe more like a New York-style crumb cake.
**Here are some of the ingredients I use for this recipe. Please, feel free to browse and ask questions on anything you see listed below.**