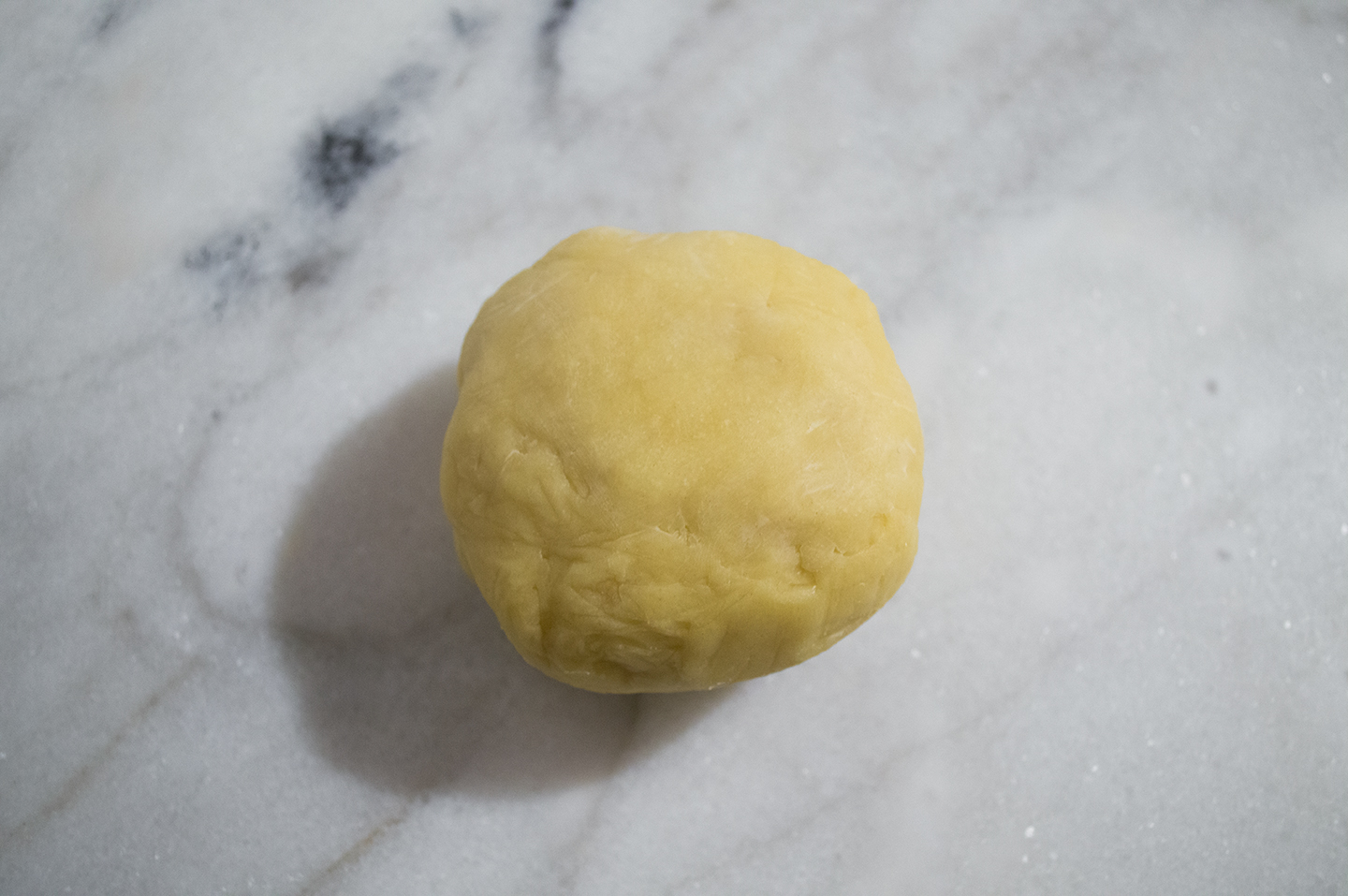 Jump to Recipe for Pâte Sucrée - French Sweetened Shortcrust Pastry
Dough is the foundation to almost every pastry or baked good out there. It's a versatile carrier for anything savory or sweet. While I was working at Ladurée, every pastry I made had some sort of chocolate, cream, or fruit filling. Those dainty, delicate, and dreamy pastries were ready for those display cases because of a strong structure; in came the wondrous dough that made assembly possible.
Pâte sucrée is a French "sugar dough" that is widely used for sweet confections. I like using this dough for any tart, pie, or bar that requires a full bake. It's excellent for pastries that need that bit of structure and some added sweetness.
It's baking season after all, so I went ahead and made a full batch, knowing I'll be baking more tasty treats later next week. I divided the Pâte Sucrée into three; I froze two packs and put the one in the refrigerator, prepped and ready for a pie.
Recipe for
Pâte Sucrée - French Sweetened Shortcrust Pastry
Yield:
For One 9-inch Double-Crust/Lattice Pie, plus One 9-inch Open Pie; or Three 9-inch Tarts
Ingredients
500g (4 cups) Pastry Flour
227g (1 cup) Unsalted Butter, softened
125g (about 1 cup, unsifted) Confectioners Sugar
1½g (¼t) Kosher Salt
3 large Eggs, room temperature
Procedure
In a large bowl, measure and sift the pastry flour. Set aside.

On a stand mixer fitted with a paddle attachment, combine the butter, sugar, and salt, and mix until pale yellow and fluffy.

Add the eggs in one at a time, making sure each egg is well incorporated before adding the next.

Pour in the flour and mix slowly until it is just combined. If you see some dry spots, finish mixing by hand.

Divide into three, flatten into circles, and wrap with plastic wrap. Chill in the refrigerator for 1-2 hours before rolling.
*Bunny Wisdom*
I sift large amounts of flour to help get rid of clumps or impurities; this also helps aerate the flour for easier mixing.
If the eggs are too cold, they will solidify the butter and make it more difficult to incorporate. Allow the eggs to sit on the counter before using.
Make sure that you don't over-mix the dough; a tender crust is yummier than a tough crust.
Store dough inside the refrigerator for up to 3 days, or the freezer for up to 3 months, well-wrapped in plastic wrap and in a zipper bag.
Nutrition
Facts
24 servings per recipe
Serving size
1 tart slice (41.5g)
Amount per serving
Calories
% Daily Value*
Total Carbohydrate

21.3g

7.7%

Includes 5.1g Added Sugars

10.2%
* 
The % Daily Value (DV) tells you how much a nutrient in a serving of food contributes to a daily diet. 2,000 calories a day is used for general nutrition advice.
Remember that you aren't limited to making this just for recipes that require a full bake; you can easily use this dough for a lemon meringue pie, fresh fruit tart, or a chocolate ganache tart (which require a pre-baked pie/tart shell instead). I find that fillings that are somewhat wetter hold better with this dough than something like Pâte Brisée.