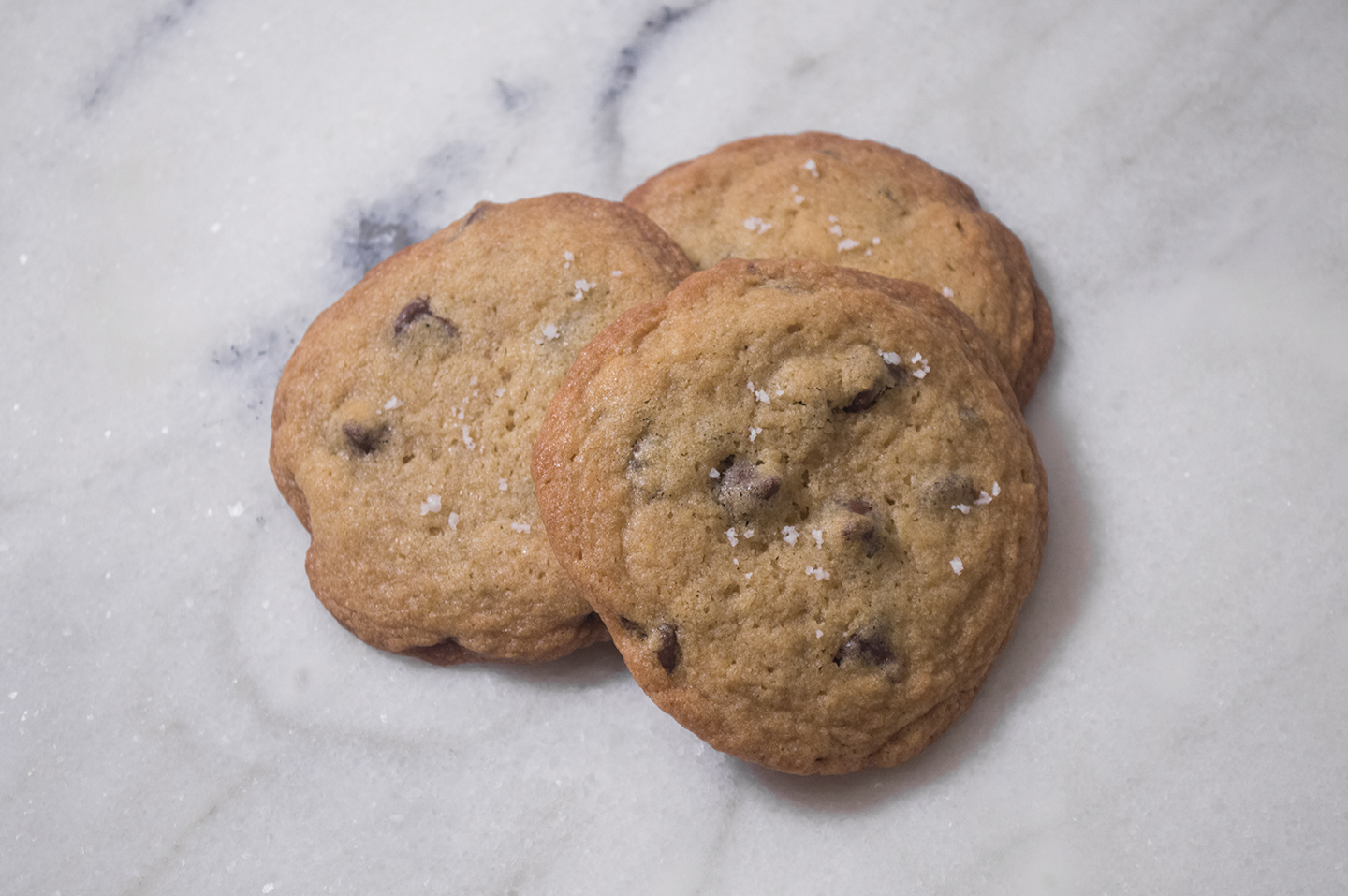 Jump to Recipe for Chewy and Crunchy Chocolate Chip Cookies
Happy National Cookie Day! In honor of this food holiday, I whipped up a batch of the ubiquitous chocolate chip cookie. They're everywhere! You can find them soft, chewy, cakey, crunchy, and everything in-between, and they are one of the easiest things to make.
When I was little, I read the recipes on those bags of chocolate chip morsels at the grocery store. I was eager to go home and bake and eat them straight from the oven. I didn't think there was anything better than a warm cookie made from a foolproof recipe… until I realized that I *could* make it better!
I knew exactly what I wanted out of these chocolate chip cookies. I thought about bread and cake, and how one was chewy and the other was fluffy; but I didn't understand how important gluten was to baked goods until high school, when I started to grasp the idea of what it does. I noticed the different flours were clues that I would be working with differing levels of protein. Then I paid more attention to the wording of recipes, such as "knead the dough" for breads, and "mix just until combined" for cakes. It was at this time that I understood that mixing for a certain amount of time with a set amount of protein was going to give me specific results. Of course, this is just the general idea of how gluten works, and eggs, fats, and sugars also come into play; however, I began tinkering and tweaking the base recipe, wanting a chewier texture. After batches upon batches of cookies, I came up with the recipe below.
Recipe for
Chewy and Crunchy Chocolate Chip Cookies
Time:
Preparation:
Cooking:
Waiting:
Ingredients
275g (2 cups) Unbleached Bread Flour
4½g (1t) Baking Soda
3g (1t) Kosher Salt
227g (1 cup, or 2 sticks) Unsalted Butter, softened
100g (about ½-cup) Granulated Sugar
220g (about 1 cup, packed) Light Brown Sugar
2 large Eggs, room temperature
8g (2t) Vanilla Extract
340g (1 bag) Semi-Sweet Chocolate Chips
Procedure
Combine the flour, baking soda, and salt into a medium bowl. Set it aside.

On a stand mixer fitted with a paddle attachment, cream the butter and two sugars until fully combined.

Add the eggs in one at a time, making sure it is well incorporated before adding the next.

Put in the vanilla extract and mix for a few seconds.

Add the dry ingredients and combine until there are a few streaks of flour.

Turn off the mixer, pour in the chocolate chips, and mix by hand with a spatula.

Wrap the dough in plastic wrap and chill in the refrigerator for 2 hours, or overnight.

Preheat the oven to 375°F (190°C). Place the racks on the top and bottom thirds of the oven. Divide the chilled dough into 48 balls, the size of a golf ball, and spread two dozen out onto two cookie sheets with parchment.

Bake for 10-12 minutes or until the cookies are golden brown. Divide and bake the rest of the cookies, or store the wrapped dough in the refrigerator for 3 days, or the freezer for a month.
*Bunny Wisdom*
Creaming the butter and sugar together lets the sugar crystals shear the butter to make the mixture smooth and fluffy.
Cold eggs can re-solidify the butter. Room temperature eggs prevent that from happening, creating a more uniform texture.
I prefer to finish mixing the dry ingredients by hand; this allows me to control the amount of gluten development. By adding the chocolate chips in before the complete incorporation of the flour, I prevent over-mixing.
You are welcome to use semi-sweet chocolate, chopped up into pieces.
Chilling the dough helps the butter to solidify. Softened butter will slacken the cookie, while a chilled dough will maintain its dome structure.
Nutrition
Facts
48 servings per recipe
Serving size
1 cookie (26.5g)
Amount per serving
Calories
% Daily Value*
Total Carbohydrate

14.5g

5.3%

Includes 9g Added Sugars

18%
* 
The % Daily Value (DV) tells you how much a nutrient in a serving of food contributes to a daily diet. 2,000 calories a day is used for general nutrition advice.
These turn out crunchy on the outside and chewy on the inside! I couldn't help but eat one, soft and warm, straight from the cooling rack. These chocolate chip cookies will store in an air-tight container for three days; however, they tend to disappear before then, especially when you share with family and friends.
**Here are some of the ingredients I use for this recipe. Please, feel free to browse and ask questions on anything you see listed below.**