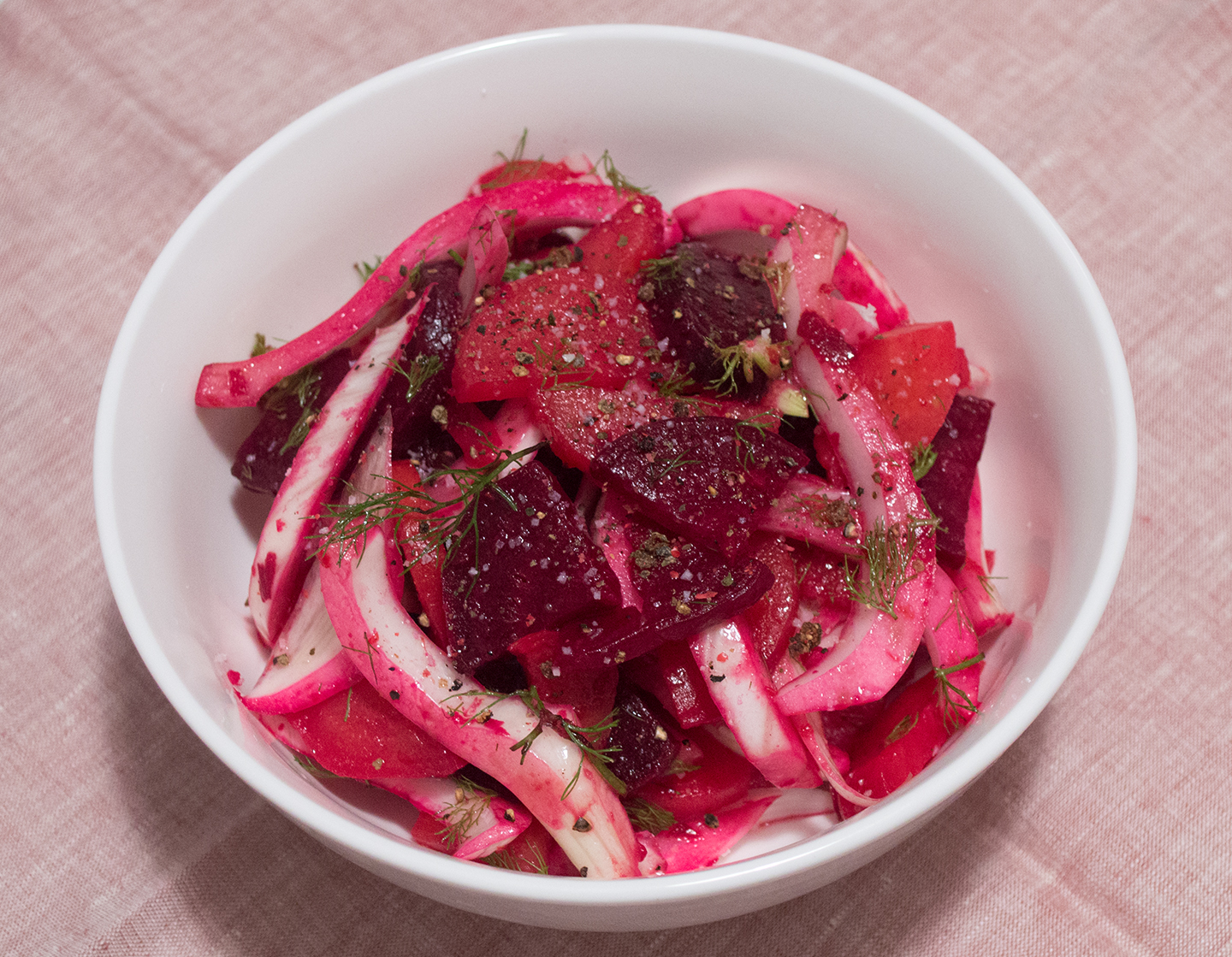 Jump to Recipe for Beet and Fennel Salad with Meyer Lemon Dressing
Earlier this year, we made this refreshing and crunchy beet and fennel salad for Valentine's Day. We don't make this as often as we want to, for fear that we would get tired of it. Honestly, we probably wouldn't, though it's always nice to have something extra delicious on special days like *Love Day*.
Here's some more honesty, while we're at it. I used to not like beets. As a kid, the only thing I was exposed to were canned beets. They were soft, tasteless, and the dark red color made me question its existence. I kept grabbing a scoop of the stuff from salad bars and potlucks, thinking that my tastebuds would change; however, I just couldn't get past how it dyed all of my neighboring foods bright pink, making me not want to eat anything on my plate. I know, I was one of those weird kids that didn't like my foods touching each other.
It was only after I discovered eating a baked beet salad that I grew to love them. And when you add something to balance their amazingly sweet flavor, it turns into an excellent salad!
We're excited to share this recipe with you, and hope that you begin to appreciate how beautiful beets can be! It's been great eating this during the transitional months from winter to spring, marrying root vegetables with fennel bulbs, and loving how bright and cheery this dish is on the dinner table.
Recipe for
Beet and Fennel Salad with Meyer Lemon Dressing
Ingredients
1300g (about 2¾-3lbs) Beets
400-500g (2) Fennel Bulbs
1½g (½t) Black Peppercorns
1½g (½t) Pink Peppercorns
1½g (½t) Green Peppercorns
Zest of 2 Meyer Lemons
125ml (about 4oz, or 2-3 meyer lemons) Meyer Lemon Juice
250ml (1cup, plus 2t) Olive Oil
5g (½T) Kosher Salt
More Salt and Sugar, to taste
Procedure
Set the oven temperature to 350°F (177°C). Make a foil pouch that will fit all of the beets inside.

Scrub and wash all of the beets, trim away leaves, and remove tips. Place the beets into the pouch and seal the opening. Bake for 1-1½ hours.

Remove from the oven and peel while hot. Set the peeled beets aside to cool.

Rinse and slice the fennel into thin wedges. Loosely chop the fronds.

Make the dressing by grinding all of the peppercorns together, and zesting and juicing the lemons. Put the juice in a medium bowl, and slowly stream in the olive oil while whisking continuously, emulsifying the liquid. When the emulsion is set, stir in the ground pepper, zest, and salt.

Once cooled, cut the beets into wedges or half-moons.

Toss all of the ingredients together, taste-test to see if it needs a pinch of sugar, then serve in a large dish for everyone to share!
*Bunny Wisdom*
I bought a mixture of golden and red beets, roughly 2-3 inches in diameter. Note that smaller beets will cook faster than larger ones, and baking times may need to be adjusted; however, we did bake the pouch for at least an hour.
You can slice both fennel and beets in any way you want. If cubes or stars or rings are your thing, go for it! We just wanted it fairly uniform and easier to eat, so we sliced everything into wedges.
Another way to make an emulsion is to place the lemon juice in a food processor, turn it on, then stream in the olive oil through the top.
Sugar is a tricky thing: if your beets are sweet and your meyer lemon juice is sweet, you may not need any sugar. We added a pinch to our salad mix to balance out the slight tartness from the juice.
Chill the salad in the fridge to help the flavors come together.