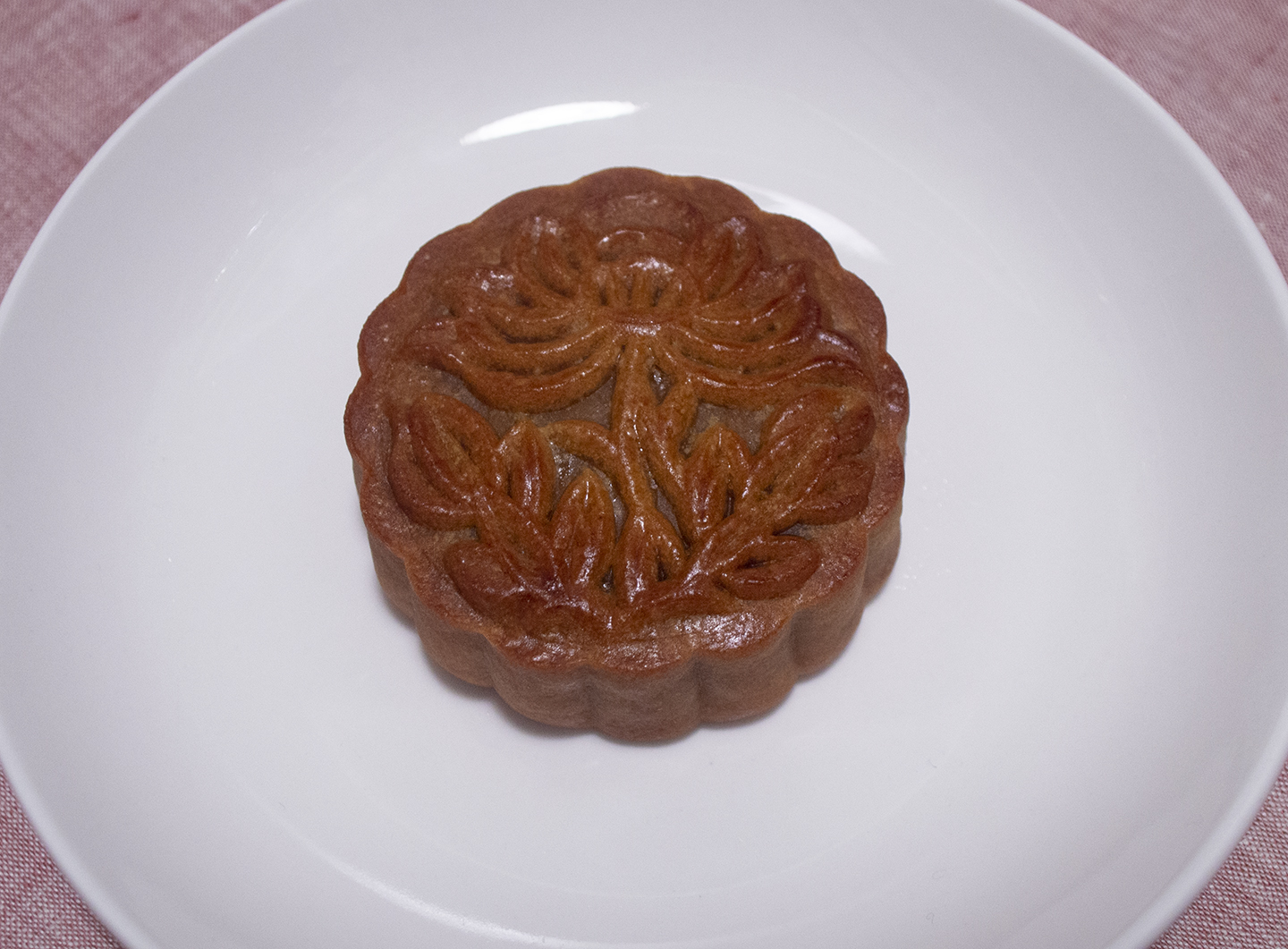 Jump to Recipe for Bái Lián Róng Yuèbǐng (白蓮蓉月餅) - White Lotus Paste Mooncakes
I never had lotus paste mooncakes until I met James. It wasn't that I didn't see them every year at Asian supermarkets. We saw the towering stacks of boldly embellished boxes, ready for people to buy for loved ones. My mom didn't know what they were filled with, nor did she know what they tasted like, so we never bought them. It was a tradition that we both observed from afar; a celebratory season that's very much like Chuseok, but with mooncakes as part of the festivities.
My first set of lotus paste mooncakes was from James. I had eaten some variation of red bean mooncakes when I was growing up, but didn't know what to expect with the lotus seed ones. We were limited to just a couple of Asian markets in our college town, but found a small Chinese grocery about ten miles from campus. Due to the Mid-Autumn Festival being just days away, we weren't even sure if they would have any mooncakes left over. Thankfully, we were able to buy some in a variety of flavors, and I got my chance to taste lotus paste mooncakes for the first time.
That first bite was all that was needed to convince me that I was eating something so delicious, and I needed to try to make some mooncakes that were delicious too!
After much trial and error, figuring out sweetness and texture, we finally came up with a recipe that we're happy to share with all of you!
Recipe for
Bái Lián Róng Yuèbǐng (白蓮蓉月餅) - White Lotus Paste Mooncakes
Ingredients
12-13 Salted Duck Egg Yolks, optional
Chinese Rose Wine (玫瑰露酒), optional
All-Purpose Flour
Water
1 large Egg
One recipe of:
Two recipes of:
Procedure
Set the yolks onto a plate, evenly spaced apart. Brush on a thin layer of rose wine. Steam for 5 minutes. Bring it to room temperature before assembling.

Divide the mooncake dough into 40g pieces. Keep them covered with a piece of cling film while shaping, to prevent drying.

Divide the paste into 70g pieces. Refrigerate, covered, until ready to use.

Preheat the oven to 350°F (177°C).

Place a yolk within the lotus paste, then completely encapsulate with the mooncake dough. Make sure it is a slightly squished sphere for the mooncake mold.

Dust the mooncake mold with flour and tap the excess out. Stamp it with the press, then slowly release the mooncake.

Line them up on a parchment-lined sheet pan and spray a light mist of water onto the lotus paste mooncakes. Bake for 5 minutes.

While the lotus paste mooncakes are baking, make an egg wash by whisking the egg with 1T of cold water.

Remove the sheet pan, lightly egg wash the tops of the lotus paste mooncakes, and place them back into the oven for 15-20 minutes, or until golden brown throughout.

Cool completely on a cooling rack before packing them up in an air-tight container. Let them rest for 1-2 days before consuming with friends and family!
*Bunny Wisdom*
Salted duck yolks can be found at most Asian supermarkets. We found ours at our local Chinese grocery.
If components are sticky or are difficult to handle: use a small dusting of flour on the dough to prevent sticking, and take a thin layer of neutral oil on the fingers and palms for the lotus paste.
The yolks will be somewhat flat. Try and keep that shape going throughout the stuffing and stamping process. It will keep the yolk in the center, and give you a proper mooncake shape.
We use molds that hold 125g. They are about 3 inches in diameter and come in a variety of designs.
If the dough is sticky, don't be afraid to dust the entire sphere with some flour before pressing with the mold.
You will want to make sure the mooncake slowly spreads and fills the entire mold before releasing them onto the parchment. The scalloped edges and the motif on the tops should be distinct and sharp.
The imprinted design is the only part that is being egg washed. A thin layer is all that is needed, so that the design becomes prominent after baking.
These can definitely be eaten once completely cooled, but the hydration from the mooncake filling hasn't re-distributed to the mooncake skin and yolk, and can look a little dry. We wait at least a day before eating, but it's at its prime on the second day. If you take a look at the photo of the freshly baked mooncake (at the bottom of the page) and the photo at the very top of the post, you will notice that the exterior of the mooncake is hydrated and darkened in the top photo.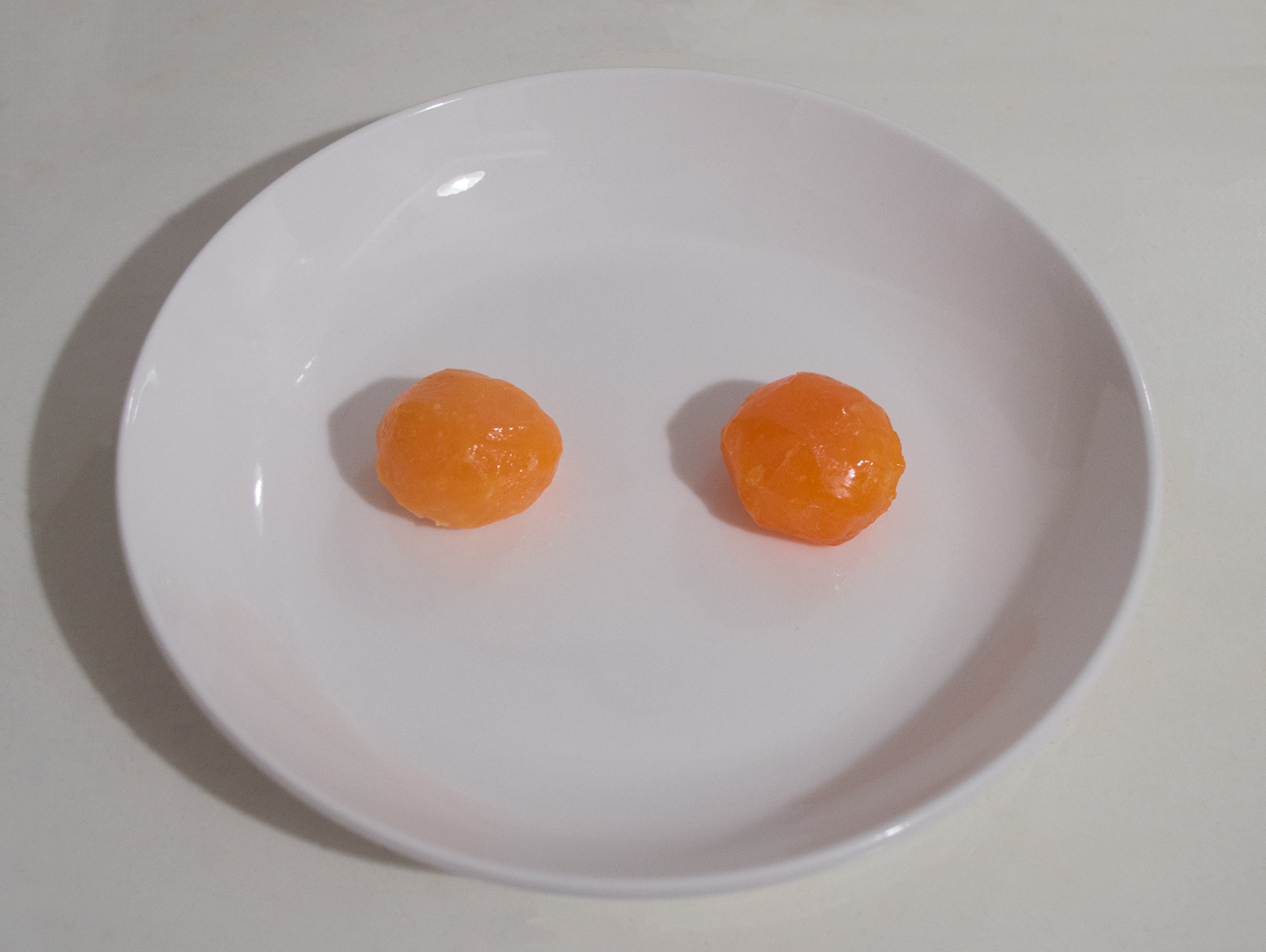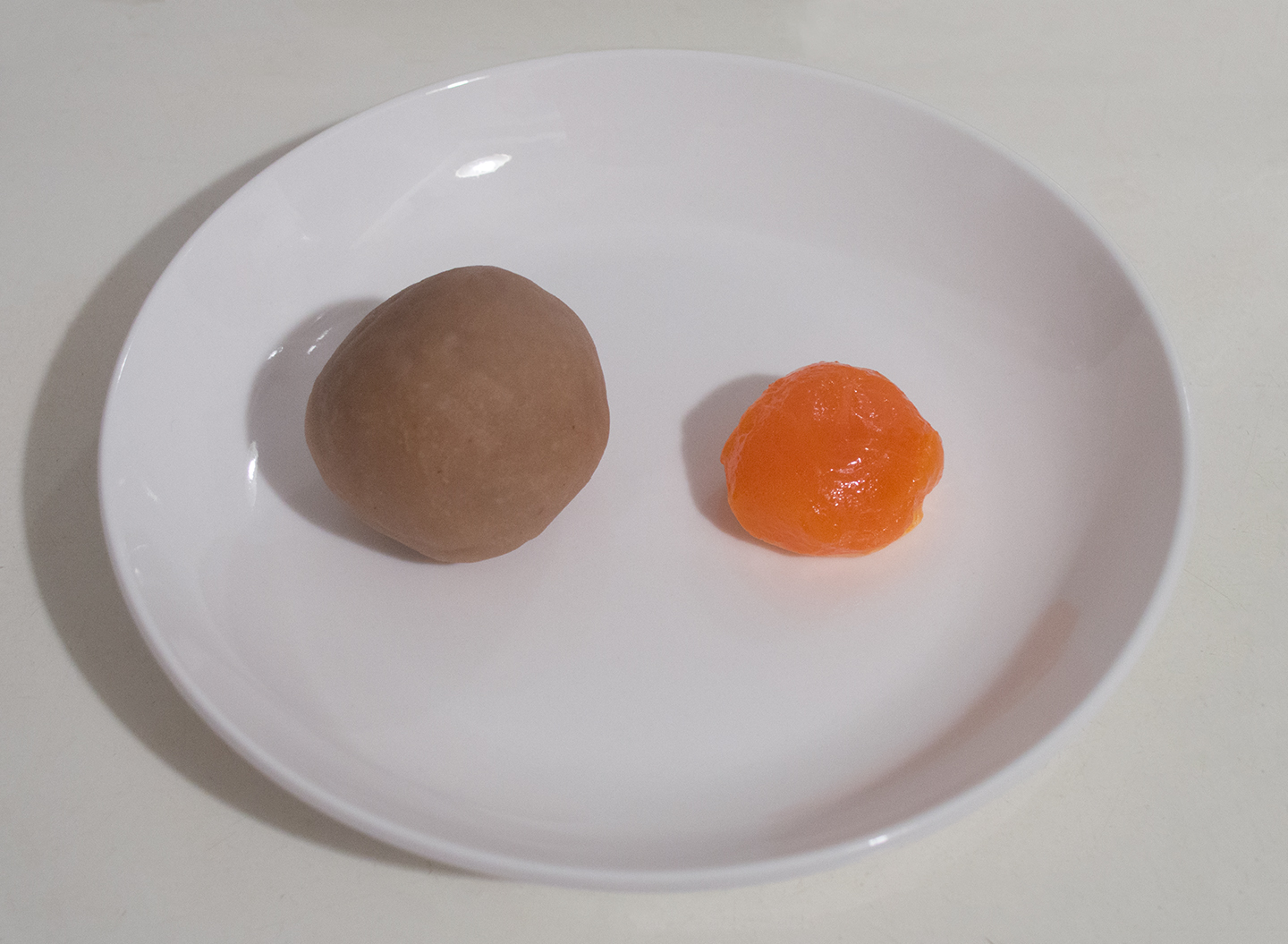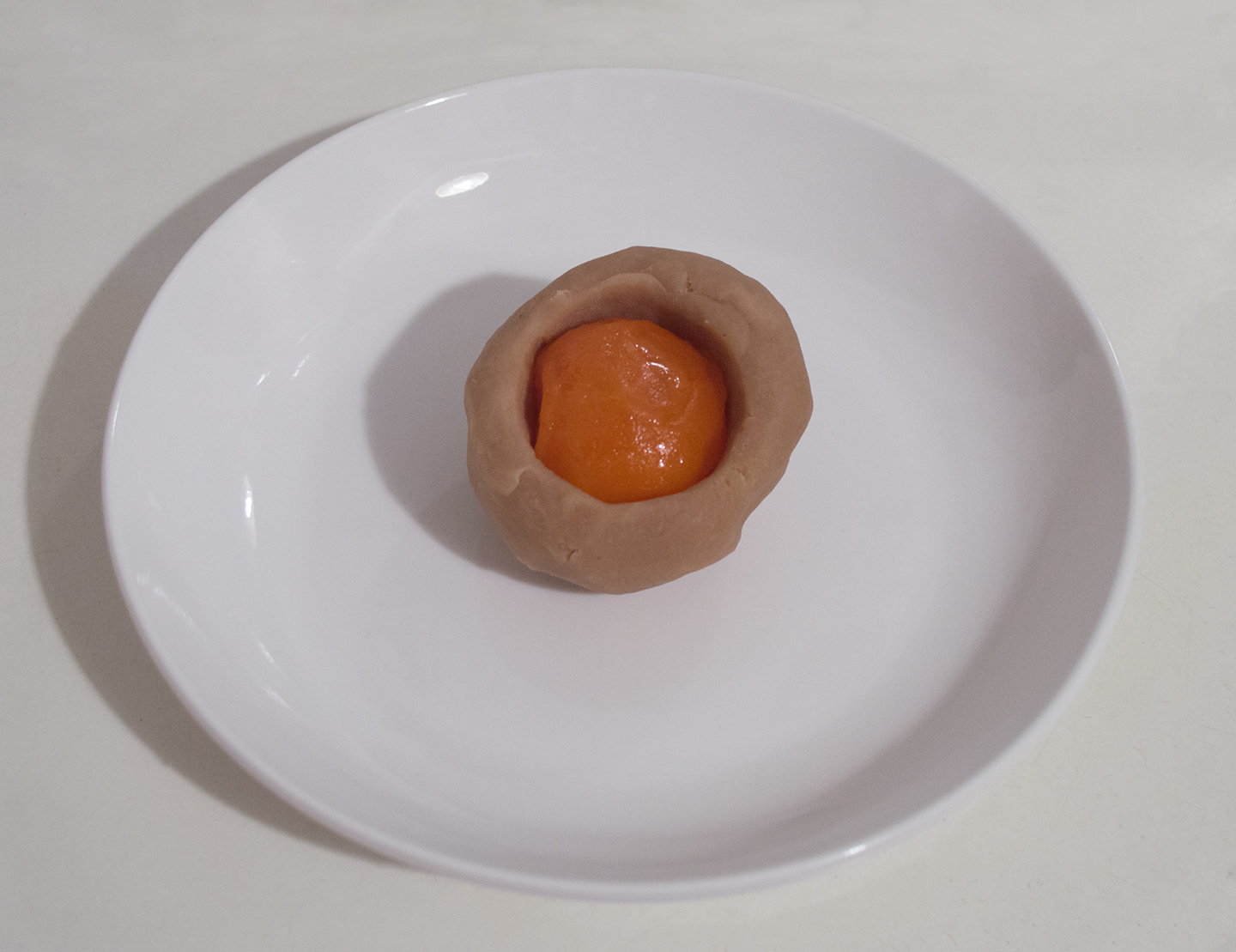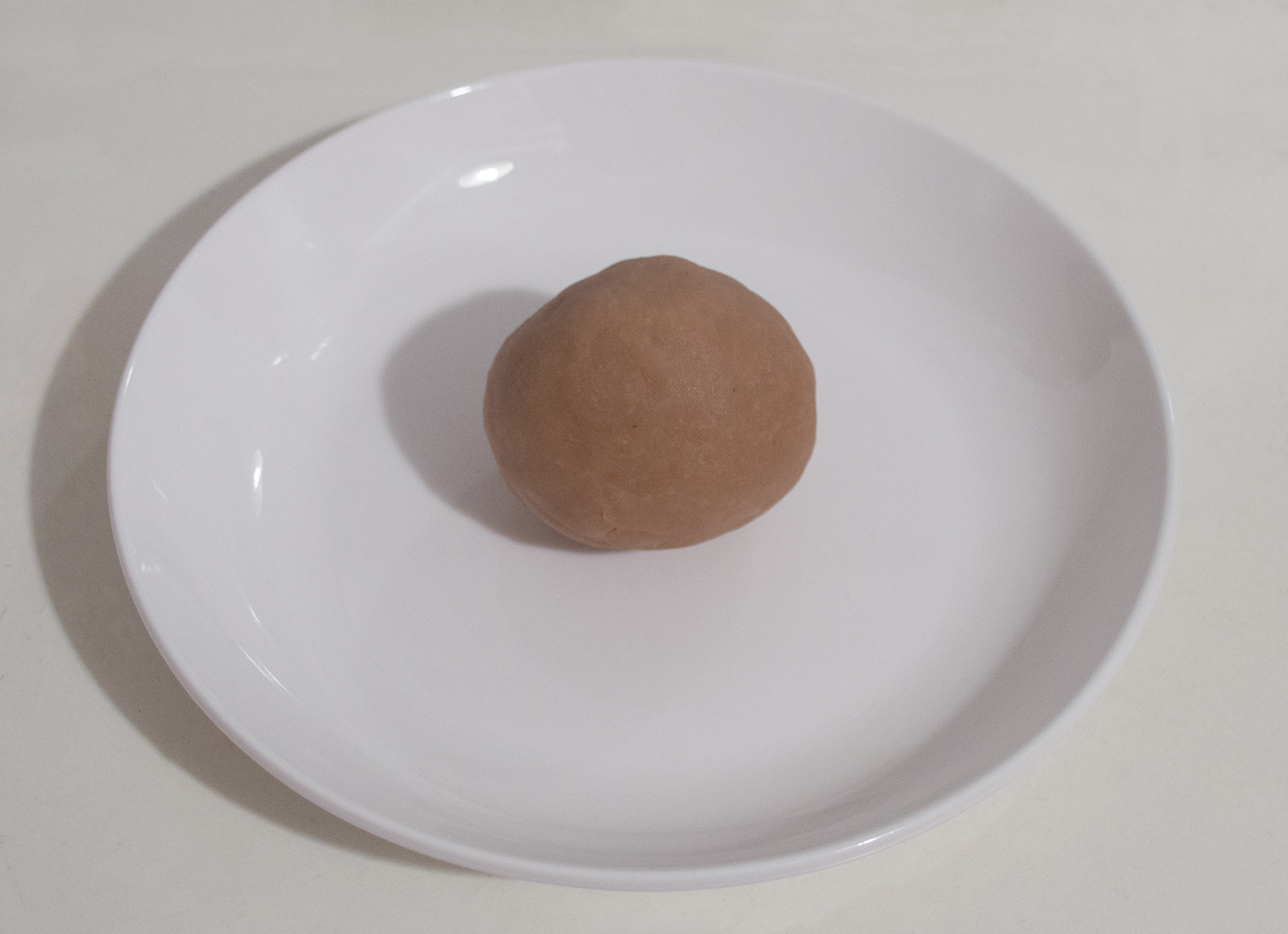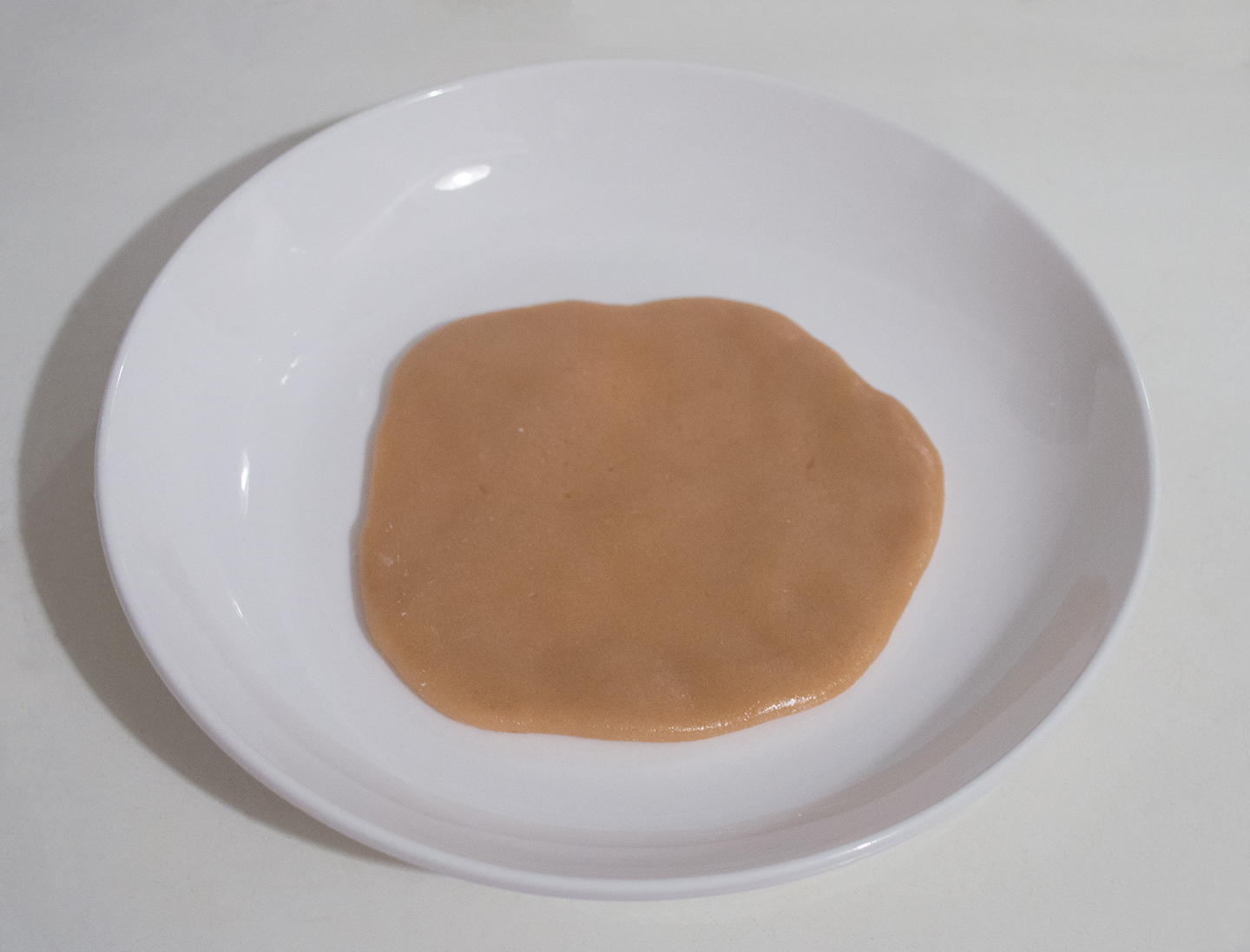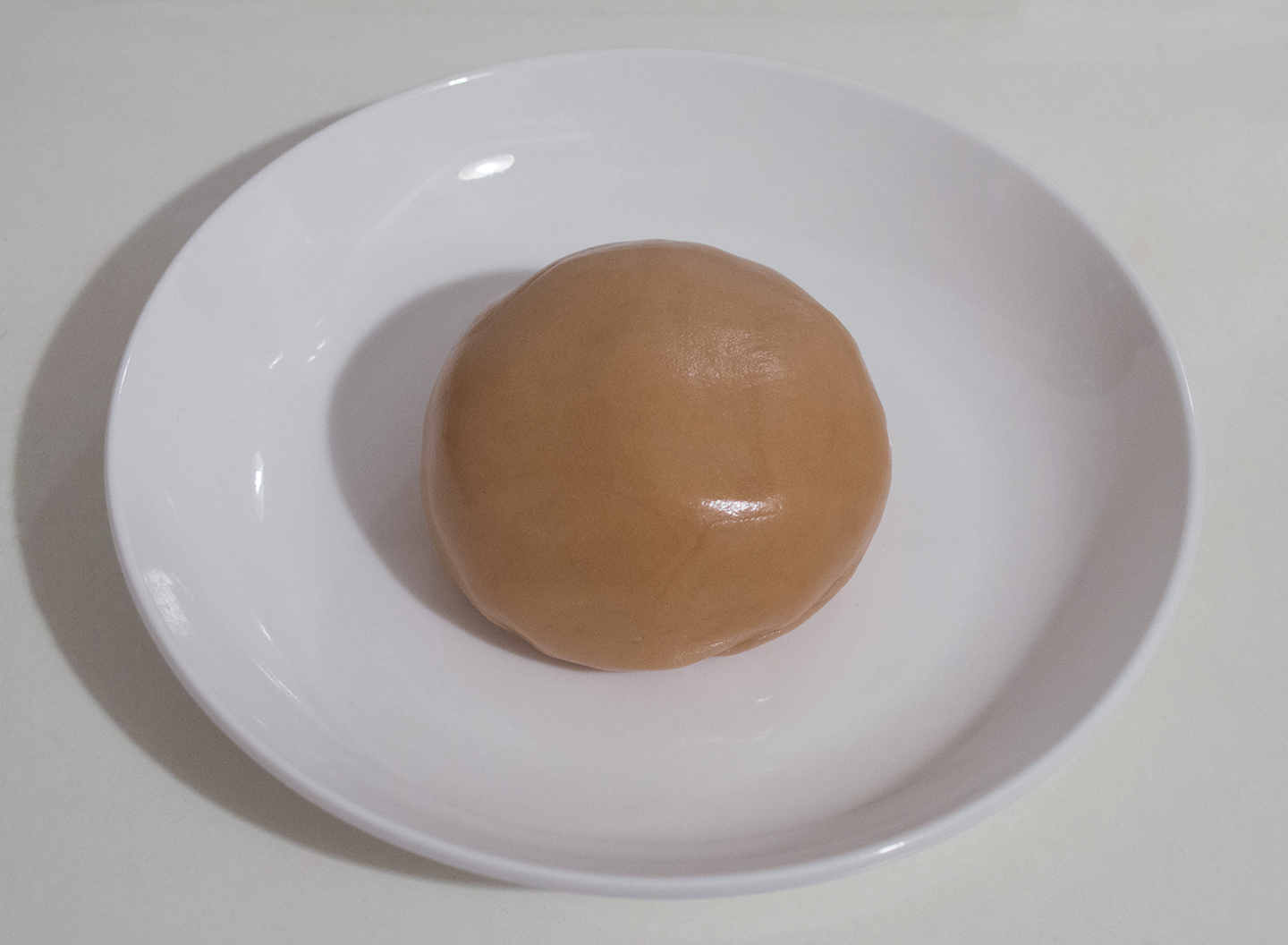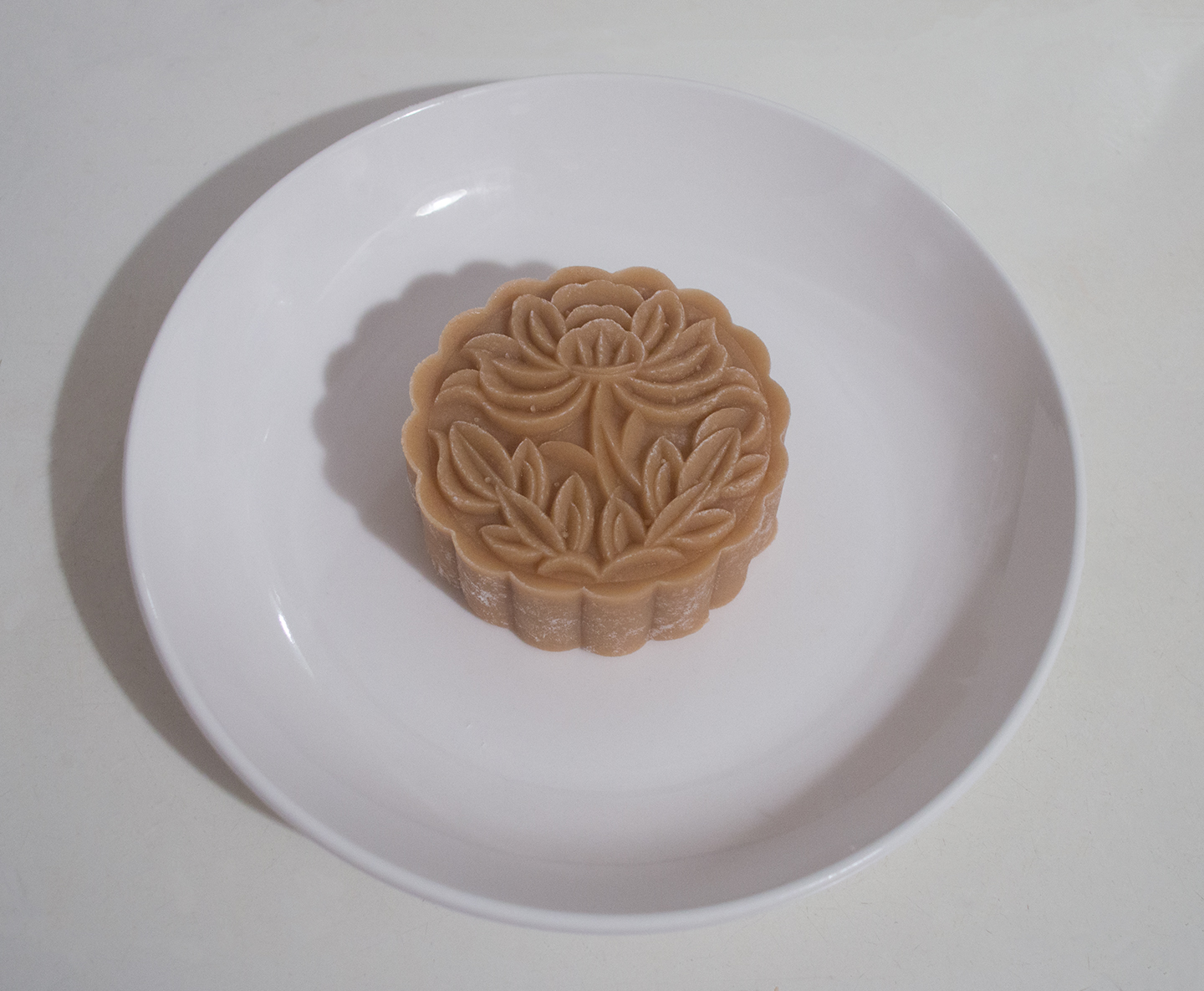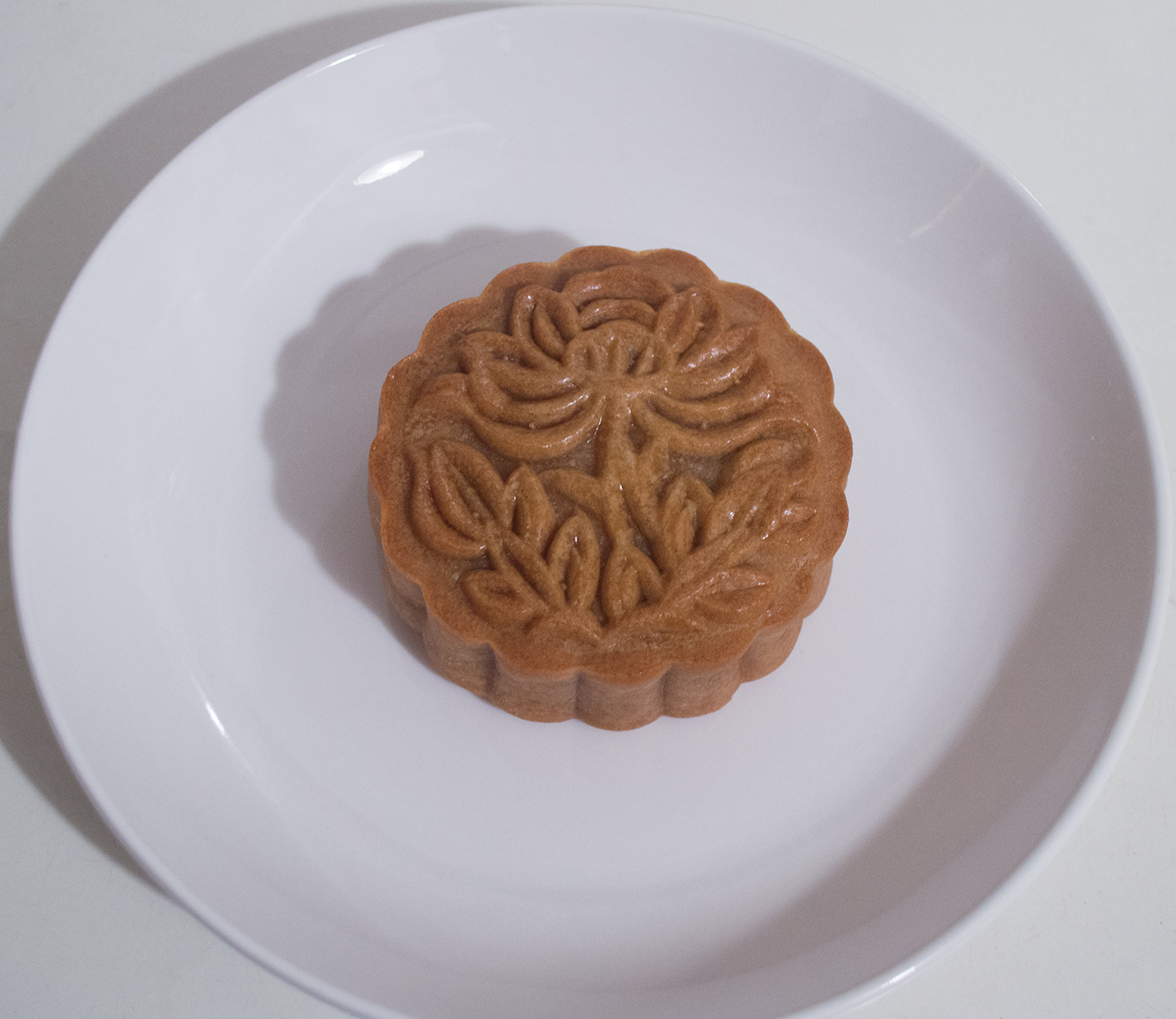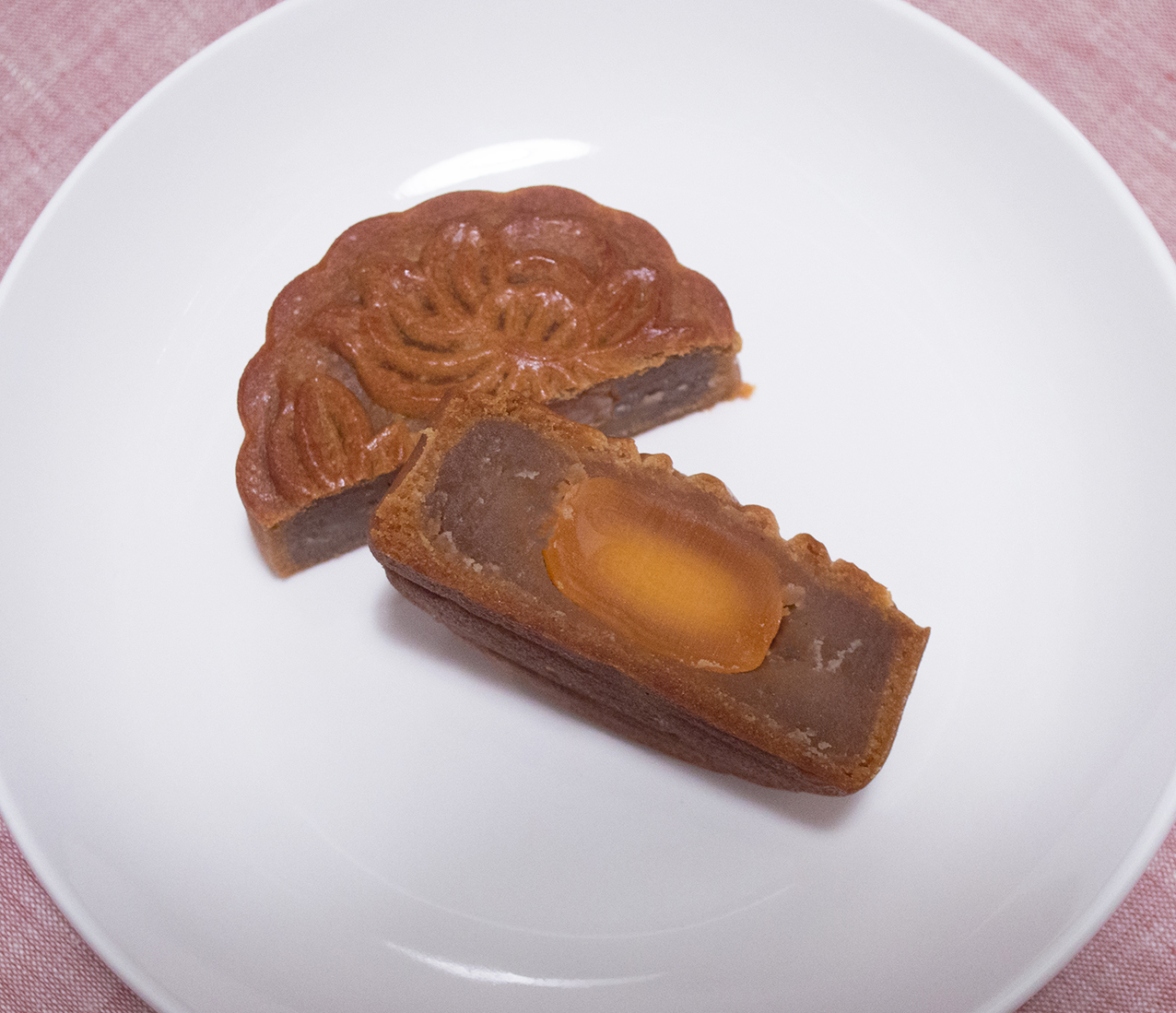 **Here are some of the ingredients I use for this recipe. Please, feel free to browse and ask questions on anything you see listed below.**