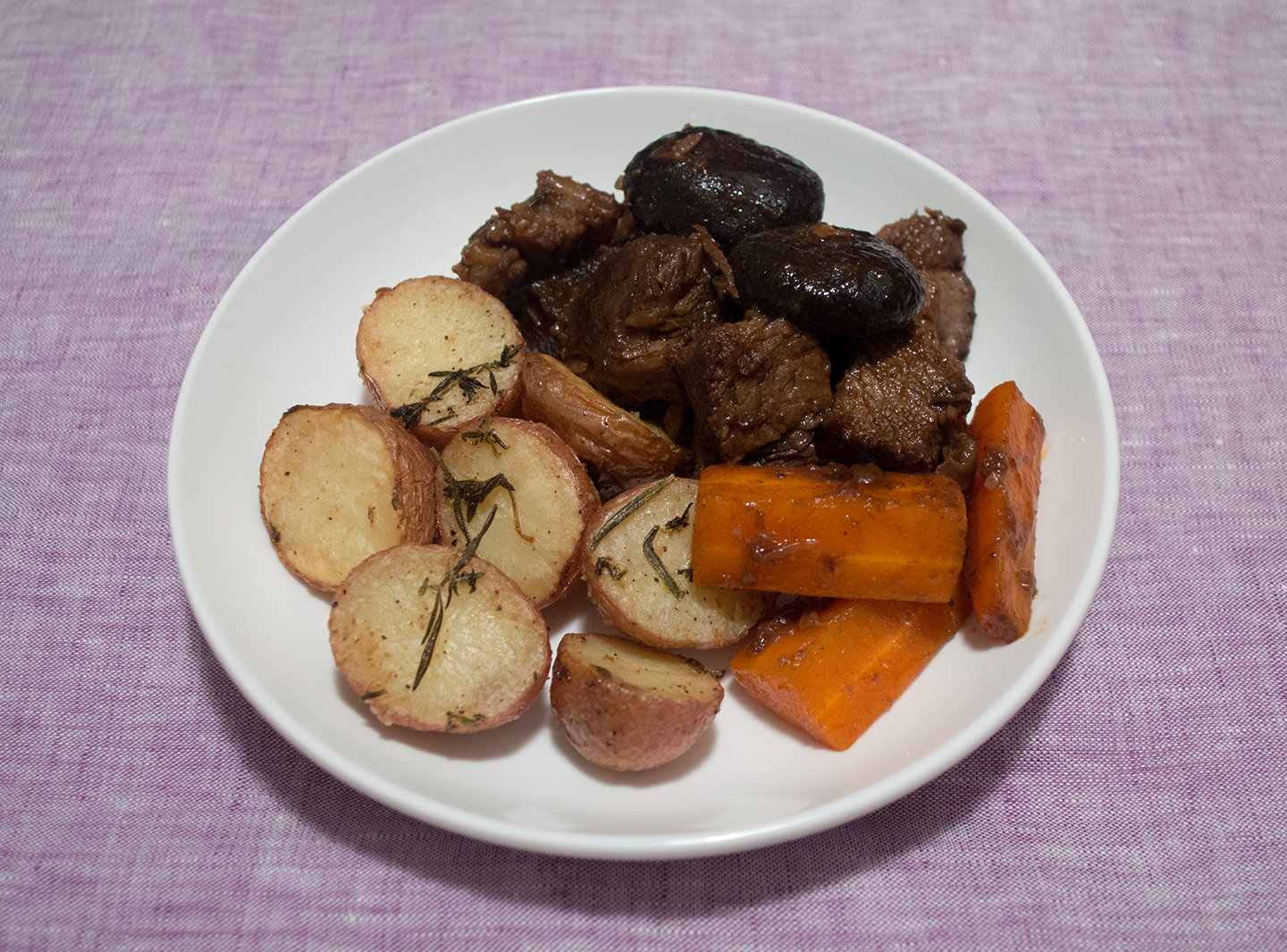 Jump to Recipe for Spicy Beer-Braised Beef with Mushrooms
Our spicy beer-braised beef came about in a spur-of-the-moment decision, when our initial idea for a special dinner at home got thrown for a loop with an incorrect cut of beef. The beef was wrapped in brown paper and cling film, making it difficult to discern what we got until the following day.
We were set to make dinner for a special occasion, and asked the one in charge of groceries to buy us a roast (but not a cut for pot roast). In a strange almost lost-in-translation-like scene, this is how the dialogue unfolded:
James: (While unwrapping the plastic and unfolding the paper) You remembered to not get the pot roast, right?
One in Charge of Groceries (OICG): Yeah, I didn't get a pot roast.
James: This isn't a bone-in cut? Where are the ribs? Did you ask for a rib roast?
OICG: The man there said something about a chuck roast. Isn't that what it is? It's a roast, right?
James: (audible sigh) A chuck roast IS a pot roast!
And so we got stuck with the wrong cut of meat. Granted, we asked OICG to get a roast for slow roasting, and didn't specify a rib roast, we also forgot that OICG doesn't cook, and probably didn't think there was much of a difference between the two.
With our slow-cook rib roast recipe out the window, we decided to cook it like a standard pot roast with a bit of flair. Some earthy and umami notes from dried shiitake, some spice from the chipotles, and a dark beer for added richness of flavor, were poured into the pot! It was a bit of a surprise how good it tasted, when it was haphazardly put together. Sometimes, a sudden change can turn a situation from bad to good.
James knew that we had to make it again, so here's our what-do-we-have-in-the-pantry delicious beer-braised beef recipe that we're happy to share with all of you!
Recipe for
Spicy Beer-Braised Beef with Mushrooms
Yield:
About 2½kg of Beer-Braised Beef
Ingredients
160g (about 3) Shallots
100g (1 medium) Onion
35g (12) cloves Garlic
1800g (4lbs) Beef Chuck Roast
120g (½-cup)Glace de viande
60g (¼-cup) Water
1 bottle of Guinness, or Stout
30g (about 2T) Tomato Paste
25g (about 2) Chipotles in Adobo, de-seeded
6g (1t) Adobo Sauce
10 dried Shiitake
2-3 tines Star Anise
1 small Black Cardamom
1 Bay Leaf
120g (2 medium) Carrots
Procedure
Chop the shallots, slice the onion into wedges, and peel the garlic. Set aside.

In a large Dutch oven, sear the chuck on all sides for 1-2 minutes. Lower the flame to medium-low and add the shallots, onion, and garlic.

Place the glace de viande and water into the pot, and pour in the beer. Stir to combine.

Run a knife through the chipotles with a quick chop, and toss into the pot. Add the adobo sauce, mushrooms, star anise, cardamom, and bay leaf. Stir once more to bring everything together. Turn off the flame.

Cover and place into a 300°F (149°C) oven for 1 hour, then reduce the temperature to 250°F (121°C), and bake for another 4-5 hours, or until the beer-braised beef is almost tender.

Peel and cut the carrots into large pieces. Throw them into the Dutch oven and cook until tender, about 20-25 minutes.

Take the beer-braised beef out of the oven and take the meat out onto a cutting board. Strain the liquid and cook it down until it turns into a thick sauce, about 20-30 minutes. Discard the star anise, cardamom, and bay leaf. Slice the beef into large cubes, and put into the Dutch oven with the reduced sauce, aromatics, mushrooms, and carrots. Gently toss together.

Serve the dish family style, with some toasted bread and vegetables (like pan-roasted brussel sprouts or mashed potatoes).
*Bunny Wisdom*
I cut my onion wedges fairly large, since the long cooking will break it down. I also give the garlic a quick squish under the knife to slightly crack them.
We use glace de viande from More Than Gourmet here at Everybunny HQ, because cooking down a bunch of beef stock is a ton of work. If you're ambitious, go ahead and make your own glace de viande!
Any 12oz bottle of dark beer will work with this recipe, though we like to use Guinness for this recipe.
The chipotles give the dish a nice kick, and a smokey note that brings a lot of warmth on a chilly evening.
Shiitake wasn't exactly our choice of mushroom. We had these on hand and thought some earthy flavors would be nice in this dish, and it totally worked.
If you decide to cut the chuck down a little to have it fit better in your Dutch oven, remember that your cook time might need to be adjusted as well (smaller pieces = less cooking time).