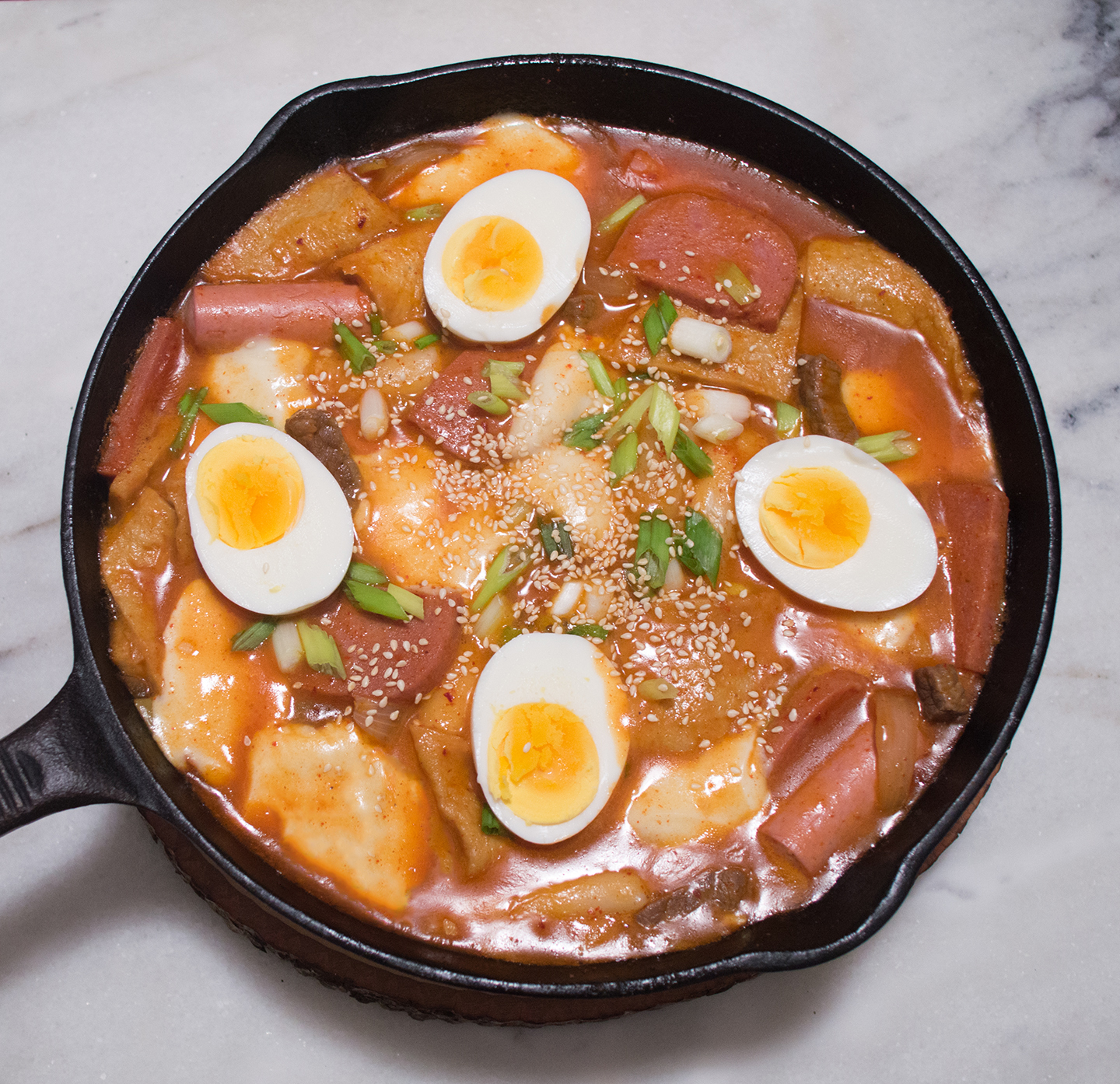 Jump to Recipe for Deluxe Tteokbokki (디럭스 떡볶이) - Fancy Spicy Rice Cakes
If you read our post on Rabokki, you'll know that I grew up eating Tteokbokki (떡볶이) at home. We wanted to showcase this rice cake dish differently, and enhance it to something a little fancier. It's delicious on its own, as a bowl of rice cakes swimming in spicy sauce, but we wanted to have some fun with it by adding mozzarella cheese!
As explained before, tteokbokki originated as a non-spicy rice cake dish made with vegetables, meat, and soy sauce. It morphed into the more familiar spicy version within this past century or so, and what we primarily eat today. Instead of just adding mozzarella cheese, we also decided to add some luncheon meat and sausage links to up the protein. In the end, the pan is jam packed with lots of different textures and flavors, making this a great party dish.
I love using a stock or broth to cook the dish. A quick and easy one is using dashi. Koreans call this Yuksu (육수), which means "liquid from meat", but it is essentially the same thing as the Japanese broth. You don't have to use fish or meat to make your broth either; use kelp and mushrooms to make a vegetarian broth!
**Taken from a previous post that required dashi, here is a snippet of how to make your own:
Powdered dashi really comes in handy for this recipe, however, dashi (出汁) can be easily made from scratch. For a quart (about a liter) of water, simmer a palm-size piece of kombu (昆布 – dried kelp), a couple of dried shiitake mushrooms, and a handful of dried shaved bonito (鰹節, かつおぶし – katsuobushi) for 10 minutes. Cover, turn off the flame, and let it sit for 15 minutes. Strain the large pieces and use the dashi for all of your [Japanese] recipes.**
Recipe for
Deluxe Tteokbokki (디럭스 떡볶이) - Fancy Spicy Rice Cakes
Yield:
About 2 Liters of Rice Cakes
Ingredients
225g (½-lb) Beef
70g (1½ sheets) Fish Cake
70g (1 small) Onion
50g (1 small) Carrot
1 can Vienna Sausage
⅓-can Luncheon Meat, like Spam
454g (1lb) Rice Cakes (tteok), defrosted
600ml (2½ cups) Water, or Dashi Broth
130g (4T, heaping) Hot Pepper Paste (gochujang)
5g (1T) Red Pepper Flakes (gochugaru)
28g (2T) Sesame oil
5g (½T) Garlic
100-200g (¼-½lb) Fresh Mozzarella, sliced
2½-5g (1-2t) Toasted Black or Golden Sesame Seeds
2 medium Scallions, chopped
16g (1T) Soy Sauce, optional
2 hard-boiled Eggs, optional
Procedure
Slice the beef into smaller pieces and quickly boil them in a pot of water. Drain, rinse, and set aside.

Cut the fishcake into bite-size pieces, and slice the onion and carrot. Open the can of Vienna sausage and take out the links. Cut and use only a portion of the spam. Slice the spam and set all of these ingredients aside.

Put all of the rice cakes and water/broth into a cast iron pan. Turn on the flame and bring the pan to a simmer. Stir occasionally to prevent sticking. Add the hot pepper paste and red pepper flakes. Throw in the sesame oil and garlic, mix, and then combine all of the vegetables with the rice cakes in the pan. Simmer for 5 minutes and test the softness of the rice cakes. Add the protein. Simmer for another 2-3 minutes.

Taste the sauce to see if it needs soy sauce. Add a splash if it needs salinity. Set the mozzarella slices on the surface of the tteokbokki, and turn off the flame. Let the pan sit on the range for a minute to allow the cheese to melt. Sprinkle the sesame seeds and scallions on top, and serve with halved hard-boiled eggs.
Enjoy with your friends, family, and a nice cold glass of beer or some soju!
*Bunny Wisdom*
Although I've quickly explained on how to make your own dashi in previous posts that have required dashi, you can also boil the piece(s) of beef in some water until the meat is fully cooked, drain (to remove the foam and blood), refill with about 3-4 cups of water and simmer the beef for 30 minutes with the dried mushrooms; this will give you a simple broth. Equally, if you want to make this vegetarian, use mushrooms and/or kombu to make your broth. Using broth instead of plain water gives the tteokbokki good flavor.
If you plan to use mushrooms to make your broth, don't throw them away! Put them into the tteokbokki to give the dish an extra component that isn't meat, but is meaty in texture!
If you defrost your rice cakes in your refrigerator (if they are bought frozen) before you make this recipe, they will re-hydrate quickly. Make sure you watch the pan and stir, to prevent sticking.
To test the rice cakes, I just give them a squish with a spatula. If there's a lot of resistance, the rice cakes are still not hydrated. If they cut in half with very little pressure, it means your rice cakes are over cooked. You want them to be bouncy, but soft enough to enjoy.
There are lots of fishcakes to choose from! We use the flat eomuk the most for tteokbokki. You can find fishcake in your local Asian grocery.
The onions and carrot are sliced into wedges and coins, respectively. I usually cut them fairly thin (¼-½in) to lessen the cooking time.
Don't be afraid to use more water or broth. Sometimes those rice cakes can come a little dry, and so they need a little more water. The end result of the sauce should be similar to gravy.
I only add soy sauce to the dish if it needs more salt. If your mozzarella cheese is salty, you might want to hold off on the soy sauce. Plus, the luncheon meat can also make the mixture salty, so it's very possible that you may not even need soy sauce.
I plate the eggs last because I don't want the yolks to crumble into the mix. You are welcome to add them earlier into the pan, if you prefer having the eggs coated in some sauce.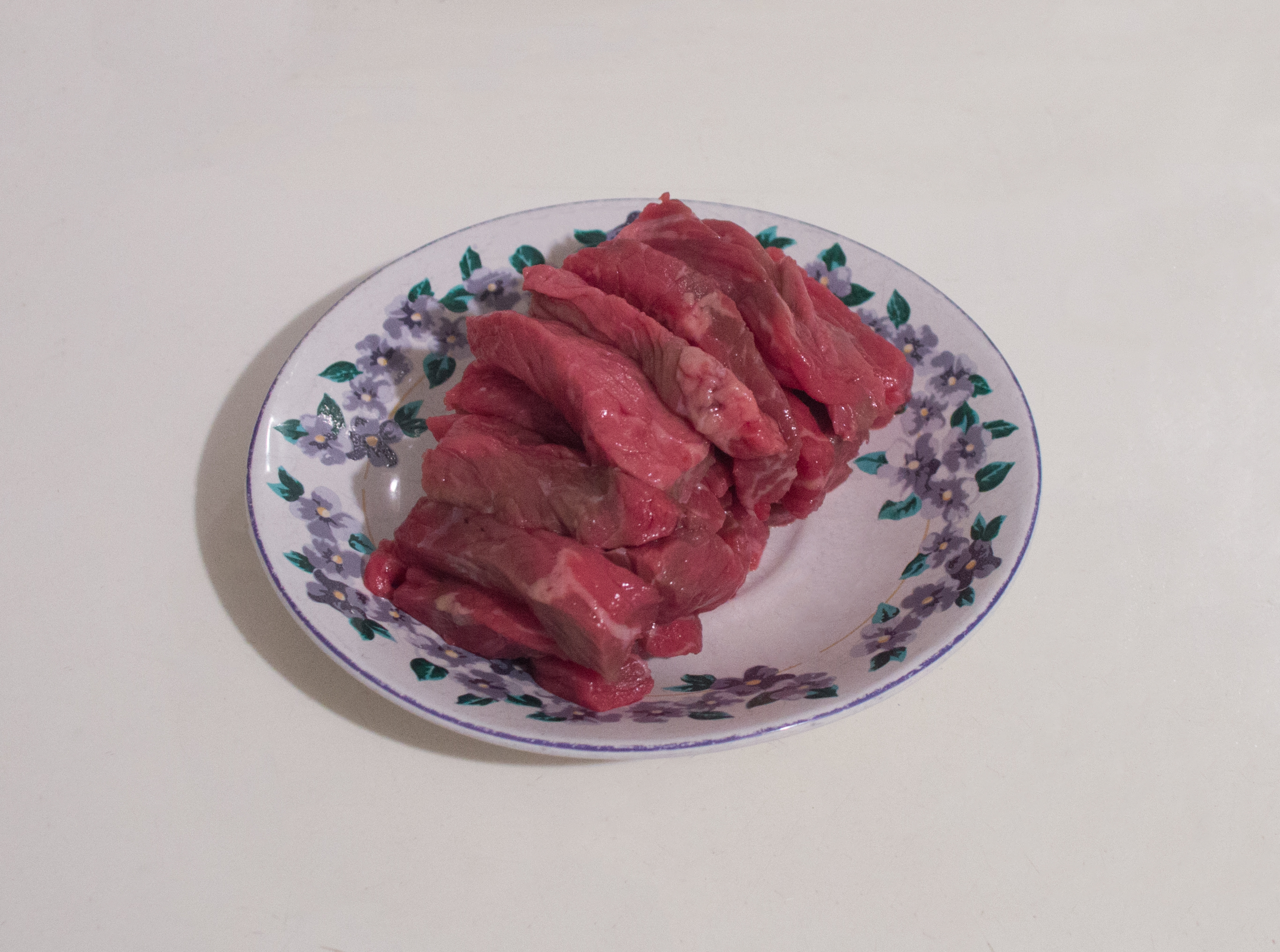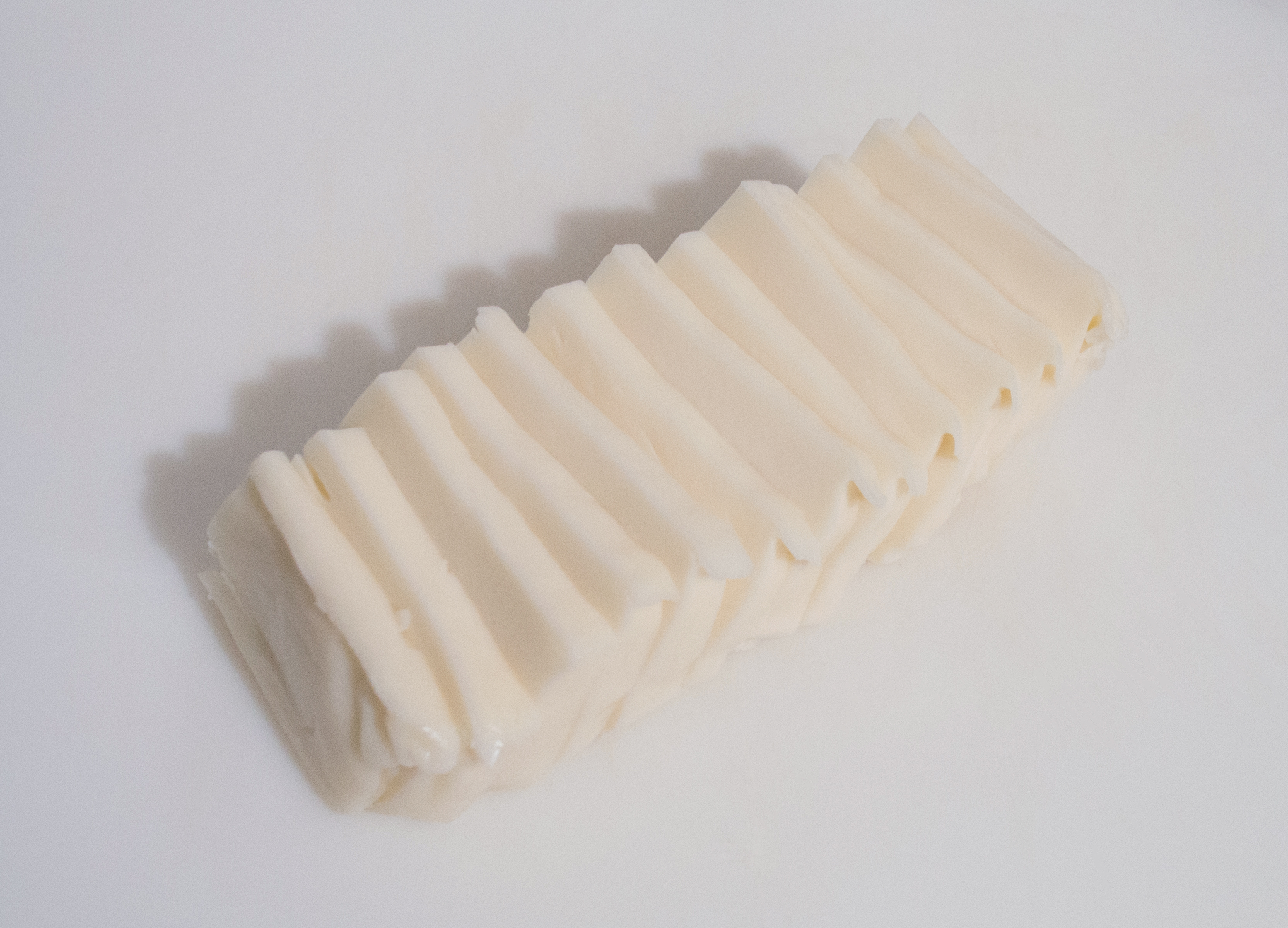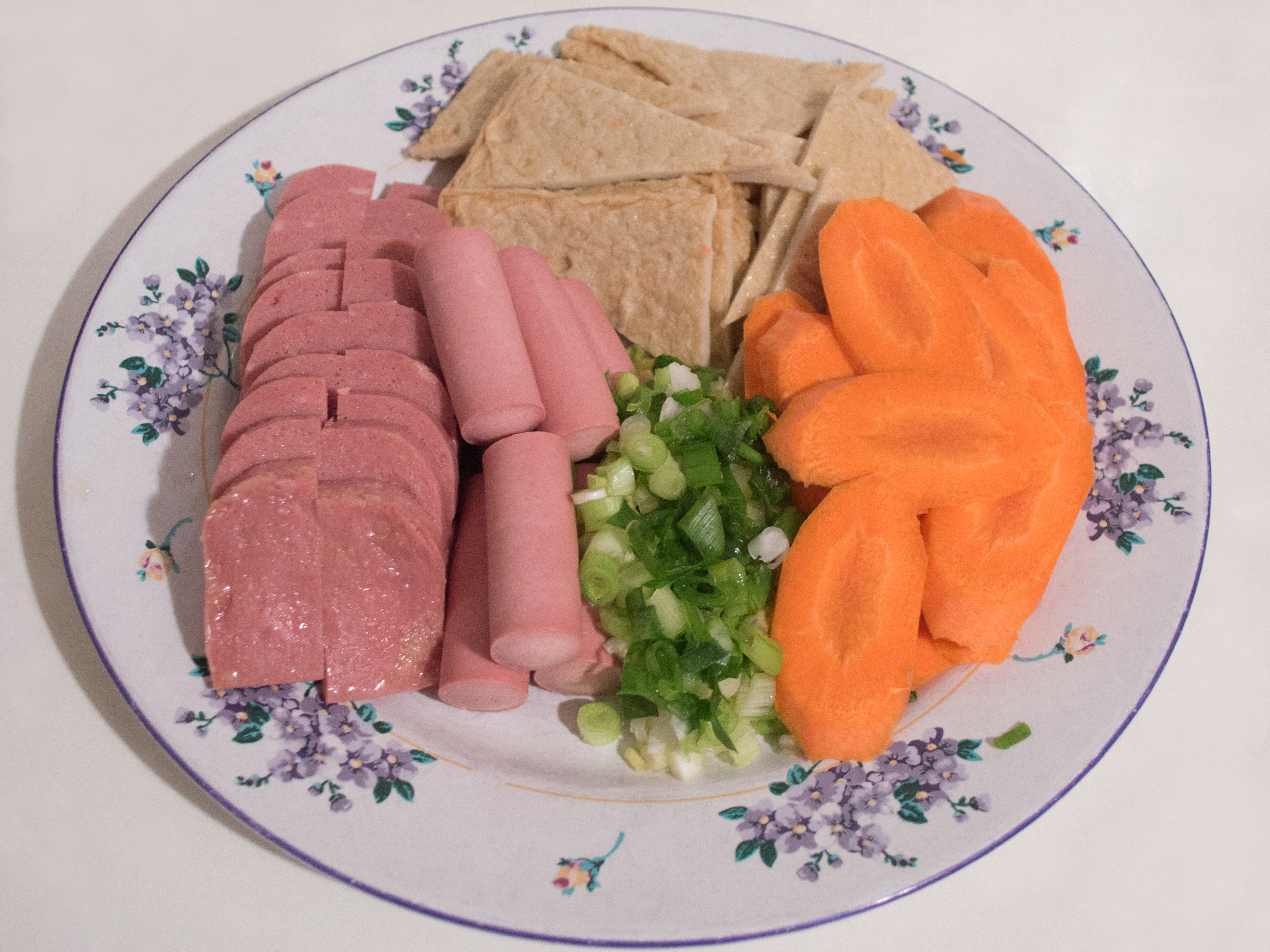 **Here are some of the ingredients I use for this recipe. Please, feel free to browse and ask questions on anything you see listed below.**