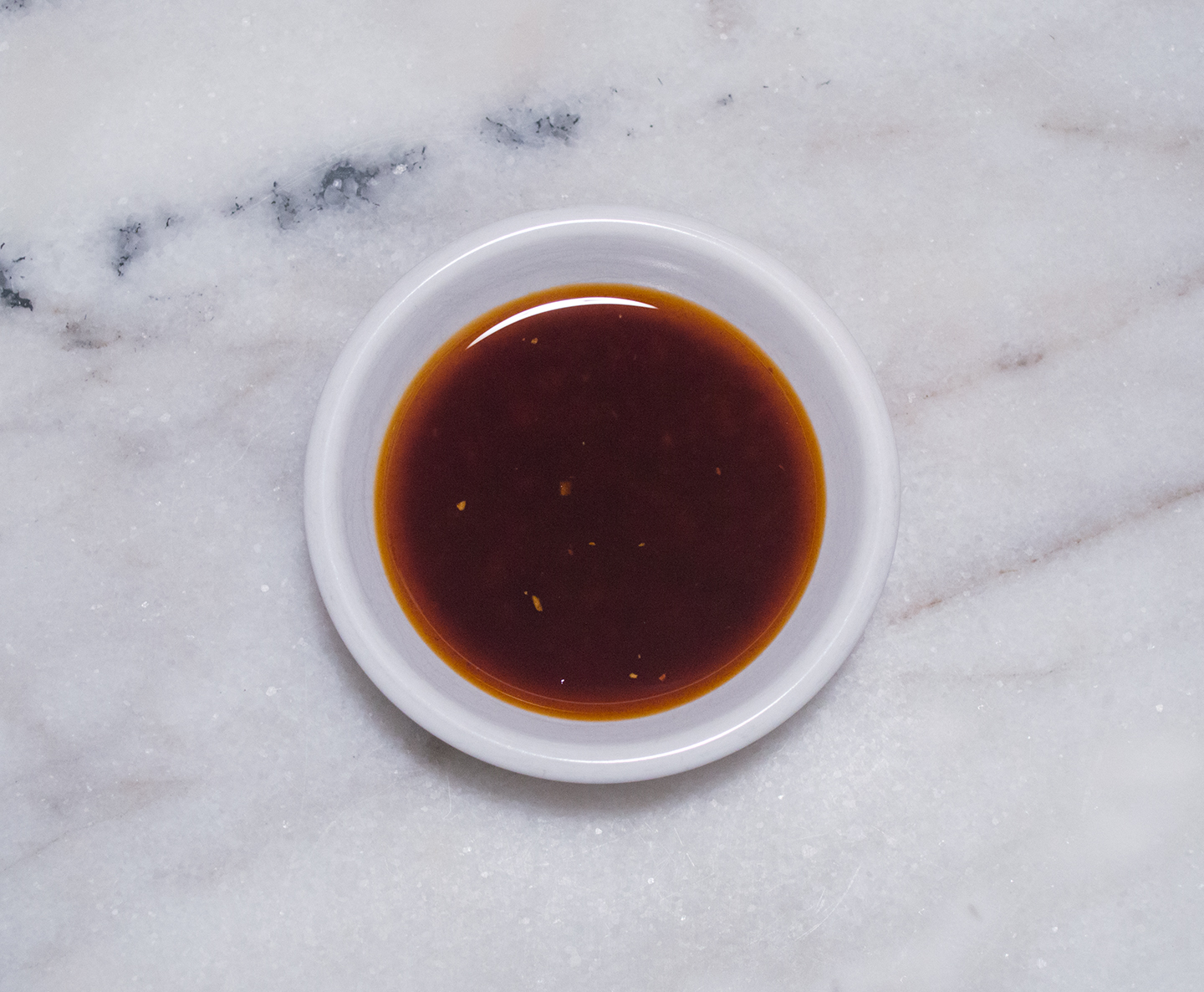 Jump to Recipe for Là Jiāo Yóu/Hóng Yóu (辣椒油/紅油) - Sichuan Red Chili Oil
Over the course of our relationship, Kitty and I have enjoyed sharing many many plates of dumplings, noodles, and fried rice. And the one constant in our life has been spice! Yeah, sure, maybe *that* kind of spice too (sorry, just being a bit cheeky), but I'm talking about chili. Chili oil, chili sauce, chili paste, dried chilis, roasted chilis, fresh chilis… we really love adding some heat to our food. Sometimes it's a little, sometimes a lot, but we find that it breaks up the monotony of what's on our plate, and it brightens things up.
We decided on the idea of making our own chili oil when we were eating dumplings at a local restaurant in Chinatown. All these years we never felt the need to make chili oil, but it was curiosity and wanting to push ourselves that got us excited to create our own. By making a fresh batch for ourselves, we knew we could appreciate our efforts for a long while, unlike popping open a store-bought jar and finding out it tastes stale.
Happy New Year, everyone! After being absent for a month, visiting family on the west coast for the holidays, we're happy to share this recipe with you. We hope that you'll make it for the upcoming Lunar New Year, so everyone can savor dumplings and noodles with a delicious scoop of freshly homemade chili oil!
Recipe for
Là Jiāo Yóu/Hóng Yóu (辣椒油/紅油) - Sichuan Red Chili Oil
Ingredients
5g (1T plus 1t) Red Sichuan Peppercorns (紅花椒)
5g (1T plus 1t) Green Sichuan Peppercorns (青花椒)
100g (about 1 cup) Sichuan Chili Pepper Flakes
40g (1 large plus 1 medium) Scallions
40g (about 1 dozen cloves) Garlic
20g (7T) Ginger
4g (1½t) Cinnamon Bark (陈皮)
4g (2 pods) Black Cardamom (草果)
500g (about 2¼ cups) Canola/Soybean Oil
10g (5t) Fennel Seed (甜茴香)
10g (1½T) Cumin Seed (小茴香)
8g (about 2T) Star Anise (八角)
4g (peel of 1 Tangerine, dried) Tangerine Peel (桂皮)
3g (2 pieces) Sand Ginger (沙姜)
2½g (8-10 medium) dried Bay Leaf
2g (6 small pieces) Licorice (甘草)
2g (1t) whole Clove (丁香)
50g (about ¼-cup) Sesame Oil
Procedure
Grind the peppercorns in a coffee grinder until fine. Place into a clean and dry jar that can hold all of the oil, about ¾-1 liter. Add the pepper flakes. Set the jar aside.

Bisect and cut the scallions into 2-inch lengths, crush the garlic, and thinly slice the ginger.

Crush the black cardamom and break apart the cinnamon bark into smaller pieces.

Combine all of the above ingredients with the rest of the dry ingredients and place into a small pot. Pour in the neutral oil, and heat the contents up to 225-235°F (107-113ºC). Maintain that temperature for 30 minutes, making sure to not burn the aromatics.

Turn off the flame. Strain the oil out very well. Discard the spices and bring the oil to 122°F (50°C). Pour the sesame oil into the jar, then follow with pouring ⅓ of the infused oil. Gently stir to combine.

Bring the oil back to the flame and heat it to 212°F (100°C). Pour ½ of the remaining infused oil into the jar.

Heat the final amount of infused oil to 300°F (150°C) and pour into the jar.

Give the mixture a final stir, seal, and place in a cool and dark corner on the counter.

After 2-3 days, the chili oil is ready to be enjoyed with yummy steamed or fried dumplings!
*Bunny Wisdom*
All of these spices can be found at Asian supermarkets. Don't be afraid to ask someone for help.
Sichuan peppercorns sometimes come with a seed pod that isn't really used in cooking. It's hard and not tasty, so it's often discarded. Keep those husks though! That's the yummy part of the peppercorn!
We leave the fresh aromatics (scallions, garlic, and ginger) pretty chunky, to make sure we aren't burning them in the heating process.
Make sure your ground peppercorns are not so finely ground that it's a powder.
The gradual increase in temperature helps to ensure that the chili flakes don't burn, and encourages the drawing out of the characteristic bold red color.
When you're ready to use the oil, give the mixture a good stir to get a good balance of chili flakes and chili oil. Always use a dry spoon, as this will help keep the contents from spoilage.