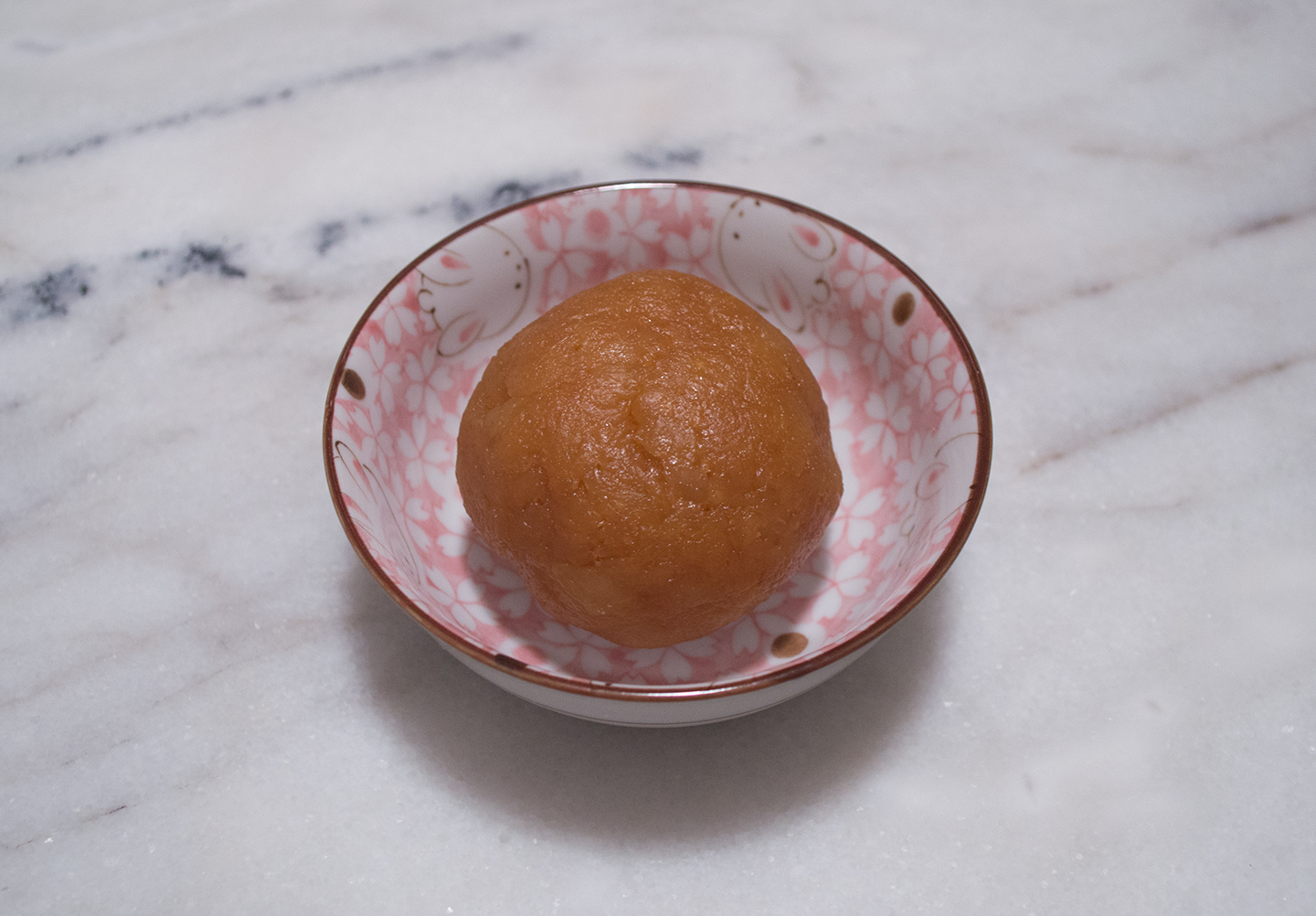 Jump to Recipe for Fènglí Xiàn/Huánglí Xiàn (鳳梨馅/黄梨馅) - Pineapple Filling
Happy New Year, everybunny! We're back from vacation, visiting friends and family on the west coast, and ready to cook! Quite fittingly, we're making pineapple filling (fènglí xiàn – 鳳梨馅) for yummy pineapple tarts this week! It's a treat that I wasn't too familiar with until just a few years ago.
I love that this recipe doesn't have thickeners or fillers. Often we find tarts and cakes mixed with starches or winter melon. We decided to omit both and create a simple recipe only using the natural fibers and sugars of the pineapple to create a good texture for our pineapple tarts. I hope you guys use this in your desserts, because it's definitely a favorite at Everybunny Headquarters!
Recipe for
Fènglí Xiàn/Huánglí Xiàn (鳳梨馅/黄梨馅) - Pineapple Filling
Yield:
About 300g of Pineapple Filling
Time:
Preparation:
Cooking:
Waiting:
Ingredients
2 cans crushed Pineapple in juice
36g (about 3T) Rock Sugar
2 small Cinnamon Sticks, optional
5 points Star Anise, optional
2 Cloves, optional
5g (1t) Lemon Juice
1g (½t) Lemon Zest
Pinch (⅛t) Kosher Salt
Procedure
Empty the crushed pineapple into a large pan, juice included, and place the rest of the ingredients with the pineapple. Mix well, then bring the pan to high flame for 2 minutes. Lower the flame to medium and begin evaporating out the water, moving the mixture with a spatula to prevent burning. Keep cooking the pineapple for 30-35 minutes, or until the contents become the texture of jam.

Discard the cinnamon, star anise and cloves. Bring to low flame and continue cooking the pineapple filling until the fibers begin to show, the mixture is more translucent, and the filling is less syrupy and tacky, about 25-30 minutes.

Cool the filling. Refrigerate until ready to use for mooncakes or tarts!
*Bunny Wisdom*
A can of crushed pineapple, with pineapple juice, weighs 567g (20oz). I opted for the one with juice rather than the one with syrup.
Spices are optional if you're applying this to baked goods that aren't pineapple tarts.
Keep an eye on the pineapple filling, as it can caramelize and cook the fruit too quickly, imparting a burnt flavor.
Cooking the pineapple can take longer; it depends on how much of the liquid needs to be heated out. We're looking for something that doesn't pool. It should keep its shape when brought together in a pile. There's a point at which the filling starts to almost break apart, revealing the fibers of the pineapple. This is when you can turn off the flame and check the weight of the mixture. We're aiming for 300g (10½oz).
Keep in mind that the filling can be cooked into a more jam-like consistency, depending on the application. If you're making mooncakes or pineapple tarts and cakes, it's best to use a more desiccated mixture.