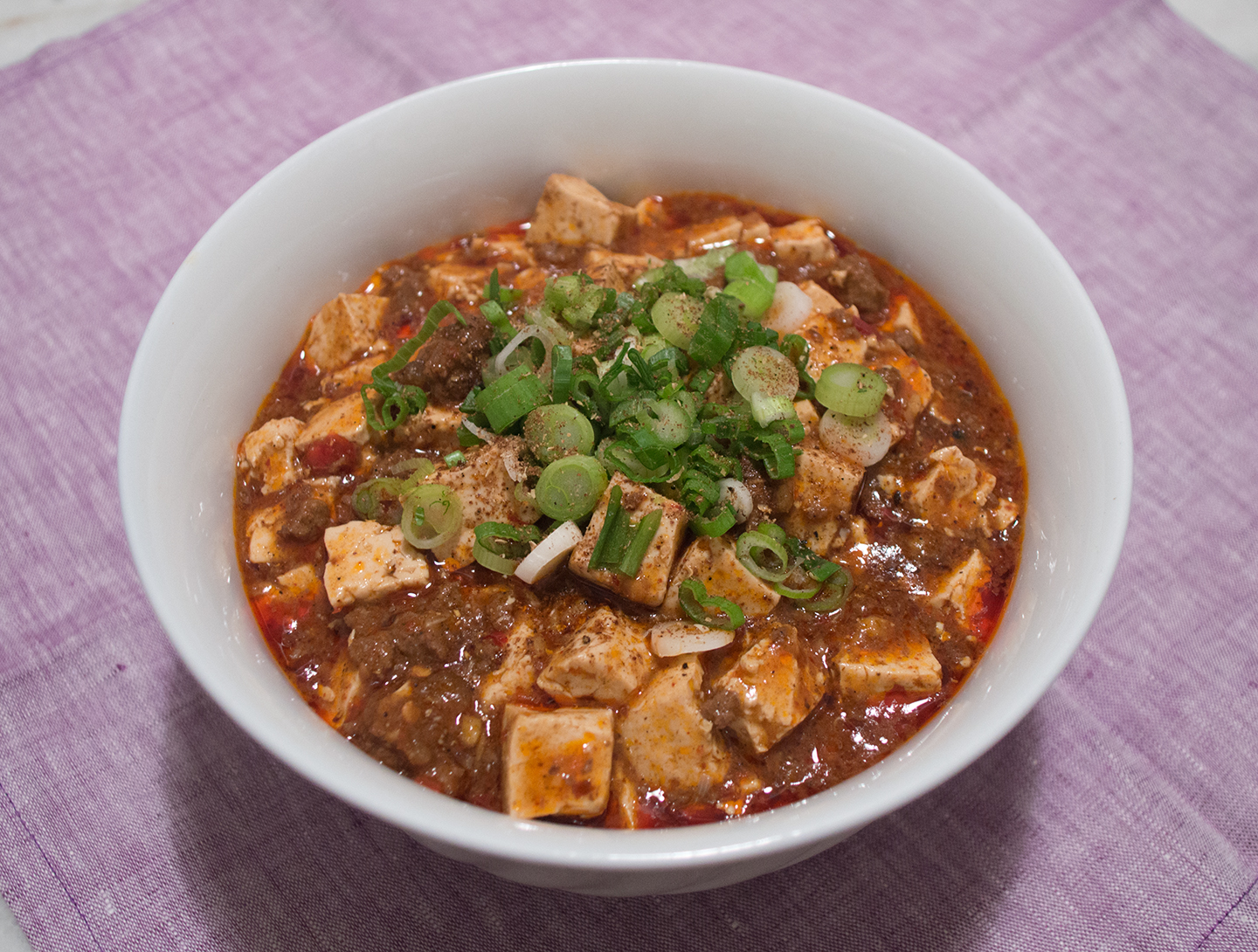 Jump to Recipe for Mapo Tofu (麻婆豆腐) - Bean Curd in Spicy Sichuan Chili Sauce
Mapo Tofu is a favorite at Everybunny Headquarters! It's especially wonderful this time of year, when the weather is cold and we need something hot and spicy to warm our tummies. Both Kitty and I were underwhelmed when we ate mapo tofu at a bunch of different restaurants around the City. One place had watery sauce, another restaurant had little to no meat, and another had such mild spice, we wondered if it was really mapo tofu. We decided that we needed to make our own.
We wanted to do this dish right, so we did some research, bought the necessary ingredients at our local Chinatown supermarket, and started cooking! Every time we cooked this dish, we made some adjustments; we played with the spices, the meat and tofu ratio, and set on our recipe that I'm excited to share with you today! We hope you are pleased with this as much as we are!
Recipe for
Mapo Tofu (麻婆豆腐) - Bean Curd in Spicy Sichuan Chili Sauce
Yield:
About 2 Liters of Mapo Tofu
Ingredients
Beef Marinade:
14g (1T) Sesame Oil
9g (½T) Soy Sauce
9g (½T) Oyster Sauce
7g (½T) Shaoxing Wine (绍兴酒)
2g (1t) ground Black Pepper
2g (1t) ground Sichuan Peppercorn (花椒)
4g (½T) Corn Starch
¼g (⅛t) ground Star Anise
300g (10½oz) Minced Beef
Tofu and Sauce:
55-75g (3-4T) Píxiàn dòubànjiàng (郫县豆瓣酱)
900g (32oz) Firm Tofu, room temperature
27g (2T) Vegetable Oil
25g (2-3T) finely minced Ginger, packed
15g (5t) finely minced Garlic
5g (1T) Red Pepper Flakes
2g (1t) ground Sichuan Peppercorn (花椒)
8g (2t) Granulated Sugar
1 Chicken Bouillon Cube
5g (1t) Chinese Black Vinegar (镇江香醋 - Zhenjiang Vinegar)
9g (2t) Shaoxing Wine (绍兴酒)
350g (1½ cups) Water
16g (2T) Corn Starch
To Finish:
2 medium chopped Scallions
Toasted and crushed Sichuan Peppercorn, optional
Procedure
Mix together all of the beef marinade ingredients, then mix the beef with the marinade and set aside.

Finely chop the doubanjang and cut the tofu into ½-inch (1½cm) cubes.

On medium flame, heat the oil in a wok or a large pot. Cook the marinaded beef, using a spatula to break it up into smaller pieces. Once cooked, add the ginger and cook for about a minute, stirring continuously. Reduce the flame to low, and add the garlic. Cook for an additional minute.

Place the doubanjang into the wok and cook for about 3 minutes, making sure to stir well to keep it from burning. Throw in the pepper flakes, ground Sichuan peppercorn, sugar, and bouillon cube. Stir the mixture thoroughly.
Pour in the vinegar, Shaoxing wine, and most of the water, removing about 2T (30ml) into a small bowl. Bring the entire sauce to a boil.

Add the cut tofu, and simmer for 7-8 minutes, mixing carefully. Bring it to a strong simmer.

Mix the corn starch with the remaining 2T (30ml) of water, stream slowly into the mapo tofu, and again, mix gently. Heat until the mixture bubbles, then remove from the flame.

Finish with chopped scallions, and if desired, a couple dashes of crushed Sichuan peppercorn.

Serve with warm rice.
*Bunny Wisdom*
Píxiàn dòubànjiàng (郫县豆瓣酱) is a spicy broad bean paste from the Pixian region in Sichuan, which you can find in Chinese markets (it may take some searching).
Shaoxing wine (绍兴酒) can also be found at a Chinese market. Try to use drinking-grade Shaoxing wine if you can find it. Check the ingredients: if there is salt added, it is cooking-grade and not drinking-grade.
Zhenjiang vinegar (镇江香醋) and Sichuan Peppercorn (花椒) are also available in your local Chinese grocery store.
Just make sure you're stirring the mapo tofu constantly while the chilies are on heat so they don't burn, and stir slowly when the tofu is added to the mix, as the tofu can break apart.
**Here are some of the ingredients I use for this recipe. Please, feel free to browse and ask questions on anything you see listed below.**