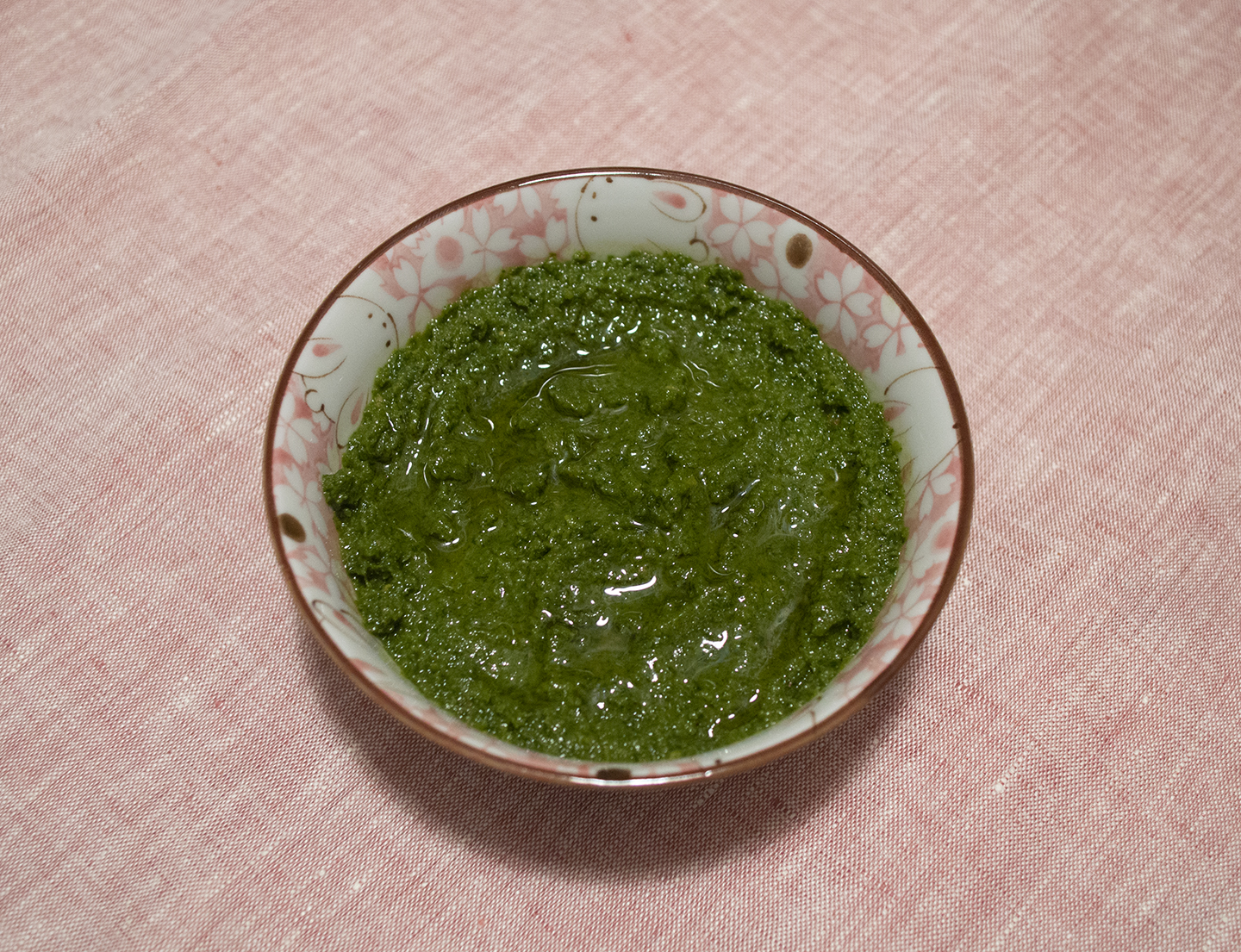 Jump to Recipe for Sahawiq Akhdar (Zhug) - Yemeni Green Hot Sauce
Zhug (Israel: zhoug, zkhug, s'hoog), also called sahawiq [(Yemen: bisbas) Arab states: daqqus], depending on the country, is a deliciously fresh hot sauce used on meats and falafels. We came across the "green sauce" while eating from food carts in the City, and wanted to try to make our own.
We also tried the zhoug from Trader Joe's and we found the condiment to be a bit mild in heat and very saturated with olive oil. Both James and I were looking for something fresh, peppery, and aromatic, and one weekend, we set out to get the necessary ingredients. Luckily, all we needed to get were the fresh cilantro and mint, as we had everything else at home.
I was pleasantly surprised how easy the sauce came together, and even more excited to put it on everything! It's so delicious on stewed and grilled meats, falafel, and even on toast with salted butter!
Recipe for
Sahawiq Akhdar (Zhug) - Yemeni Green Hot Sauce
Ingredients
60g (about 2 bunches, 1" diameter) Cilantro leaves
6g (about ¼-cup) Mint
20g (about half a bulb) Garlic
110g (7-8 small) Jalapeño
2½g (about 1t) Cumin
2½g (about 1t) Cardamom
1g (about ½t) Coriander Seeds
½g (¼t) Caraway Seeds
1g (about ½t) Black Peppercorn
5g (1½t) Kosher Salt
55-80g (4-6T) Extra Virgin Olive Oil
Procedure
Remove the leaves off of the stalks of cilantro, wash, and gently dry. Do the same for the mint. Peel the garlic and remove the jalapeño stems and seeds.

Lightly toast the cumin, cardamom, coriander, and caraway under low flame for 1-2 minutes.

Grind all of the seeds in a coffee or spice grinder with the peppercorn.

Place the cilantro, mint, garlic, jalapeño, ground seeds, and salt into a food processor. Pulse, then switch to continuous chopping, and slowly drizzle in the olive oil.

Once homogenized, package the zhug in an air-tight container and refrigerate. Use within one week.
*Bunny Wisdom*
The two bunches of cilantro turn into roughly 2 packed cups of leaves.
Toasting the seeds helps bring out the oils and flavors.
Over 100g of jalapeño can be a lot for some people. Use your discretion; add less if you want the zhug to be less spicy.
You don't have to remove the seeds from the jalapeño, but we like to discard them.
It's up to you to decide how much olive oil you want suspended within the mixture. If you want something more fluid, add more olive oil; otherwise, I like to stay on the lower end to enjoy the freshness of the zhug.
Feel free to drizzle a little bit of olive oil over some spooned zhug, especially if you want more fragrant olive oil with your meal.