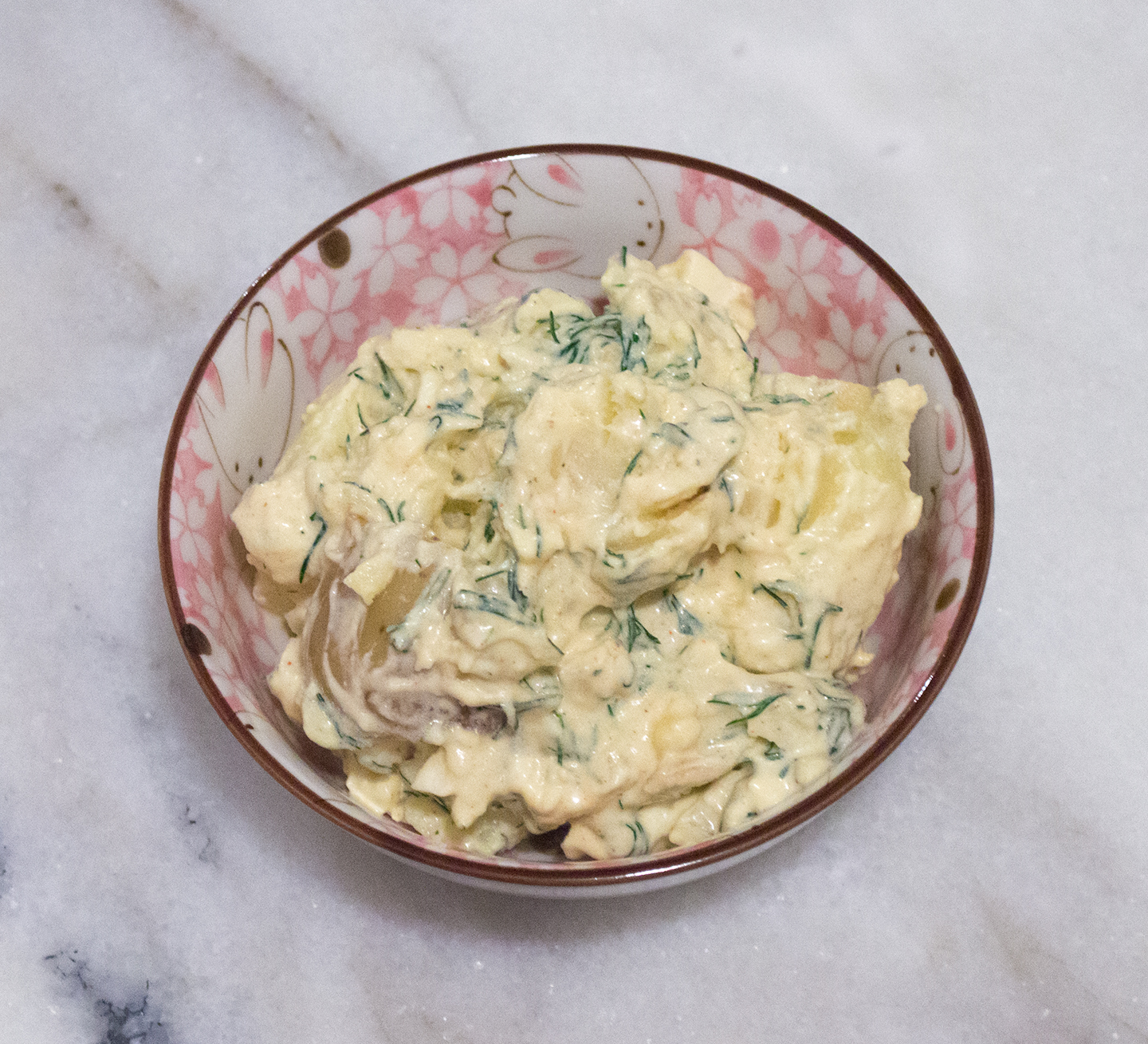 Jump to Recipe for Creamy Potato Salad
With the upcoming Independence Day festivities, I wanted to share my potato salad recipe with all of you! Lately, I've been making this dish almost once a week. My hubby loves everything potato, and this has been such a hit in our home. I don't normally eat a lot of heavily creamed dishes, so to make this salad creamier, I broke apart some hard-boiled egg yolks to thicken the mayonnaise dressing. It's been a better alternative than to add more mayonnaise to the recipe.
We used to buy potato salad from our local deli, and indeed, it's very delicious; however, I was always left wondering why I didn't make my own at home. I usually have all of the ingredients available in my kitchen to mix up a bowl. Equally, I found myself wanting a bit more mustard, or a touch more of tartness to the dish, and have it with a little less mayo without compromising the creamy texture. Determined to enjoy and savor every bite, I knew that I *had* to make a Bunny version!
Plus, dill. I love dill. I love aromatics! They always brighten up a dish and give food an extra bit of flavor.
Recipe for
Creamy Potato Salad
Yield:
About 1½ Liters (1½ Quarts) of Salad
Time:
Preparation:
Cooking:
Waiting:
Ingredients
3 large Eggs
1350g (about 3lbs, 6-7) medium Yukon Gold Potatoes (roughly 3 inches in diameter, 4 inches in length)
36g (2T) Kosher Salt
22g (1½T) Apple Cider Vinegar
2 Celery stalks, optional
2 small Scallions
35g (½) small Onion
2-3g (4T) fresh Dill
165g (¾-cup) Mayonnaise
22g (1½T) Dijon Mustard
8g (½T) Whole-Grain or Stone-Ground Mustard
1g (½t) ground Black Pepper
8g (about 2t) Granulated Sugar
Procedure
In a medium saucepan, boil some water for the eggs. When the water comes to a rolling boil, lower the flame to a simmer and gingerly lower the eggs into the pot. Set a timer for 9 minutes. After 9 minutes, pour out the hot water and cover the eggs with cold running water until the pot is no longer retaining heat. Set aside.

Scrub your potatoes clean, place them into a large pot, and fill with cold water until they are completely submerged. Add the salt. Place on a high flame and set your timer to 40 minutes. When the pot comes to a boil, lower the flame slightly to a steady boil. Keep the potatoes boiling for the duration, or until a fork or skewer can puncture without much force, up to 45-50 minutes.

While the potatoes are cooking, drain the saucepan and peel your eggs. Cut them in half and scoop out the yolks into a bowl. Dice the egg whites and set aside. Clean and dice the celery, scallions, and onion, and add to the bowl. Rinse, finely chop the dill, and place into the bowl. Add the mayonnaise, mustard, pepper, and sugar. Mix everything together, making sure the yolks are broken up and homogenized with the dressing. Add the whites and lightly toss.

Once they are tender, drain and place the potatoes onto a cutting board. Cut the potatoes up into bite-size pieces. Let them cool until they are no longer steaming, and are no longer too hot to touch, about 10 minutes. Place all of the cut pieces into a bowl, and add the vinegar. Carefully toss the potatoes and set aside to cool to room temperature.

Once the potatoes are at room temperature, add the dressing and slowly toss all of the ingredients together until the dressing is covering all of the potatoes evenly. Store in a container and refrigerate for 3-4 hours, or overnight.

Serve your potato salad at your next barbecue or potluck dinner!
*Bunny Wisdom*
I understand that everyone has their way of boiling eggs; we have the *begin in cold water* camp, and the *begin in hot water* camp. I have *always* boiled my eggs beginning with boiling water. I'm sorry for the *cold water* people. Honestly, as long as those yolks aren't overcooked, dry and starchy, you're good to go! I like mine just slightly under-cooked so it creams better with the mayonnaise. And a slotted spoon (or ladle) is helpful in sliding your delicate eggs into the hot pot.
You want tender, not super-soft, potatoes. Firstly, I hope you found potatoes that are relatively the same size; it helps in cooking things evenly. Secondly, you want to find a potato that is a touch thicker in diameter and use that as your tester. Lastly, if your skewer goes in smoothly and can be removed easily, your potatoes are done. If it's still a bit crunchy, give it another 5 minutes and test again.
I keep my skins on. This keeps the potatoes intact, but I mostly do this because my hubby likes potato skins. You can remove them once you've placed them on the cutting board and they have cooled a bit.
I cut the potatoes while they are still a bit hot, so they cool faster. You are welcome to wait until the starches in the potatoes have begun to congeal, which will help retain shape of the potato chunks.
Vinegar seasons the potato pieces really well when it's still warm, however, it's better to wait to dress the potatoes until they have fully cooled. The heat with the mayonnaise mixture can create a healthy environment for unwanted bacterial growth. Be careful, and make sure your potatoes have fully cooled before you add the dressing.
I don't always add celery to my potato salad because it's a vegetable that I have to buy in bulk; you can't get just a few stalks. Plus, my hubby doesn't enjoy celery as much as I do. I think that fresh celery is a great textural component to potato salad.
I do a combination of scallions and onion, but you can choose to add just one kind; just add a little more if you do.
Just like the scallions and onion, I put in two kinds of mustard. I like the bits of mustard seed, but I still want a good mustard flavor. If you don't have both kinds, use just dijon or stone-ground.
The sugar balances out the saltiness of the potato salad. The apple cider vinegar helps, as well as putting some sweet onion into the recipe. If you believe that the recipe doesn't need sugar, omit it when making the dressing and sample the potato once it's dressed. You can always add it in later.
**Here are some of the ingredients I use for this recipe. Please, feel free to browse and ask questions on anything you see listed below.**