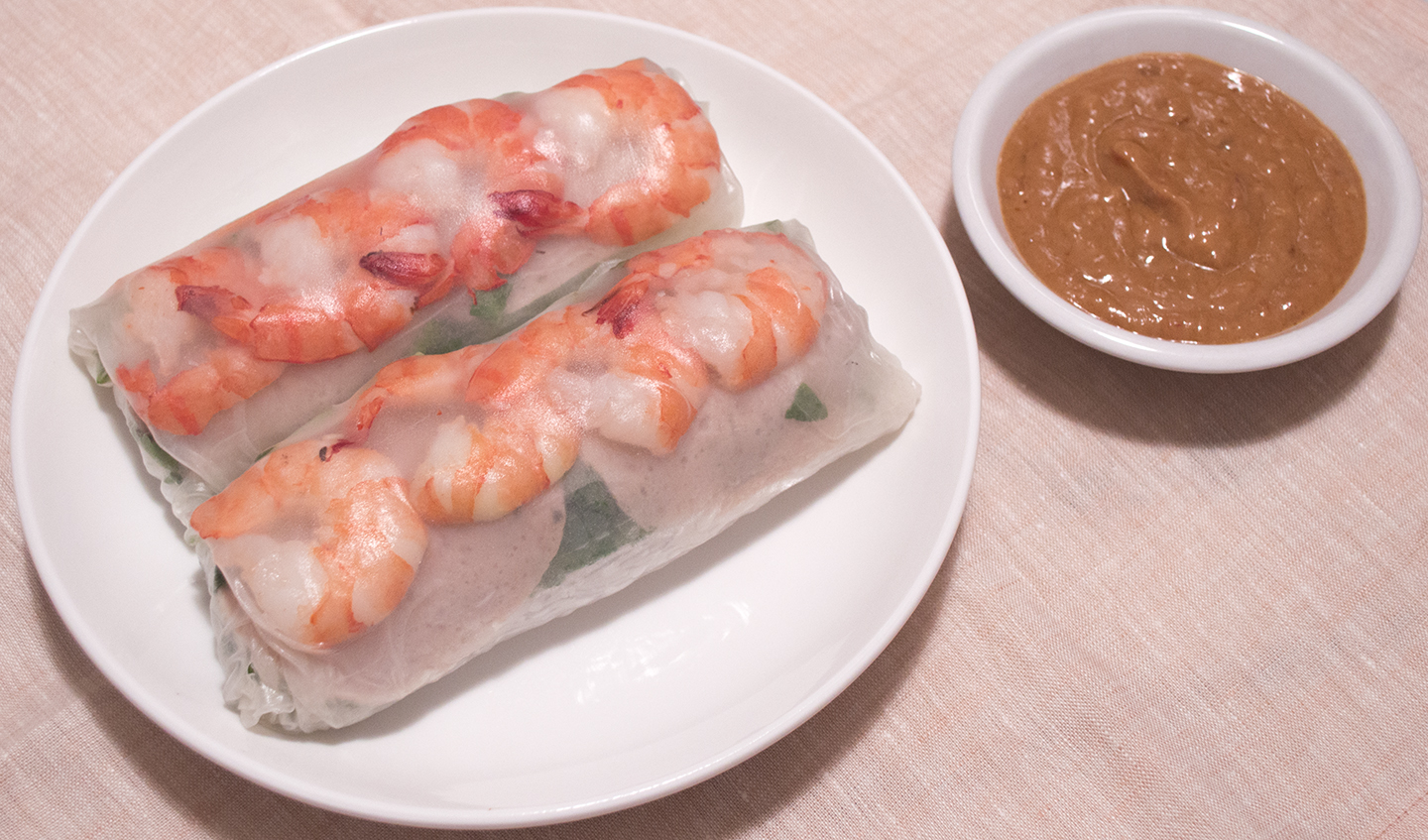 Jump to Recipe for Salad Rolls with Peanut Sauce
It's been *so* hot in the City lately. Even with the rain, it's still super hot! On days like this, all I really want is something light to eat, and I don't want to turn on the burner (or the oven, for a long time) to cook something. I think of salad rolls often, especially when I don't have much of an appetite to eat a lot of heavy carbs.
We've made these a few times already because they're so easy to make, and you can fill them with however much you want. I made these for lunch on the weekend, so they have a little more noodles than if I were to be serving them as an appetizer. The rolls are delightfully refreshing with all of the herbs and cold noodles, and it pairs well with the rich and nutty peanut sauce! We also decided to add slices of Vietnamese pork roll to give it more substance and make it into a meal.
Recipe for
Salad Rolls with Peanut Sauce
Ingredients
Sauce:
Rolls:
12 large Shrimp, peeled, de-veined, and cooked
1 bunch Cilantro
1 bunch Thai Basil
1 bunch Mint
1 large Carrot
2 Kirby Cucumbers
1 block Vietnamese Pork Roll (Chả lụa)
120-150g Rice Noodles, dry weight
6 sheets Rice Paper Wrappers
Procedure
Take each cooked shrimp and cut them in half, creating 24 halves. Place into a bowl, cover, and refrigerate.

Wash the cilantro, basil, and mint, removing bruised leaves and woody stalks. Drain well. Set aside.

Peel and julienne the carrot. Slice the cucumbers lengthwise, about 6-8 sticks per cucumber. Place onto a large plate.

Thinly slice the pork roll less than an ⅛-inch thick, about 18 slices. Set onto the plate.

Hydrate the rice noodles in a bowl of hot water until they soften, but are not mushy, about 5 minutes. Once they are soft, drain and run under cold water until the noodles are cool. Drain again. Set aside.

Hydrate a wrapper in a pie pan or fry pan filled with hot water, submerging entirely for just a few seconds. Remove and place flat onto a dinner plate or tea towel.

In the middle of the wrapper, begin filling the salad roll with 4 halves of shrimp, orange-side down. Then add a few stalks of cilantro, a few leaves of basil, and a couple leaves of mint, covering the shrimp. Add a pile of carrots and two lengths of cucumber. Tile 3 slices of pork along the length of the roll. Lastly, cover with noodles, about a sixth of the portion.

Carefully and securely wrap the roll, and continue filling each with a desired amount of cilantro, basil, and mint. Place all of the rolls onto a plate or platter without the sides touching, and serve with peanut sauce.
*Bunny Wisdom*
The amounts for the herbs and pork are ambiguous because it all depends on how much you want inside the wrappers. Ideally, you don't want to stuff it so much that you can't wrap them. I like my salad rolls with a lot of cilantro and basil, but only a few pieces of mint. Have fun, play with flavors, and enjoy eating the rolls in whatever way you'd like.
The Vietnamese pork roll was purchased at a local Vietnamese sandwich shop. Many Vietnamese and Southeast Asian groceries carry the pork in blocks or tubes; it's a common ingredient in bánh mì.
The noodles don't need to be boiled. They hydrate just as well in a bowl of hot water. Check periodically to make sure you aren't over-softening the noodles.
A large and shallow pie pan makes it easier to hydrate the wrappers without having to squish them in. Submerge only for a few seconds. It will hydrate on its own while you are filling each wrapper.
The wrappers are quite delicate once hydrated. I do okay using a dinner plate, but if you are concerned with sticking and tearing, use a clean tea towel.
To wrap the rice paper, keep your filling in the middle, or in the bottom third of the circle if you need more space. Fold over the bottom part of the circle, then close in the sides. To seal, carefully and tightly roll the contents away from you until the wrapper sticks and closes the salad roll. Your first roll might be a little loose or the wrapper might tear; don't worry, it takes a bit of practice.
I make my peanut sauce first so I can refrigerate the sauce while making the salad rolls. Equally, you may choose to chill both the sauce and the rolls before serving. Make sure the rolls aren't touching, and they are wrapped with plastic wrap to help prevent drying.
**Here are some of the ingredients I use for this recipe. Please, feel free to browse and ask questions on anything you see listed below.**