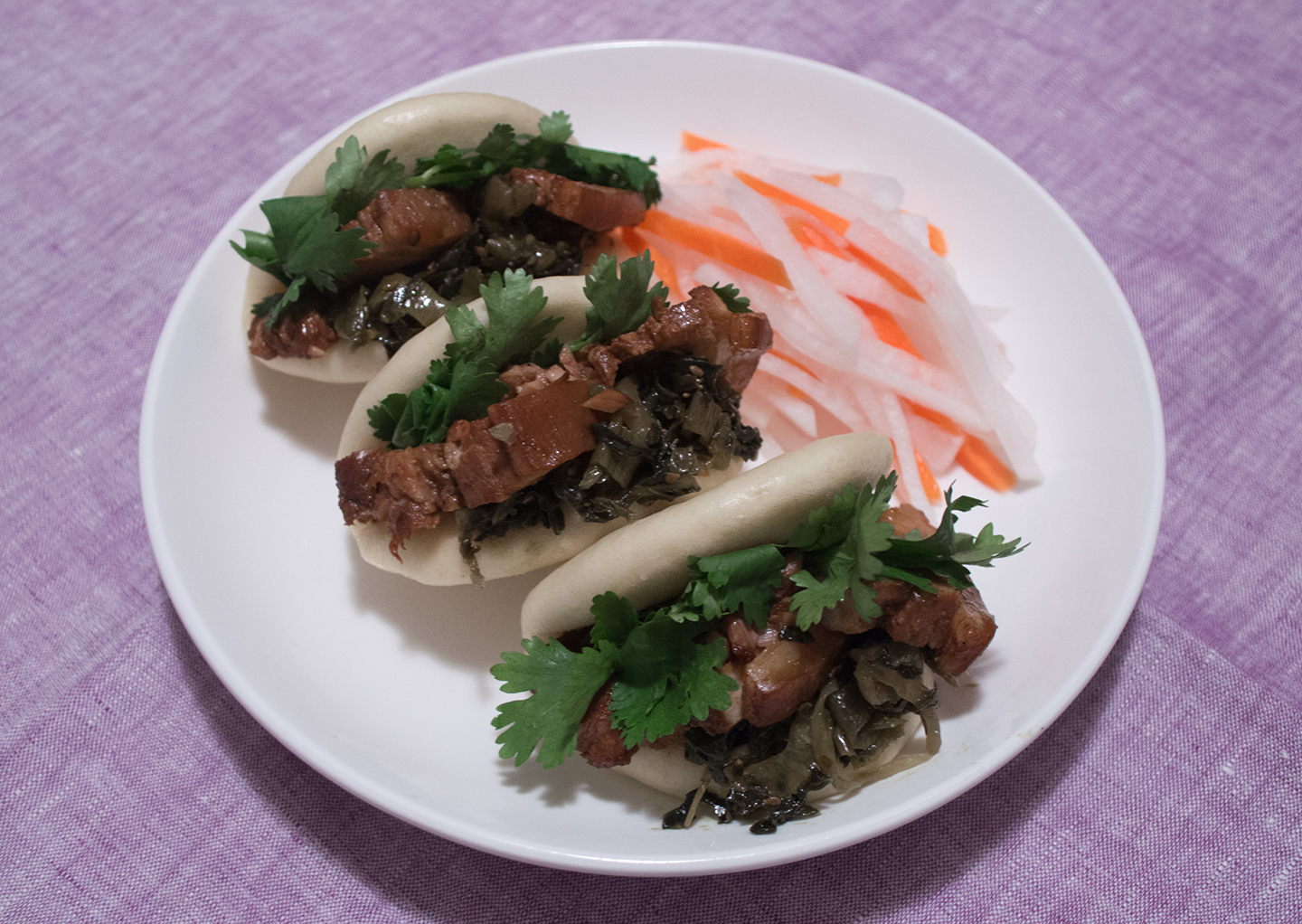 Jump to Recipe for Braised Pork Belly Buns with Radish and Carrot Slaw
The idea of making our own braised pork belly buns happened right after we ate some at a local restaurant. A number of years ago, we came upon a store that specialized in steamed buns. We tried it out, and they ended up being really good that we had to be repeat customers. It's been a couple of years since they closed their shop, but we still remember their tasty steamed buns.
This seems to happen to us time and again; we find a hidden gem in the City, eat their delicious food for a year or two, and then soon find that they have closed forever. As sad as this is, it leads us to making our own version in the kitchen!
We're excited to share with you our delightfully savory pork belly buns with you!
Recipe for
Braised Pork Belly Buns with Radish and Carrot Slaw
Ingredients
One recipe each of:
1 bunch of Cilantro, washed and drained
Pickled Mustard Greens, optional
Procedure
Set out at least a half-dozen plates and place 2 to 3 buns on each plate. Stuff 2 slices of pork belly in each bun, with a sprig of cilantro and some mustard greens (if you choose to have them). Put some slaw onto each, and serve it as an appetizer to a meal.

If you want to enjoy this as a meal on its own, place a couple more buns onto each plate, with all of the fixings.
*Bunny Wisdom*
This recipe does well as an appetizer to a small party, and also works well as a sit-down meal. Plan accordingly: if each person is eating 2 buns, there are enough pairs for at least 8-9 small plates. If each person is eating 4 buns, it works out to 4-5 plates. Increase each of the recipes listed, if you find that you'll be having more guests.
Pickled mustard greens can be found at many Asian grocery stores. We got ours from the Japanese market, but Chinese markets also carry these greens. They're slightly different in seasoning and usually come in larger chunks, but work just as well.
If you like extra seasoning, you can add more pork belly glaze.
**Here are some of the ingredients I use for this recipe. Please, feel free to browse and ask questions on what you see listed below.**