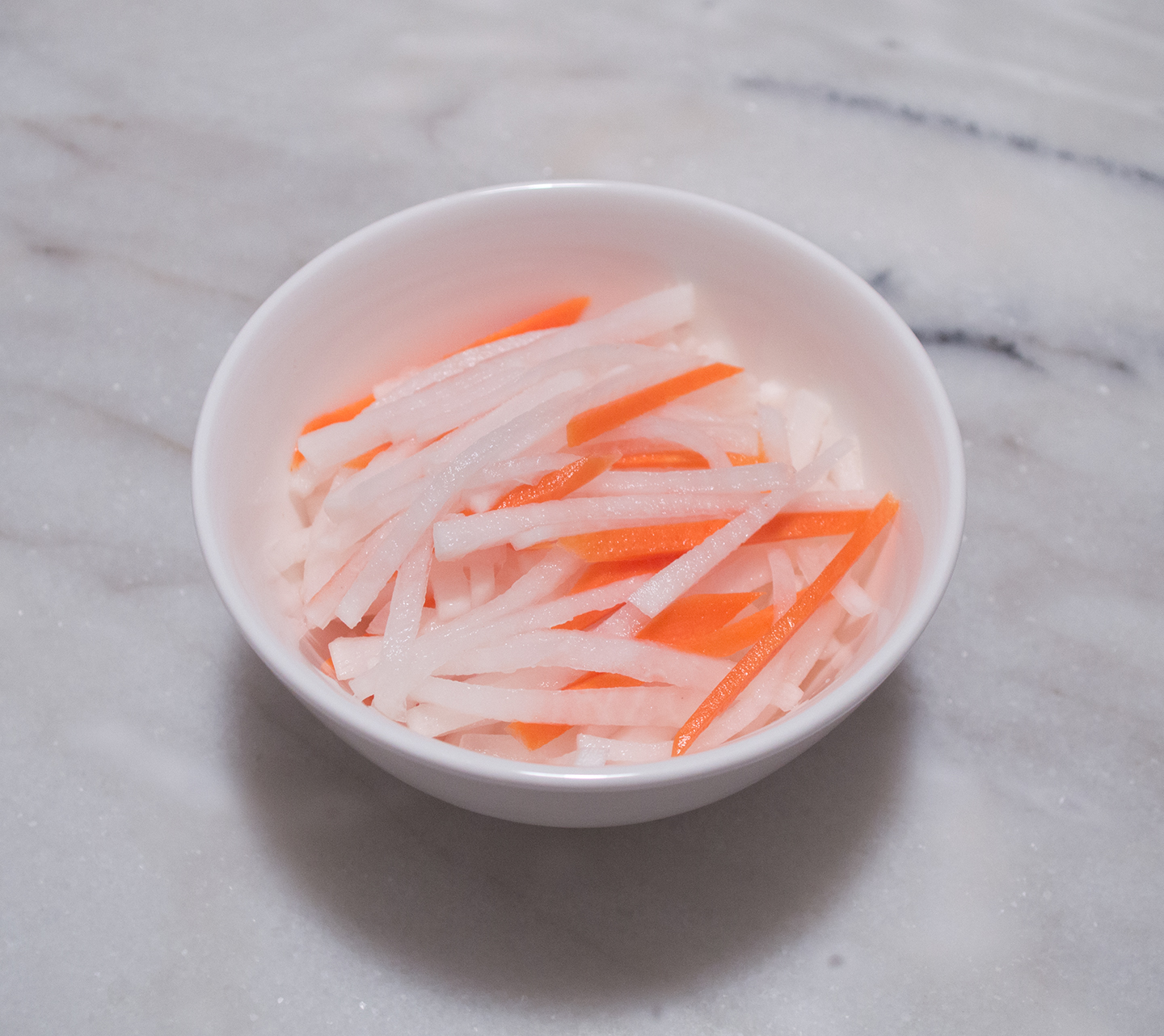 Jump to Recipe for White Radish and Carrot Slaw
Kitty and I enjoy eating radish and carrot slaw as a side dish for days we don't want to fuss too much in the kitchen. It's easy to make, and great with meaty dishes, like our pork belly buns! I find that having it chill in the fridge gives this salad the extra zip and snap; it's even better if you have it sit overnight!
We made pork belly buns one weekend, and wanted something simple to go with it. It seemed pretty natural to go with something that could cut the richness of pork belly meat, and play nicely with the softness of the buns.
Recipe for
White Radish and Carrot Slaw
Ingredients
300-350g (1 large) White Radish
50g (1 small) Carrot
6g (2t) Kosher Salt
180g (about 6 oz) Water
90g (6T) Rice Vinegar
35g (3T) Granulated Sugar
Procedure
Wash and peel the radish and carrot. Thinly slice the radish and tile them flat on the cutting board. Take the knife and run through the slices, making shreds the thickness of matchsticks. Slice the carrot on the diagonal, creating long carrot coins. Tile and make matchsticks. Place all of the radish and carrot into a bowl with the salt, and toss together. Set it aside for 10 minutes.

Make the liquid mixture by combining the water, vinegar, and sugar. Stir until the sugar dissolves.

Pour all of the vegetables into a container with the liquid, and cover. Put into the refrigerator until ready to serve.
*Bunny Wisdom*
You have a choice using a Japanese, Chinese, or a Korean variety of radish. I like using daikon or Joseon.
If you find yourself not wanting to slice your radish and carrot with a knife, pass it through a mandoline slicer.
I like to season my vegetables with salt before combining with the liquid mix; it adds flavor and draws out some of the water.
When the sliced radish and carrot have finished sitting, there will be a pool of liquid at the bottom of the bowl. Pour the rendered juice into the container along with the vegetables.
To dissolve the sugar faster, heat the vinegar and sugar together in a small saucepan. Once the sugar has dissolved, place the mixture into the container and combine with cold water to cool the mixture. Then proceed to put the vegetables into the container.
**Here is one of the ingredients I use for this recipe. Please, feel free to browse and ask questions on what you see listed below.**