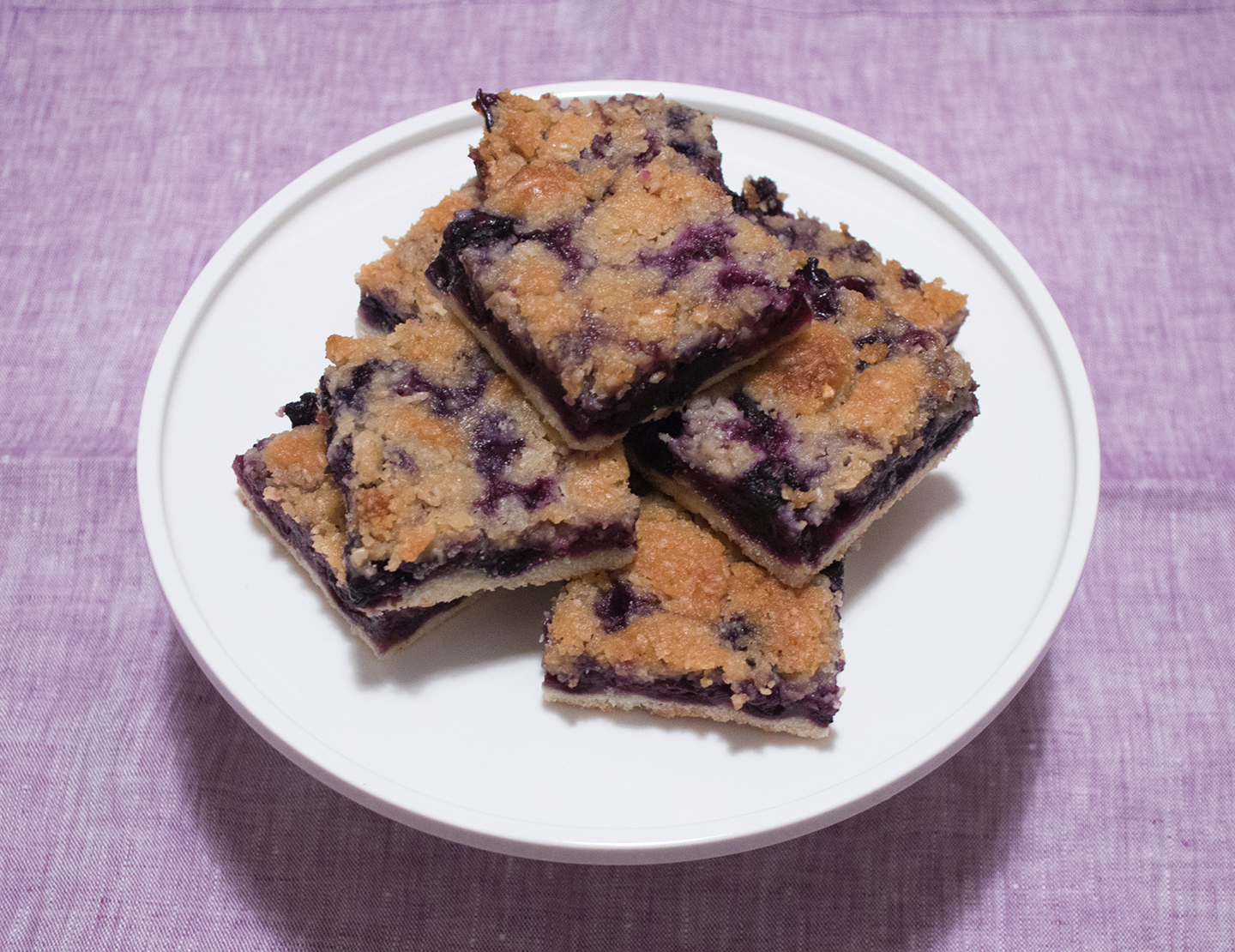 Jump to Recipe for Blueberry Crumble Bars
It's blueberry season, and that means baking some delicious sweets! Blueberry crumble bars are what came to mind when I went picking for berries on Sauvie Island in Portland, Oregon. I went to go visit family and friends back in June to July, and had a great time one afternoon, picking raspberries, marionberries, and blueberries with a good friend and her kids. I had a great haul, with about 6 pounds of sweet blueberries to enjoy!
(Yup! I wasn't in New York City for a while, if you guys were wondering why I hadn't posted during that time.)
With all of those berries, I knew I had to bake something with blueberries! I love eating them as they are, but it's nice to have it made into a dessert to share with everyone. What's even better than blueberry crumble? A piece of blueberry crumble slightly heated through with a scoop of ice cream!!
Recipe for
Blueberry Crumble Bars
Ingredients
Crust:
Streusel:
115g (8T, about 1 stick) Unsalted Butter, softened
115g (about ½-cup plus 1T) Granulated Sugar
1g (about ¼t) Kosher Salt
150g (about 1 cup) Almond Flour
120g (about 1½ cups) Stone-Ground Oatmeal
Filling:
500g (about 17½ oz) Fresh or Frozen Blueberries
50g (¼-cup) Granulated Sugar
15g (about 2T) Corn Starch
1g (about ¼t) Kosher Salt
Procedure
Roll out the pâte sucrée dough to ¼-inch thickness. Lay it flat into a 9x13-inch baking pan. Place the pan in the refrigerator.

For the streusel: cream the butter, sugar, and salt in a stand mixer. Mix until fully incorporated. Add the almond flour and oatmeal and combine. Wrap in plastic film and refrigerate.

Preheat the oven to 350°F (177°C). Rinse the berries and dry thoroughly. Mix the sugar, corn starch, and salt together, then add the berries into the mix. Toss the berries around to coat.

Pour the berry mixture on top of the dough, level the filling, and dot the top with pieces of streusel.

Bake for 40 minutes, or until the crust and streusel are golden brown. Cool completely before cutting the blueberry crumble bars.
*Bunny Wisdom*
If you have previously made a bunch of pâte sucrée dough and it has been resting in the freezer, take the dough out and place it on the kitchen counter for 30-45 minutes. That should help defrost and temper the dough for rolling.
This dough is forgiving, so if there needs to be some patch-up work to make the dough even, don't worry! The dough can be pieced together very easily.
The streusel I use for these blueberry crumble bars is similar to my basic streusel I use for my apple-berry and peach pies; however, I bulked up the flour and oatmeal to accommodate for the juices coming out of the blueberries.
I often use fresh blueberries when they are in season. Using frozen berries are equally great, in that they were picked and packaged at the peak of the season.
The bars are about 2x2-inch squares, making 20 pieces.
**Here are some of the ingredients I use for this recipe. Please, feel free to browse and ask questions on anything you see listed below.**