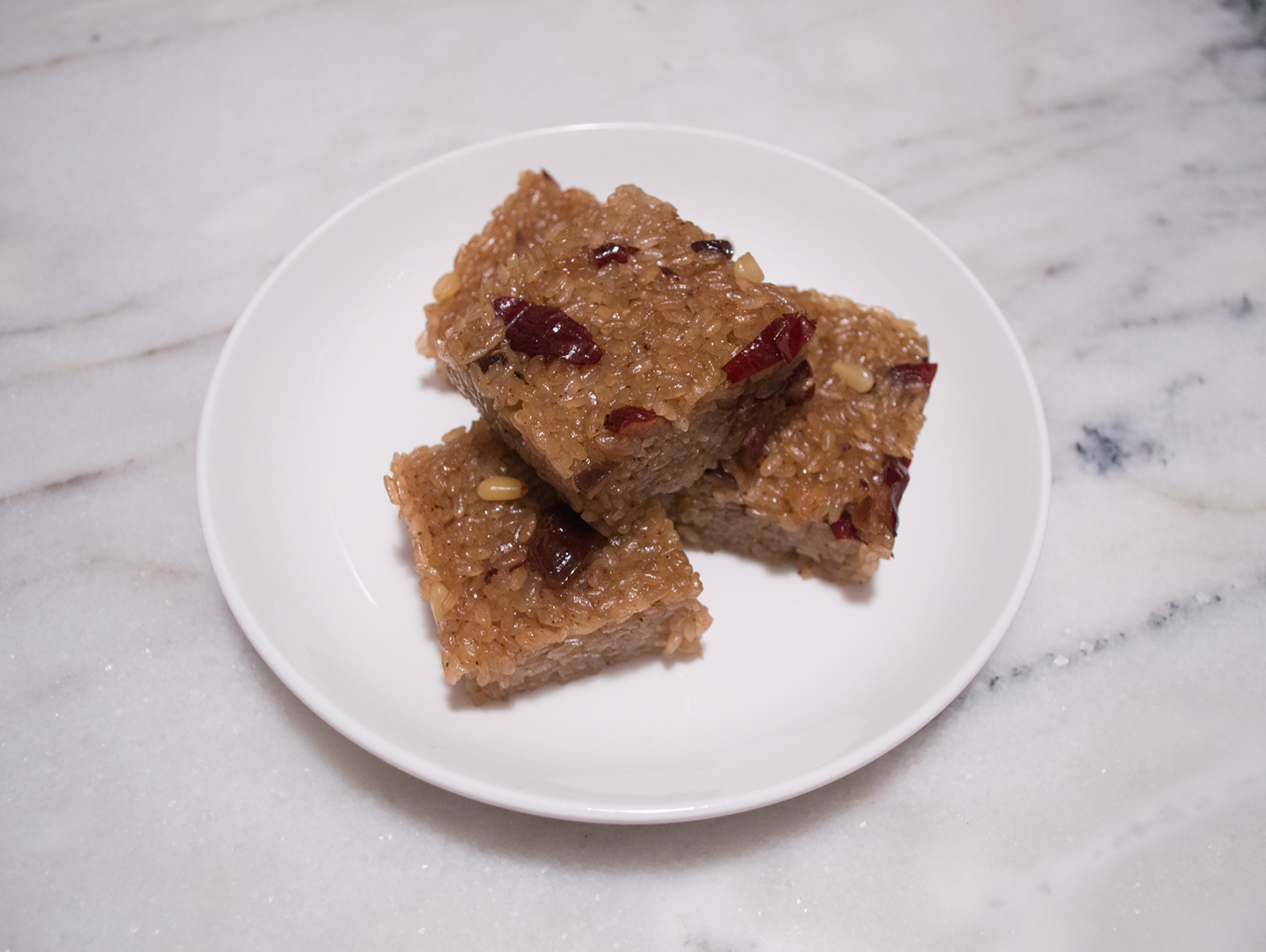 Jump to Recipe for Yaksik (약식) - Glutinous Rice Cake with Dried Fruits and Nuts
Yaksik or Yakbap (약식/약밥; also spelled Yakshik), is a traditional rice cake from Korea. It translates to *medicinal food* or *medicinal rice*, since honey, a key ingredient in classic yaksik, was considered a kind of medicine. Nowadays, you see variations of yaksik, with a combination of honey, white sugar, brown sugar, and maltose.
A few months ago, I had an awesome opportunity to go to one of the largest bookstores in Seoul to buy a bunch of food books! I really wanted to learn how to make tteok (떡 – rice cakes), and I kept hearing stories about my grandmothers making it at home. Unfortunately, those recipes died with them, so I knew I would have to resort to finding them in cookbooks.
I bought a total of four books, with all of them containing some version of this famed rice cake. I gathered a few other recipes from my mom and my older Korean cookbooks that I'd purchased many years before. After much debate on getting the right sweetness level and the amount of fruits and nuts, I've distilled it down to make this recipe. I hope you enjoy making and eating it as much as I have! It's one of my dad's favorite rice cakes, and I think it's safe to say that I've done it justice.
Recipe for
Yaksik (약식) - Glutinous Rice Cake with Dried Fruits and Nuts
Ingredients
800g (about 3¾ cups, or 28 oz) Glutinous Rice
50g (½-cup) Dried Jujubes
6-10 (about ½-cup) Chestnuts
35-70g (¼-½-cup, not packed) Raisins or Sultanas, optional
120g (about ½-cup, plus 5t) Granulated Sugar
120g (about ½-cup, plus 2t, packed) Light Brown Sugar
40g (2T) Blended or Wildflower Honey
60-120ml (¼-½-cup) Water
40g (2½T) Soy Sauce
40g (3T) Sesame Oil
3g (about 1t) Ground Cinnamon
35g (about ¼-cup) Pine Nuts
Procedure
Wash the rice until the water is no longer cloudy. Drain and refill with fresh water rising about a centimeter above the rice. Cover and place it into the refrigerator for 6 hours to overnight.

Rinse the dried jujubes and soak them for the same duration as the rice.

After soaking the rice, drain the water and steam the rice for 20 minutes. Remove from the steamer and place the rice into a large bowl.

While the rice is steaming, score your chestnuts and boil them in water for 20-30 minutes, or until they are softened. Drain, peel, quarter, and set aside.

Drain the jujubes and quarter them, removing the pits inside.

In a small saucepan, bring the sugars, honey, and 60ml of the water together. Bring the contents to a boil, and continue to boil for 1 minute. Turn off the flame and throw in the cooked chestnuts, sliced jujubes, and raisins (if you are using them). Gently stir the mixture and let it cool. Check consistency and add more water as necessary.

Mix the soy sauce, sesame oil, and cinnamon, and add it to the rice. Add the cooled sugar-fruit mixture and thoroughly mix everything together.

Pour all of the mixed rice back into the steamer, and steam for 25 minutes. Uncover the rice, top the rice with the pine nuts, recover, and steam for an additional 10-15 minutes, or until the rice is fully cooked.

Pull out the rice from the steamer and shape into discs or press into a pan. Serve when fully cooled.
*Bunny Wisdom*
I like washing the rice until the water runs clear, to insure that the rice isn't too starchy. Hydrating overnight, or over several hours, also lets me know that the rice is ready to go into the steamer with plenty of water drawn into each rice kernel.
Some dried jujubes are quite dry, and it helps to re-hydrate them. Jujubes vary in size, so use your judgement when slicing them. If they look particularly small, just cut them in half; if they're big, quarter them. Chestnuts are the same. Cut them accordingly.
Know and understand that cook times may vary with the chestnuts. If they're really small, they may not take an entire 20 or 30 minutes. Another option can be to re-hydrate dried chestnuts and boil till softened, or buy a pack of roasted chestnuts and forego the cooking of chestnuts entirely. This is entirely up to you, however, I believe fresh chestnuts are excellent in this rice cake. Just make sure they aren't too soft. We still want to see them in pieces, studded into the rice.
The consistency should look like maple syrup. If you're getting some crystallization, pour in a couple splashes of the left-over water and reheat the mixture until the sugar is all dissolved. Cool the sugar to 140°F (60°C) or cooler before using.
Make sure the rice is thoroughly mixed with the liquids, because the soy sauce and sugars are what creates its characteristic color and flavor.
A plain blended honey is all that you need to use for this recipe. If you want to impart a layer of flavor, you are welcome to use a monofloral.
I advise using a soy sauce that isn't too strong on the soy bean flavor (e.g. Kikkoman is a little beany. It works, but I prefer using something like Yamasa.).
In its hot form, the rice is still very malleable. Many folks wrap balls of yaksik in cling film, and then unwrap them when presenting and serving. Most people choose to gently press the rice into a pan, wait for it to cool completely, then slice the rice cake into portions. I chose the latter, by lining a brownie pan with parchment (with some overhang, so it's easier to slide out), pressing the rice into the pan, leveling it, and then turning it out onto a cutting board when we were ready to eat. If you choose to wrap them and shape them into discs, it's quite normal to arrange your fruit and pine nuts in a pretty formation, so each portioned disc has a lovely presentation for the people consuming the yaksik.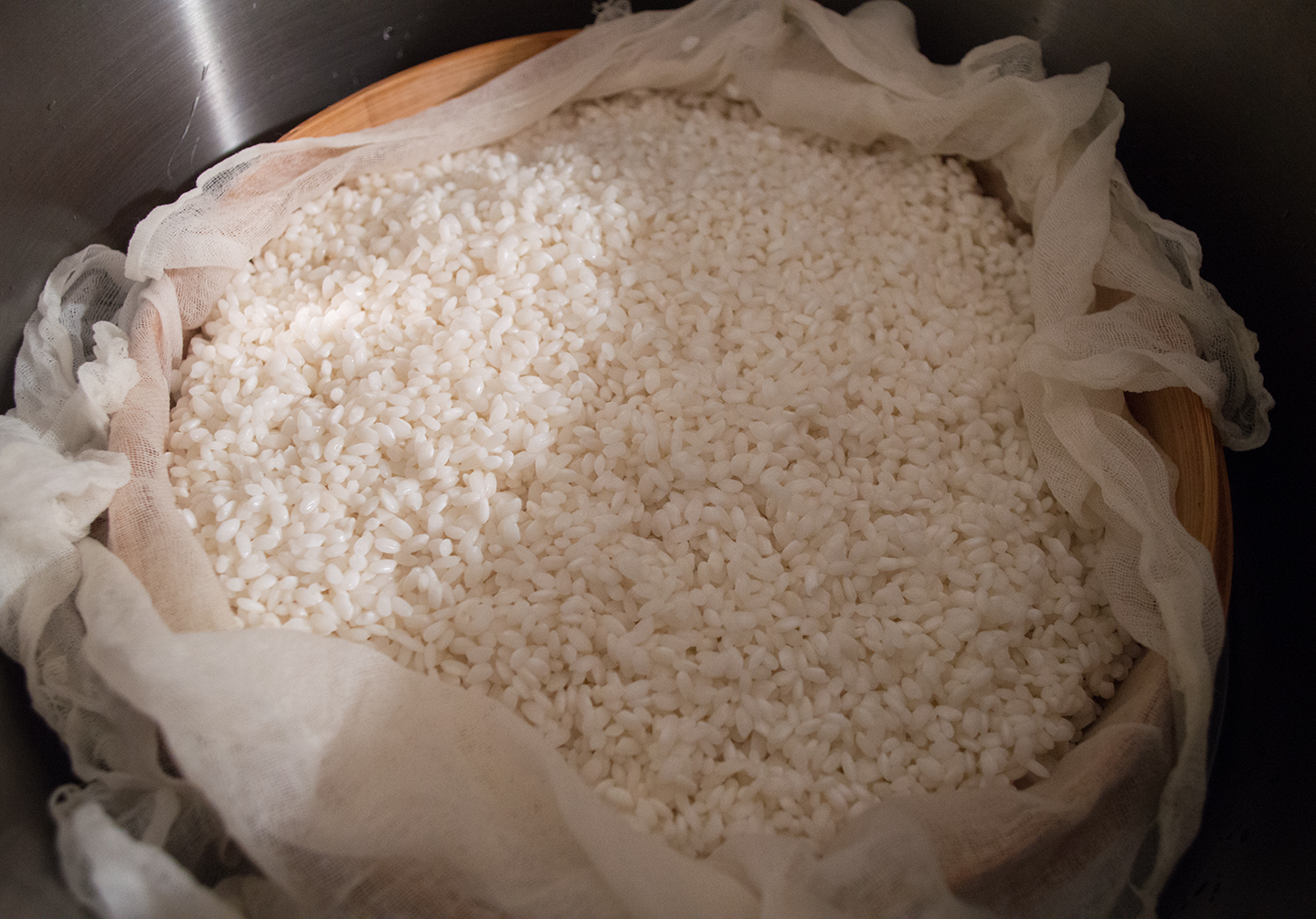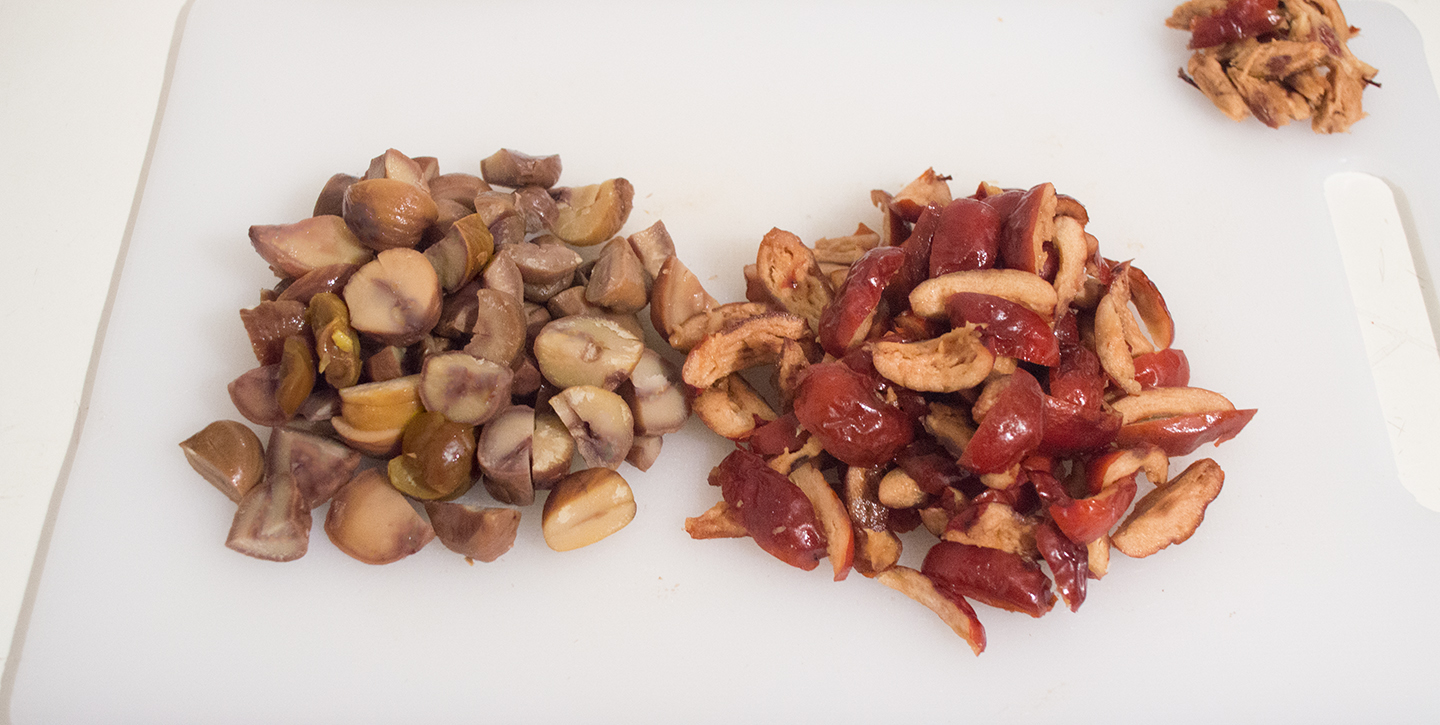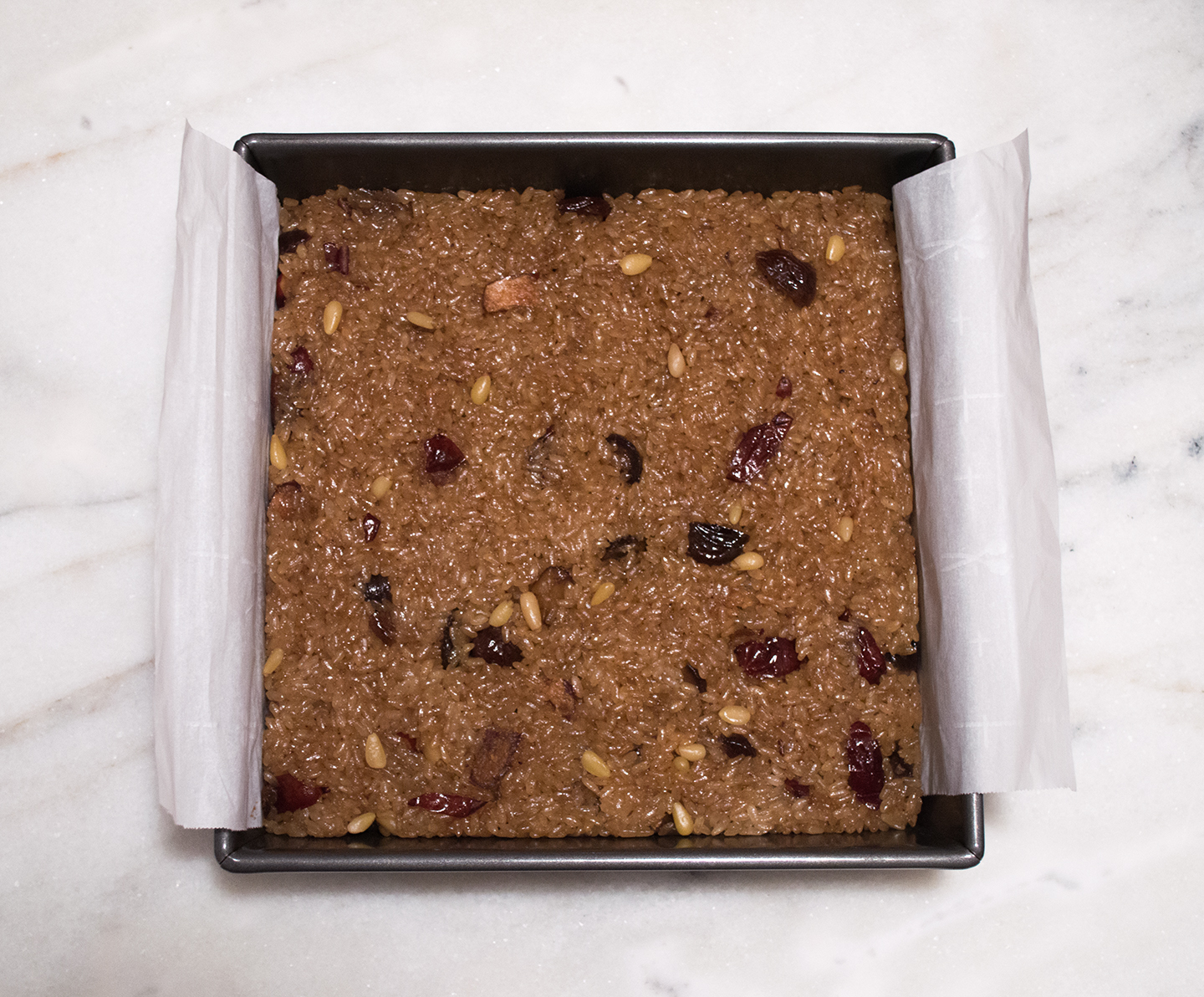 **Here are some of the ingredients I use for this recipe. Please, feel free to browse and ask questions on anything you see listed below.**