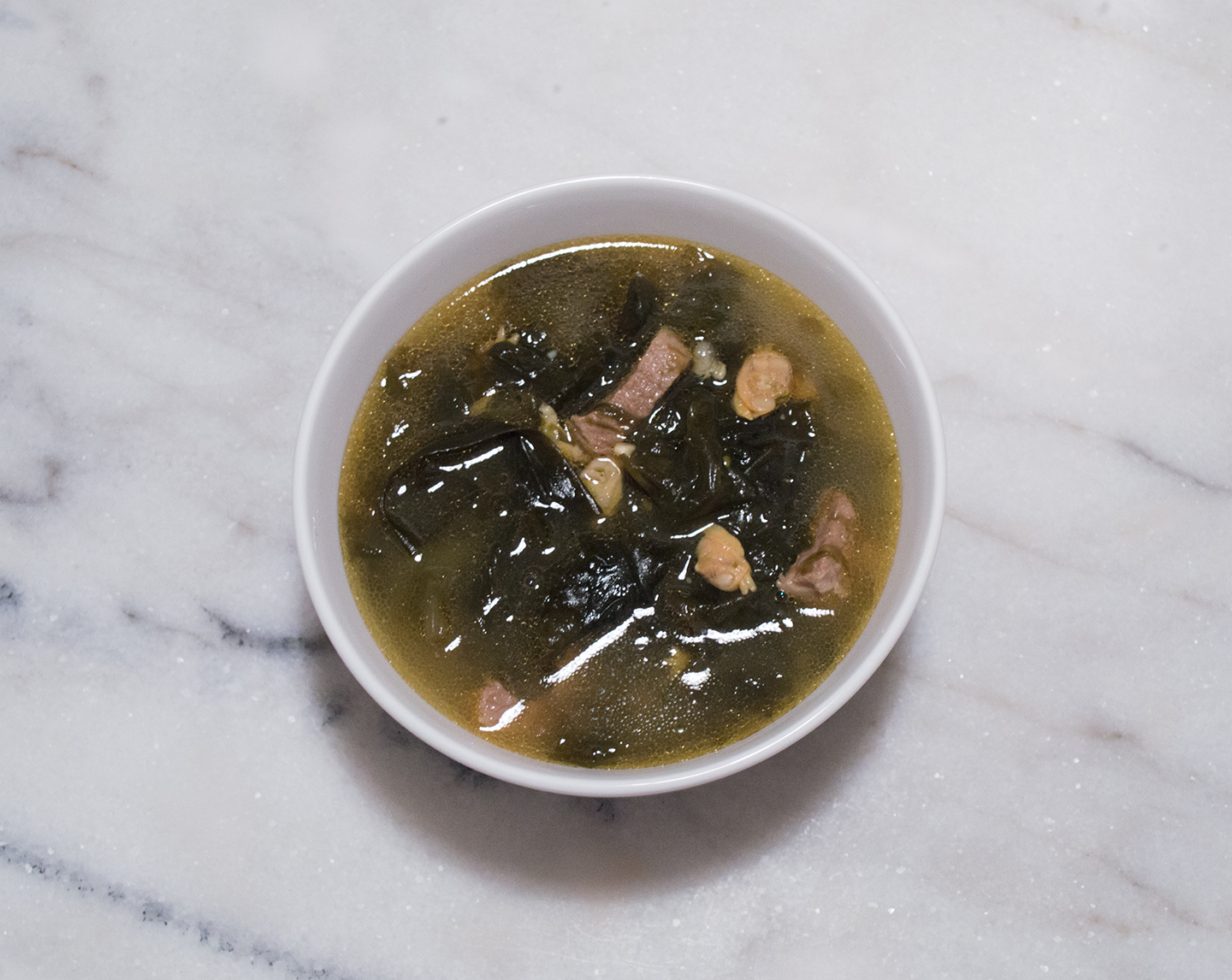 Jump to Recipe for Miyeok Guk (미역국) - Seaweed Soup
Seaweed Soup. It is the quintessential dish for Koreans to have on their birthday. I make Miyeok Guk (미역국) for my hubby whenever I can, but always remember to make this in February for his birthday. Rich in nutrients, seaweed is associated to mothers and their need for these vitamins and minerals. We often eat this on the morning of our birthday, to celebrate, but more in thanks to our mothers that birthed and took care of us.
When we were in Portland a few months ago, my mom made this for us. I wasn't expecting any sort of comment from my hubby, but he felt like I should know something.
"You know, the soup that you make is yummy, but… your mom makes it better!"
"Wait a minute. What makes hers taste better than mine?!"
As I learned later, my mom adds the clam juice from the canned clams, making the soup more flavorful. I'm glad he chimed in when he did; I always like to improve on my recipes.
When I was much younger, I remember my mom making an anchovy broth to make the soup. As time passed, she made a few adjustments to her recipe, using chicken broth, adding strips of seasoned chicken breast, and flavoring the soup with salt and soy sauce. Her recipe continued to morph; she removed scallions from the seasoning (She says that scallions and seaweed don't go together. I'm guessing scallions negate the nutrients from the seaweed?), used beef, and gave the soup its characteristic marine flavor by using clams and its juice. Whatever the methods were and are, she always makes her soup with thought and love.
Thanks, mom. I made my own adjustments, and this time it turned out great!
Recipe for
Miyeok Guk (미역국) - Seaweed Soup with Beef and Clams
Time:
Preparation:
Cooking:
Waiting:
Ingredients
225-340g (½-¾lb) Beef Brisket
30-40g (1-1½oz) Seaweed, dried
14g (1T) Sesame Oil
4g (½T) Garlic, finely minced
285g (10oz) Baby Clams, canned
1L (about 1 quart) Water
16g (1T) Soy Sauce
Procedure
Take your brisket and place it into a pot. Fill the pot up with water and bring it to a boil. Throw out the water, rinse the pot, and fill with water until the beef is just covered. Bring it back up to a boil, and lower the flame to simmer. Cover the pot and let the contents cook for an hour.

While the beef is cooking, soak the seaweed in a bowl of cold water. Once hydrated, massage the seaweed for 5 minutes. Drain, rinse, and then set it aside.

Fish out the beef and cut to edible size pieces. Pour the beef broth into a bowl. Place the hydrated seaweed into the pot and add the sesame oil and garlic. Bring the pot to a medium flame and sauté for about 10-15 minutes. Add about a ½-cup of the beef broth to help cook the seaweed.

When the seaweed has softened a bit, add the can of baby clams and the liquid from the can. Pour the 1L of water and sliced brisket into the pot and give it a gentle stir.

Turn the flame up to high and bring the soup to a boil. Let the soup cook for 3-5 minutes. Turn off the flame, add the soy sauce, stir, and serve into bowls.

Enjoy eating your seaweed soup with a bowl of rice and some delicious side dishes!
*Bunny Wisdom*
I give the beef an initial boil to cook out some of the blood and liquid that is remaining within the meat. This might make your pot a little grimy, so it helps to give the pot a quick rinse, just before you fill it again.
Brisket is a tougher cut of meat, so the one-hour cook may not be enough. Sometimes I find myself cooking the meat for another 15-30 minutes, depending on the thickness of the meat and if I'm doubling the recipe (which would require a bigger piece of brisket).
This seaweed, called miyeok (미역), is really thin and hydrates relatively quickly. You don't need a whole lot to make a big pot of this soup; it always amazes me how much this little amount of dried seaweed grows!
The massaging gets rid of some of the stickiness that is naturally occurring in the miyeok. We don't really want it to feel slimy when eating this, do we?
I often add a little more sesame oil when I add the liter of water, because sesame oil is so yummy!
If the liter of water doesn't seem to be enough (the contents should feel like soup, not a stew), please feel free to add some of the beef broth to the pot. If you have any broth left over, save it for another soup project!
Before serving, taste some of the soup and see if it needs more soy sauce. Add more to taste.
**Here are some of the ingredients I use for this recipe. Please, feel free to browse and ask questions on anything you see listed below.**