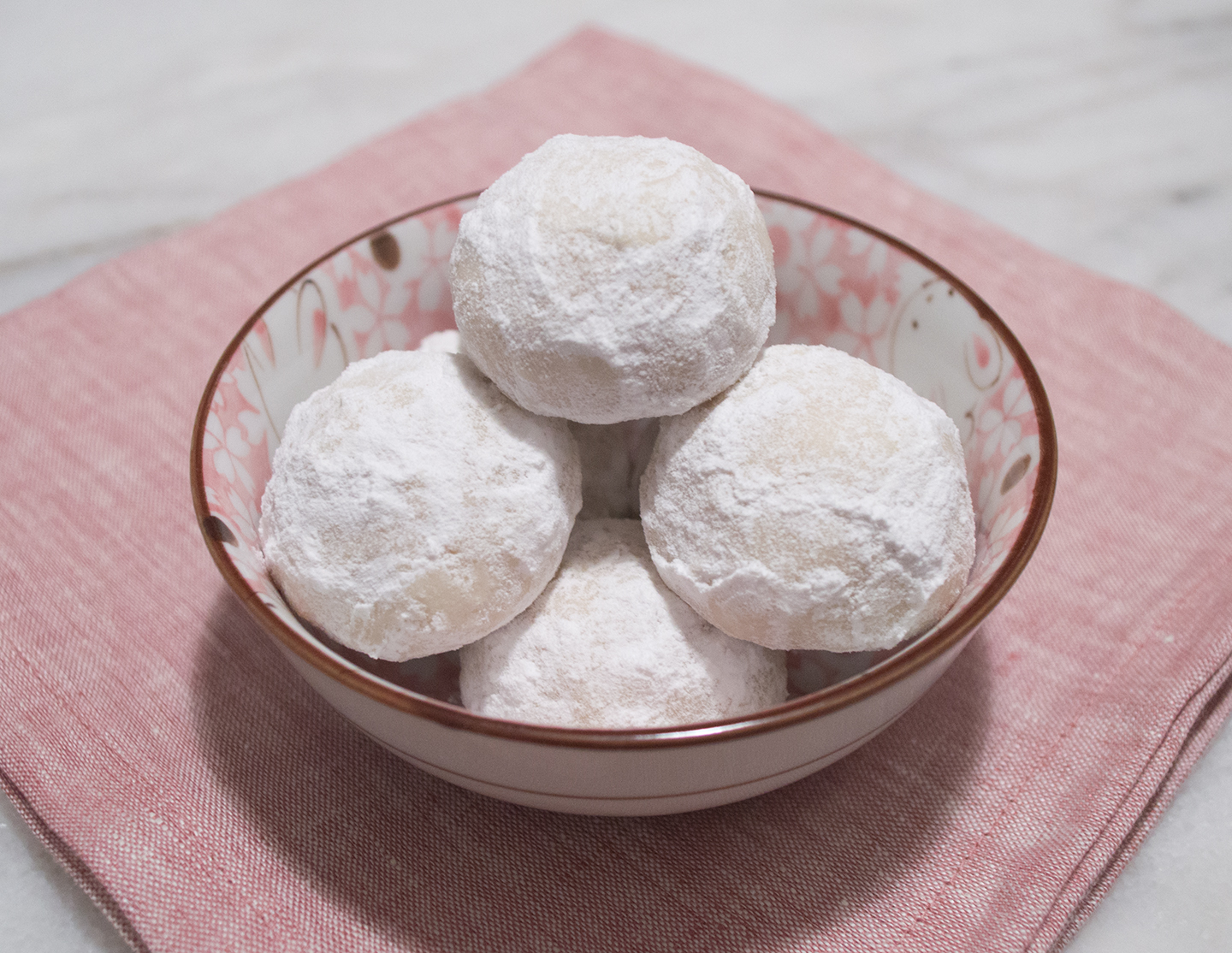 Jump to Recipe for Pastelitos de Boda - Mexican Wedding Cakes
James made me his version of Mexican wedding cakes when we were in college together. As a child, I ate something like this before, but I wouldn't be able to place it to any specific time. I knew they were delicious then, and was excited to try his recipe. They were so amazing that we decided to make them a few times throughout our four years in school.
These cakes are more like cookies, but come from the name pastelitos, which means "little cakes" in Spanish. I use cookies and cakes interchangeably for this recipe, and erroneously used to call them Russian tea cakes at one point in time. I found that Mexican wedding cakes are almost always made with pecans, while the European ones are made with other nuts.
It's so hard to eat just one cookie! They crumble and melt in your mouth, I end up eating at least three or four in a sitting! And they're simple to make, so you can easily share the love with friends and family.
Recipe for
Pastelitos de Boda - Mexican Wedding Cakes
Ingredients
Dough:
250g (2 cups) All-Purpose Flour
130g (1 cup) Pecans, lightly toasted
230g (8oz, or 2 sticks) Unsalted Butter, softened
30g (¼-cup) Confectioners Sugar
5g (1t) Vanilla Extract
2g (½t) Almond Extract
1g (½t) Ground Cinnamon, optional
2g (½t) Kosher Salt
Coating:
240g (2 cups, unsifted) Confectioner's Sugar
Procedure
Dough:
Grind the flour and pecans together until the nuts are finely chopped.

Cream the butter and sugar together, and add the extracts. Mix well.

Add the dry ingredients to the butter mixture, and mix until just combined. Chill the dough in the refrigerator for 1-2 hours.

Set the oven to 350°F (177°C). Scoop the dough into tablespoon-size rounds, set them on cookie sheets, and bake for 15 minutes.

Place the cookies onto a cooling rack for 5-10 minutes before beginning to coat them in sugar.
Coating:
Pour the sugar into a large mixing bowl, and gently place a few cookies at a time into the sugar. Roll the wedding cakes around to cover, then place them back onto the cooling rack. Repeat a second time to get a good coating.

Cool completely before eating and storing.
*Bunny Wisdom*
These wedding cakes also go by the name of Russian Tea Cakes, Italian Wedding Cookies, or Snowball Cookies, enjoyed around Christmastime.
The pecans should be well-ground, but not turned into nut meal. We want some texture to the cookies.
If you plan to use cinnamon in your recipe, add it to the dry ingredients before mixing with the butter.
The dough is quite soft, so a nice sit in the fridge allows the butter to re-harden.
I use a measuring tablespoon to scoop the dough onto the parchment. Each domed boule is roughly 15g.
I bake for 13 minutes and watch the cookies for the remaining 2 minutes, making sure they don't get too dark. We want a touch of color beginning at the edges, but not fully golden.
Some people place the cookies immediately into the sugar bowl while they're still super hot. I like to wait because the cookies are still baking and steaming, and the condensation created makes for a very thick coating of confectioner's sugar.
An extra few more coats of sugar may be needed to get the right coverage. I go through the entire batch once, then go back to the first set of wedding cakes to repeat the process, to insure that I have a nice, even coating on all of them. This allows the wedding cakes to cool down a bit before getting that second coat.
Use different kinds of coarsely ground nuts to make this recipe.
**Here are some of the ingredients I use for this recipe. Please, feel free to browse and ask questions on anything you see listed below.**