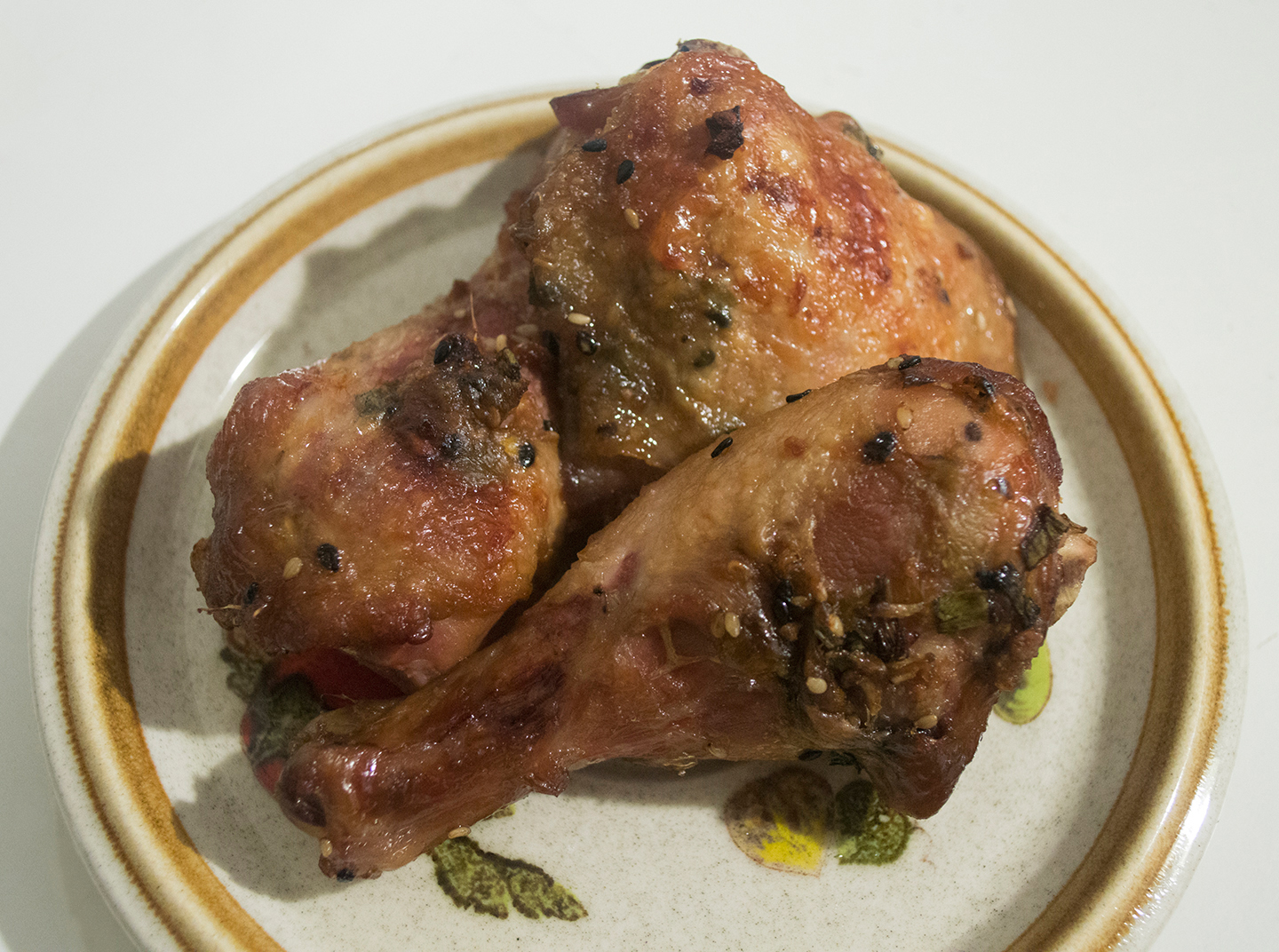 Jump to Recipe for Ginger-Soy Sauce Chicken
Ginger-Soy Sauce Chicken is a dish that I didn't think of codifying until recently. It's a side dish, or banchan, that my mom used to make for us at least once a month. Right before going to bed, she quickly made the marinade, put the wings in, tossed, covered, and refrigerated the bowl. The next morning, she gave it another toss, and the chicken was ready to bake after she came home from work. I immediately knew when it was ready to eat; that sweet, salty, and garlicky aroma would waft through the house. I'd perk up, run into the kitchen, and steal a drumette (my favorite part of the wing!) while she wasn't looking. She *always* knew when I did… I'm pretty sure it was my toothy grin that gave it away!
Originally made by my mom with the drumettes and flats of the wings, I've been making them with drumsticks and thighs to make it more of a meal rather than a side dish (반찬 – banchan). It's excellent with a steaming hot bowl of rice and some kimchi.
Recipe for
Ginger-Soy Sauce Chicken
Yield:
About 1kg (2lbs) of Chicken
Time:
Preparation:
Cooking:
Waiting:
Ingredients
Marinade:
13g (1½T) Garlic, minced
6g (1T) Ginger, minced
2 medium Scallions, chopped
2½g (1t) Toasted Golden Sesame Seeds
2½g (1t) Toasted Black Sesame Seeds
64g (4T) Soy Sauce
14g (1T) Roasted Sesame Oil
21g (1T) Maltose
15g (1T) Water
Chicken:
1-1¼kg (about 2-2¾lbs) any cut of Chicken, but preferably Wings or Legs (with skin)
Procedure
Take a sturdy plastic zipper bag, and combine the garlic, ginger, scallions, sesame seeds, soy sauce, and sesame oil.

Heat the maltose and water in the microwave until the maltose loosens, about 20-30 seconds. Pour the liquid into the bag. Refrigerate for 30 minutes.

If the chicken is already cut into drumettes and flats, or drumsticks and thighs, go ahead and throw all of meat into the bag. Press out the air from the top of the bag and zip it closed. Massage the contents to allow the marinade to thoroughly mix around. Put the zip bag in the refrigerator for 6-8 hours, or overnight.

If the chicken isn't cut, dispatch each wing or leg at its joint, and follow through step 3.

To bake, preheat the oven to 350°F (176°C). Insert a flat roasting rack into a large glass baking dish or roasting pan.

Take each piece of chicken and create a pouch between the skin and the meat. Stuff some of the aromatics into the pouch. Arrange in a single layer, skin-side down.

Bake for 1-1½ hours, or until browned, flipping the soy sauce chicken halfway through the baking time.

Serve immediately with a bowl of rice or steamed/roasted vegetables.
*Bunny Wisdom*
Substitute the maltose with honey or light corn syrup.
Boneless and skinless cuts are great for lean meals; however, bone-in and skin-on chicken maximizes flavor and retains moisture.
The chicken legs can marinade for two days in the refrigerator before baking. In fact, I recommend a longer marinating time for a well-seasoned dish.
Add a teaspoon of red pepper flakes to give the dish a bit of heat.
The marinade is a perfect amount for about 2lbs of chicken, but you can easily have 2½lbs or a touch more and the marinade will still flavor the chicken well.
Line your baking dish with foil to make cleaning easier.
Instead of throwing the marinade away, cook it down and baste the skin to create a yummy caramelized layer.
Leftovers can be stored in the refrigerator for up to 3 days.
Nutrition
Facts
6 servings per recipe
Serving size
1 piece (195g)
Amount per serving
Calories
% Daily Value*
Monounsaturated Fat 12.1g

Total Carbohydrate

5.5g

2%

Includes 3.2g Added Sugars

6.4%
* 
The % Daily Value (DV) tells you how much a nutrient in a serving of food contributes to a daily diet. 2,000 calories a day is used for general nutrition advice.
I make this dish at least twice a month because it's really easy. There's a lot of passive time where the meat is marinating or baking, so I can make other dishes or grab a glass of wine and watch Netflix. Clean-up isn't a hassle and you have something delicious to eat for a few days.
**Here are some of the ingredients I use for this recipe. Please, feel free to browse and ask questions on anything you see listed below.**