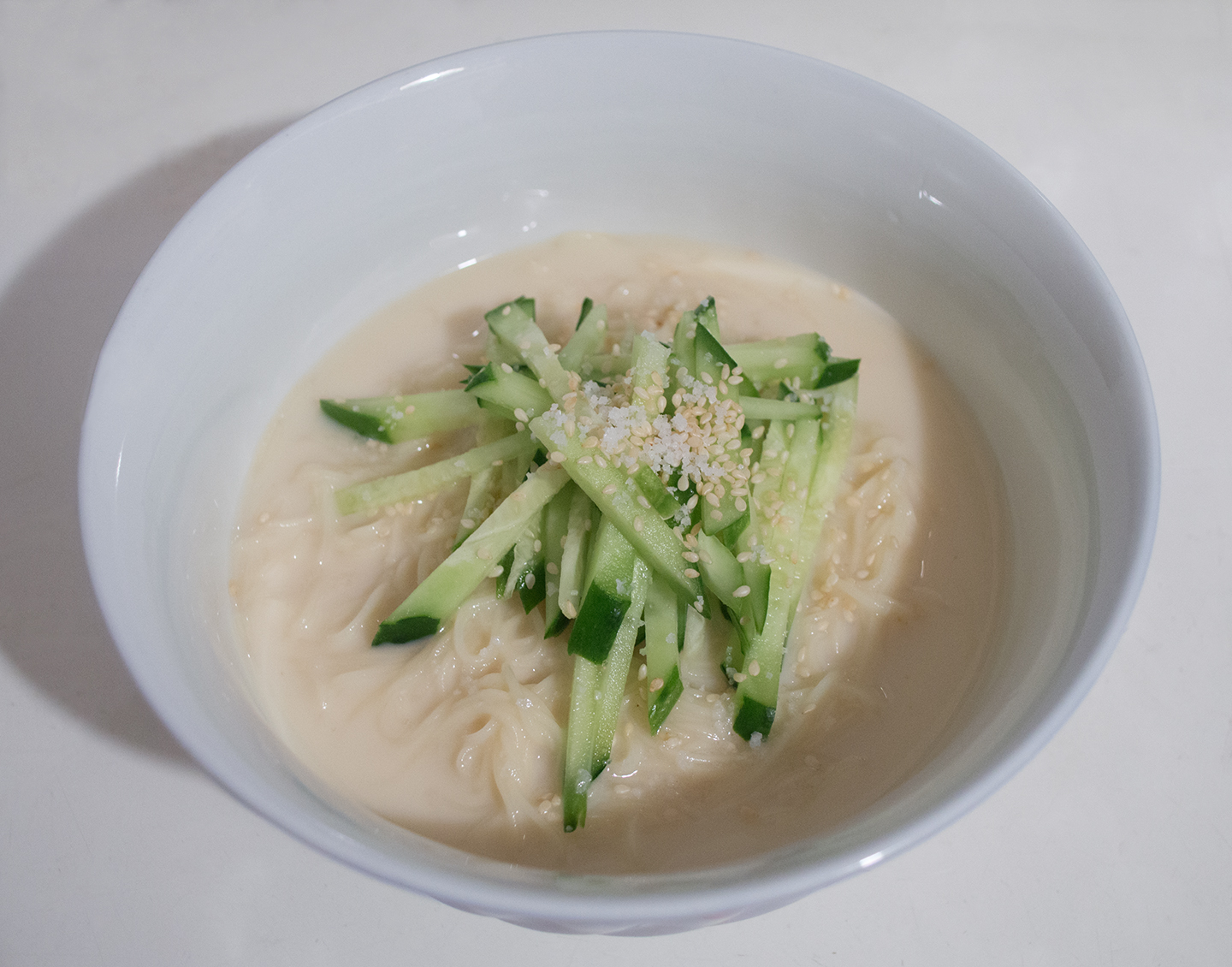 Jump to Recipe for Kong Guksu (콩국수) - Cold Noodles in Soy Milk with Cucumber
I have eaten kong guksu (콩 – bean, 국수 – noodle) since I was very little, but didn't appreciate it until I was older. I went on a family trip to Korea during the summer of 2001, the year they opened the Incheon International Airport. I remember that we stayed with relatives for almost a month, much of it spent with my grandma in Ganghwa. It was a year after my grandpa died, and it only felt right to go and visit everyone.
With everything all shiny, new, and super cosmopolitan, and my last visit ten years before, I was happy to find that parts of Ganghwa and Seoul were very much the same. While visiting, we happened to go to my uncle's friend's noodle shop. His wife makes kong guksu during the warmer months, and a hearty meat soup during the colder months. It was the most delicious soy milk noodles (and their kimchi too) I'd ever had, and I still remember having it till this day.
I've been back to Korea three more times since then, but haven't had the chance to go eat her noodles again. This is one of those dishes that pretty much always turns out well, but it's hard to master; she definitely mastered her version, and I hope to get there someday. For now, here is Everybunny's version that I am happy to share with you.
Recipe for
Kong Guksu (콩국수) - Cold Noodles in Soy Milk with Cucumber
Ingredients
400g Somyeon
2 small Kirby Cucumbers
1L About half a recipe of Soy Milk, chilled
Kosher Salt, to taste
Sesame Seeds, to taste
Procedure
Cook 400g of noodles according to manufacturer's instructions, rinse in cold water, and drain well. Divide the amount evenly across four bowls.

Slice the cucumber to matchstick-size pieces.

Take the unsweetened soy milk and pour into each of the bowls. Garnish with the cucumber.

Serve with salt and sesame seeds, table-side.
*Bunny Wisdom*
You can find Japanese sōmen (索麺、そうめん) or Korean somyeon (소면) at most Asian supermarkets. They are thin white noodles made with wheat flour.
Grind some pine nuts or toasted sesame seeds and add to the soy milk to give the noodles a deliciously nutty flavor.
**Here are some of the ingredients I use for this recipe. Please, feel free to browse and ask questions on anything you see listed below.**