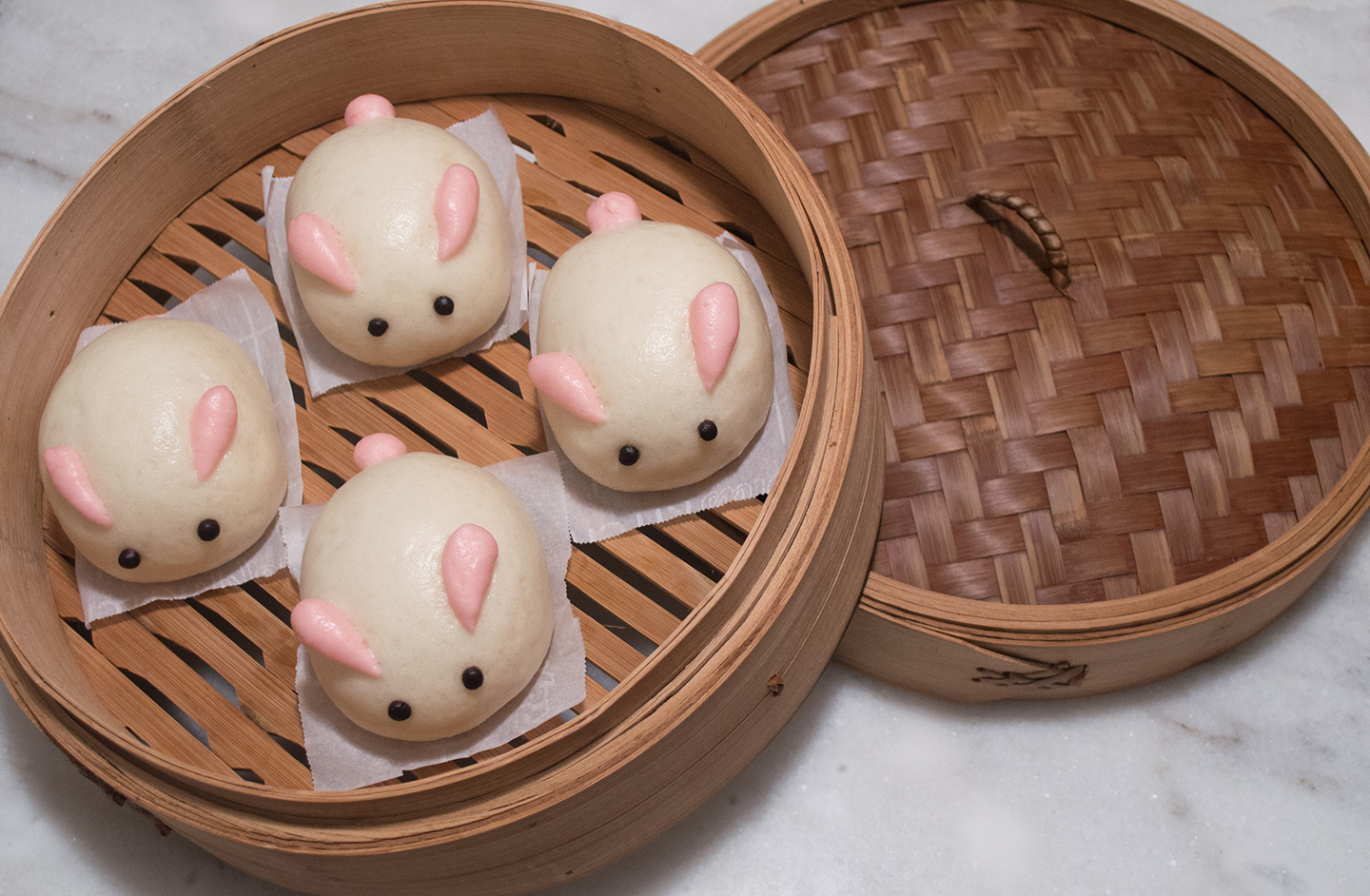 Jump to Recipe for Nǎi Huáng Bāo (奶黄包) - Custard Steamed Buns
A couple of days ago, we shared with you our custard filling recipe, and we wanted to follow up with bunny-shaped custard steamed buns. BECAUSE BUNNIES! It just seemed the most logical, though we ate pig-shaped ones at our local dimsum restaurant. The pig ones are the most common, so I made some of those too; however, we're partial to the bunnies over here at Everybunny Headquarters.
We're quite proud of how our steamed bun dough has turned out for the rest of our buns, so I'm happy to share with you on how to create a bit of whimsy and charm on an otherwise simple recipe. Don't hesitate, but invent the dough into other animals! We sure had some fun making cute bunnies and pigs!
Recipe for
Nǎi Huáng Bāo (奶黄包) - Custard Steamed Buns
Time:
Preparation:
Cooking:
Waiting:
Procedure
Make 16 balls of 35g of custard filling, and lay them all on a plate. *Please read the notes below for more information*

Divide the dough into 38g balls. There should be around 18 equal pieces, but we're using only 17 of them. Flatten and shape 16 balls into circles, with the outer edge thinner than the center.

Place the custard in the center and encase the filling with the dough. Press and seal the dough well. Slightly elongate the bun into an oval-egg shape. Place seam-side down onto a piece of parchment.

Take one ball of dough and divide into ⅔ and ⅓ mini balls. Color the ⅔-ball of dough with a very small drop of red or pink coloring, and the remaining with a ½-teaspoon of cocoa powder. Knead colors in very well.

Create 48 pea-sized pink balls, and 32 buckwheat-sized cocoa balls; with the pink, shape a pair of ears and a tail for each bun, and make a pair of eyes with the cocoa. Adhere all pieces with a touch of water.

Allow to rise, covered, for about 15 minutes.

Steam in a bamboo steamer for 10 minutes, and serve immediately.

Any leftovers can be stored in the refrigerator for 5 days, or frozen for a month.
*Bunny Wisdom*
If you're choosing to make regular round-shaped custard buns, you can divide the custard into 17 balls by weighing out 32g balls, and use 17 dough balls to encase them.
Any leftover dough can be used to make new dough. Freeze what is remaining, and defrost and incorporate when making a fresh batch of dough. Read more on what to do with leftover dough on the steamed bun dough recipe.
It's easier to roll the custard filling into balls when they have been refrigerated. I measure out my custard ahead of time to make the wrapping process faster.
Making the edge of the dough thinner allows for more even distribution of bun dough, especially at the overlapping part of the bun (the seam).
I pre-cut some parchment squares to place each bun on each piece of square. I set them all into bamboo steamers and covered them in plastic film to prevent drying, while I'm making the rest of the steamed buns. Just remember to remove the plastic before steaming the buns.
Use whatever source of red/pink coloring you have: liquid, powder, gel. Understand that each have their level of strength, and you may not need a lot of color to get the right shade of pink. It's ideal to use a toothpick to make sure you're not adding too much color to the dough.
Cocoa powder can be very drying for the dough, so don't be afraid to add a few drops of water while kneading.
Bunny ears are shaped like tiny carrots, while the tail and eyes are just round balls. I've taken an extra precaution (to make sure the eyes adhere) to poke small holes with a toothpick, where the eyes should go, though this isn't necessary.
Letting them rest for a little while helps proof and relax the dough, which helps in the overall texture. This can be as short as 10 minutes (the time it takes to bring the pot to a boil, to make ready the steamer), to 30 minutes.
If you want to make these ahead of time, steam them, let them come to room temperature, then seal them in a container. Refrigerate or freeze.
Reheat the buns by steaming them for a few minutes, or microwaving them for 20-30 seconds.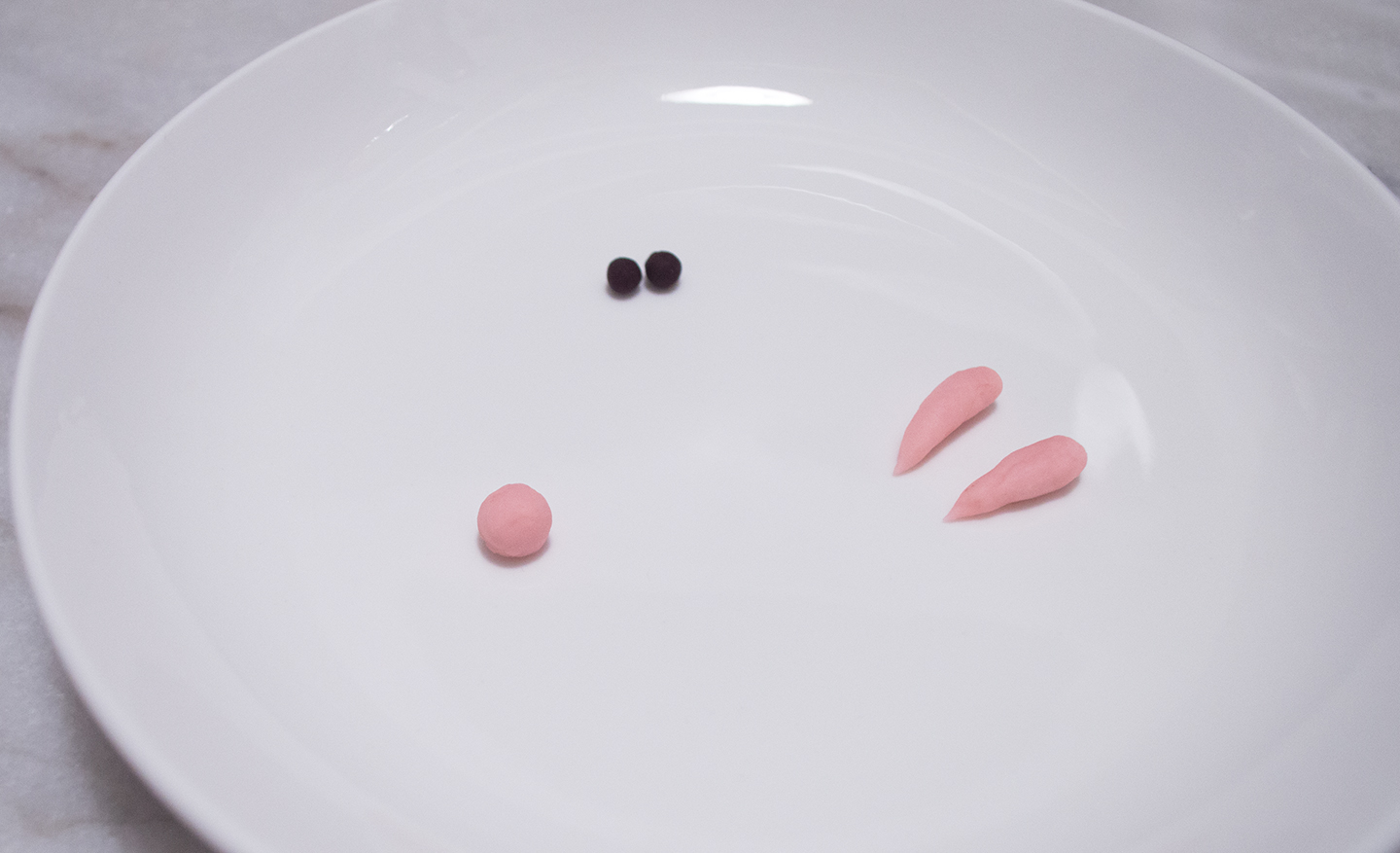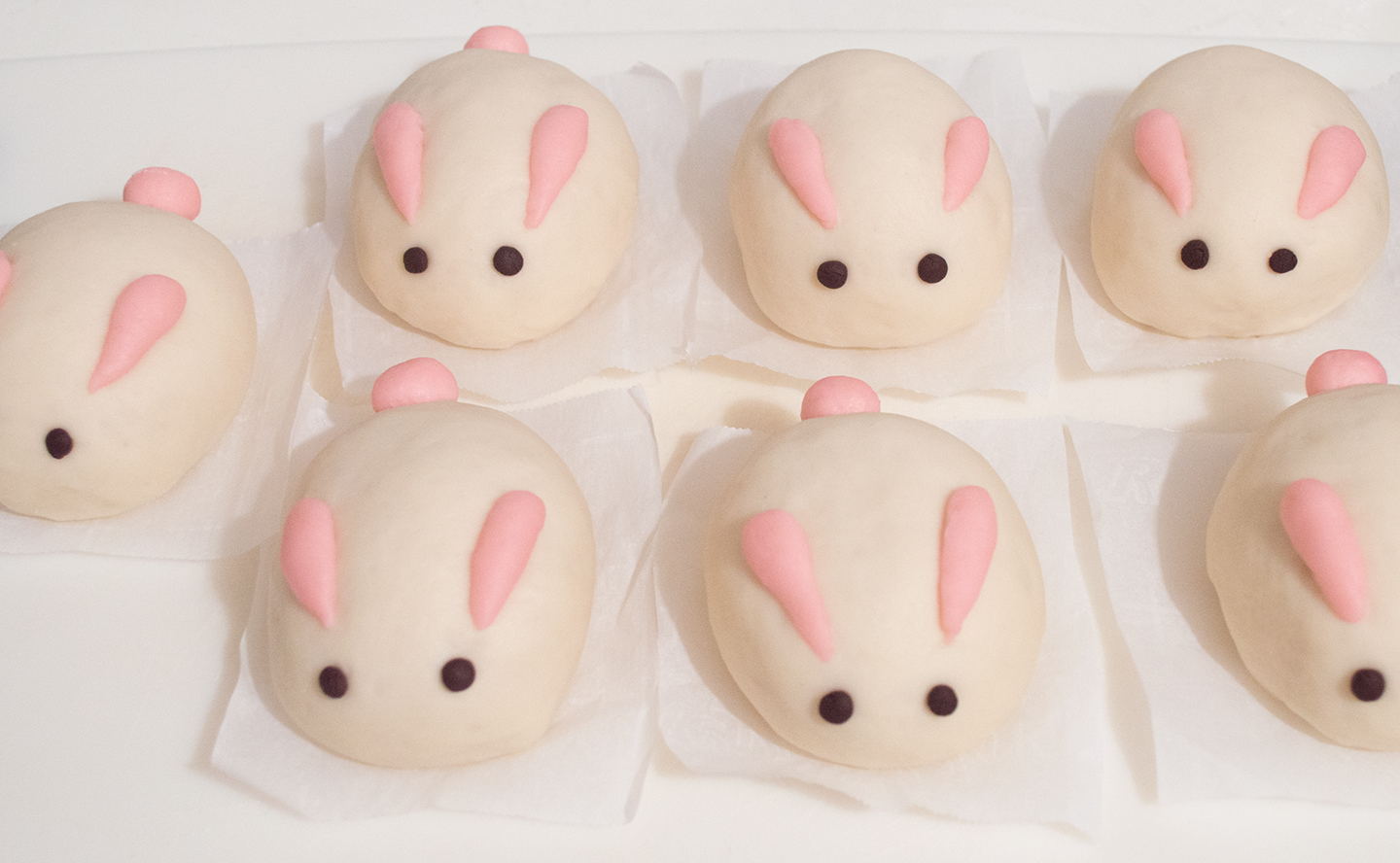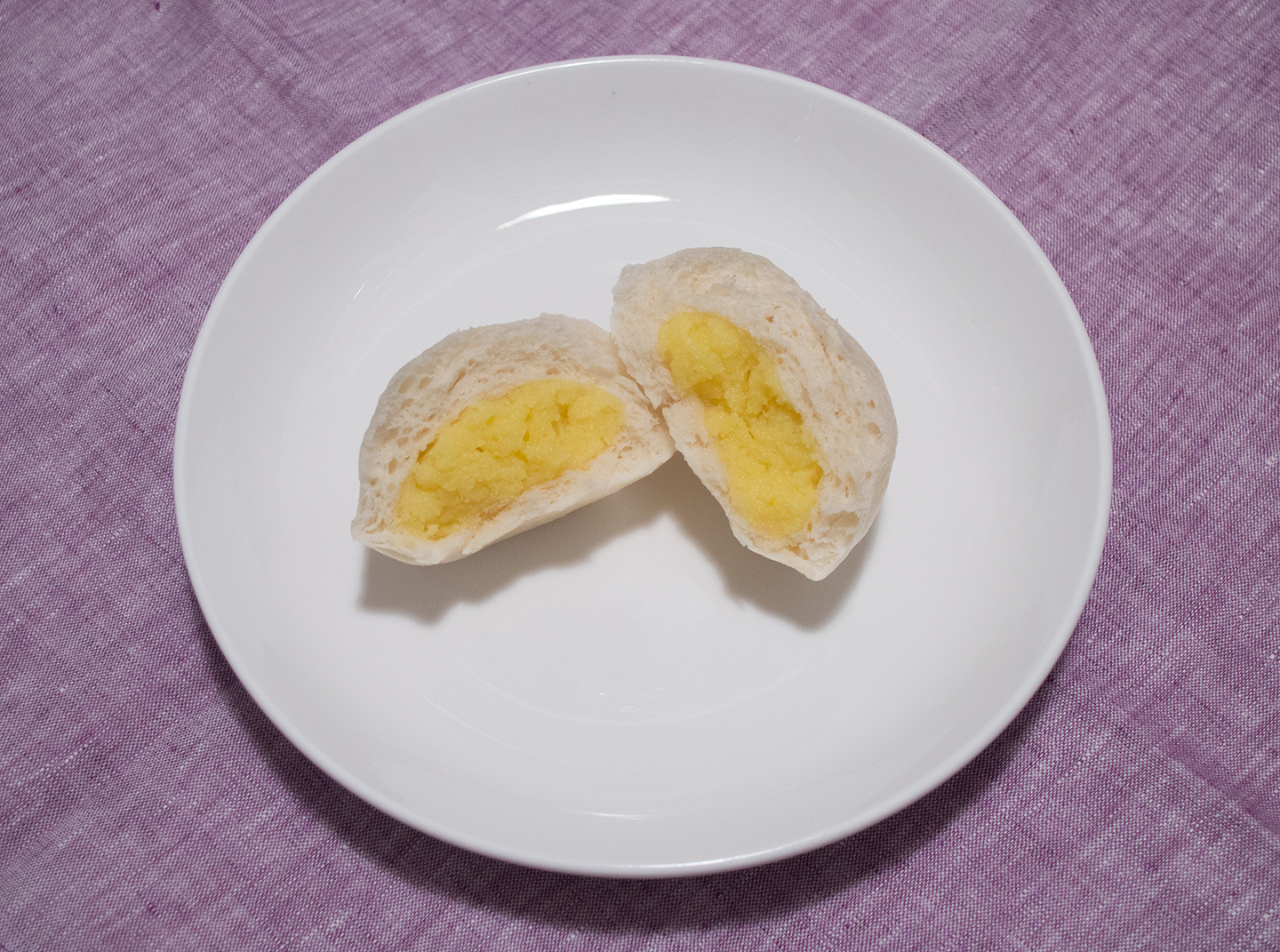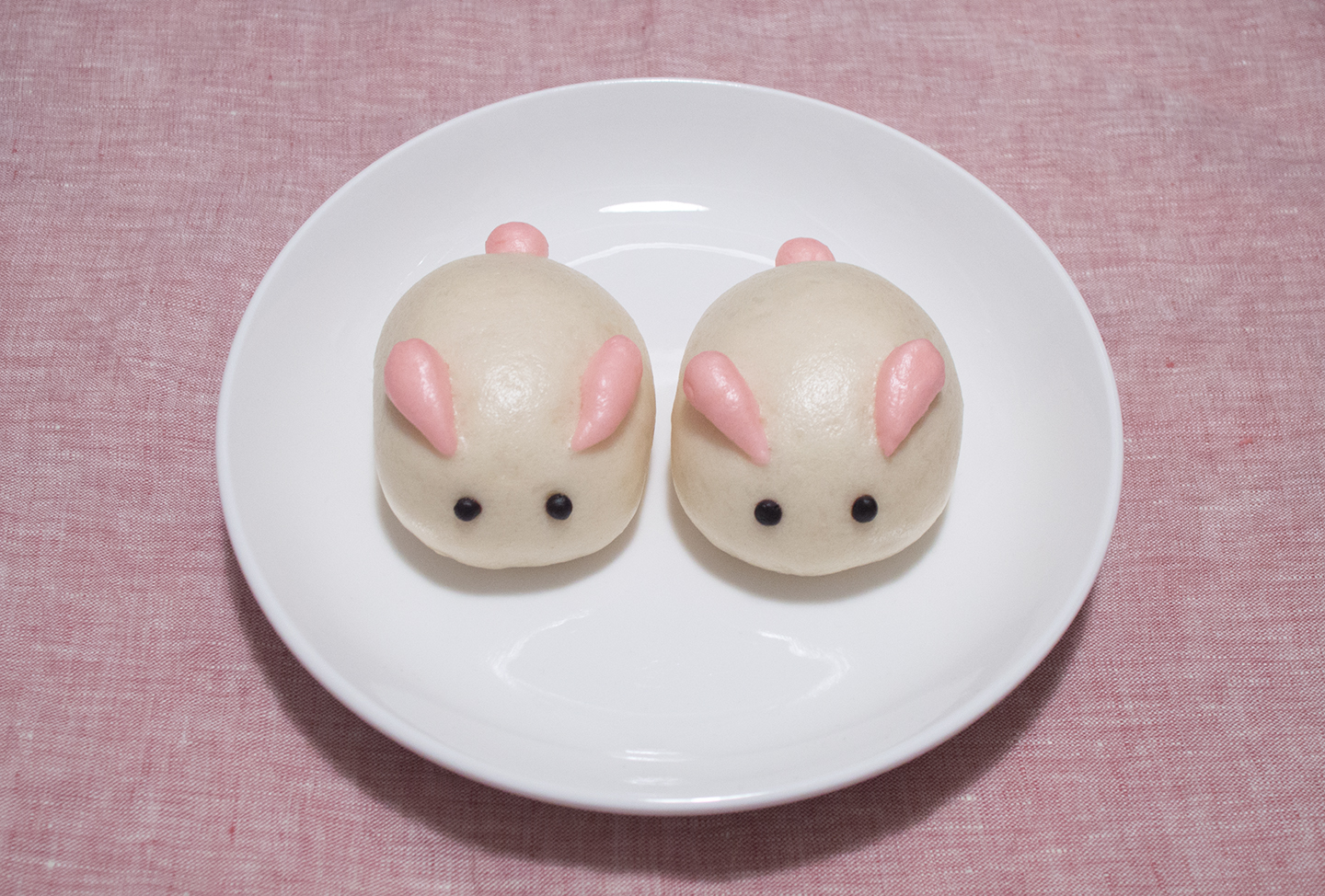 I didn't incorporate the pig-shaped buns into the recipe, but if you're interested in making pig buns, here's what I did:
**I kept the balls of custard buns round instead of oval
**Divided the dough much the same way for the pink and brown mini balls, but I colored the pink a bit darker
**With the pink ball, I made 16 pea-sized balls for snouts, and the leftover dough was flattened to make 32 triangles for ears. Anything remaining was made into rough spirals for tails
**A toothpick was used to make the snout shape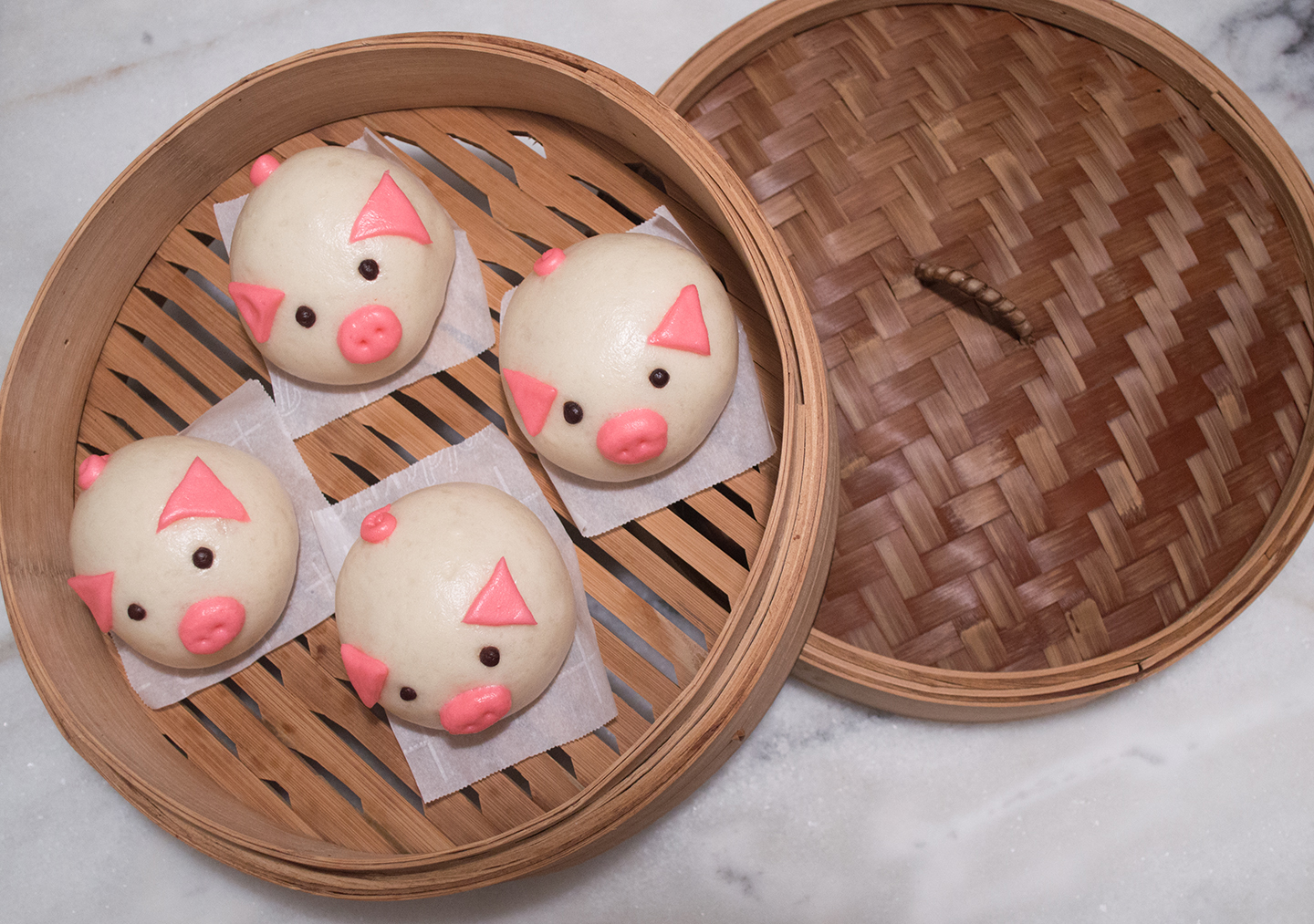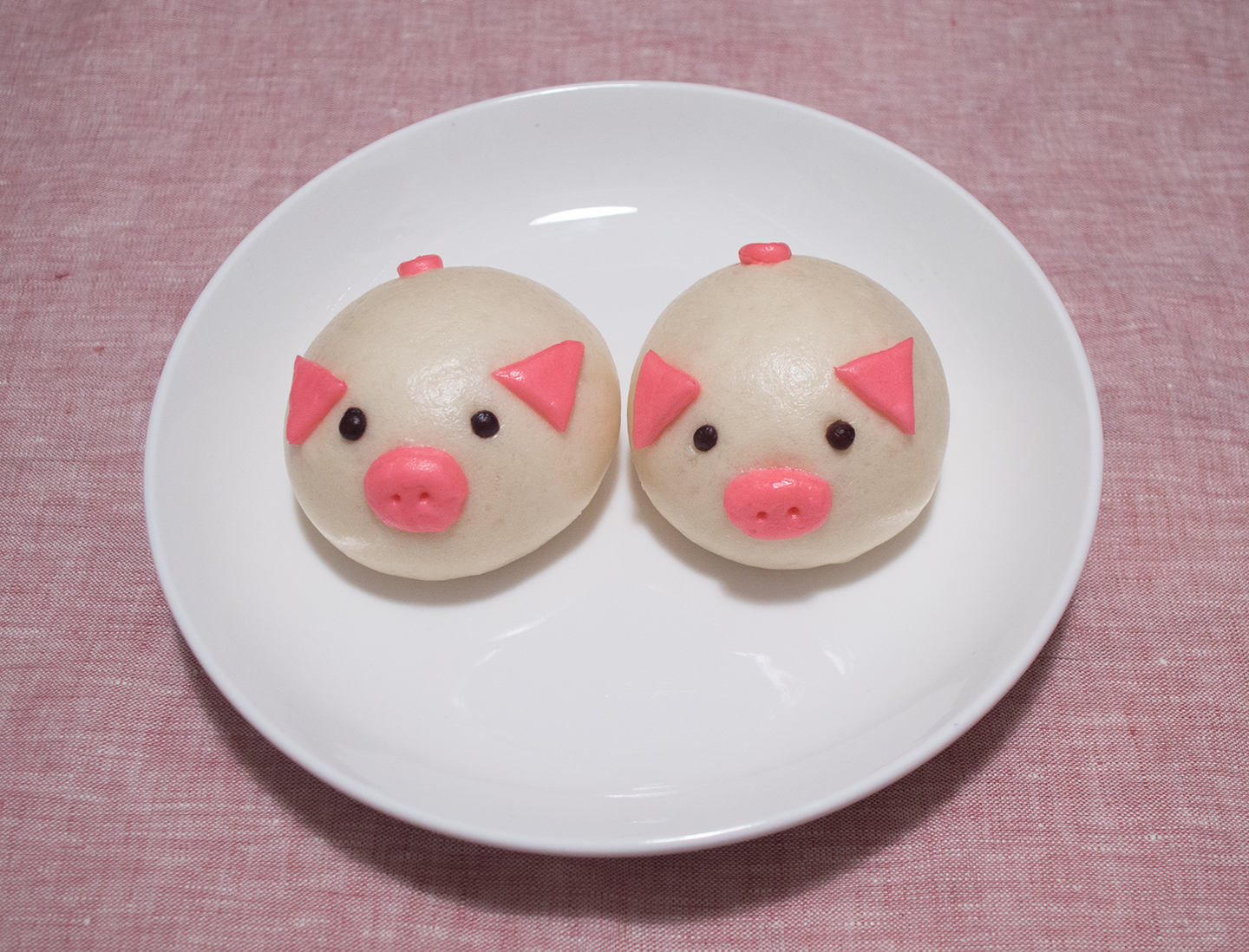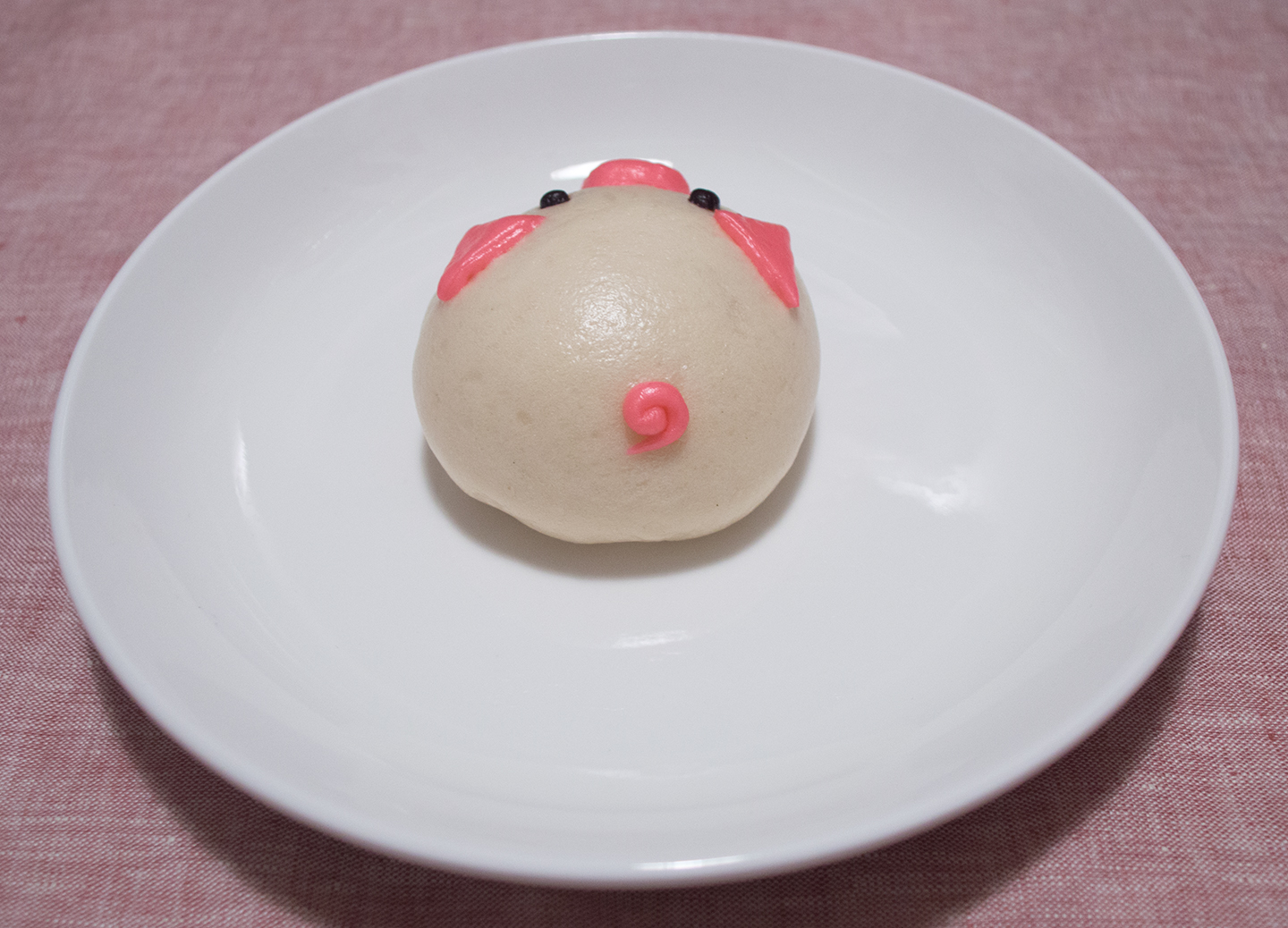 **Here are some of the ingredients I use for this recipe. Please, feel free to browse and ask questions on what you see listed below.**